21 Best Keratin Shampoos for Smooth And Silky Hair
Find the best Keratin shampoo for healthier, shinier hair. From sulfate-free formulas to nourishing blends, they will give you the luscious locks you desire.
Updated on Oct 16, 2023 | 12:41 PM IST | 3.9M
The products curated for this article are independently chosen by the editorial team. If you make a purchase through the
links
mentioned below, we may receive a commission. Check out our
product research & curation process
Keratin is a type of protein that makes up your hair, and with age, as its levels drop in the body, your mane tends to become weaker and lose elasticity. In response, these best Keratin shampoos have the power to make your hair more damage-resistant while repairing the locks that have been dried out by overuse of styling products and hair dye. They are definitely not like your regular shampoos as they have the capability to go far and beyond. Keratin shampoos protect the hair shafts while cleansing the roots to get rid of the build-up. To note more, they also strengthen the hair by fortifying the cuticles that form each hair shaft. 
Since keratin is the structural building block of your hair, it is believed that keratin supplements, products, and treatments can help nourish your hair and make it look healthier. Hence, here we have a list of the best keratin shampoos that we have gathered through our practical knowledge, for you to choose from. Take a look -
Our Top Picks:
21 Best Keratin Shampoos to Make Your Hair Stronger And Shinier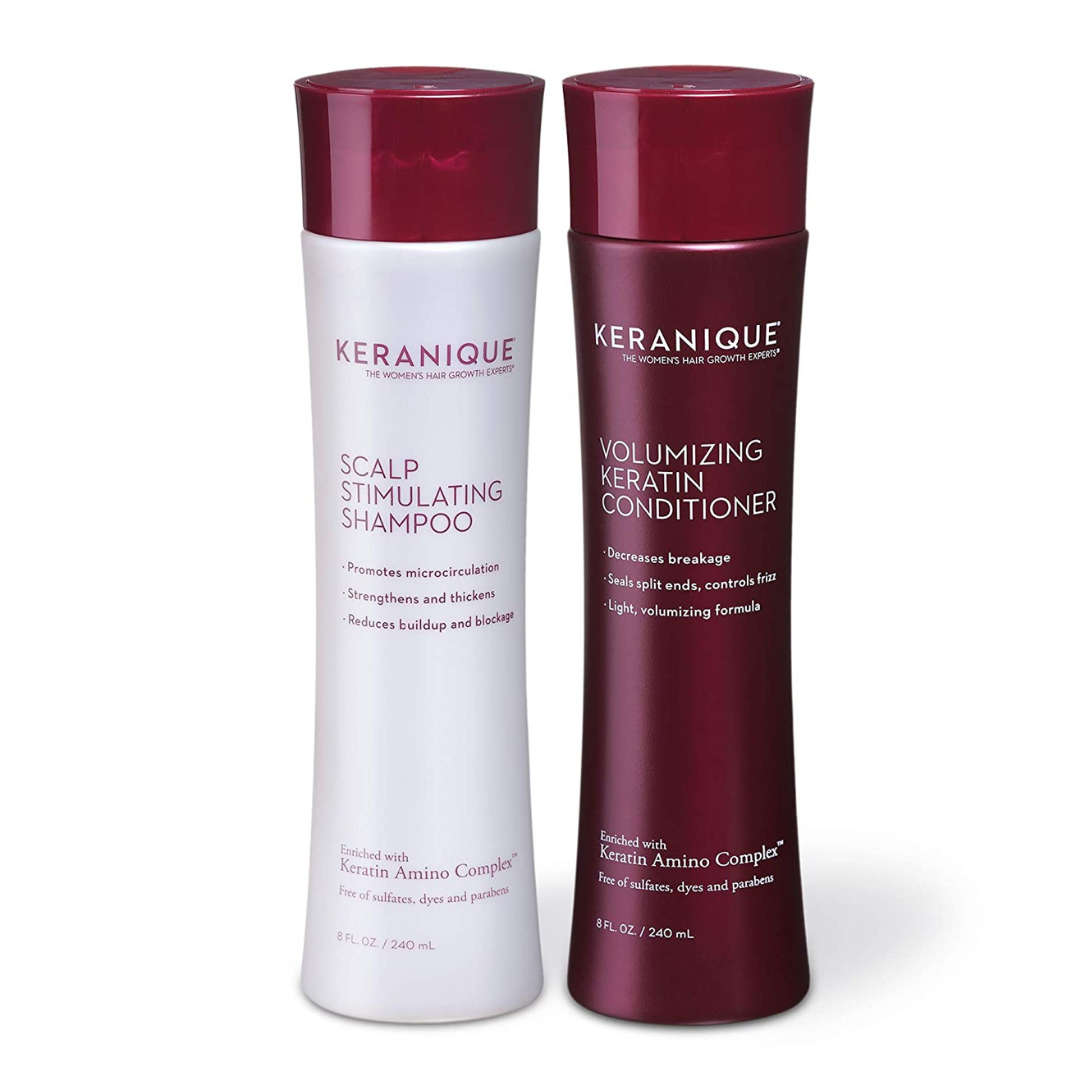 Keranique Scalp Stimulating Shampoo is formulated to help stimulate and cleanse your hair, leaving you with a refreshed, healthy look and feel. With its unique blend of botanical extracts and vitamins, this shampoo can help provide the proper nourishment and revitalization. You may be dealing with a dry or oily scalp, or just want to bring some life back to your hair, this shampoo could be a great choice.
Pros
Cruelty-free
No sulfates and no dyes
No parabens
Protects against cuticle damage
Lightweight
Lathers well
Cons
May cause mild irritation
Not budget-friendly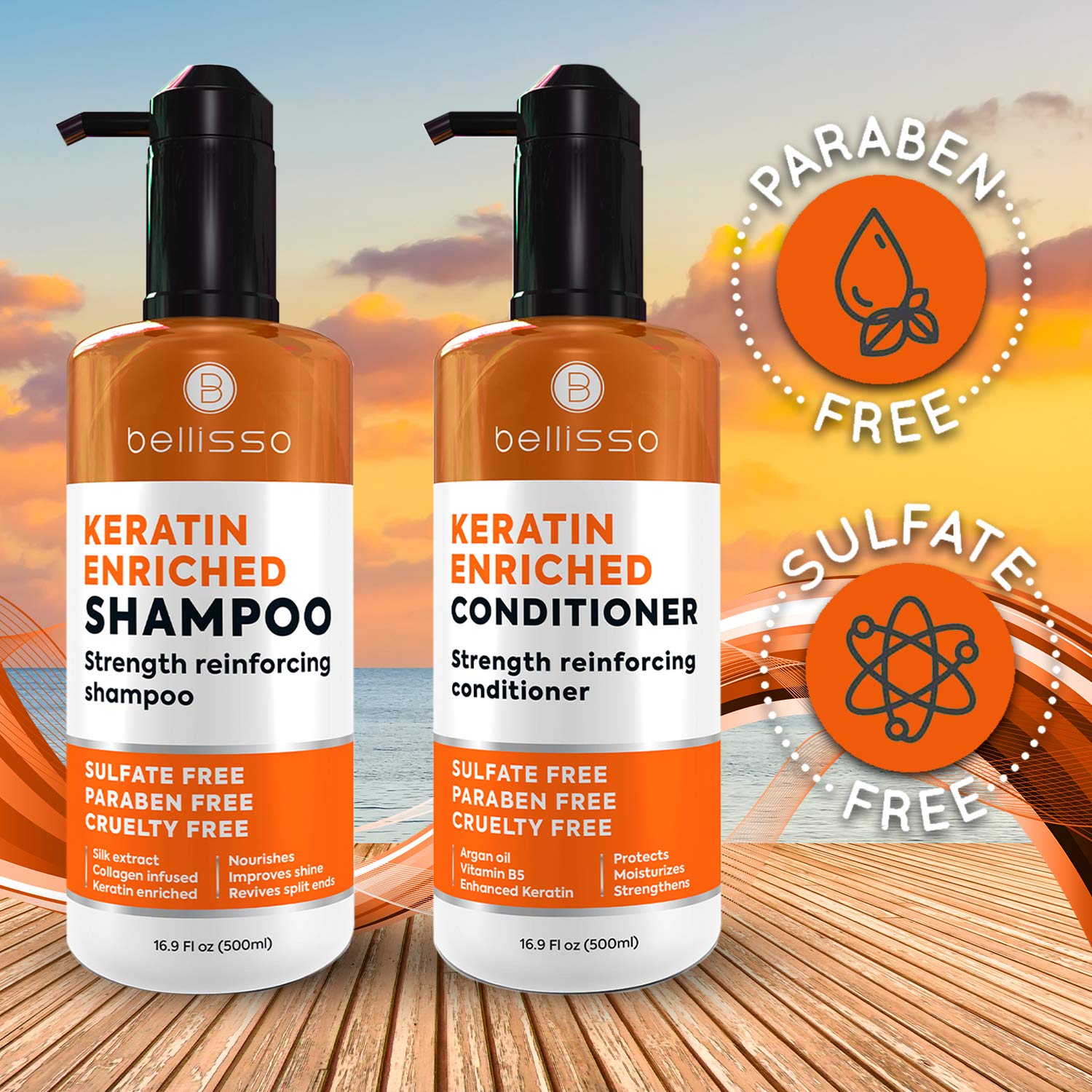 The luxurious Bellisso Keratin Enriched Strength Reinforcing Shampoo is the perfect way to add luster to your hair. This shampoo is formulated specifically for dry and damaged hair, with a special blend of keratin and natural oils that nourish and protect your hair from the elements. Experience the brilliance of this shampoo as it helps to repair and rebuild your hair from  inside out. With a unique blend of natural ingredients, this shampoo will leave your hair looking and feeling healthier than ever.
Pros
Cruelty-free
No paraben
No sulfate
Suitable for sensitive scalp
Prevents hair fall
Adds shine
Cons
Contains formaldehyde
Makes hair dry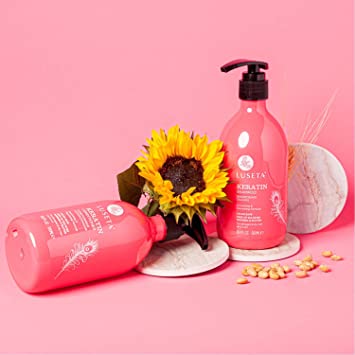 Luseta Keratin Shampoo is a revolutionary new product designed to give you the most luxurious hair experience imaginable. Formulated with the highest quality ingredients, this shampoo nourishes and protects your hair from the elements, leaving you with salon-quality results. From the moment you begin using this shampoo, you will notice your hair is more manageable, smoother, and softer. With Luseta Keratin Shampoo, you can achieve the perfect balance of hydration and protection, leaving your hair looking and feeling healthier than ever before.
Pros
Cruelty-free
Gluten-free
No paraben
No sulfate
Reduces hair breakage
Supports healthier hair growth
Cons
Not suitable for dry scalp or hair
Not very moisturizing
Read: 20 Products from the Best Keratin Shampoo Brands That Are a Must-try!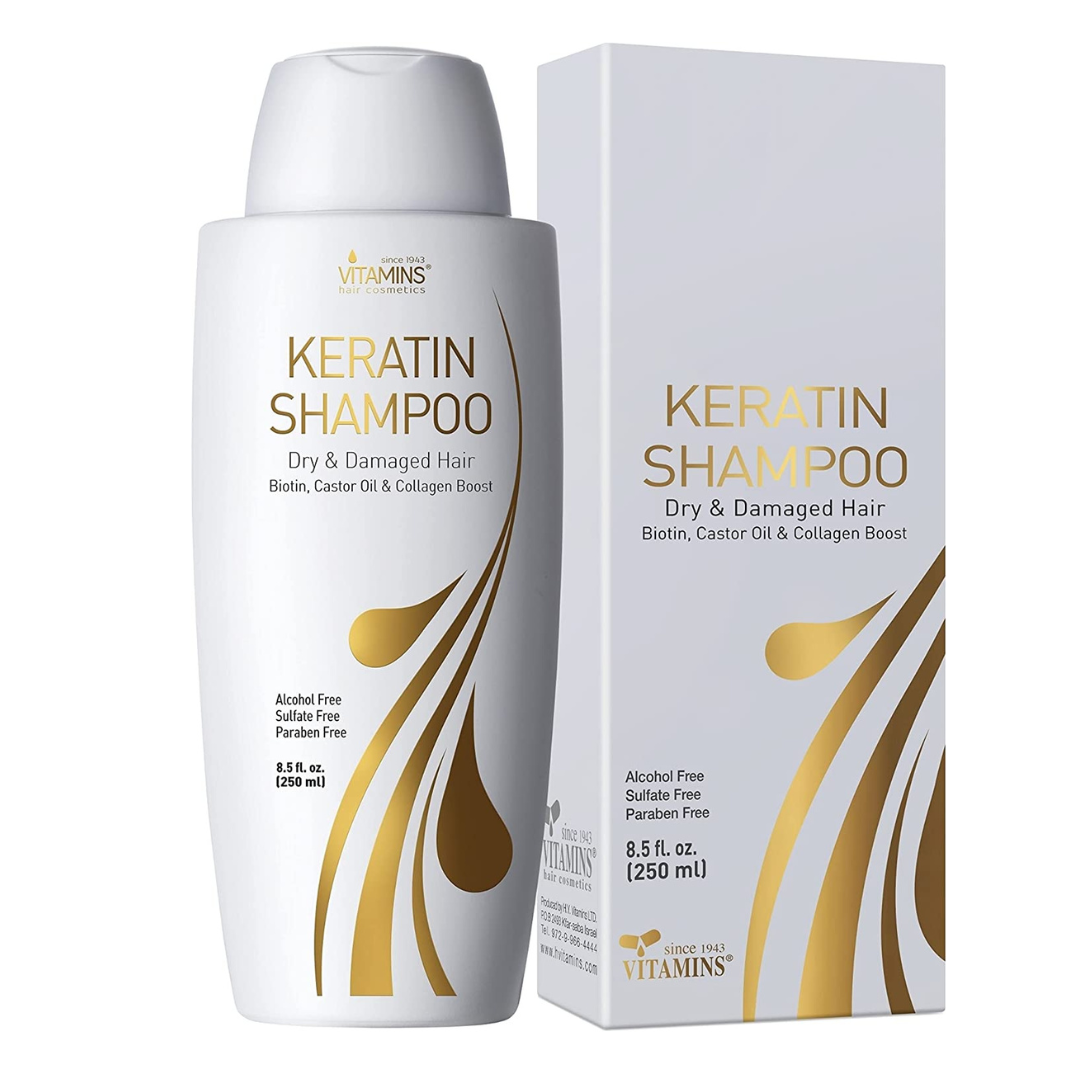 Vitamins Keratin Shampoo is the superb choice for those seeking a product that offers both cleansing and conditioning benefits. Formulated with nourishing ingredients like vitamin E, keratin, and avocado oil, this luxurious shampoo helps to restore your hair's natural bounce and shine. It's the perfect choice for your hair care routine as it will nourish and strengthen your hair. You can't go wrong with a vitamins and keratin-infused formula so this shampoo may be just what you need.
Pros
Cruelty-free
No sulfates
Alcohol and paraben free
Anti-frizz gentle formula
Strong anti-breakage formula
Affordable
Cons
Super watery
Makes hair greasy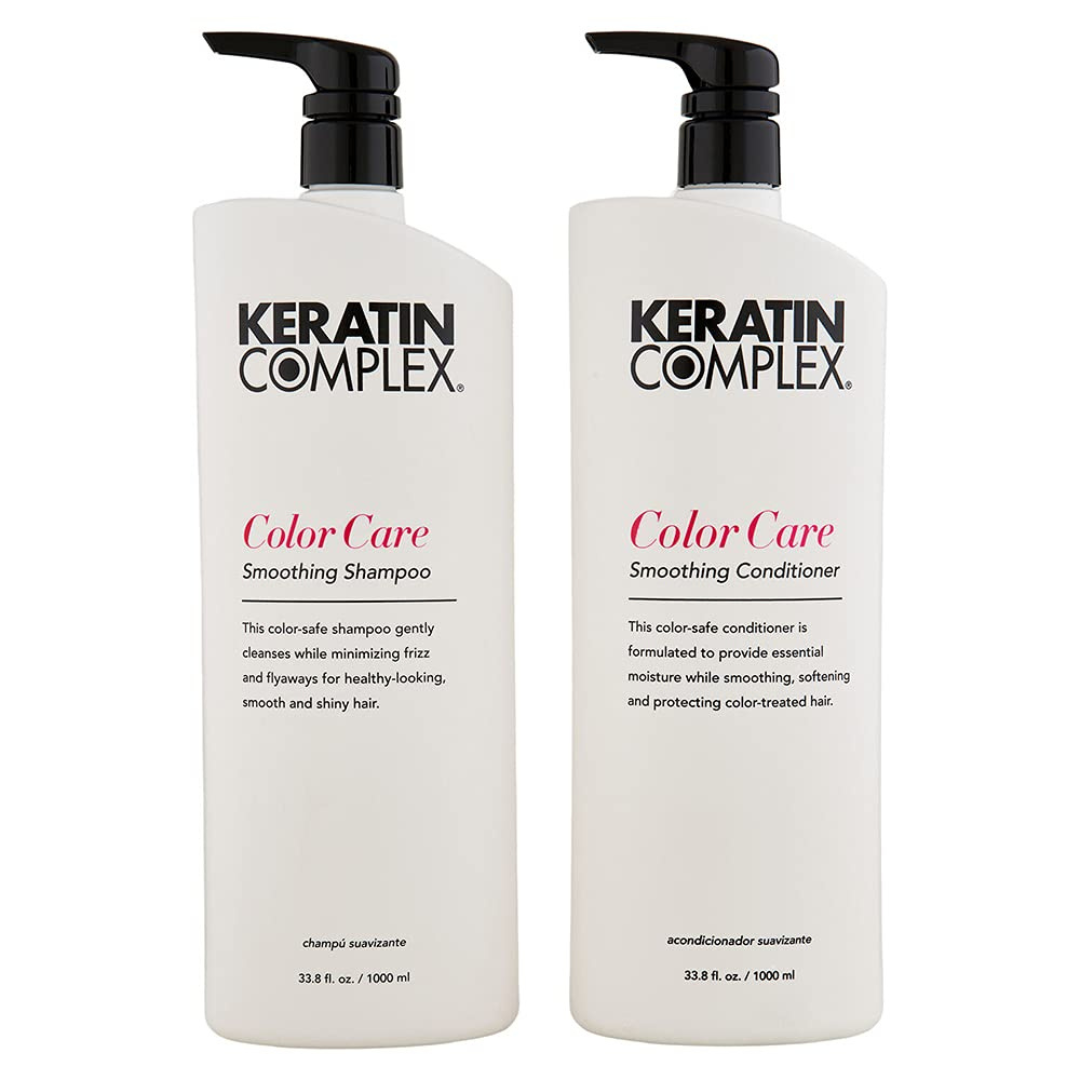 Keratin Complex Color Care Soothing Shampoo is the best product to help you maintain the shine and vibrancy of your color-treated hair. This luxurious shampoo is specially formulated with natural ingredients to nourish and protect your hair while gently cleansing away dirt and excess oils. With its nourishing blend of keratin and natural oils, it helps to restore moisture and elasticity, leaving your hair feeling softer, shinier, and healthier than before. Get ready to experience the luxurious power of this shampoo.
Pros
Affordable
No-sulfate
Minimizes frizz
Adds shine
Restores smoothness
Perfect for all hair types
Cons
Does not lather well
Makes hair dry
Read: 14 Best Keratin Shampoo with Sulfate-free Formulas for Stronger Hair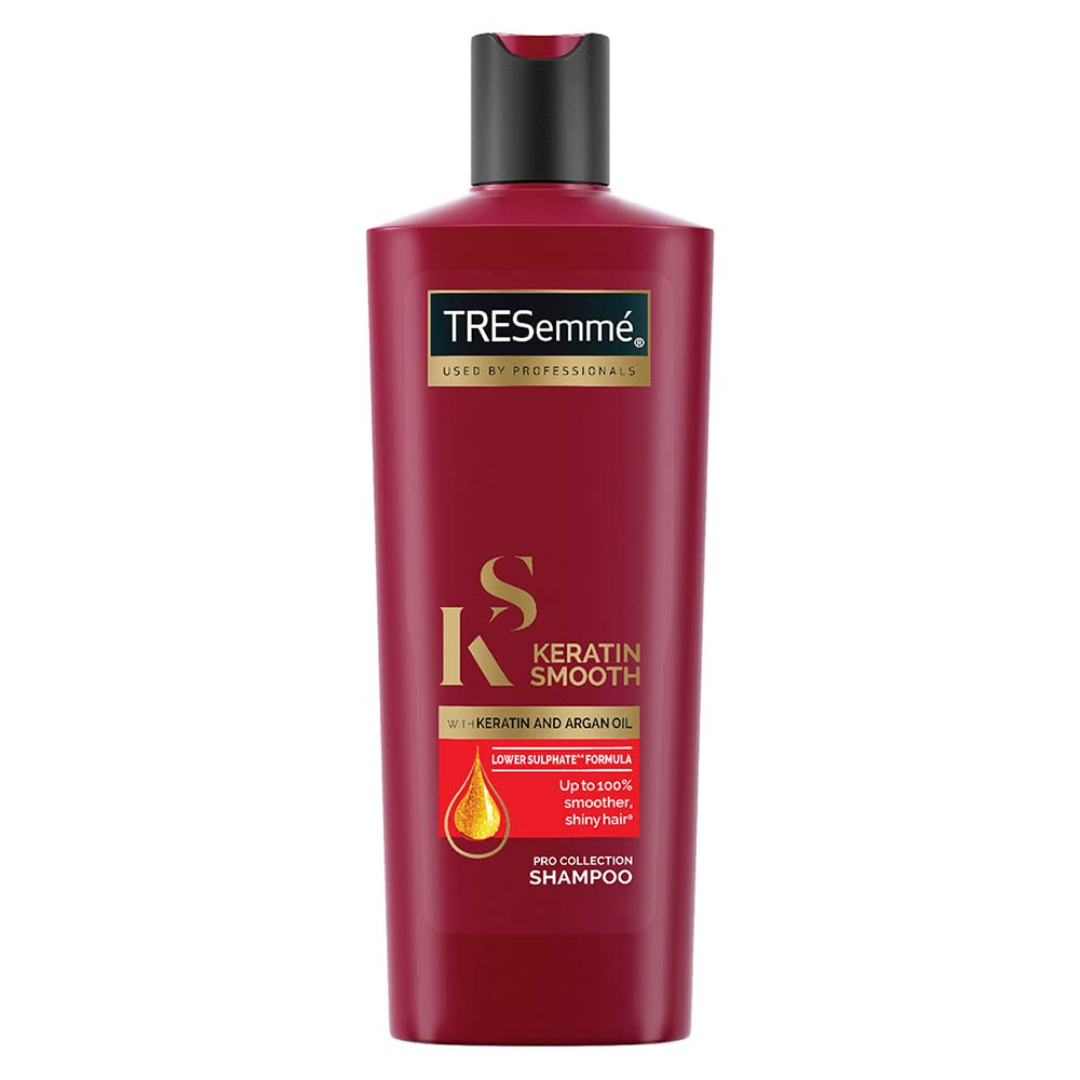 TREsemme Keratin Smooth Shampoo is the perfect solution for nourishing your hair and controlling frizz. The dual action formula provides 100% smoother hair with more shine, while our lower sulfate formula is suitable for both natural and chemically-treated hair. It's designed to make your tresses smoother, shinier and easier to style. It is the ideal product for achieving salon-level hair care with long-lasting results. So why wait? Try it today and begin your journey to healthier, more manageable hair.
Pros
Improves hair texture
Cleanses hair and scalp well
Pleasant smell
Rinses off easily
Easy to carry
Pocket-friendly
Cons
Contains parabens and SLS
Does not add volume
Read: 10 Best Shampoos for Thick Hair And How to Select the Right One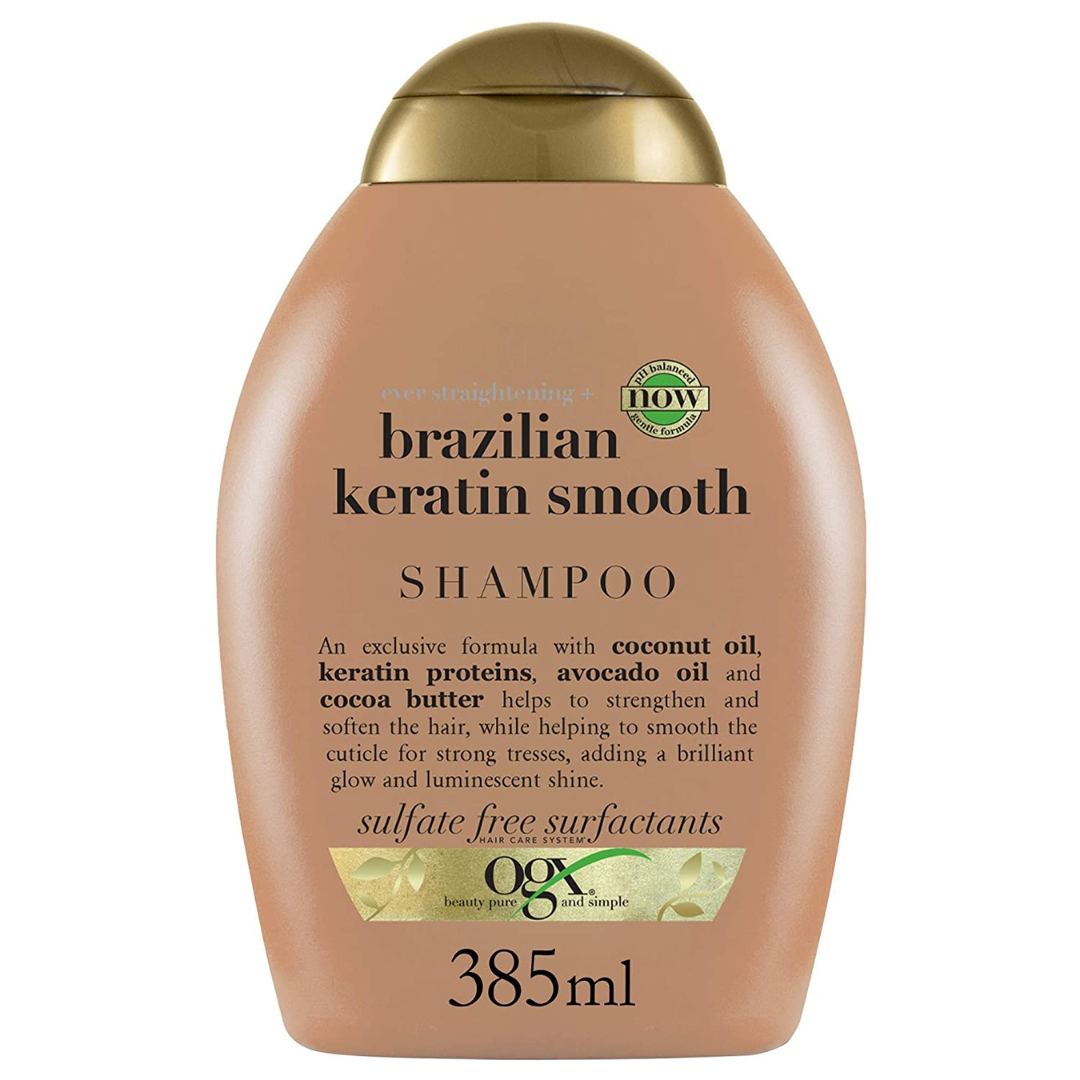 Formulated with keratin protein, coconut oil, avocado oil and cocoa butter, this shampoo strengthens hair while adding a glossy shine. This smoothing shampoo hydrates the strands, leaving them extra-glossy with a lustrous shine. No matter the hair type, this nourishing keratin shampoo strengthens and softens the hair while helping smooth the cuticle for strong, long tresses. Enjoy the benefits of a salon-quality blowout without the high price tag with this amazing shampoo.
Pros
Sulfate-free
No formaldehyde
Nourishes hair
Adds bounce
Prevents hair fall
Decently priced
Cons
Does not give a rich lather
May cause hair drying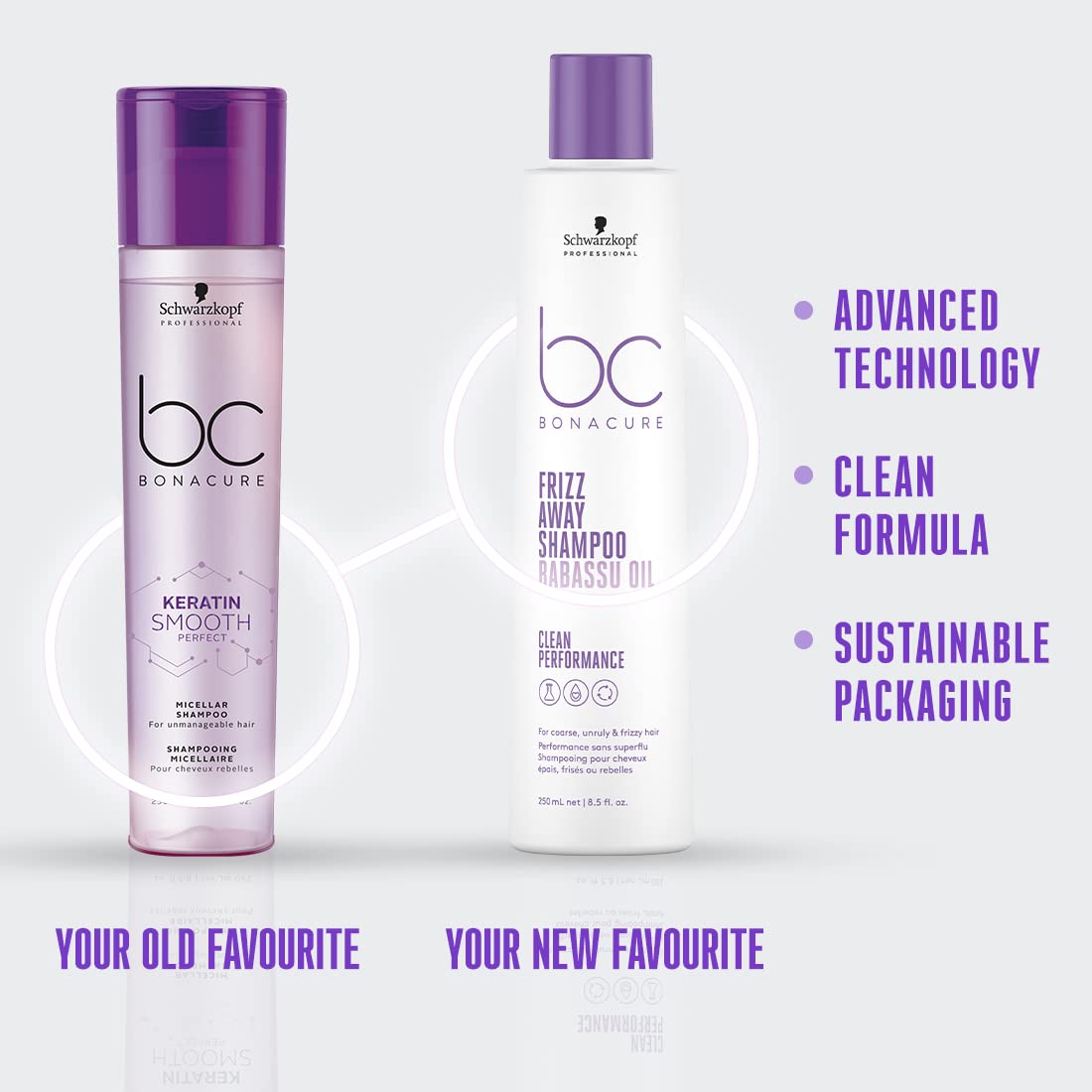 This Keratin Micellar shampoo contains lightweight oils that bring a natural shine to your hair without overburdening it and making it look greasy. This treatment infused with keratin and highly efficient amino compounds protects hair cells and provides nourishment for a healthy and protective outer layer of hair. This shampoo works wonderfully in smoothening your hair and giving it a visible sheen. Additionally, it gently cleanses your hair to eradicate all impurities.
Pros
Cruelty-free
Makes hair soft
Intense moisture
Long-lasting smoothness
Good fragrance
Suitable for unmanageable hair
Cons
Makes hair oily
Not budget-friendly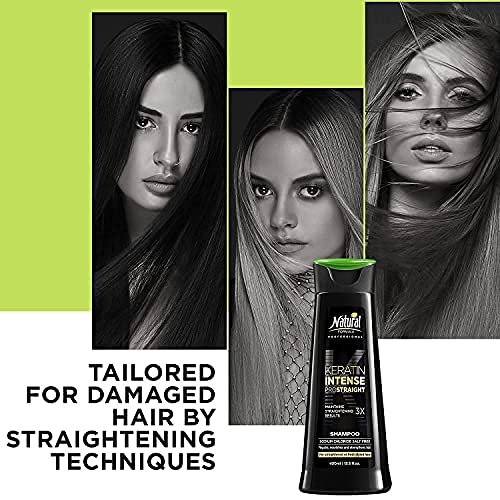 Experience the ultimate power of straightening in Natural FORMULA Keratin Intense PRO Straight Shampoo! This advanced formula will nourish, hydrate and protect your hair while straightening it to perfection. With its special blend of keratin, proteins and luxurious oils, the shampoo will provide deep conditioning to your hair, making it smoother, softer, and more manageable. Whether you're looking for a salon-style finish or a more natural look, this shampoo is sure to deliver the results you desire. Get ready to transform your hair with this shampoo.
Pros
Cruelty-free
Sodium chloride salt-free
No paraben
Repairs and strengthens
Durable to breakage
Formulated to treat damaged hair
Cons
Less lather
Makes scalp dry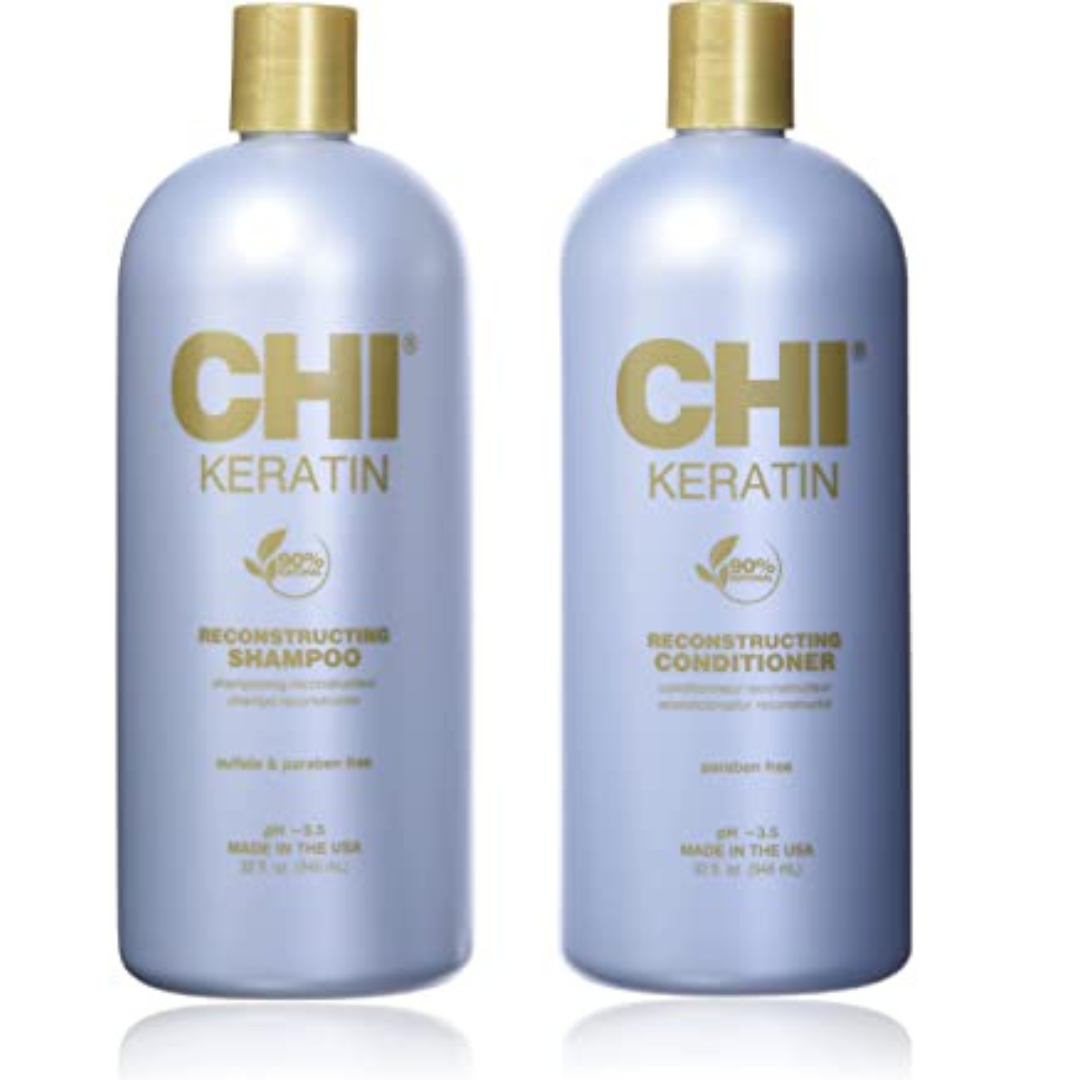 CHI Keratin Reconstructing Shampoo is a powerful shampoo that is designed to nourish, rebuild, and restore damaged hair. Crafted using natural keratin and other powerful ingredients, this shampoo is designed to strengthen and protect your hair from split ends and heat damage. To repair existing damage or protect your hair from future damage, this shampoo is a great choice for all hair types. Discover the power of this shampoo and experience healthier, more vibrant hair today!
Pros
No paraben
Strengthens weak hair
Provides intense hydration
Prevents breakage
Improves elasticity
Ideal for all hair types
Cons
Might cause buildup
Expensive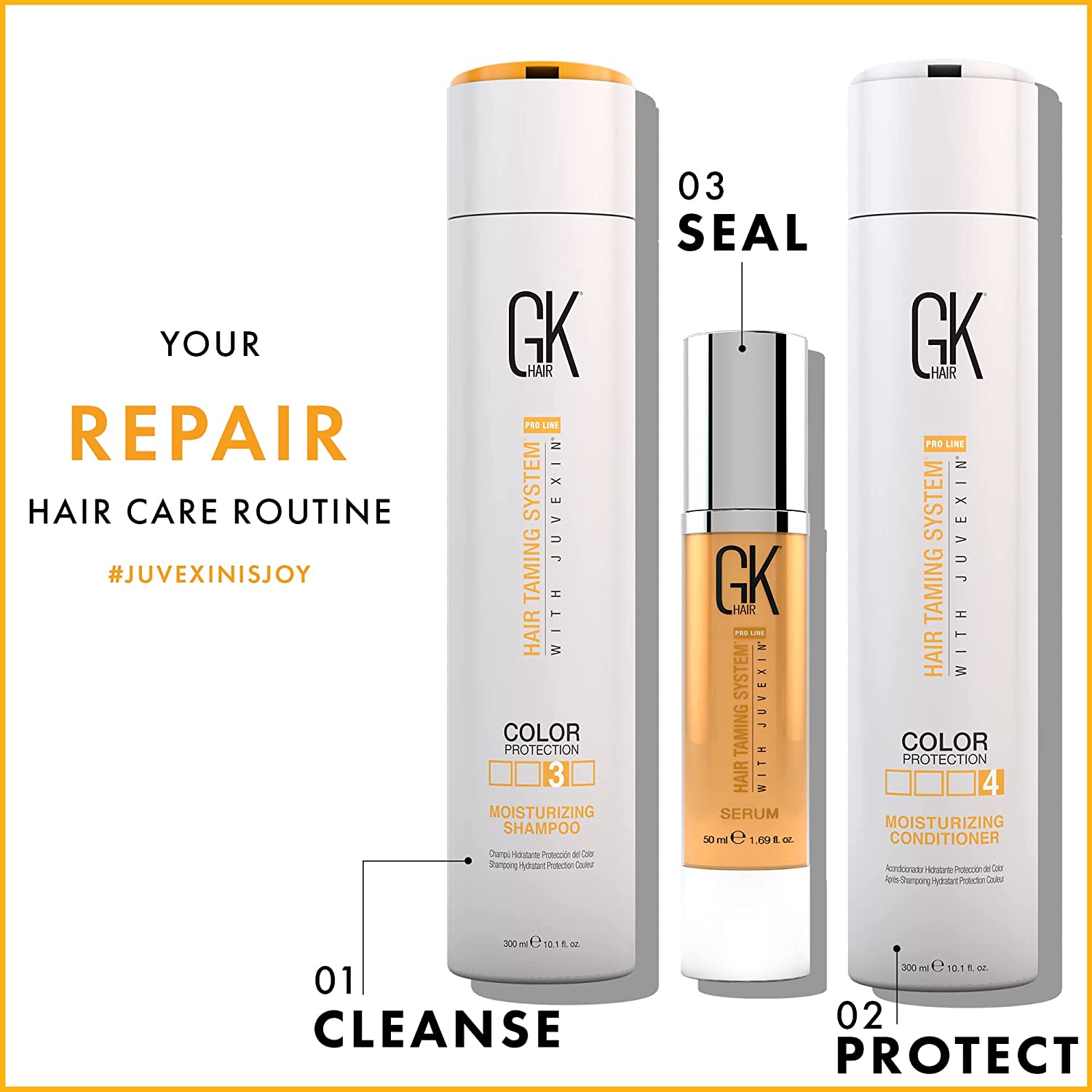 This shampoo is enriched with natural plant extracts and a revolutionary signature protein-keratin blend that proves highly effective in providing intense hydration and nourishment to hair shafts whileadding a dose of moisture to combat dryness. A light and effective moisturizing shampoo, it additionally prevents premature fading of hair color and helps retain the color and moisture to keep your hair looking vibrant and refreshed. The shampoo helps enhance the longevity of hair treatments like hair taming and smoothening, retaining the effects longer and keeping the hair looking naturally beautiful for prolonged periods.
Pros
No paraben
Sulfate-free
Color safe
Intense moisturization
Prevents further damage
Suitable for normal to dry hair
Cons
Very costly
Not great for drier hair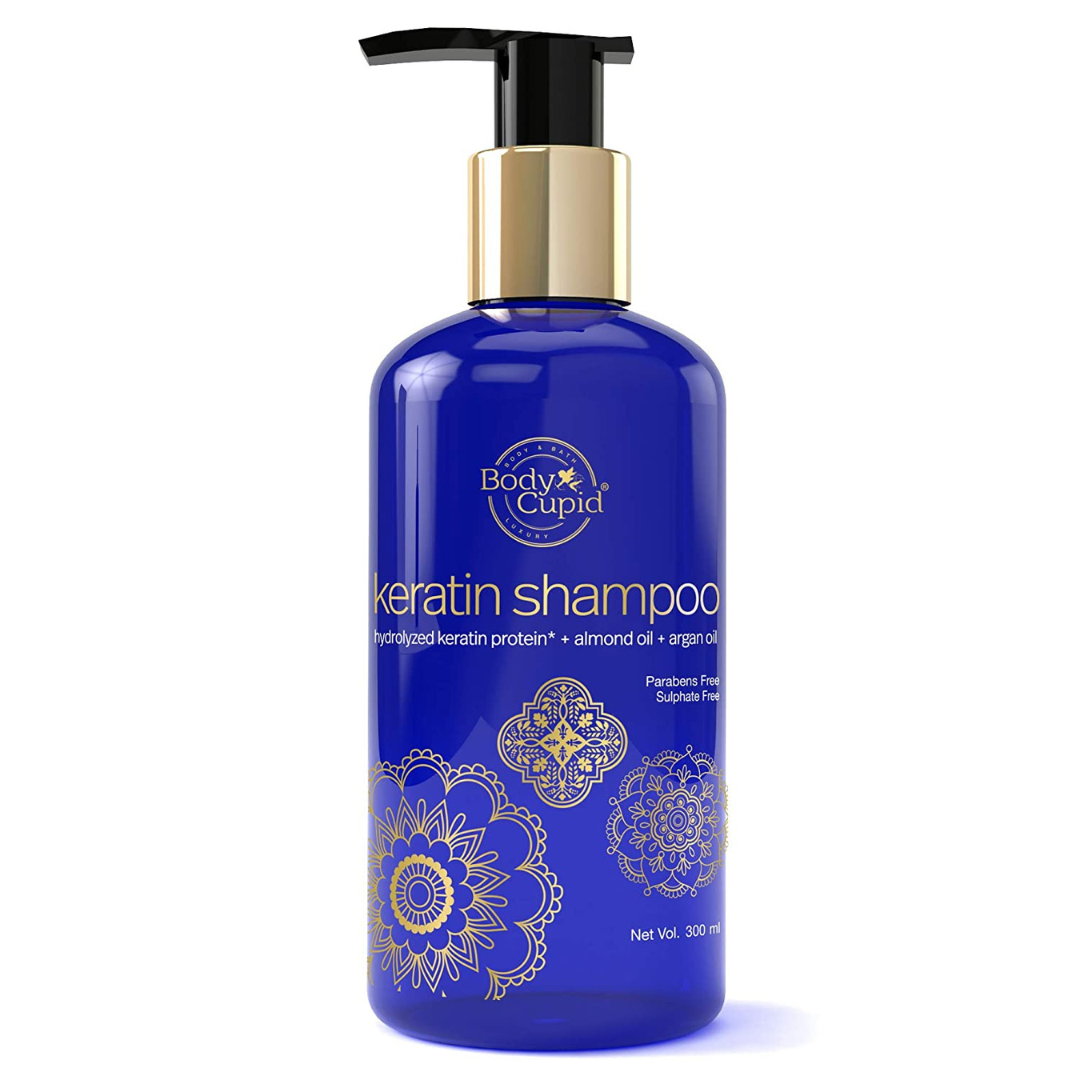 Body Cupid Keratin Shampoo is powered with hydrolyzed keratin protein, almond oil, and argan oil that gives your hair healthy cleansing and healing keratin protein nourishment. It gently reverses hair damage caused by harsh chemical treatments, heat styling, sulfate-laden shampoos, and general aging to restore silky softness and sleek gloss. With regular use, you will notice a visible improvement in hair texture and volume, as well as a reduction in split ends. You may have curly, straight, or wavy hair, this shampoo will give you the ultimate results in hair care. 
Pros 
Vegan
No sulfate
Paraben-free
Lessens tangling
Adds healthy gloss
Perfect for regular use
Cons
Watery texture
Makes hair dry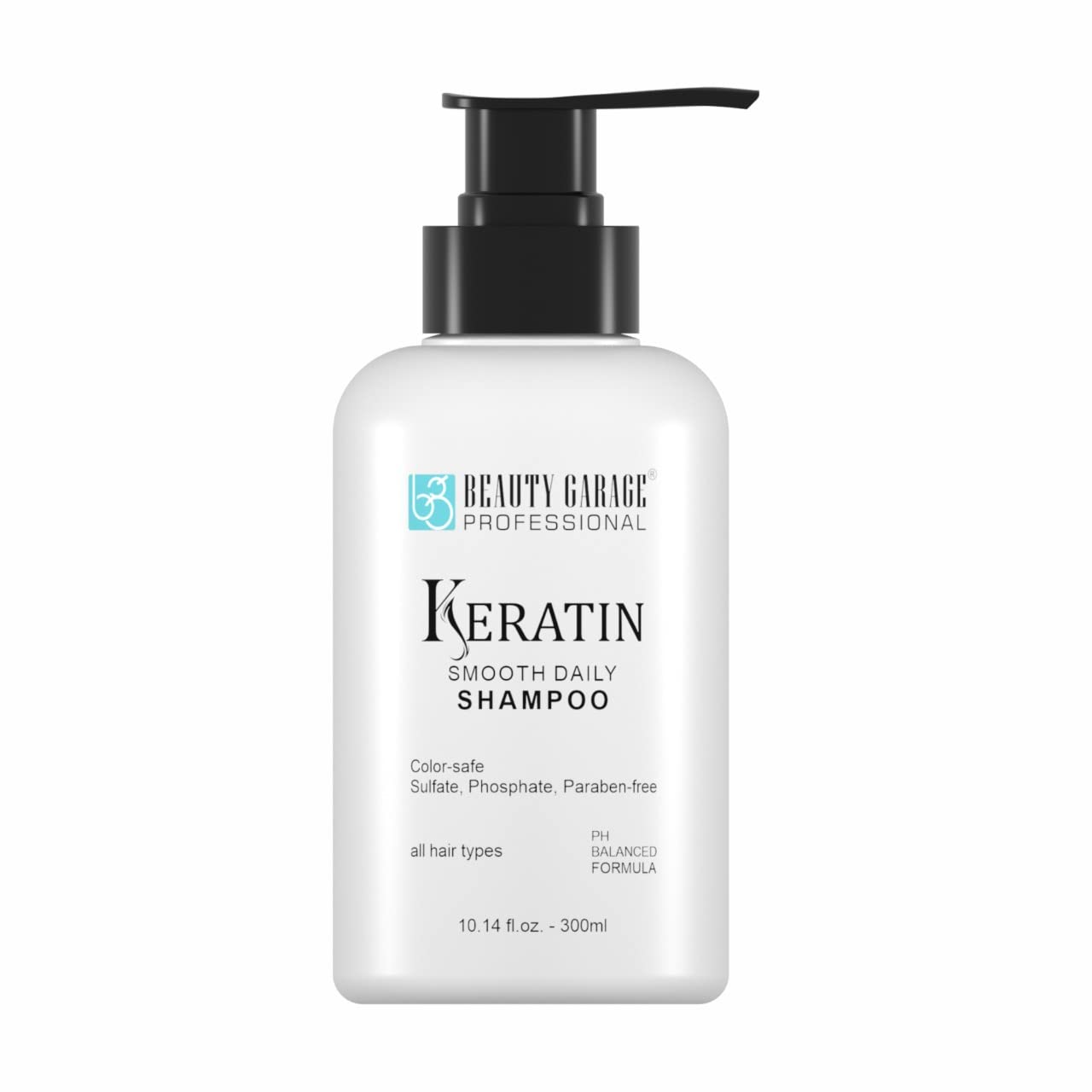 Beauty Garage Keratin Sulphate-Free Shampoo provides superior protection, moisture and a long lasting shine with hydrolyzed keratin and it is gentle enough for color treated hair. A rich infusion of nourishing and cleansing elements provides a luxurious lather leaving your hair healthy, strong, vibrant and manageable. This shampoo is made with special ingredients and can be used after both cysteine and keratin treatments.
Pros
No sulfate
Paraben-free
Provides moisture
Adds long-lasting shine
Make hair manageable
A luxurious lather
Cons
Leaves hair rough
Not easily available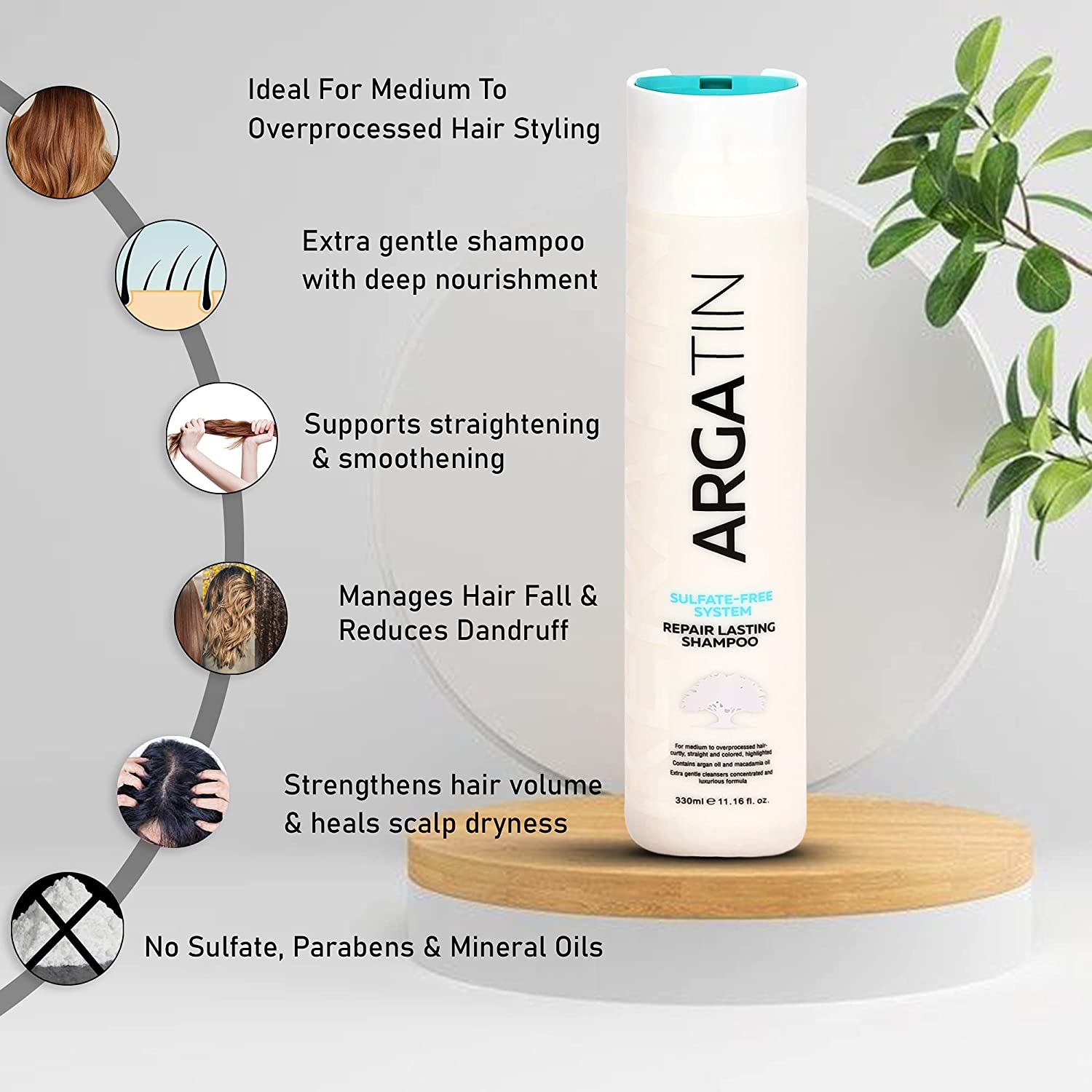 Argatin Keratin Repair Lasting Shampoo is ideal for colored hair, straight hair, wavy hair, and frizzy hair. The nourishing formula helps boost hair quality making it soft and silky. The argan oil essence used in this professional shampoo helps to enhance the hair's resilience by nourishing hair fibers deeply and moisturizing the dry scalp. It is also perfect to boost the effects of keratin treated hair, extension, highlighted, or  color-treated hair. The unique combination of compounds of this keratin hair shampoo cleanses and removes buildup and dirt, while nurturing your scalp and hair with essential nutrients.
Pros
No paraben
Sulfate-free
No mineral oils
Gently hydrates
Deeply nourishes
Provides intense shine
Cons
Not much effective
Not budget-friendly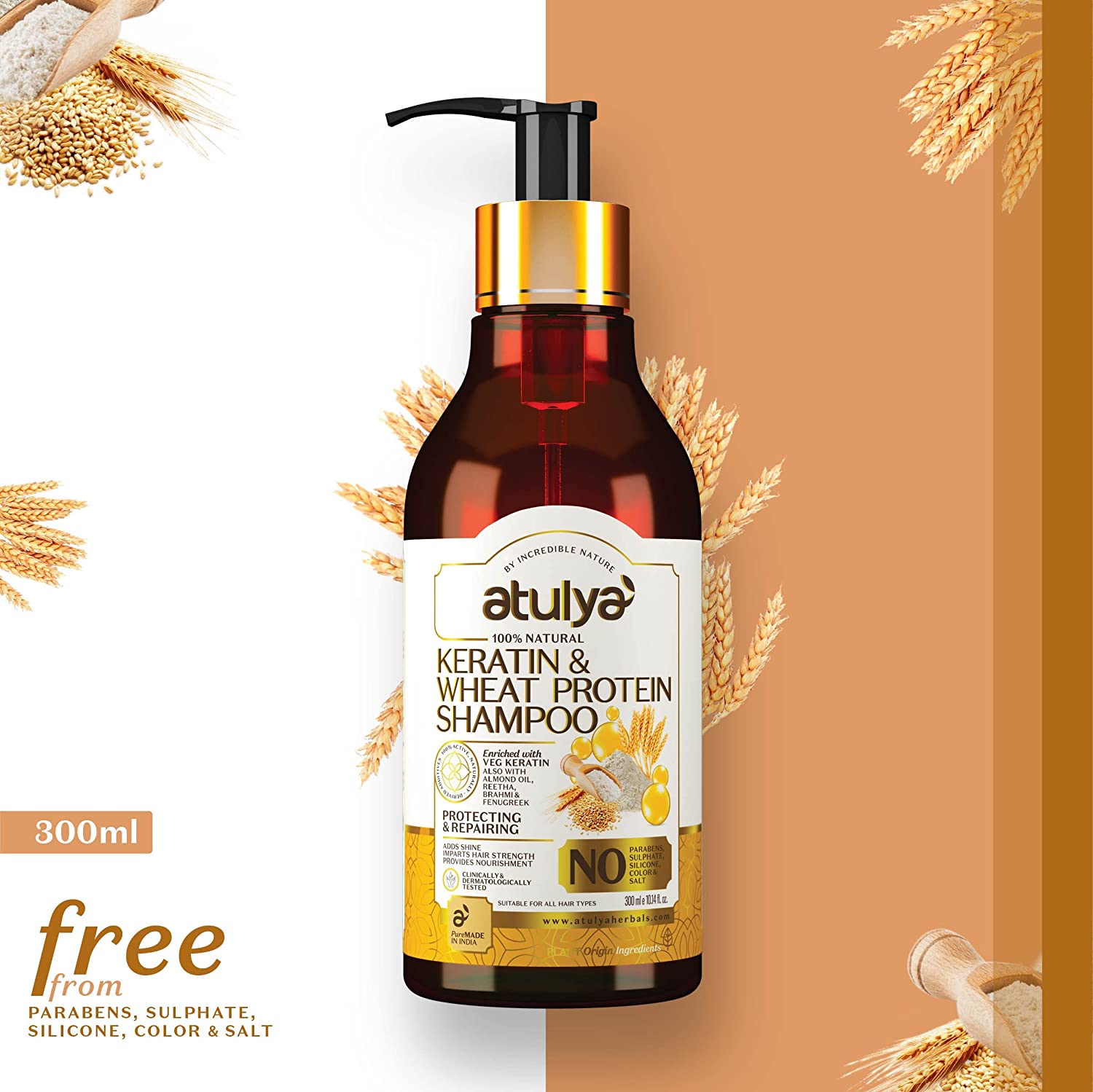 Atulya Keratin & Wheat Protein Shampoo is the absolute solution for those looking for a thorough clean and nourishing experience. Formulated to cleanse and nourish the scalp, this shampoo helps to prevent breakage while providing a smooth feel to your tresses. The unique blend of keratin and wheat protein helps to deeply cleanse and intensely nourish your hair, leaving it feeling healthier and more beautiful. With it, you can enjoy the benefits of a healthy scalp and beautiful hair.
Pros
No paraben
Sulfate-free
100% naturally derived ingredients
Dermatologically tested
Ayurvedically curated
Protects and repairs
Cons
No instant result
Does not work on all hair type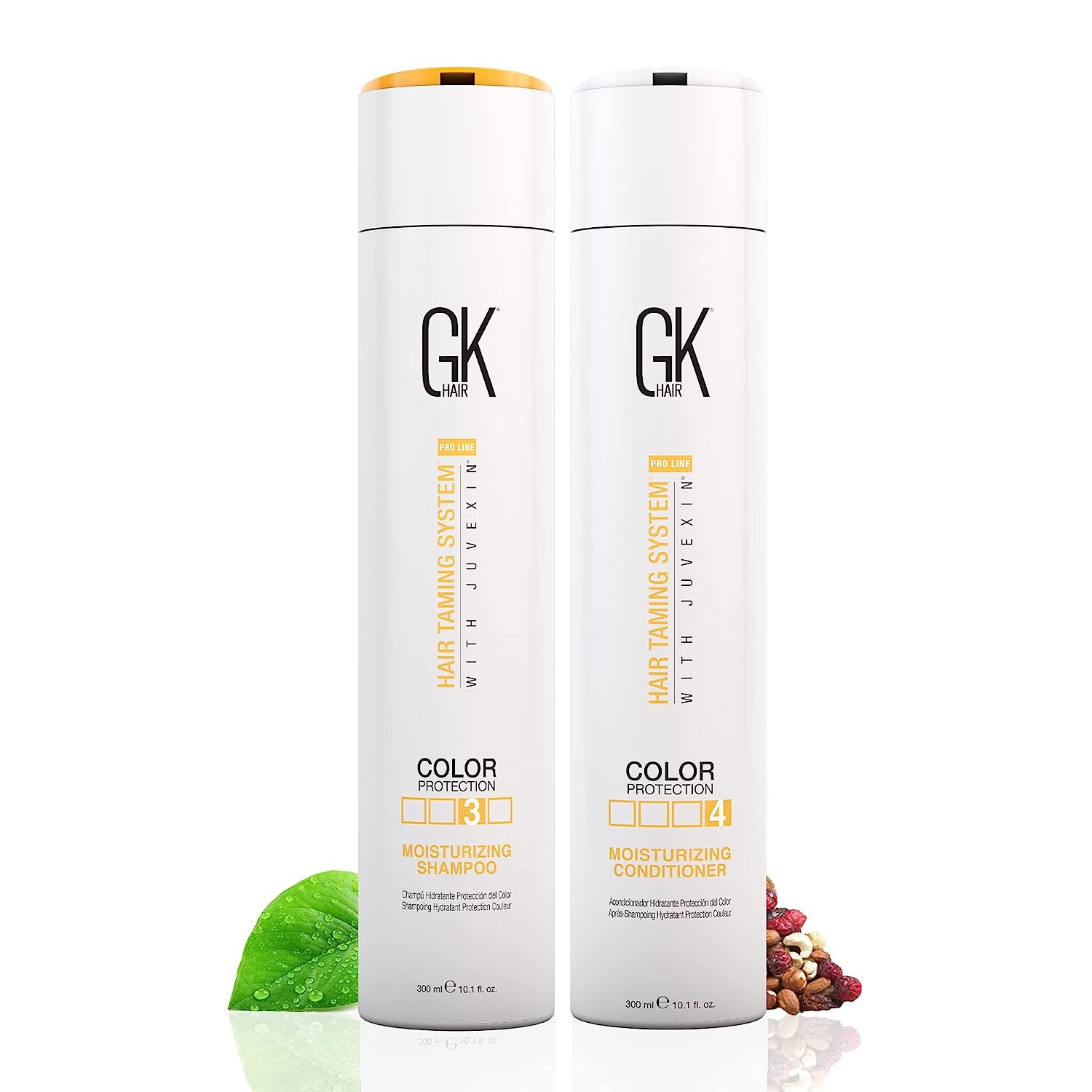 Loaded with keratin, juvexin, natural seed oil, peptides, protein, and plant extracts, the moisturizing shampoo is formulated without harsh ingredients like sulfates, parabens, chloride, phthalates to protect and repair your hair without damaging the shaft further. With a color protecting claim, its rich creamy consistency further enhances the overall health of your hair to make it more buoyant. The best part? It comes with a conditioner that makes it way easier for you to infuse moisture into the hair.
Pros
1. Loaded with natural ingredients 
2. Protects from color 
3. Adds shine
4. Leaves hair soft
5. Helps absorbing essential nutrients
Cons 
1. Runny consistency
17. It's A 10 Miracle Shampoo Plus KERATIN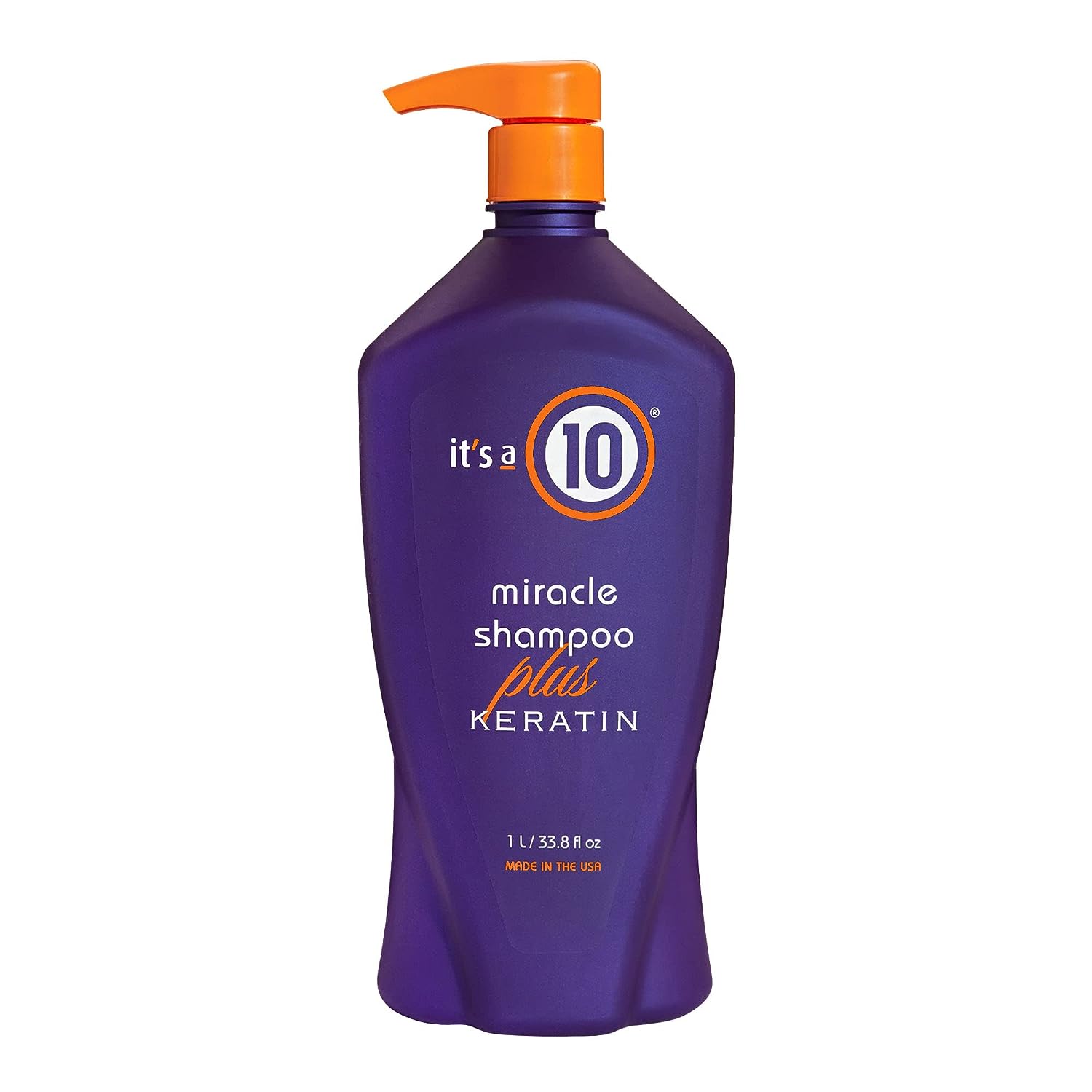 The keratin protein infused shampoo helps in restoring the moisture while preserving hair color and decreasing the frizz. At the same time, the effective formula nourishes dry strands by improving the elasticity and strength. To note more, the shampoo is also enriched with Chinese leaf extracts, sunflower seed extracts, linseed oil, and linalool, to take care of the hair shaft from within. Keeping in mind the effectiveness of the product, it is indeed safe to claim that this is the best sulfate-free keratin shampoo, to say the least.
Pros
1. Decreases frizz
2. Nourishes dry strands
3. Natural ingredients 
4. Sulfate-free 
5. Protects from sun damage
6. Cruelty-free 
Cons
1. Packaging could be better
18. Herbalosophy KERATIN SMOOTH Shampoo & Conditioner Set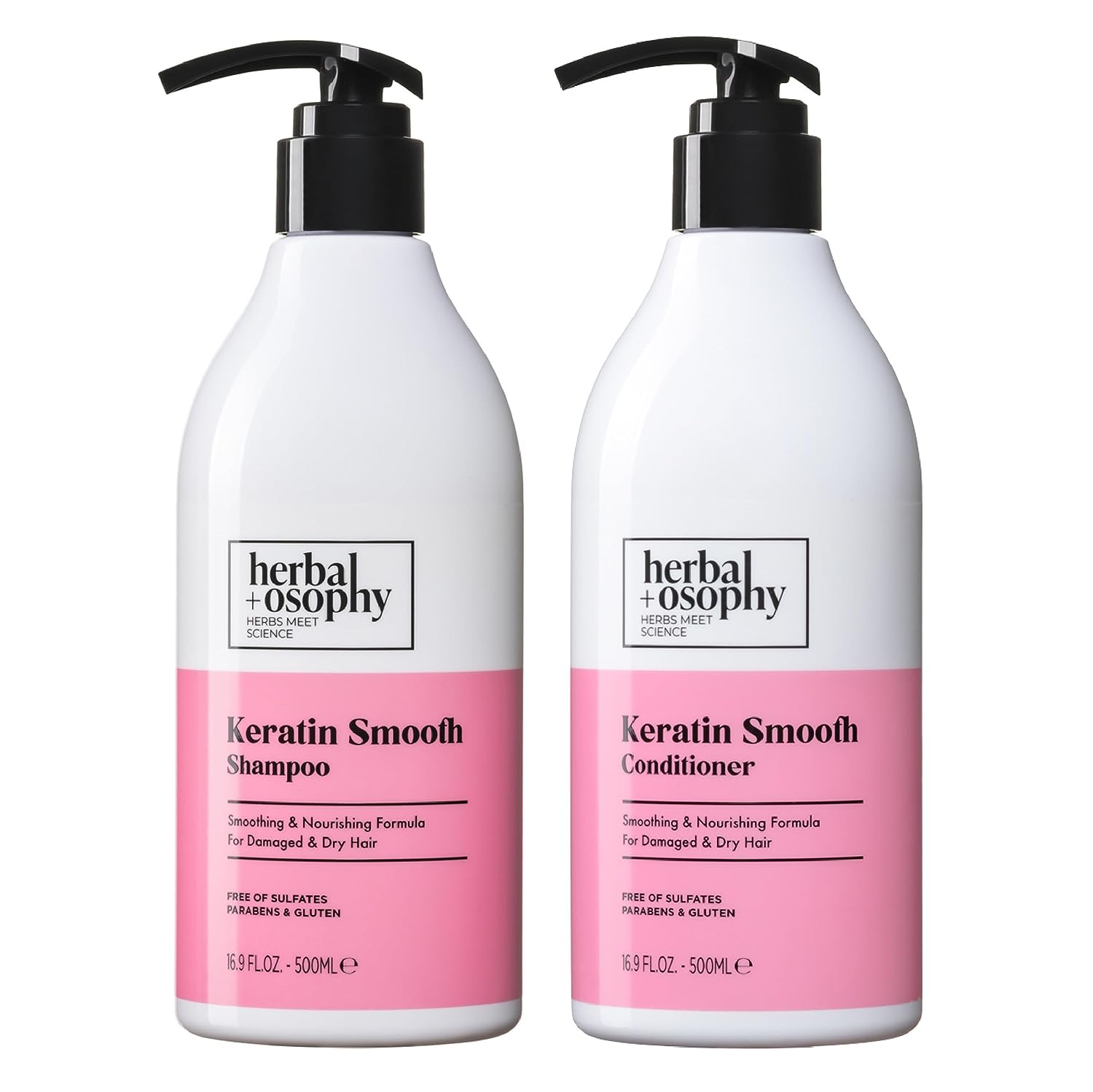 The keratin smooth shampoo and conditioner set is indeed a one-stop solution to hydrate, smooth, moisturize, and repair your hair at the same time. It is formulated without sulfate, paraben, and gluten to ensure no nasty ingredient is infused into the shaft in the name of haircare. Addedly, the brand boasts of effectively working on the dry and split ends to bestow you with the nourishing beautiful locks. Furthermore, the shampoo also ensures the pH balance of your scalp is not disturbed to prevent any future damage and moisture loss.
Pros
1. Nourishes hair
2. Repairs damaged strands 
3. Balances pH 
4. Color-safe formula 
5. Reduces breakage
6. Gluten-free 
Cons
1. Difficulty in opening
19. Amazonliss Keratin Smoothing Treatment Set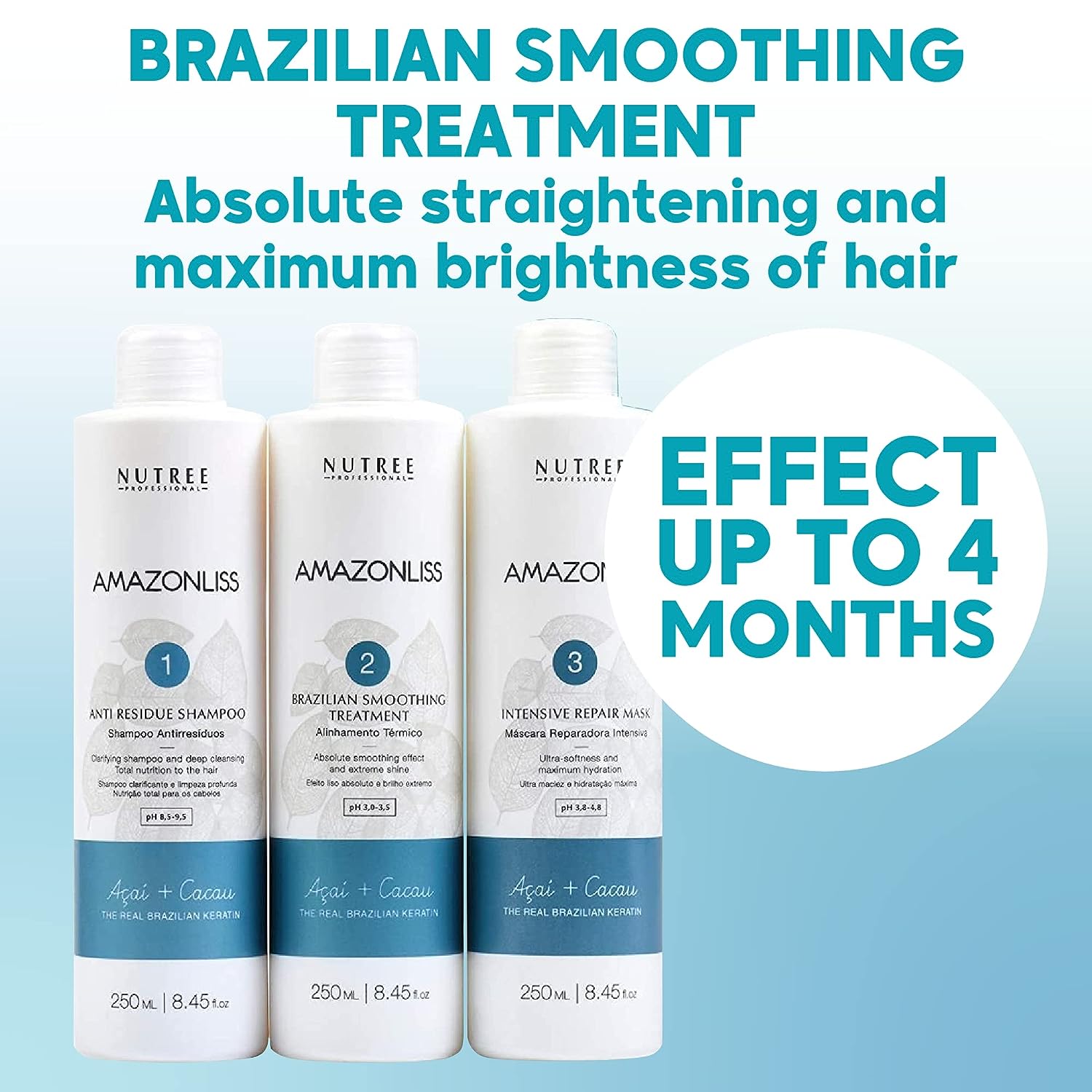 The keratin smoothing treatment consists of three effective products— anti-residue shampoo, Brazilian smoothing treatment, and intensive repair mask to ensure maximum strength to the hair shaft. Addedly, infused with effective ingredients like corn, rice, wheat, and soya, the keratin protein works beautifully on the shaft to restore the shine and repair the broken hair cuticles. Furthermore, the treatment ensures a smooth protective layer to save the strands from UV rays, styling products, chlorine, and coloring to make the hair appear more voluminous.
Pros
1. Long-term effect
2. Strengthens the hair
3. Protects the hair from UV rays
4. Unique components 
5. Ensures maximum elasticity 
6. Cruelty-free 
Cons
1. Bad smell
20. CHI KERATIN RECONSTRUCTING Shampoo & Conditioner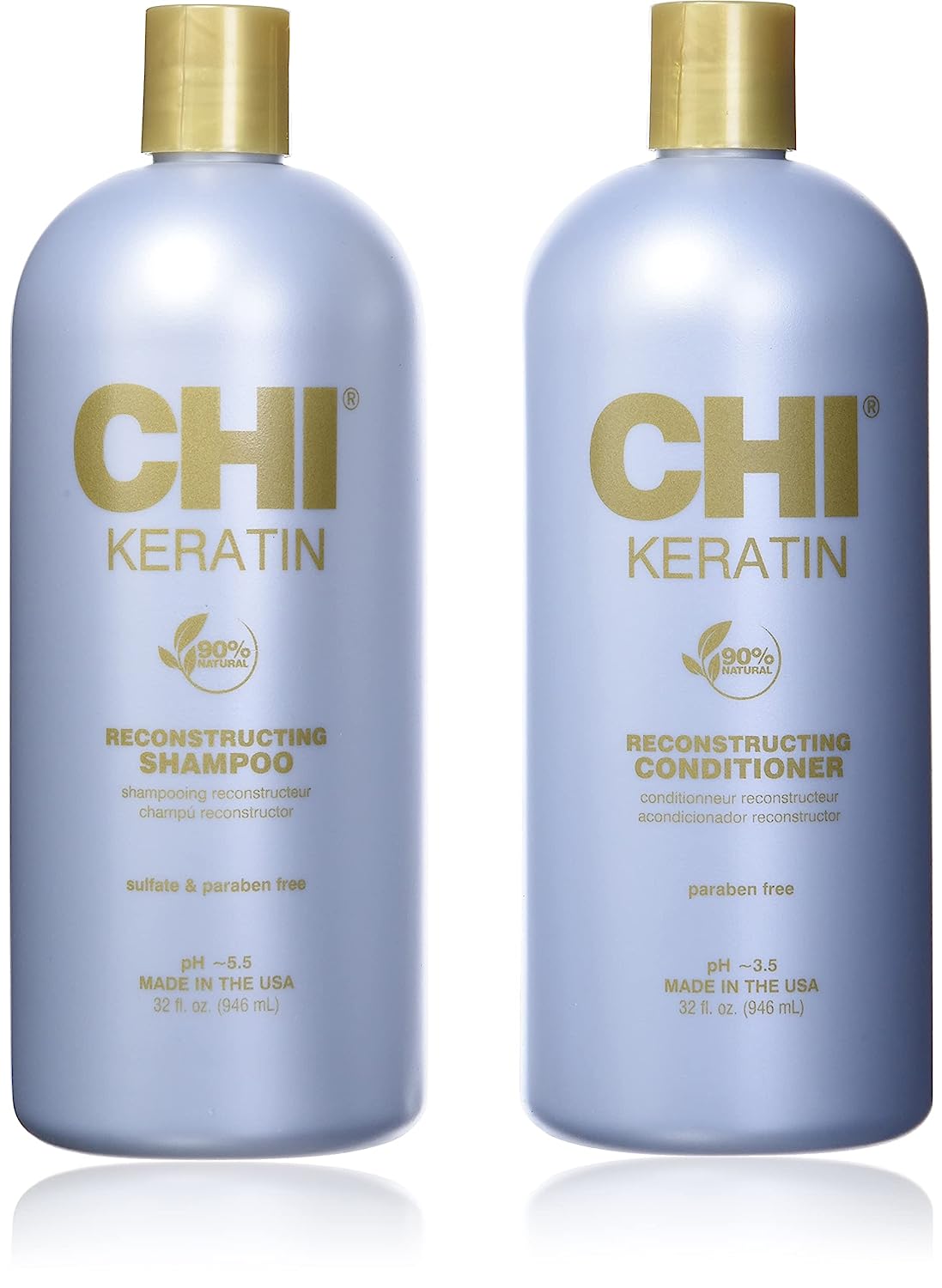 The keratin shampoo and conditioner set is specially formulated for damaged hair to promote healthier appearance. It further prevents hair breakage while adding shine and elasticity at the same time. Adding to that, the shampoo takes the upper hand at cleansing the scalp thoroughly to strengthen the cuticles, while the conditioner, on the other hand, is packed with essential oils that restores moisture levels add volume and bounce to your mane. 
Pros
1 . Long-lasting 
2. Adds shine 
3. Increases elasticity 
4. Prevents future damage
5. Seals in moisture 
6. Prevents future damage
Cons
1. Contains bleach
21. PUREnature LUX SPA KERATIN STRENGTHENING Shampoo and Conditioner Set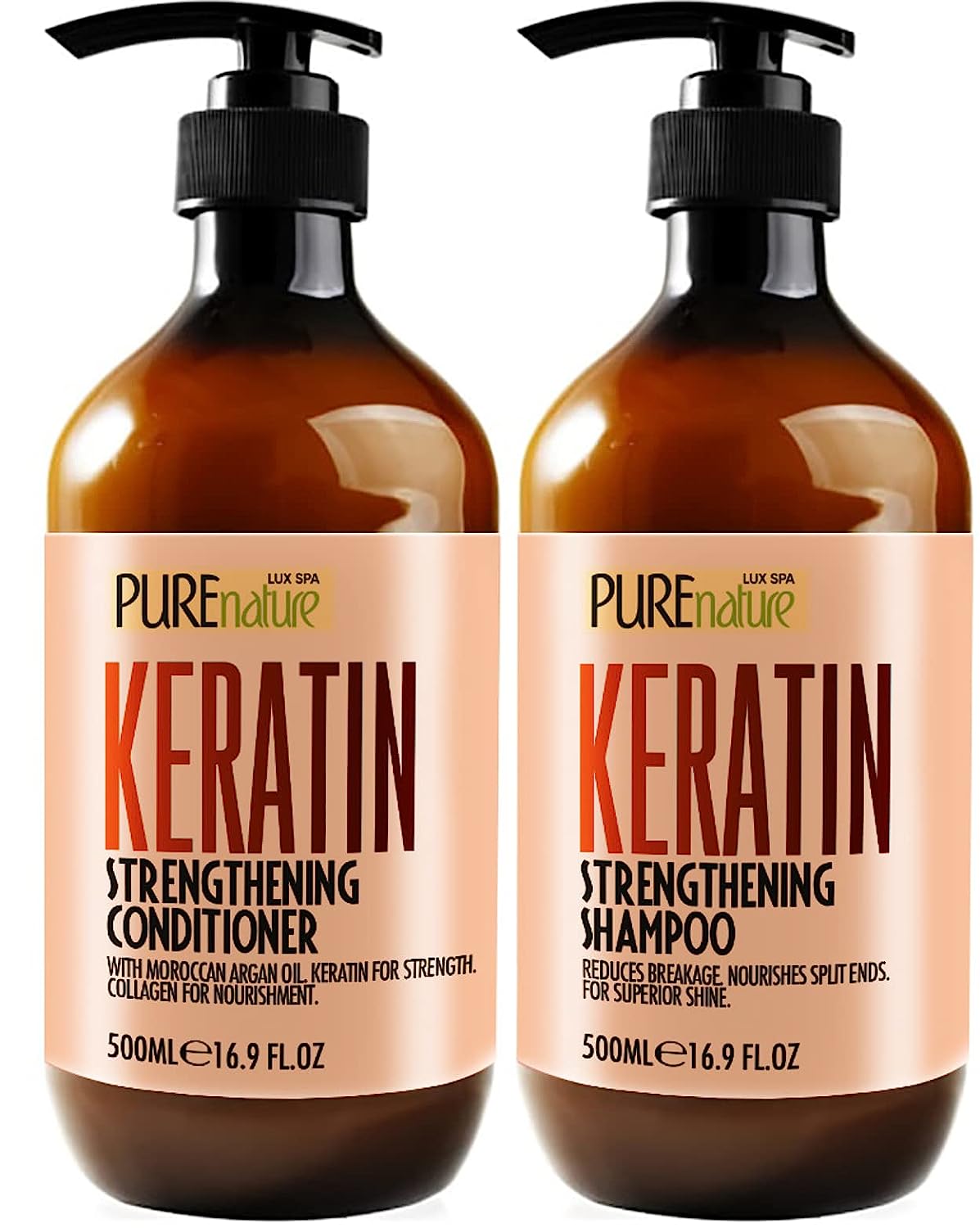 PureNature Lux Spa boasts of providing you with a shampoo and conditioner set that is packed with effective ingredients like keratin, Moroccan argan oil, collagen, Japanese camelia, vitamin B5, silk extract, and tea tree oil for the gorgeous locks that you've been yearning for! To note, the shampoo takes care of the interior treatment while the conditioner strengthens and moisturizes the shaft for an overall top-notch experience. Addedly, they are formulated without paraben and sulfate to prevent any future damage on the hair shaft.
Pros
1. Packed with natural ingredients 
2. Sulfate-free 
3. Paraben-free 
4. Promotes silky hair
5. Strengthens the shafts
6. Extracts all the impurities 
Cons
1. Contains dimethicone
How to Choose Keratin Shampoos?
Choosing a keratin shampoo can be difficult, especially with all the different types of formulations and multiple brands. Fortunately, there are a few simple steps you can take to find the best keratin shampoo for you.
Hair type: Make sure that the keratin shampoo you are using is specifically formulated for your hair type as there are a variety of keratin shampoos available, and some are better suited for certain hair types than others. If you have dry or damaged hair, for example, you may want to opt for a shampoo that is specifically designed to nourish and restore your hair's luster.
Formula: Look for a shampoo that has been specifically formulated to penetrate the hair shaft and nourish it with keratin. This will ensure that your hair is getting the maximum benefit of protein.
Ingredients: You want to look for a keratin shampoo that is free of harsh chemicals. Many shampoos contain parabens, sulfates, and other harsh chemicals that can strip away the natural oils in your hair and make it brittle. Look for a shampoo that is free of these chemicals and instead opt for natural and organic ingredients that will nourish and protect your hair.
Price: Keratin shampoos can range from inexpensive to quite expensive, depending on the brand and the ingredients used. Keep in mind the cost of the shampoo is often reflective of the quality of the ingredients. Also, you may find that using a more expensive shampoo will give you better results.
By following these tips, you can make sure that the keratin shampoo you choose is the ultimate one for your hair type and concerns.
If you suffer from dry and damaged hair then it is time to incorporate these best keratin shampoos into your hair care regime. It supports your hair's natural structure without weighing it down, so that you can grow your hair with a lesser chance of the strands breaking off. They are those that are specifically formulated to protect and nourish your hair, while also providing a luxurious lather and great scent. 
After researching and reviewing the best products in the market, it is clear that each shampoo has its own unique formula and benefits. Through our trial and error, we discovered that some shampoos provide more intensive repair and nourishment, while others focus on protecting and preserving the hair's natural keratin content. So, it's upon you to choose the one that best suits your individual needs and hair type from the above list. With the right keratin shampoo, you can keep your hair looking healthy and beautiful!
Why Trust Pinkvilla?
If you are on a mission to make your mane luscious, silky, and smooth, we have one answer for you — keratin! Our hair expert, Alvira, picked out a few products based on the online reviews and later tried and tested them over a period of time to come up with the best ones available in the market. She has included some of the products in this list from there that she liked the most. And she hopes that they work wonders on your hair too!
Our product experts study the specifications of every product we suggest and try them out to bring what's proven to be worthy of your money, time, and energy. We also have subject matter experts from various fields like Fashion, Skincare, Haircare, Home Decor, and Health & Fitness onboard to make sure our suggestions are credible and trustworthy. You can trust select to be your faithful shopping guide for all the right reasons!
FAQ's
Which keratin shampoo is best for frizzy hair?
The best keratin shampoo for frizzy hair is one that is specifically formulated to nourish and hydrate the hair, while also providing a deep cleanse and shine. Look for products that contain natural ingredients like jojoba oil, coconut oil, and keratin proteins which help to nourish and condition the hair, creating a smoother and shinier look. Additionally, look for a product that is free of sulfates and other harsh chemicals, as these can cause further damage to already frizzy hair. With the right shampoo, frizzy hair can be tamed and given a beautiful and healthy shine.
---
Can keratin shampoo damage your hair?
Keratin shampoos can be beneficial for individuals with thick, curly, or hard-to-manage hair, but they can also be damaging if not properly used. If used too often, or with the wrong ingredients, keratin shampoo can strip the hair of its natural oils, resulting in brittle, dry, and damaged hair. Therefore, it is important to know what type of keratin shampoo is best for your hair type and use it correctly to ensure healthy, beautiful hair.
---
Can keratin shampoo be used daily?
Keratin shampoos can be used on a daily basis, but remember that it is not necessary to do so. Regular use of keratin shampoos can help to improve the health and appearance of your hair, but it can also lead to a buildup of product on the scalp and strands, which can cause irritation and damage. Therefore, use these shampoos in moderation and use a clarifying shampoo on occasion to remove any build-up.
---
Is keratin shampoo the same as keratin treatment?
Keratin shampoo and keratin treatment are not the same. Keratin shampoo is a regular shampoo that contains natural proteins to nourish and strengthen the hair, while keratin treatment is a more intensive process that involves the application of a keratin-based solution to the hair to help straighten, smooth, and protect it from damage. The two products have different purposes and results. As such, they are not the same product and should not be used interchangeably.
---
Is keratin shampoo necessary?
Using a keratin shampoo is not always necessary, as it may not be suitable for all types of hair. Understand your hair type and condition before deciding whether to use a keratin shampoo. Make sure to choose one that is specifically designed for your hair type and condition. Additionally, follow the instructions on the shampoo bottle carefully to ensure optimal results.
---
Is keratin shampoo safe?
Keratin shampoo is generally considered safe for most people, and is often recommended by hair experts as a great option for people who have dry, damaged hair. It can be used to add shine and smoothness to the hair while also offering protection from heat styling and everyday wear and tear. While some people may experience mild allergic reactions, these are often easily treatable.
---
Are keratin shampoos effective?
Yes, keratin shampoos are indeed effective to protect the hair shaft and repair it at the same time.
---
Why is my hair still frizzy after keratin treatment?
If you experience frizzy hair even after keratin treatment, it might be the reason of humidity or the curly hair texture itself.
---
Does keratin shampoo make your hair fall out?
No! Unless the shampoo has a harsh formula or you have an underlying problem, keratin shampoos don't make the hair fall out.
---
Can men use keratin shampoos?
Yes, why not! Men can use keratin shampoos for effective hair treatment.
---
Are keratin shampoos suitable for all hair types?
Yes! Keratin shampoos suit almost every hair type from curly to wavy to fine hair.
---
How often should I use a keratin shampoo?
You can use it just like your normal shampoos— twice to thrice a week.
---
Will keratin shampoos straighten my hair?
No! A keratin shampoo may restore the shine and manageability, but it will no way meddle with the hair structure or type.
---
Can I use keratin shampoo on colored or chemically treated hair?
If your keratin shampoo provides color protection or protects the hair after you have done chemical treatment, you can definitely use it. It is worth the investment.
---
About The Author
With a keen eye for detail and a passion for hairstyling, Alvira is a certified Hair Expert who brings
...
Read more
Top Comments
There are no comments in this article yet. Be first to post one!