11 Hair Care Products to Get Rid of Dandruff And Flaky Scalp
Getting rid of dandruff is simple with our top best 11 list. Check out these best deals on hair care products that assure dandruff-free healthy scalp and hair!
Updated on Mar 16, 2023 | 11:04 AM IST | 625K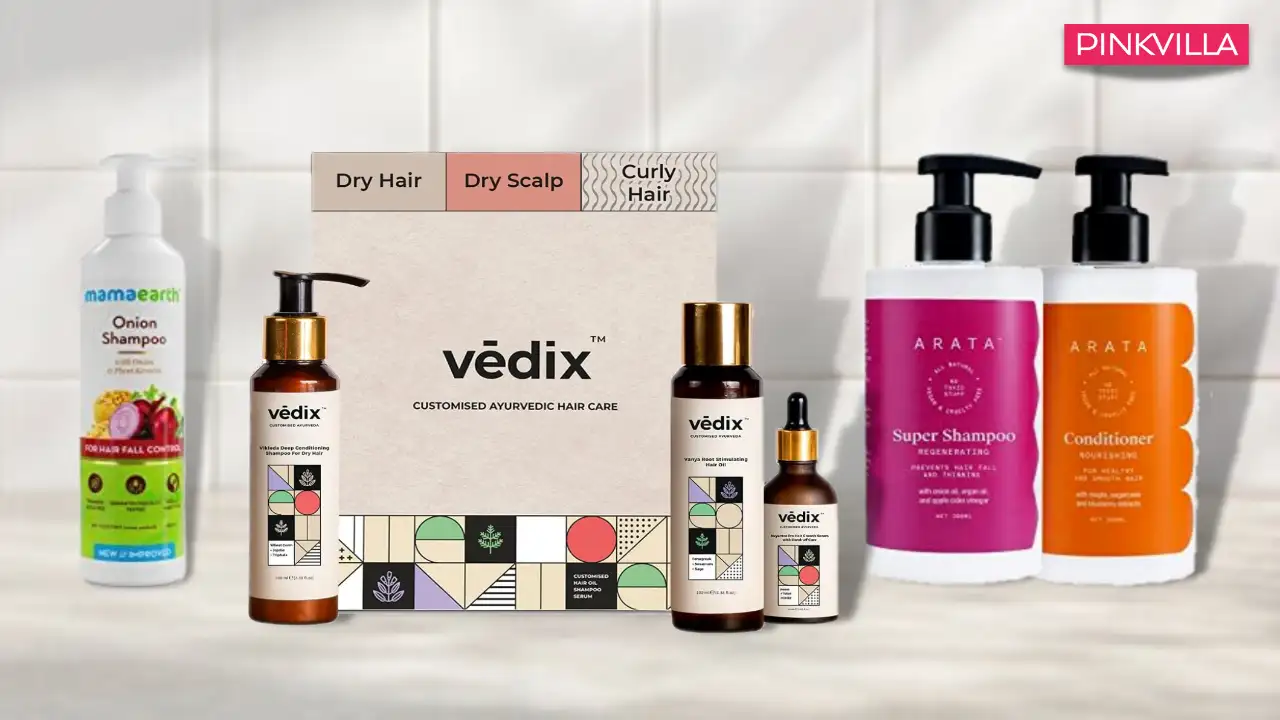 The products curated for this article are independently chosen by the editorial team. If you make a purchase through the
links
mentioned below, we may receive a commission. Check out our
product research & curation process
Hey! If you have landed on this page chances are that you might be struggling to deal with itchy, dry, and flaky skin on your scalp! These issues are tough to deal with but not impossible to manage.
To combat this icky situation, you must know the causes which are oily skin, fungus, and dry scalp, that affect your hair and scalp quality a lot. Malassezia is a fungus that lives on your scalp and causes dandruff (1). These flaky skin deposits of the scalp are not fatal, but the immune system overreacts to them in certain persons. This causes severe dandruff, inflamed scalp skin, hair loss, and thinning (2). We have brought you these top 11 hair care products that claim to remove dandruff and leave you with silky, smooth hair. Browse and choose your remedy to finally say goodbye to that white flaky powder.
Top Picks:
1. Mamaearth Onion Shampoo - Best Natural Shampoo
2. Arata Argan Oil & Bhringraj Combo Set - Best for Color-Treated Hair
3. Vedix Dandruff Control Set - Best Ayurvedic Shampoo
4. mCaffeine Mini Coffee Hair Care Duo - Best for Dry Scalp Treatment
5. Ustraa Anti Dandruff Hair Serum - Best Serum for Dandruff
11 Hair Care Products for Dry And Itchy Scalp Heads!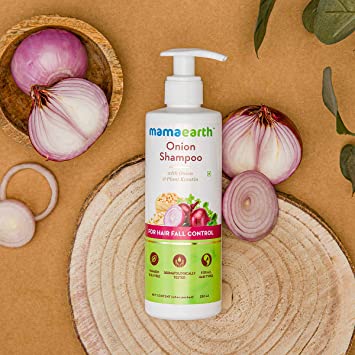 Onion's antibacterial and antifungal qualities treat dandruff while also promoting hair growth and improving its look. The presence of onion oil also stimulates and hydrates the scalp, boosting blood circulation throughout the scalp (3). What is the secret? It nourishes the hair that has been overwashed and is rich in plant keratin. Add this toxin-free, organically manufactured Mamaearth shampoo that's ideal for scalp dryness and frizz-free hair to your shopping list before it sells out!
Key Ingredients: D-Panthenol, vitamin B5
Pros
Cost-effective
Great for hair fall
Silicone-free 
Sulfate-free 
Cons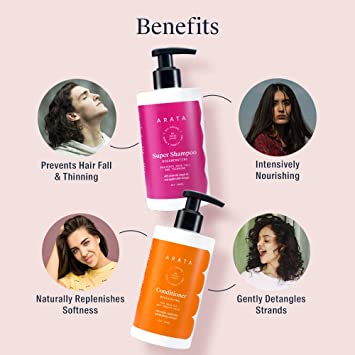 This revitalizing blend of effective natural ingredients restores the natural moisture of your strands, giving you lush, radiant hair. This gender-neutral shampoo is suitable for all hair types, be it brittle or oily it works on color-treated hair too! Free from nasty triclosan and formaldehyde, it boosts the natural circulation of your scalp. That helps in moisturizing and repairing dry and damaged hair thereby getting rid of dandruff. As one of the top brands in hair care, this shampoo has garnered over 5k+ reviews, all for the right reasons!
Key Ingredients: Bhingraj oil, sugarcane, argan oil
Pros
Plant-based formulation
Vegan
Cruelty-free
Perfect for colored hair
Cons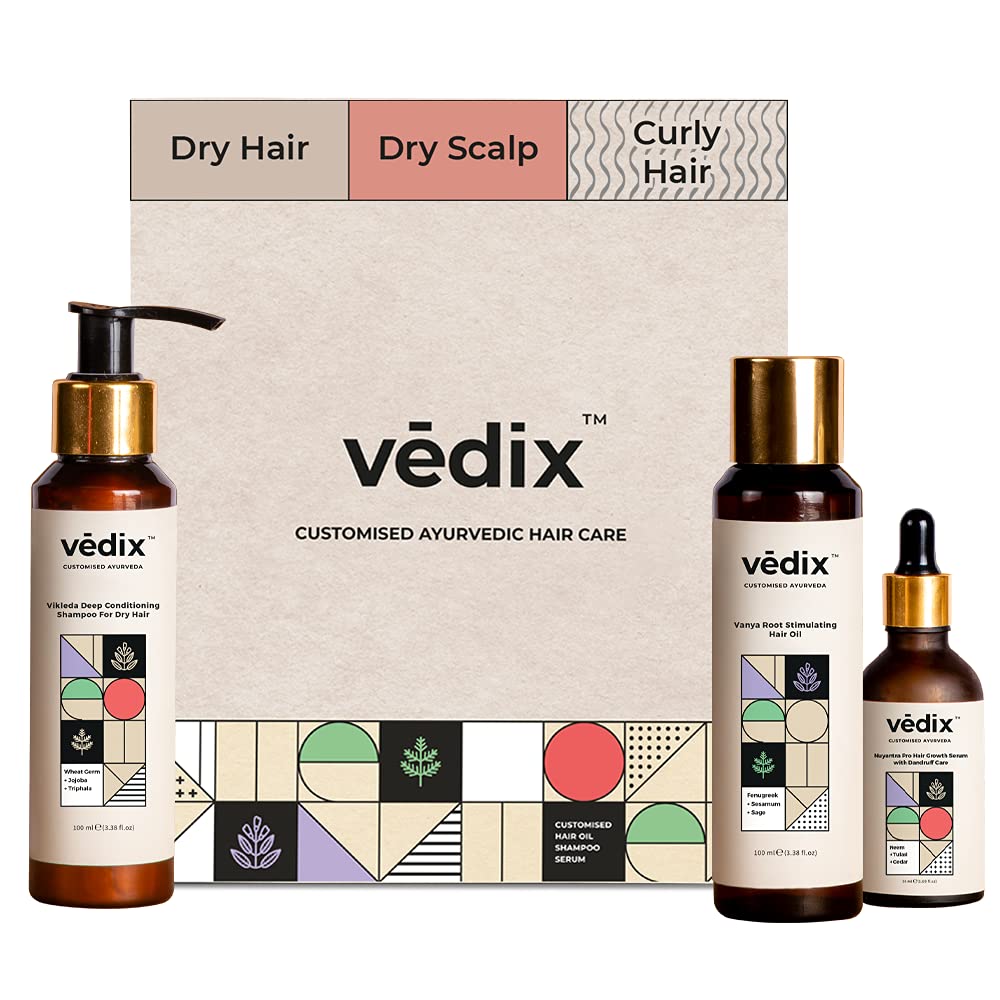 Dandruff cannot be treated by utilizing these products only once. To consistently diminish dandruff, constant routine, and diligent attention to your hair are all essential. This package includes a hair serum, oil, and shampoo that decreases hair fall and breakage caused by dryness, nourishes the scalp, strengthens hair roots, and improves general scalp health. It's all designed with the help of ayurvedic doctors and physicians to make this handy package for the health of your hair!
Key Ingredients: Gunja, quinoa, bhringraj, aloe vera, grapeseed oil
Pros
Silicone-free
Sulfate-free 
Boosts scalp health
Ayurvedic elements
Cons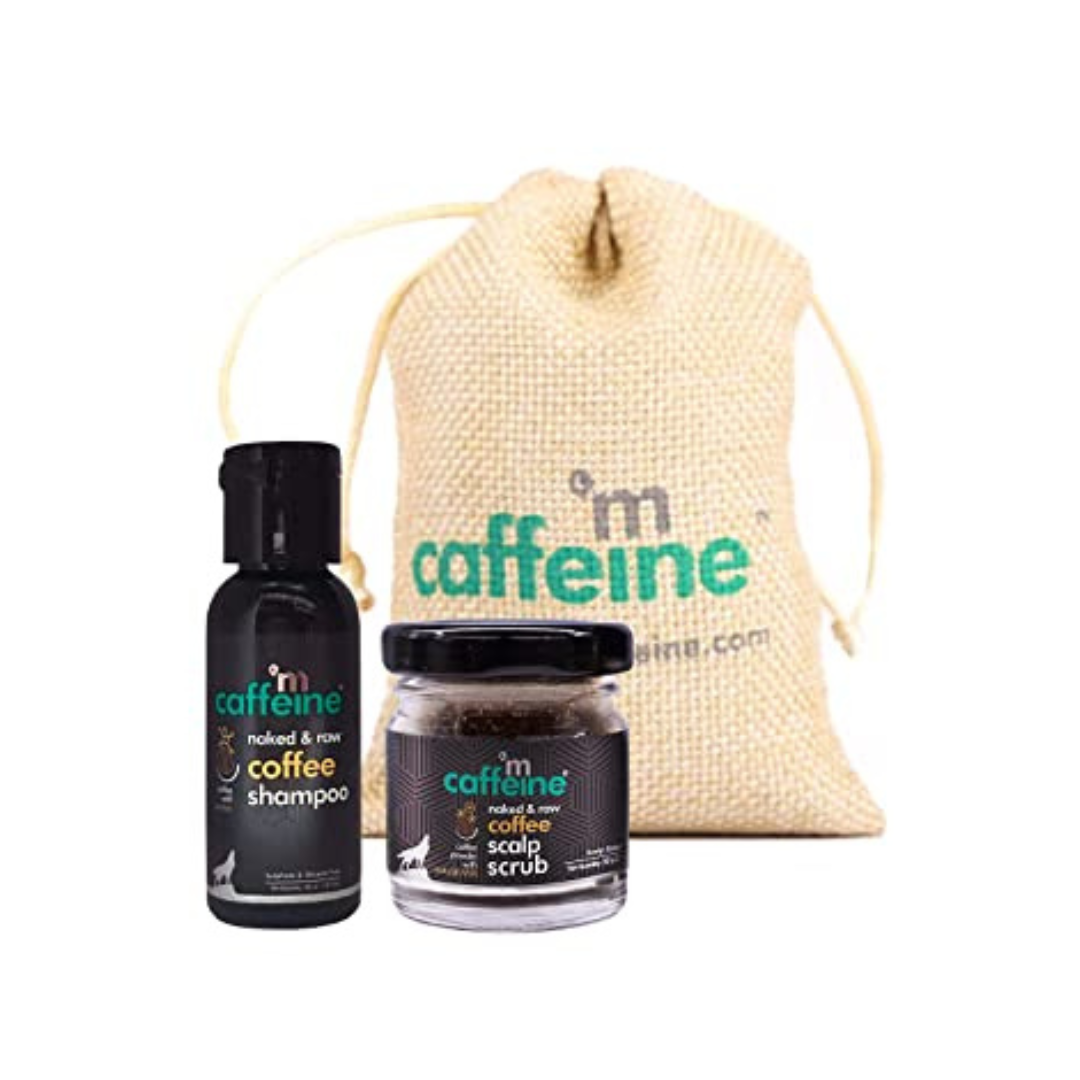 Get rid of nasty hair grime and dirt with this Deep Cleansing Hair Care Duo. This combo consists of shampoo and hair scrub that provides deep cleanse, facilitates hair shaft nourishment, and hair fall control. The star of the kit is the coffee shampoo  made with coffee extract, protein, and argan oil, that promotes hair growth. Packed with the goodness of natural AHA, it ensures exfoliation of the scalp, clears build, and controls dandruff while controlling hair fall too! 
Key Ingredients: AHA, coffee extracts, protein, argan oil, caffeine
Pros
Soothes the scalp
Great for exfoliating dry scalp
Natural elements
Vegan
Cons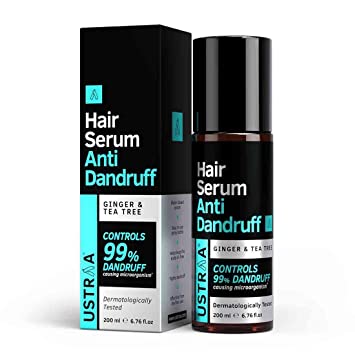 The hair serum infused with ginger and tea tree helps regulate scalp pH and prevent the formation of dandruff-causing fungus. It maintains your scalp oil-free, moisturized, and fresh. Ginger's antibacterial qualities can help significantly reduce dandruff. Just spritz some serum over the scalp and leave it in for the day for the best results. It can be used every day for 2-3 days without washing your hair. To top it off, the lovely aroma leaves the scalp smelling fantastic.
Key Ingredients: Ginger, tea tree
Pros
Cost-effective
SLS-free
Maintains hair pH level
Easy to use
Cons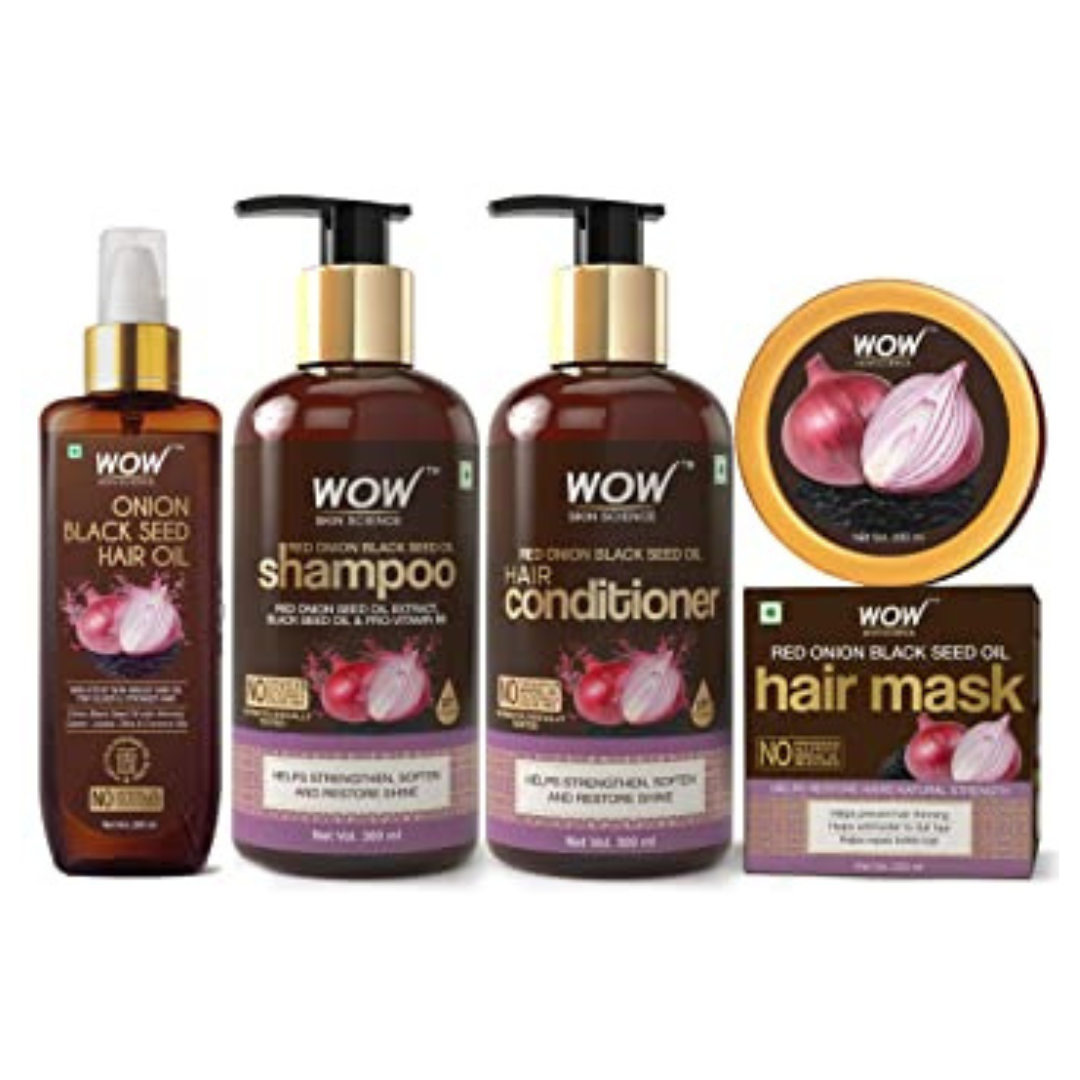 As flavorful as the onion can be for your favorite dishes, the same ingredient does wonders for your hair too. This kit contains onion oil-based shampoo, conditioner, hair mask, and hair oil that helps to revive your tired scalp and dreadful hair. What makes it work is the red onion extract and black seed oil, which aid in rejuvenating the scalp and weak hair follicles. Its antioxidant and anti-inflammatory properties help reduce hair loss, excessive dryness, dandruff, and scalp eruptions making your itchy scalp finally relieved from dandruff!
Key Ingredients: Red onion seed oil extract, black seed oil, pro-vitamin B5
Pros
Anti-oxidation properties
Nourishes hair
Silicone-free 
Sulfate-free 
Cons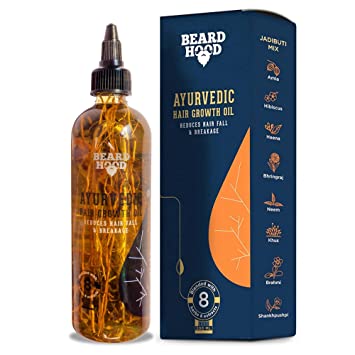 Intense dandruff can make your scalp unhealthy and turn hair follicles weak and brittle while restricting hair growth and strength. This growth oil aims to nourish the scalp and strengthen the roots of your hair with the benefits of amla, shankhpushpi, and vetiver to help hair grow naturally. It stimulates blood flow, while hibiscus and neem reduce dandruff and help strengthen hair strands. It exceeds the rest with its ayurvedic formulation of Brahmi and bhringraj that work together to revive your hair back up!
Key Ingredients: Amla, hibiscus, Heena, bhringraj, shankhpushpi, Brahmi, neem, and  vetiver
Pros
Suitable for all hair types
Suitable for men and women
Softens the hair
Affordable
Cons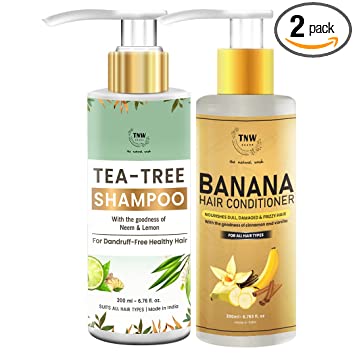 Individuals who are tired of dealing with frizzy hair may breathe a sigh of relief now that this combination set is available! The blend of antibacterial elements and the aromatic benefits of vanilla, banana, and cinnamon extracts, give the fantastic combination of smell and use. As the shampoo attacks dandruff, the conditioner softens the hair while also assisting in the elimination of dandruff-causing fungus, treating scalp infection, and soothing irritation while nourishing the flaky scalp.
Key Ingredients: Tea tree oil, ginger, neem, and lemon
Pros
Suitable for all hair types
Chemical-free
Paraben-free 
Sulfate-free 
Cons
Contains artificial fragrances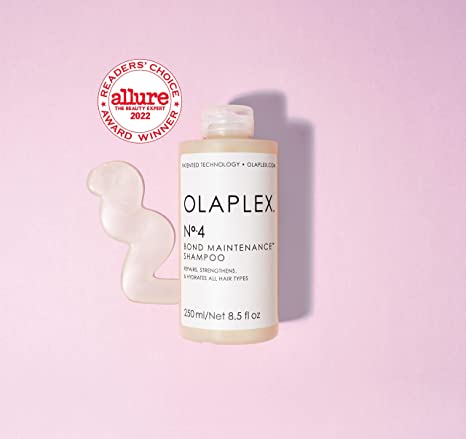 Boost your hair color and fight the dryness on the scalp with this miracle in a bottle! This shampoo repairs and protects your hair from everyday stresses - including damaged hair, split ends, and frizz - by re-linking broken bonds. From the Olaplex range, the No. 4 is a color-safe solution proven to reduce hair breakage and strengthen all hair types. This is the ideal shampoo for you to tame split ends, flyaways, and frizz in an instant!
Key Ingredients: Biotin, keratin, Moroccan argan oil, sodium cocoyl, and sodium lauroyl sarcosinate
Pros
Ideal for color-treated hair
Gluten-free
Paraben-free
Sulphate-free
Cons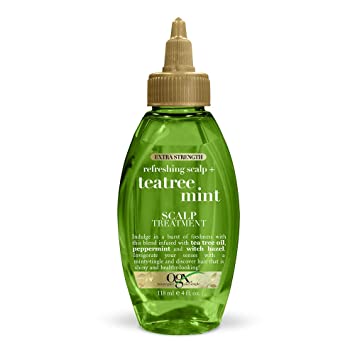 This surge of vitality is just what you want to eliminate the greasy buildup on your scalp! With the power of tingling tea tree oil, peppermint, and witch hazel extracts, this treatment will invigorate your scalp while eliminating any dry residue. This non-medicated scalp solution's unique mix helps remove debris from hair and scalp without damaging the strands. Use this minty and lightweight shampoo to treat dry scalps in the best way possible!
Key Ingredients: Tea tree oil
Pros
Moisturizes the hair
Cost-effective
Sulfate-free
Surfactant-free
Cons
Not suitable for all hair types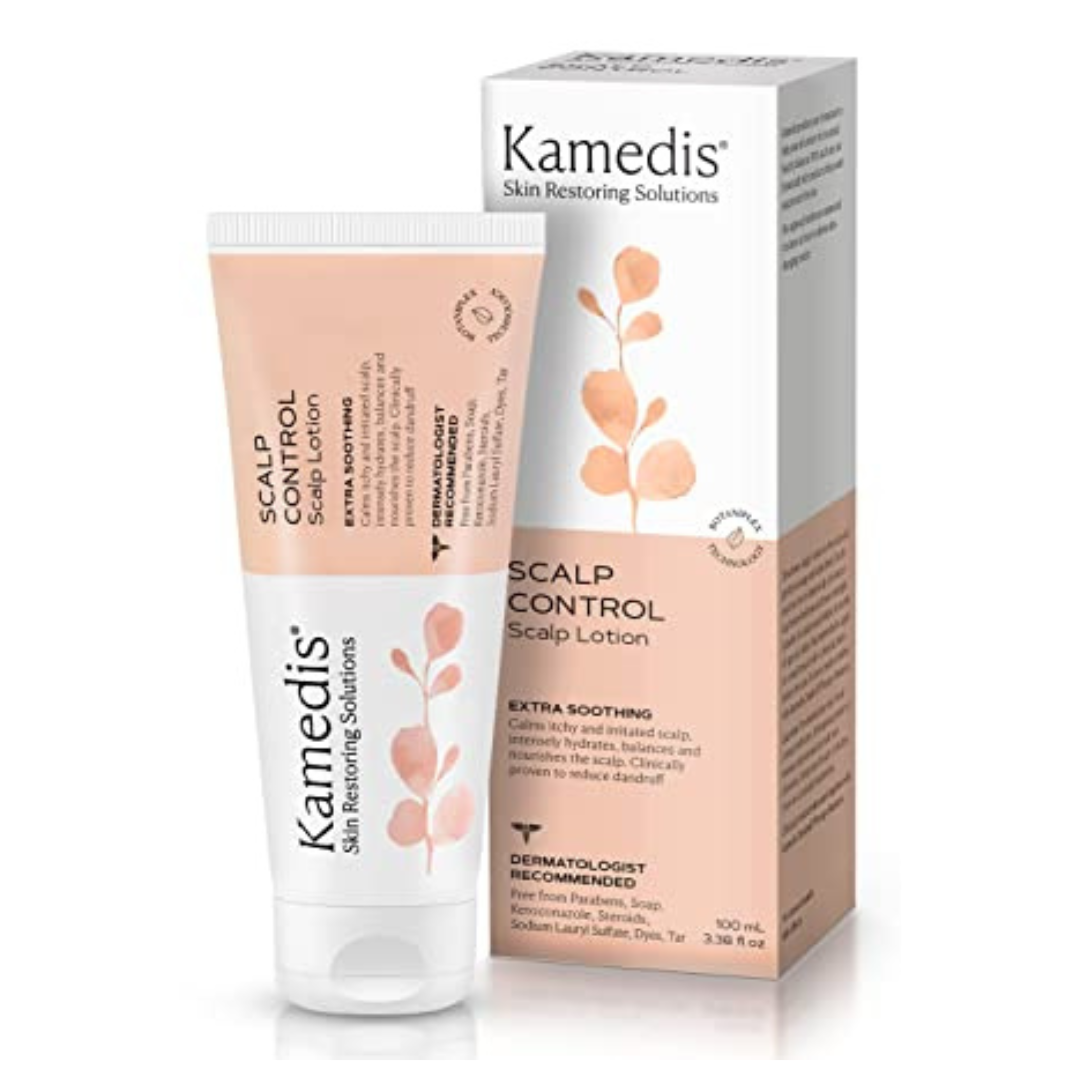 Among the sea of drugstore hair products, here's a refreshing alternative! The scalp lotion gives a combination of mineral oil, shea butter, and botanical extracts, each designed to work together to help reduce flaky, scaly, and irritated skin which are high spots for dandruff buildup. To get the best out of the product, apply it to your scalp overnight and awaken to a smooth scalp. This dermatologist-recommended lotion works ideally for dandruff and can be the next favorite shampoo too!
Key Ingredients: Shea butter, botanical extracts
Pros
Fights against dandruff
Steroids-free
Cruelty-free
Soap-free
Cons
How to Choose the Best Hair Care Products for Dandruff And Flaky Scalp
Calming agents: Substances with antibacterial, antiseptic, and anti-inflammatory characteristics including lavender oil, rosemary oil, and green tea extract work great for calming dandruff (3). Despite taking more time to work on dandruff, these are quite beneficial when used consistently.
Anti-fungal ingredients:  Anti-fungal elements in shampoo and conditioners assist to reduce the influence of germs and bacteria that trigger the generation of dandruff. As a result, ordinary elements like zinc and natural elements like flowers and plants aid in the decrease of dandruff (4).
Protecting colored hair: For those who have colored hair or extensions, be sure the shampoo you choose is color friendly. Although anti-fungal chemicals are quite efficient in reducing dandruff, they can be harsh on color and cause premature fading. Always check for sulfate-free combos that won't disturb or spoil the glow of your hair color.
Check for a dermatologist: Even though most cases of dry scalp and dandruff may be treated and maintained with over-the-counter shampoo, one must secure the ultimate answer from an expert. They can help if the itching or irritation goes beyond your control.
How to Use Best Hair Care Products for Dandruff And Flaky Scalp:
Firstly, completely wet your scalp and hair with fresh water.
Apply a dime-sized quantity of shampoo to your scalp, and massage lightly into the skin and comb through the hair.
As a thick lather builds, keep it on for up to 5 minutes to enable the shampoo's active components to work on your scalp.
Rinse and clean your scalp and hair with lukewarm or cold water as directed on the box.
After the inflammation from dandruff or itchy scalp has subsided, consider switching to gentler shampoos to avoid the further chances of ruining your hair quality and scalp.
Although dandruff isn't an infectious or significant disease, it can cause distraction and annoyance. When looking for the finest hair care products, one must consider if the issue is moderate or severe. The selected list above contains numerous possibilities for your hair treatment that you can scroll through. Happy shopping!
Sources: 
1. Analysis on the Natural Remedies to Cure Dandruff/Skin Disease-causing Fungus 
2. Allergic Reaction: Symptoms, Diagnosis, Treatment and Management-
4. Enhanced efficacy and sensory properties of an anti-dandruff shampoo containing zinc pyrithione and climbazole-
FAQ's
How often should you wash your hair with dandruff?
To rid your scalp of dandruff, you need to clean out all the gunk, which a regular shampoo won't do. Using the above shampoos for a wash 3 times a week is suggested.
---
Is there a way to permanently stop dandruff?
No, but it can be controlled. You'll need to reserve a permanent space in your shower for specialized treatment shampoo, which can slow the rate at which your skin cells die and slough off.
---
What causes a flaky scalp?
Dandruff can be caused by a variety of factors, including irritable, oily, or dry skin, as well as a fungus (Malassezia) that feeds on oils on the scalps of most people. (1)
---
About The Author
Neha Tiwari, a certified Haircare coach, an experienced writer, educator, translator, and editor, has been catering t...o the content world for over 7 years now. Due to her fervent interest in haircare, she loves studying more and more about Trichology (Hair Therapies). Neha pens down haircare-related articles enriched with valuable facts in the most comprehensible manner for her readers. Other than curating content, she loves to binge-watch beauty videos, travel to exotic locations, and create interesting recipes. She also has a YouTube channel that features her life updates along with tried and tested beauty hacks.
Read more
Top Comments
There are no comments in this article yet. Be first to post one!