10 Best Skin-friendly Face Creams And Moisturizers to Snag from the Amazon Great Republic Day Sale
Face creams and moisturizers play a pivotal role in maintaining the youthfulness of our skin. Get skin-enriching face creams at the best rates at Amazon.
Updated on Jan 31, 2023 | 04:15 PM IST | 100.6K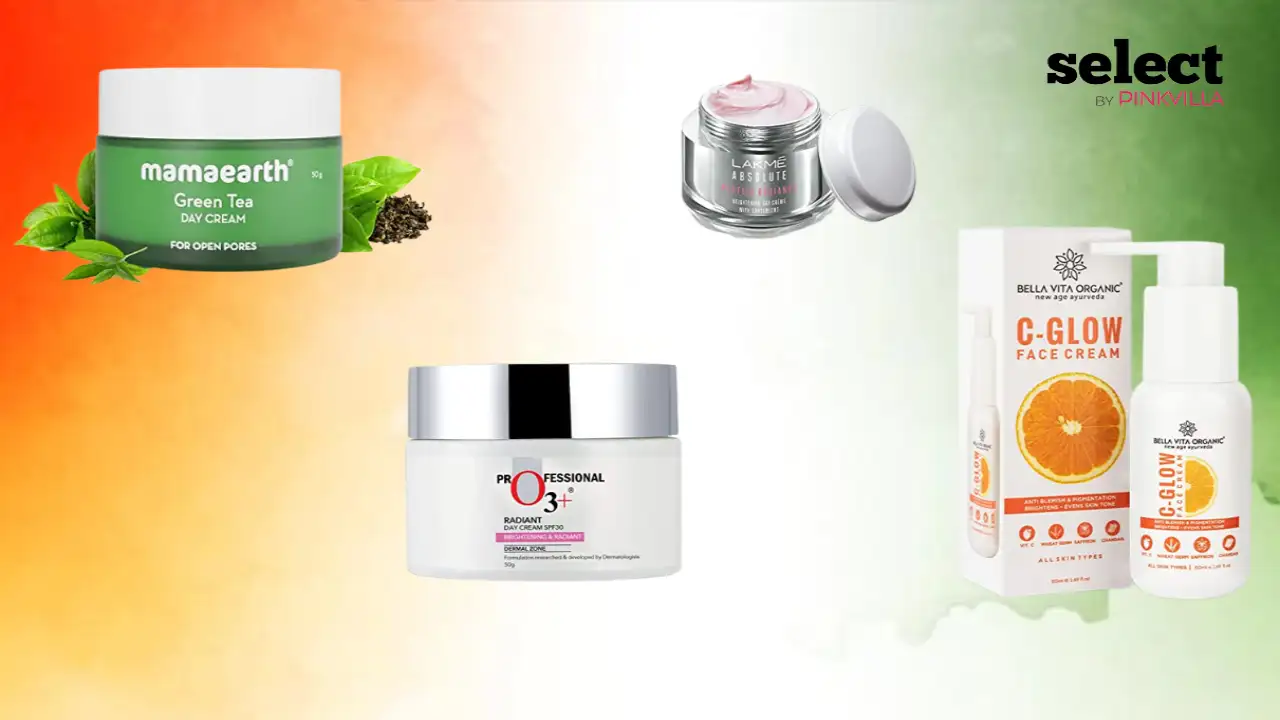 The products curated for this article are independently chosen by the editorial team. If you make a purchase through the
links
mentioned below, we may receive a commission. Check out our
product research & curation process
"Beautiful skin requires commitment, not a miracle." — Erno Laszlo. 
Our skin is like a baby; it needs loads of pampering and care. A proper skincare regimen includes face creams and moisturizers to nourish the skin. If you want to age like fine wine and have happy and healthy skin, you need to invest in good skincare products and a sincere skincare routine. A face cream, an irreplaceable skincare product, has countless benefits: it retains moisture in your skin, fights signs of aging, provides hydration, and acts as a protective barrier for your skin. All in all, if you want Cleopatra-like skin, you must indulge in top-quality face creams with suitable ingredients for your skin type. 
With so many options available in the market, picking the right face cream can be tiresome. However, being armed with our list of the best face creams and moisturizers can make the process of snatching your favorite pick at great offers an easy task! And no, you don't need to empty your pockets to buy the best cream for your face. So, grab your favorite cream and avail amazing discounts with the Great Amazon Republic Day Sale right away!
Top 10 Face Creams And Moisturizers for Healthy And Radiant Skin
1. Mamaearth Green Tea Day Cream
Green tea is a wonderful ingredient for skin health. It is laden with antioxidants and nutrients that keep the skin firm and smooth. Mamaearth Green Tea Day Cream is packed with collagen and green tea. It fights signs of premature aging, boosts skin elasticity, and keeps the skin hydrated. It is an SPF30 cream that also protects your skin from harmful UV rays. Additionally, Mamaearth Green Tea cream is crafted with love and nature's goodness! There are no harmful toxins present in this face cream, and both men and women can use it. It is best suited for people facing skin inflammation and open pores issues.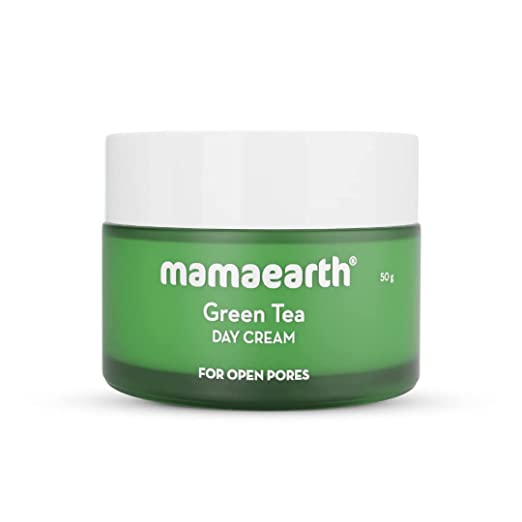 (as of 17/01/2023 13:10 IST)
2. LAKMÉ Absolute Perfect Radiance Brightening Day Crème With Sunscreen
Where there is talk of skincare, there is a mention of LAKMÉ. One of India's most loved cosmetic brands, it comes with a wide variety of creams and moisturizers. This day cream is formulated with SPF 20 PA++ and protects your skin effectively from UV damage. LAKMÉ Absolute Perfect Radiance Brightening Day Crème With Sunscreen provides deep nourishment to the skin and leaves you with crystal-like radiant skin. You will want to look at yourself in the mirror, day and night, to admire your beauty with this day cream. This cream suits all skin types and is best used for providing nourishment and adding glow to the skin.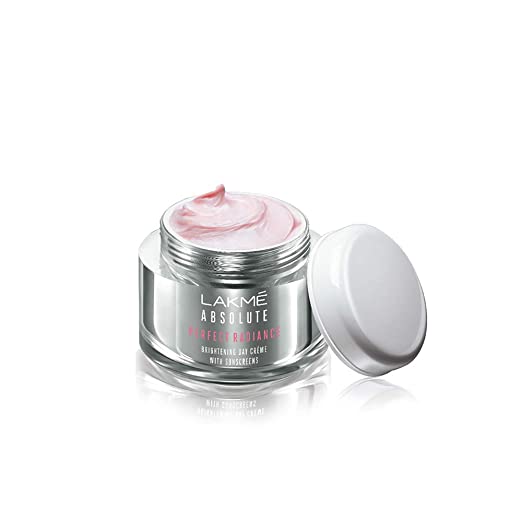 (as of 17/01/2023 13:10 IST)
3. Cetaphil Moisturising Cream
Cetaphil Moisturising Cream is a must-try for people with dry skin. The problem with dry skin is that it cracks easily, allowing bacteria to enter your skin. This might lead to infections or rashes. A deep moisturizing cream formulated with gentle ingredients can help you solve the problems of dry skin types and Cetaphil Moisturising Cream is enriched with the goodness of almond oil and vitamin E. These natural ingredients are deeply nourishing for the skin and can help soothe flaky skin. This gluten-free, unisex face and moisturizing body cream is best suited for dry-to-normal skin types.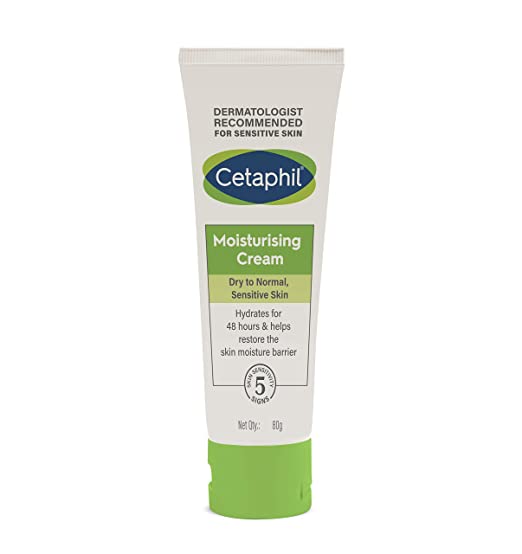 (as of 17/01/2023 13:10 IST)
4. Dot & Key Skincare Ceramides & Hyaluronic Skin Barrier Repair + Face Cream
This fabulous face cream is recognized for its key ingredients — ceramides, probiotics, Japanese rice water, and hyaluronic acid —, which help you achieve lustrous, smooth skin. The enticing formulation of this face cream works excellently to repair damaged skin, balance skin's microbiome level, soothe dry and irritated skin, and prevent inflammation. It is crafted with clean ingredients and is devoid of parabens, mineral oil, fragrance, essential oil, and synthetic dye. People with all skin types can use it. However, it is best suited for sensitive and dry skin types. The plus side is that it can be used by both men and women.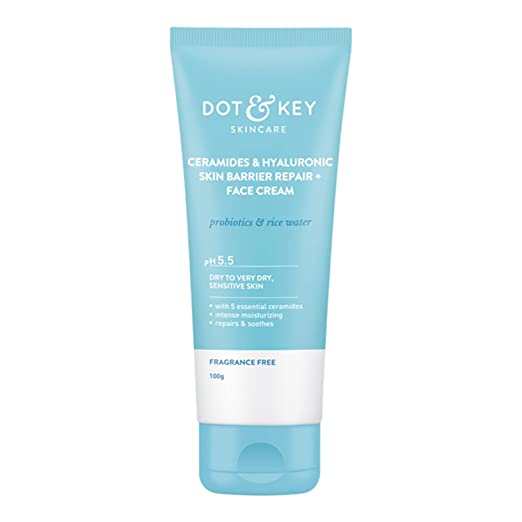 (as of 17/01/2023 13:10 IST)
5. Joy Honey & Almonds Nourishing Skin Cream
If you are looking for a face cream with nature-inspired ingredients that can replenish your skin in one application, your quest is over! The honey, wheat germ oil, almonds, and aloe vera in this formulation quenches dry skin in the blink of an eye and gives proper nourishment to the skin. This super-buildable cream formulation keeps the skin healthy by sealing moisture content, protecting it from oxidation, calming dry skin, and providing an even tone. It gets absorbed easily into the skin without making it greasy. Joy Honey & Almonds Nourishing Skin Cream is cruelty-free and doesn't contain harsh chemicals like parabens, sulfates, alcohol, and phthalates. It is suitable for all skin types and is a unisex product.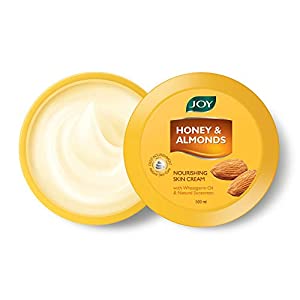 (as of 17/01/2023 13:10 IST)
6. The Face Shop Rice Ceramide Moisturizing Cream
Slather your face with this creamy moisturizer and bid farewell to all your dry skin issues. Its moisture lock formula keeps the skin hydrated for long hours and protects dry skin from environmental stressors. It contains rice bran oil, rice extract, and ceramide, which makes for a marvelous formulation for a cream with a non-sticky texture and hydration properties. If you are looking for a face cream that can give a perfect glow to your skin and keep it moisturized, go with this one. Its natural formula is free from parabens, mineral oil, talc, and tar colorant and suitable for all skin types.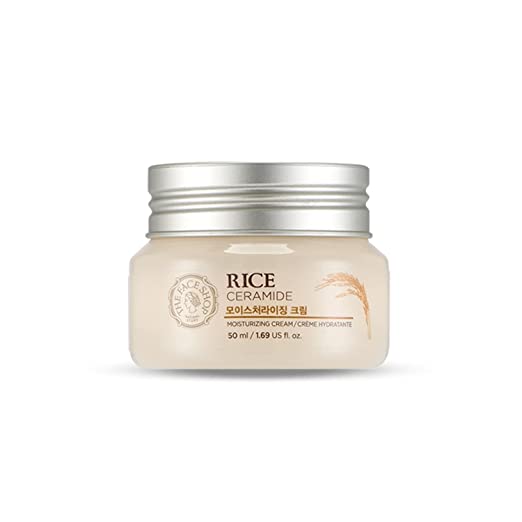 (as of 17/01/2023 13:10 IST)
7. Bella Vita Organic C-Glow Face Cream
Bella Vita Organic C-Glow Face Cream is infused with the natural goodness of sandalwood, vitamin C, wheat germ oil, and saffron. A single pack of this cream is enough to fight various skin problems like dryness, itchiness, uneven skin tone, dull skin, dark spots, skin damage, and hyperpigmentation. You don't have to worry about damaging your skin because it doesn't come with sulfates and parabens. This unisex face cream is ideal for all skin types.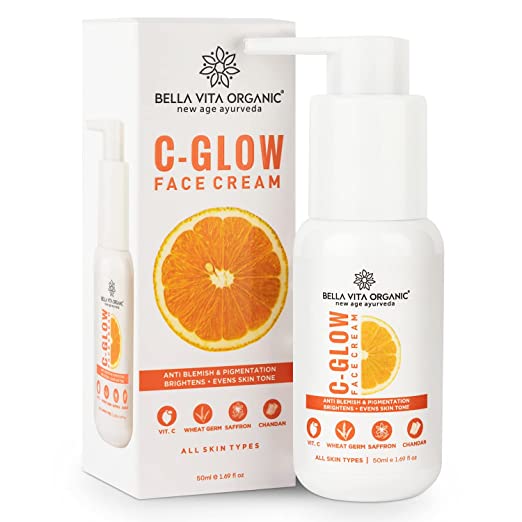 (as of 17/01/2023 13:10 IST)
8. O3+ Radiant Day Cream SPF 30
When it comes to skincare, O3+ is a brand name we hear often. If you spend a lot of time under the sun, a typical day cream won't work the best for you. After all, it would help if you had something to shield your skin against harsh UV rays. This is where O3+ Radiant Day Cream SPF 30 comes into play! What makes this cream so good is that it is enriched with wholesome ingredients, including licorice, bisabolol, and niacinamide. This power-packed formulation works effectively in removing tanning, reducing the signs of aging, and keeping the skin soft. It also provides broad-spectrum sun protection, reduces pigmentation, and leaves you with a natural radiance on your skin. This day cream protects all skin types and is best suited for people with combination skin.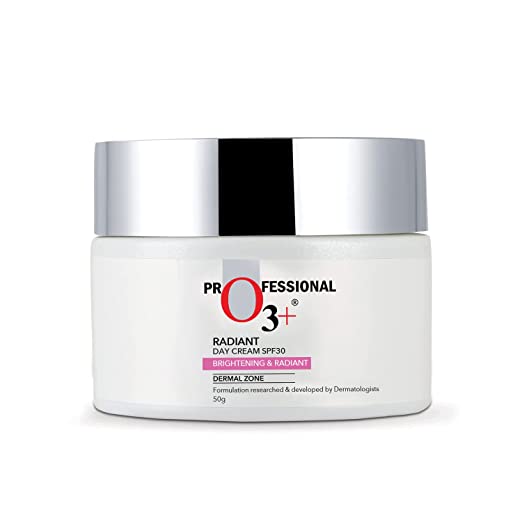 (as of 17/01/2023 13:10 IST)
9. POND'S Age Miracle Wrinkle Corrector Day Cream SPF 18 PA++
With age comes wrinkles and fine lines. But there are ways to reverse as well as prevent signs of aging. You just need to use products specifically formulated for such purposes. If you have been trying to hide your wrinkles, here's a magical product for you — POND'S Age Miracle Wrinkle Corrector Day Cream SPF 18 PA++! Its anti-aging technology boosts skin complexion and reduces the appearance of wrinkles. You don't have to worry about going out under the sun because this amazing face cream comes with SPF 18 PA++. Blended with the richness of retinol, vitamin E, and niacinamide, it's a perfect day cream for all. It doesn't contain parabens and is recommended for all skin types.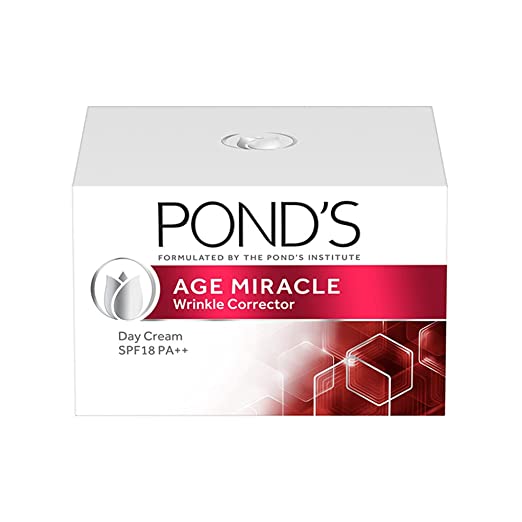 (as of 17/01/2023 13:10 IST)
10. Blue Nectar Shubhr Saffron & Sandalwood Anti-Aging Cream
Oftentimes, men find it hard to pick the best face creams. Here's one for you that will keep your skin moisturized and delay the process of aging. It is packed with 14 extraordinary herbs, including saffron, aloe vera, gulab, mulethi, manjistha, methi, haritaki, van haldi, deodar oil, almond oil, plum oil, glycerin, wheat oil, kumkumadi oil. The perfect blend of these herbs makes it a holy grail for the skin. You don't need a magic wand to solve your skin issues, just grab this product, and you are ready to rock and roll with lovely skin. From providing deep nourishment to the skin to fading dark spots, it fulfills all the purposes of skin cream. It contains no parabens, sulfates, or mineral oil and is a cruelty-free product.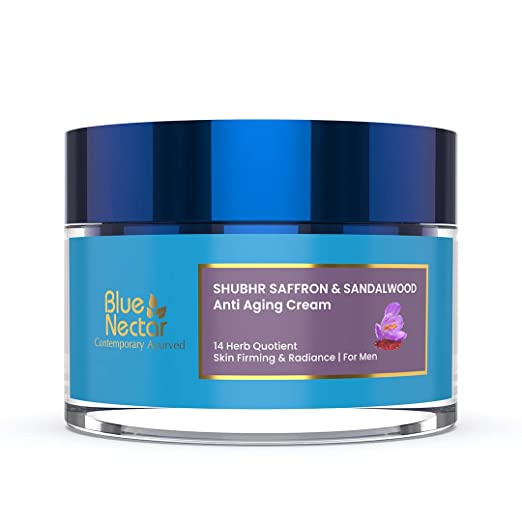 (as of 17/01/2023 13:10 IST)
Skincare fads might come and go, but the need for face creams and moisturizers will always stay. If you don't use a face cream, your skin may become dull, and dark spots may appear sooner or later. So, take cues from our list of top face creams and moisturizers and pick the best one depending on your skin type at great discounts.
About The Author
Chhavi Puri likes to keep up with all the trends in the makeup & beauty field. She is certified in makeup ar...tistry and holds a PG Diploma in Counseling Psychology degree from Amity University. She is a skincare enthusiast and has attended online workshops on Ayurvedic Cosmetology from Ayurveda Gurukalam. Chhavi has more than 3 years of experience in SEO content writing. She loves penning down her thoughts creatively and is a Hogwarts-certified Potterhead!
Read more
Top Comments
There are no comments in this article yet. Be first to post one!