Top 10 Skincare Combo Kits to Shop from Amazon's Great Republic Day Sale And Nurture Your Skin
Get skincare combo kits at the best rates during Amazon's Great Republic Day Sale. These skin-friendly combo packs make skin care a hassle-free process.
Updated on Feb 01, 2023 | 09:01 AM IST | 59.3K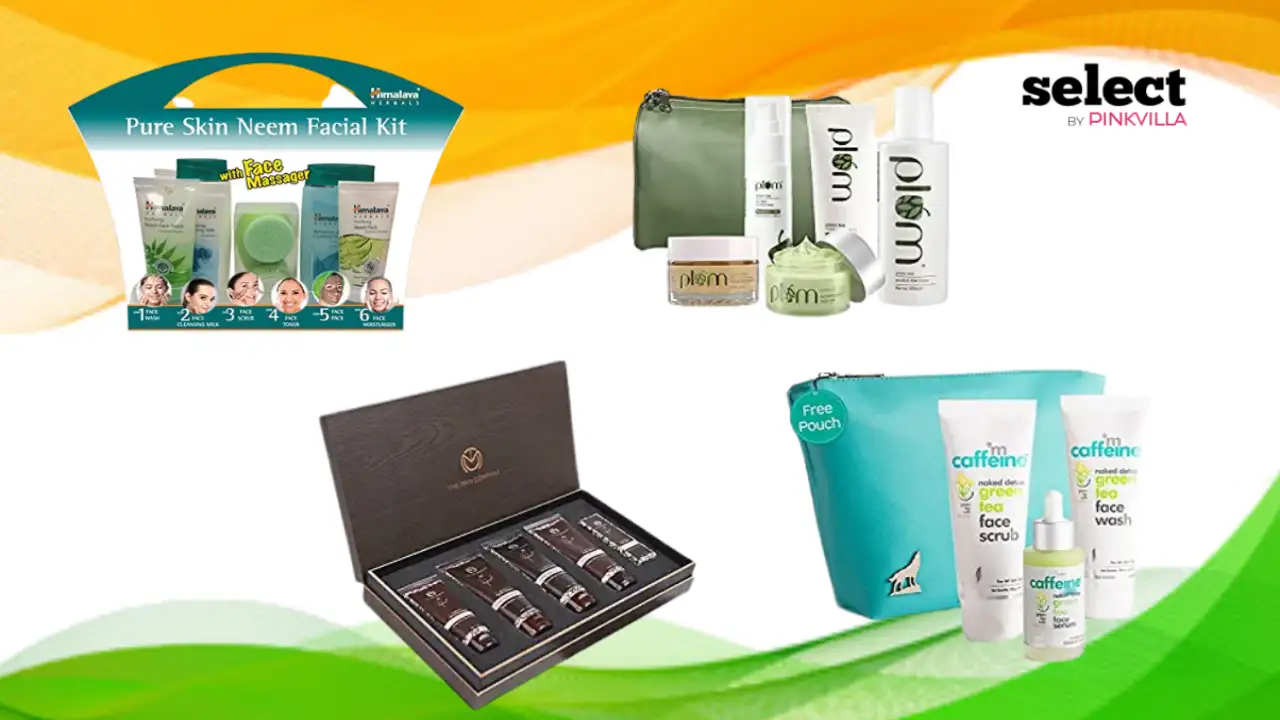 A quality skincare regimen includes many products to keep your skin healthy. Looking for individual skincare products that suit your skin type and cater to all your needs can be exhausting. With the advent of skincare combos, many things have become easy for beauty enthusiasts. Skincare kits are a hit amongst people because they save us from the hassle of buying individual products and are budget-friendly too. These skin care combo packs also work as a great gift to give somebody and make them feel special. Take advantage of Amazon's Great Republic Day Sale and seize these popular skincare combo kits at reasonable rates. 
10 Best Skincare Combo Kits to Amp Up Your Beauty
1. Plum Green Tea Acne-Fighting Regime Kit
If you are tired of popping your pimples and want to solve the acne problem once and for all, try the premium quality Plum Green Tea Acne-Fighting Regime Kit. This acne-fighting skincare combo includes a face mask, an oil-free moisturizer, a face wash, an alcohol-free toner, and a night gel. The products included are crafted with the goodness of glycolic acid and other natural ingredients. The gentle formulation of the products doesn't strip the skin from its natural oil and prevents the occurrence of acne breakouts. It is a brand known for taking a stand for animal rights and provides 100% vegan products. Besides that, it's free from parabens and other nasties that make it safe for your skin. This skincare kit is ideally formulated for people with oily skin.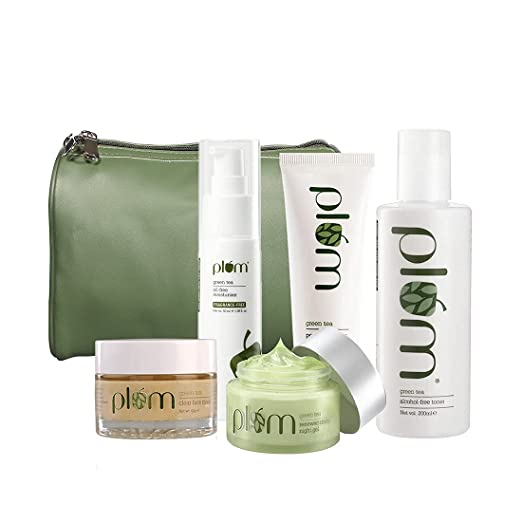 (as of 19/01/2023 14:00 IST)
2. mCaffeine Green Tea Detox Facial Kit
Relax your skin with the calming mCaffeine Green Tea Detox Facial Kit. It is packed with a face wash, a face scrub, and a face serum. The products in this kit are infused with the richness of green tea, vitamin C, hyaluronic acid, and caffeine. Together, these natural ingredients work effectively to keep the skin hydrated, control sebum production, soothe the skin, provide toning effects, and provide complete protection to the skin against environmental aggressors. This facial kit's anti-inflammatory and antioxidant properties make it worth spending money on. Coffee lovers will definitely love this kit as it has a sweet coffee aroma. The products are free from parabens and SLS. This is a gender-neutral facial kit and suits all skin types. The kit also comes with a free makeup pouch which you can use to carry small items.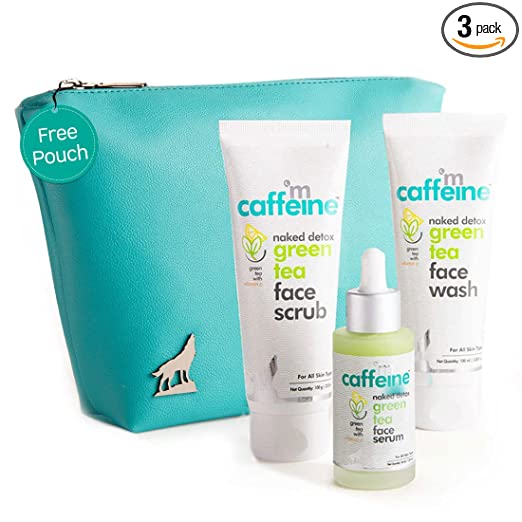 (as of 19/01/2023 14:00 IST)
3. Mamaearth Natural Radiance Combo
Pollution can wreak havoc on your skin. The best way to tackle skin care problems arising due to toxic air is to use anti-pollution products. Mamearth Natural Radiance Combo comes with a highly effective anti-pollution daily face cream and an urban face wash to protect your skin at all costs. The face wash is blended with turmeric and saffron. Both these ingredients help protect the skin from free radical damage, seal the moisture in, improve the skin texture, and keep the skin soft and supple.
The anti-pollution day cream in this kit is formulated with turmeric and pollustop. As the name suggests, pollustop is an ingredient that prevents premature aging and skin dullness due to pollution. Moreover, it's paraben-free, silicone-free, and non-comedogenic (it won't make you break out).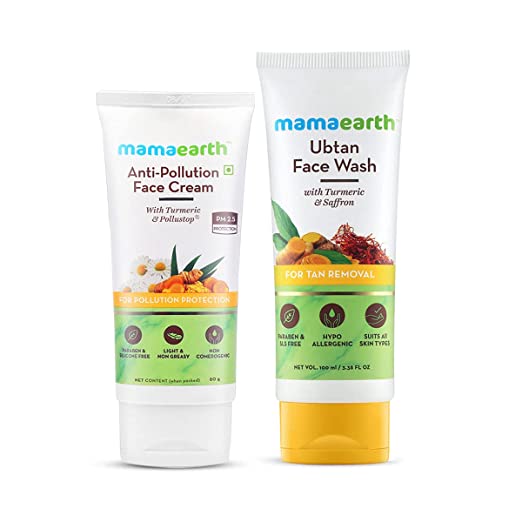 (as of 19/01/2023 14:00 IST)
4. Pilgrim K-Beauty Face Ritual Kit
Cleanse pores, remove tan, brighten skin, correct discoloration, and fight hyperpigmentation with the powerful products in the Pilgrim K-Beauty Face Ritual Kit. It includes a face wash, a day cream with SPF 50, a face mist & toner, and a night serum. The brand is "clean compatible." It is free from harsh ingredients and uses ingredients that boost our skin health. The formulation of the products is done with nature-inspired ingredients like vitamin C, white lotus, camelia, volcanic lava ash, hyaluronic acid, and yugdugu. This fantastic skincare kit solves the skincare needs for both day and night. Start by using a face wash and end your skincare regimen with the skin-nourishing night serum. The products are paraben-free and ideal for all skin types.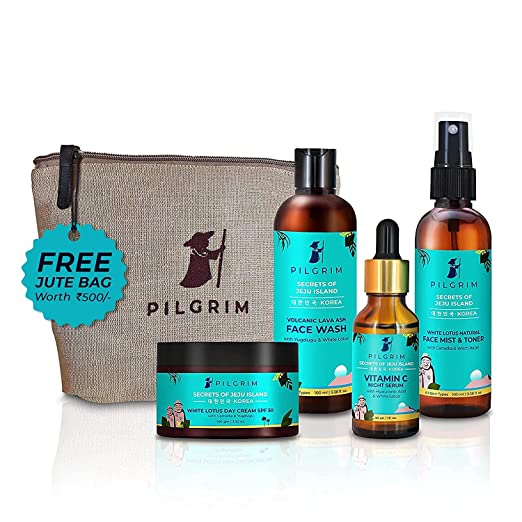 (as of 19/01/2023 14:00 IST)
5. ST. D'VENCE Skin Care Essential Kit
Crafted with peppermint oil, rose water, aloe vera, vitamin E, orange peels, tea tree oil, multani mitti, and almond oil, the products included in the ST. D'VENCE Skin Care Essential Kit are incredibly nourishing for all skin types. This skincare kit is packed with a body wash, a lotion, a face wash, an aloe vera gel, and a face pack that work together to soothe the skin, provide deep hydration, fight acne, remove impurities, fight fungal infections, prevent skin damage, and deliver complete skin rejuvenation. The brand is known for its high-quality luxury formulations and for providing vegan products. Get your hands on this one for a luxe skincare experience.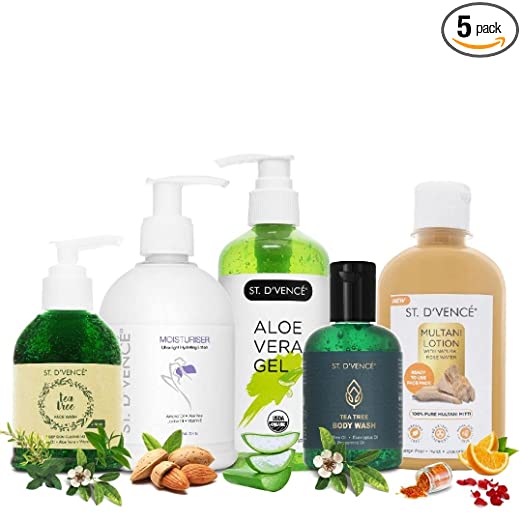 (as of 19/01/2023 14:00 IST)
6. The Man Company Complete Coffee Face Care Kit
Be it brightening your skin or protecting it from damage, this facial kit does it all with simple yet gentle products. This luxury face care kit for men contains a face wash, a moisturizer, a face pack, a face scrub, and a face serum, and is the epitome of perfection! The face wash deeply cleanses the skin and gives it a refreshing touch. The caffeine-rich moisturizer heals your skin and keeps it hydrated. Use the face scrub to detoxify your skin and keep it blemish-free.
You can use the fantastic face pack to remove tan and relax your skin. Last but not least, this kit comes with a face serum that nourishes the skin and makes it even-toned. All these products are formulated with premium ingredients and are devoid of parabens and sulfates. Give your skin a royal treatment with The Man Company Complete Coffee Face Care Kit. It is suitable for all skin types.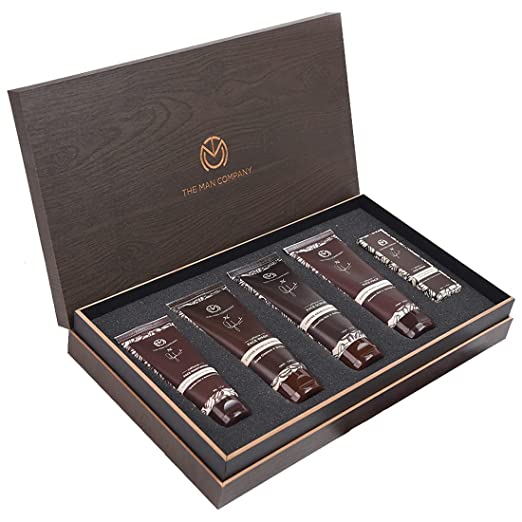 (as of 19/01/2023 14:00 IST)
7. Himalaya Pure Skin Neem Facial Lotion Kit
Comprising a face wash, cleansing milk, face scrub, toner, face pack, and a moisturizing lotion, this everyday facial kit makes the skin radiant effortlessly. Start your day by cleansing your face with the neem face wash to remove all the dirt and impurities. Use the cleansing milk and the face moisturizing lotion to nourish the skin. Get rid of dead skin cells with the neem scrub. The toner included in the kit maintains the skin's pH level and keeps it hydrated. It also comes with a face pack that removes tan and detoxifies the skin. Infused with the goodness of neem, multani mitti, apricot granules, turmeric, lemon, and lemon, this makes for an excellent facial kit for all your skincare needs.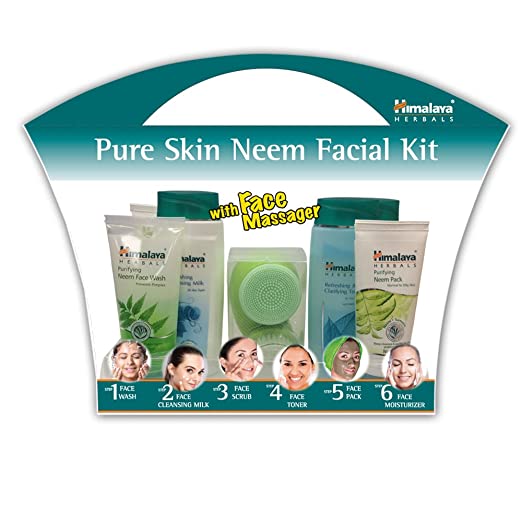 (as of 19/01/2023 14:00 IST)
8. The Moms Co. Natural Vita Rich Face Care Kit
Grab this skincare kit by The Moms Co. to fight pigmentation and cleanse the skin gently without making it dry. It contains a face serum, a face wash, a face cream, and an under-eye cream. The four-step skincare process with these products will calm your skin and restore its natural radiance. Start by washing your face with a cleanser and eliminate all the dust, dirt, and grime from your face. Use a face serum to repair your skin and reduce hyperpigmentation. Next comes the face moisturizer that helps replenish skin moisture levels. The kit also has a potent under-eye cream that efficiently reduces puffiness and fades dark circles. The super-buildable formulation contains natural ingredients vitamin C, vitamin B3, neem extract, and hyaluronic acid. You can use all the products fearlessly as they do not contain toxic chemicals.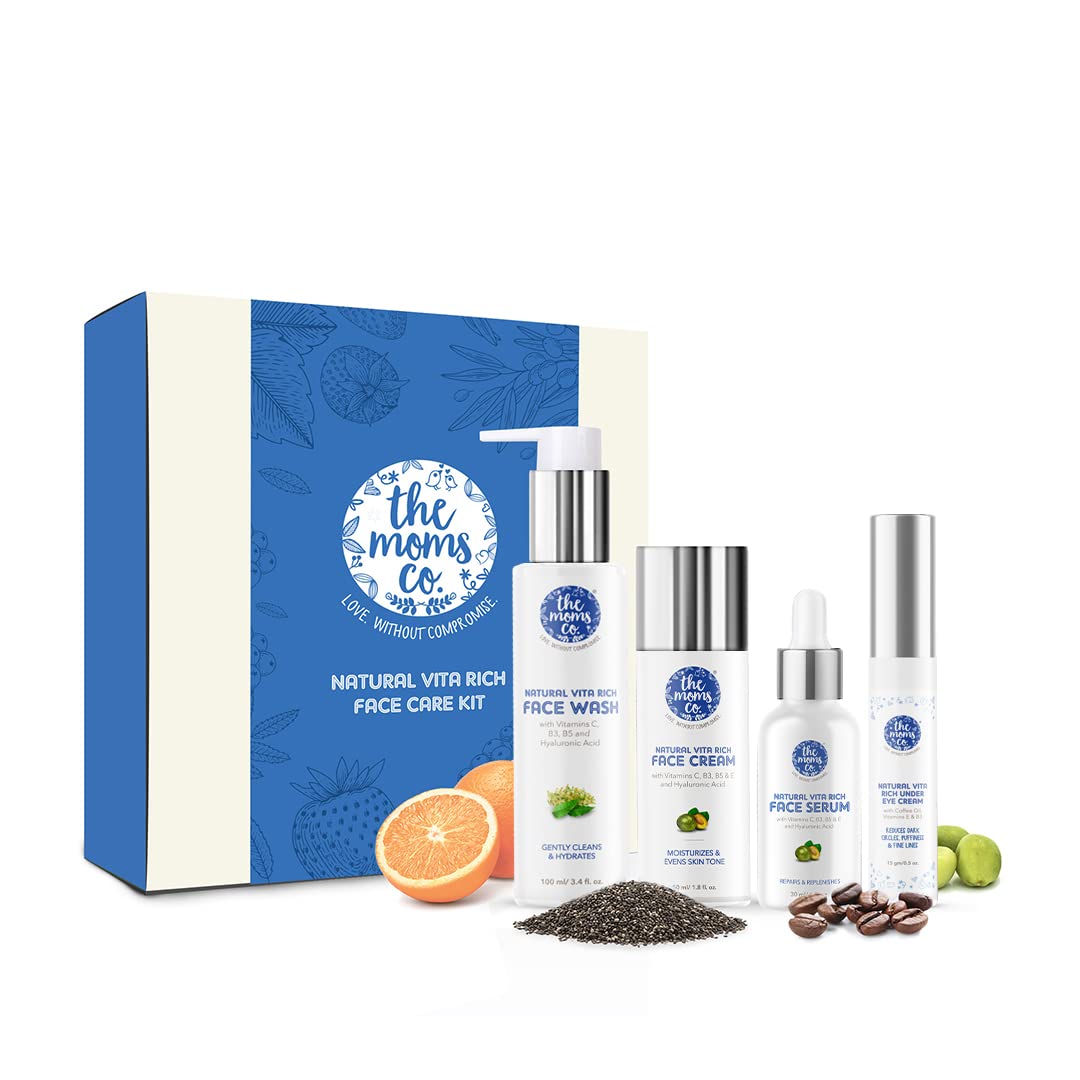 (as of 19/01/2023 14:00 IST)
9. The Face Shop Rice & Ceramide Moisturizing Skincare And Cream Set
This mini face kit has all the products you need to moisturize the skin. It comes with a toner, an emulsion, and a cream, which brightens skin tone and strengthens it. The toner helps balance the skin's pH levels and solves the problem of clogged pores. The emulsion keeps the skin moisturized and makes it glowing. The face cream reduces tan and brightens the skin from within. The products are infused with rice extracts and vegetable ceramide and do not include harsh toxins, making the kit safe to use for all skin types.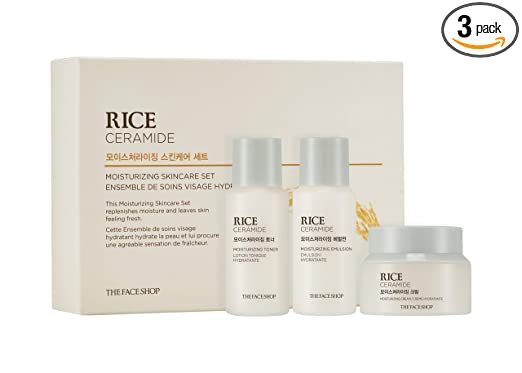 (as of 19/01/2023 14:00 IST)
10. Bombay Shaving Company Charcoal De-Tan & Detox Kit
This is one of the best skincare kits for men. It is packed with a face wash, a peel-off mask, a face scrub, a face pack, and a face sheet mask. These skin-revitalizing products are formulated with the goodness of activated bamboo charcoal. The exotic formulation of these products also includes walnut shells, turmeric extracts, papaya extracts, tea tree oil, lemon extract, pomegranate, and kaolin. The paraben-free formulation of this skincare kit makes it gentle and safe for all skin types. This magnificent facial kit solves many skincare problems like clogged pores, dull skin, hyperpigmentation, blemishes, dark spots, acne, and blackheads. Detoxify and repair your damaged skin with this wallet-friendly kit.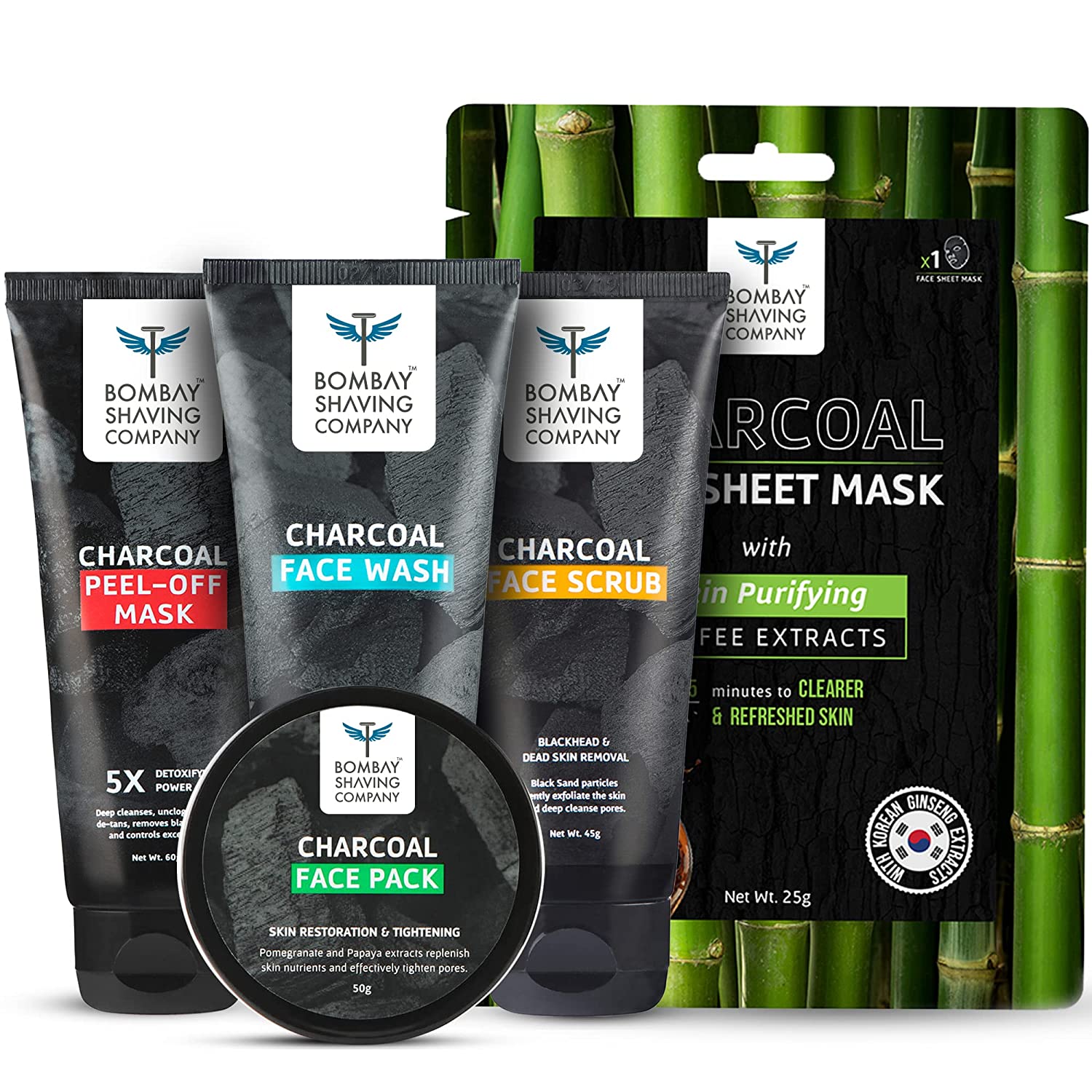 (as of 19/01/2023 14:00 IST)
All the skincare combo kits mentioned in the list are developed keeping in mind varying skincare needs and skin tones. The products curated in each kit deliver visible results and make any skincare regimen easy to follow. The best part is you don't have to empty your wallets to buy these skincare kits, as they are available at pocket-friendly prices. Amp up your beauty with these amazing skincare combos, and grab them at Amazon now.
About The Author
Chhavi Puri likes to keep up with all the trends in the makeup & beauty field. She is certified in makeup ar...tistry and holds a PG Diploma in Counseling Psychology degree from Amity University. She is a skincare enthusiast and has attended online workshops on Ayurvedic Cosmetology from Ayurveda Gurukalam. Chhavi has more than 3 years of experience in SEO content writing. She loves penning down her thoughts creatively and is a Hogwarts-certified Potterhead!
Read more
Top Comments
There are no comments in this article yet. Be first to post one!