17 Best Hair Straightening Brushes for a Salon-Like Finish at Home
Looking for a salon-like hairstyle? Well, here we bring the best electronic hair straightening brushes that make your hair look professionally done in no time!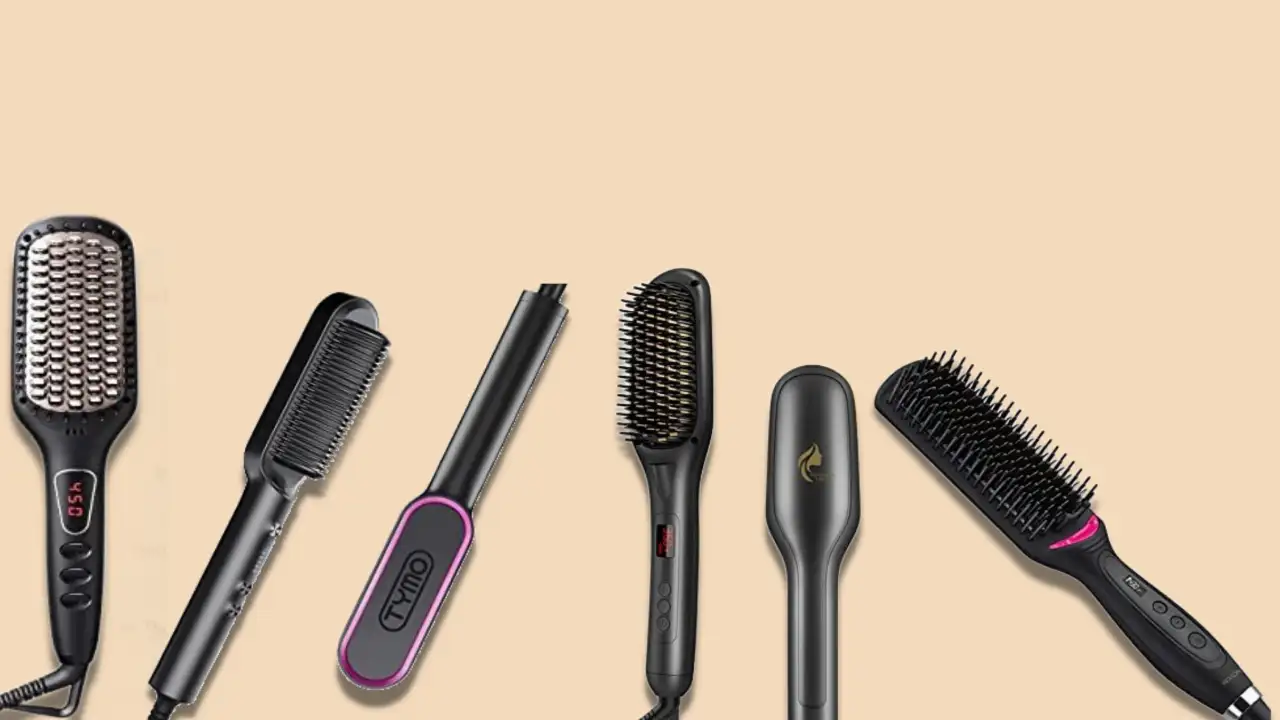 The products curated for this article are independently chosen by the editorial team. If you make a purchase through the
links
mentioned below, we may receive a commission. Check out our
product research & curation process
Conventional straightening irons are great, but not all of us need a perfectly straight, glossy, and kink-free mane everyday. For most days, we simply want to tame unruly frizz, reduce tangles and imperfectly smooth out our tresses — that can be easily achieved with the best hair straightening brush we get our hands on.  
Everyone with moderately straight or wavy hair can benefit from a hair straightening brush. It helps primp up the shape of your hair, so they look neat, professional and silky, so you don't look like you've just woken up! Besides, hot brushes are a saviour  to straighten your hair on days when you've had an intense workout, it is raining too much, or you're about to be stranded on a humid island that will reflect on your hair like nothing else! 
Hair smoothing brushes aid in the swift and consistent distribution of heat, unlike other hot hair tools, allowing you to achieve a smooth, sleek style faster than ever before. We've compiled a list of the best hair straightening brushes that tame frizzy hair and give the ultimate glossy and clean finish to your hair! Go forth and read through the list for the best choices!
Top Picks
17 Best Hair Straightening Brushes That Are a Lazy Girl's Styling Pals!
1. Drybar The Brush Crush Heated Straightening Brush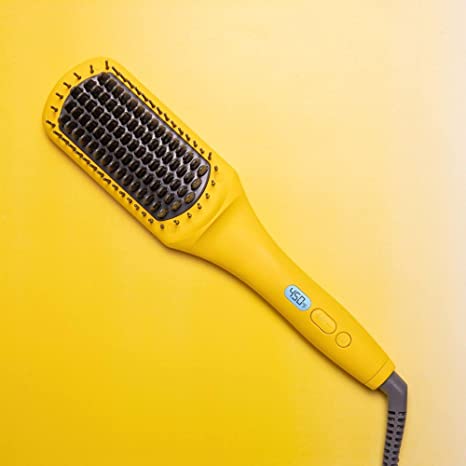 This bright yellow hairbrush is a compact and travel-friendly design that combines the heat of a flat iron with the structure of a paddle brush to create a smooth and frizz-free look in one easy step. It is the ideal choice for those who look for luxury and comfort in their daily hair routine. Perfect for shorter hairstyles and bangs, it works splendidly on last-minute touch-ups for the ultimate look for the day!
Pros
Attractive design
Tames frizzy hair
Digital control pad
Great for touch-ups
Cons
2. ELLA BELLA® Hair Straightening Brush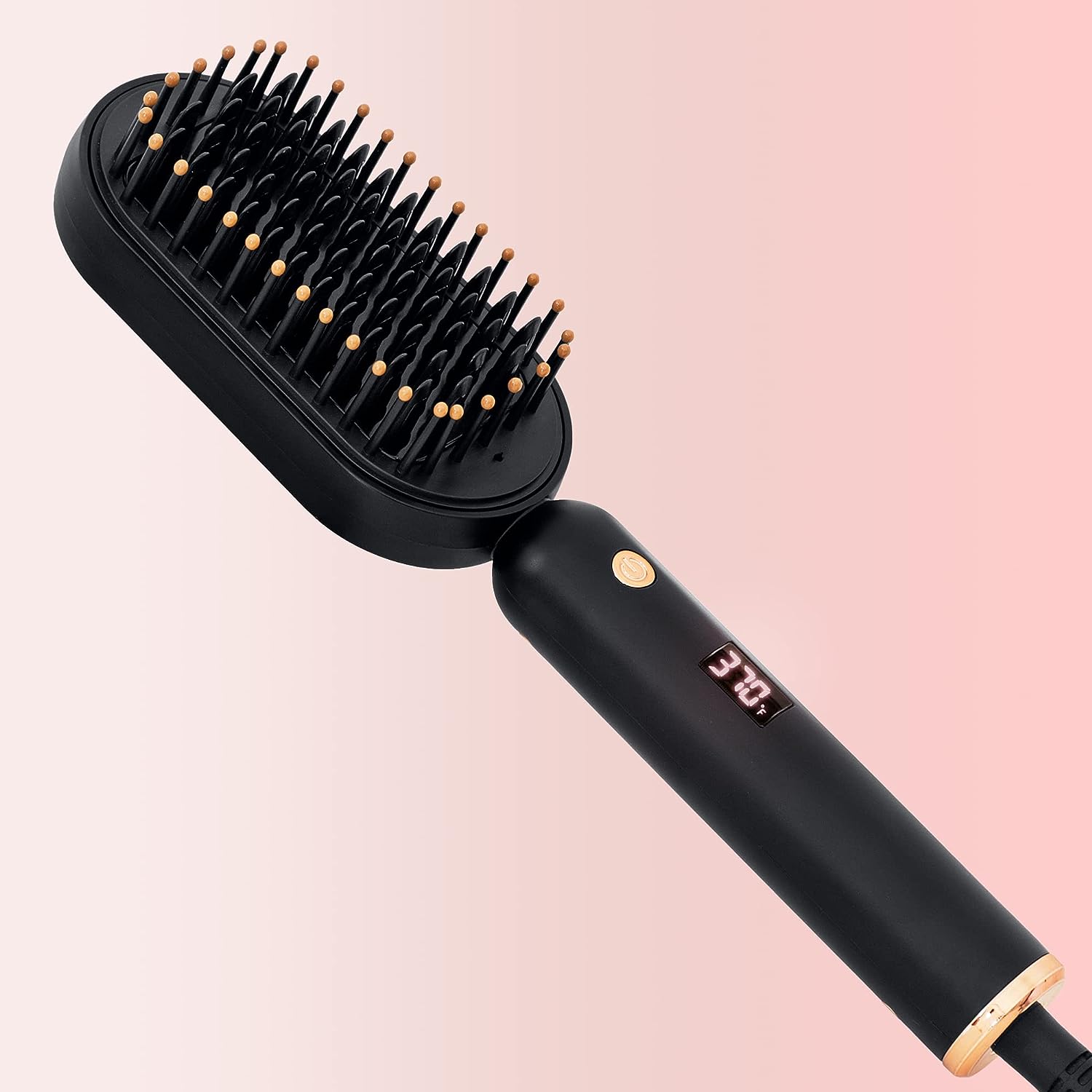 ELLA BELLA's Hair Straightening Brush is the ultimate hair styling tool that you've been looking for! It doesn't matter if your hair is curly, wavy, or thick, this brush will effortlessly and quickly give you sleek, smooth, and salon-worthy perfection in just a couple of minutes. It features a customizable temperature control feature and advanced ionic technology that adds shine and reduces frizz. Plus, the built-in safety features ensure that your hair stays healthy and free from damage. 
Pros
Comes with a digital display
Easy to use
Distributes heat evenly
Travel-friendly
Cost-effective
Suitable for all hair lengths
Cons
Requires regular cleaning
3. MEGAWISE Pro Ceramic Ionic Hair Straightener Brush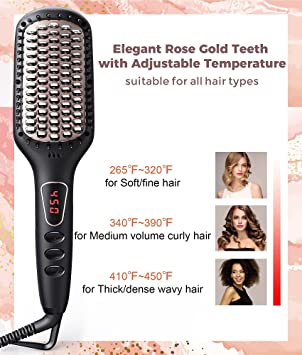 This is a ceramic hair straightener brush with built-in ions that provide better care to your hair. The straightening brush can minimize heat damage and promote healthy-looking and naturally shiny hair with ionic technology. With an extra 50% longer and denser nano-heating teeth, this brush is perfect for all hair types. The longer thinner teeth design on the brush prevents scalding of your scalp and is the best choice for the least hair-damaging tool!
Pros
Heats up quickly
Thinner brush design
Doesn't snag on hair
Perfect for every hair type
Cons
4. REVLON Hair Straightening Heated Styling Brush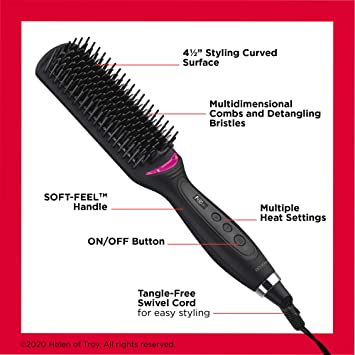 The Revlon hair straightening brush is one of the best choices for thick hair. This expertly designed heated brush has an extra-long, ceramic-coated surface with multi-dimensional combs and detangling bristles that gently glide through hair. It has an LED smart heat memory system, auto shut-off, and a tangle-free swivel cord for easy use. Features like being lightweight and universal dual voltage make it perfect for getting smooth straight results in just one easy step.
Pros
Detangles hair
Best for second-day hair
Easy-to-use
Lightweight
Cons
Not suitable for all hair types
Read: 20 Best Hair Straightening Products for Silky Straight Hair
5. Ionic Hair Straightener Brush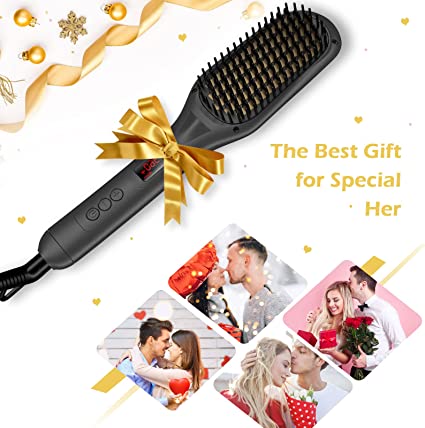 Combined with a unique anti-scalding brush and MCH heating system, this hair straightening brush is designed for quick, safe, and professional hair styling at home! 
It provides 15 temperature levels from 180°F to 450°F, which is applicable for every hair type, and all of it is shown precisely on a LED indicator every time. Whether in a hurry or running late for an event, stay prepared with this hair-straightening brush. And we also love its silvery black body with a frosted texture.
Pros
Tames frizzy hair
Consistent heating
Ceramic coating
Includes heat-resistant glove 
Cons
Read: 13 Best Beard Straighteners to Spruce up And Style Your Facial Hair
6. StyleCraft Heat Stroke Beard & Styling Hot Brush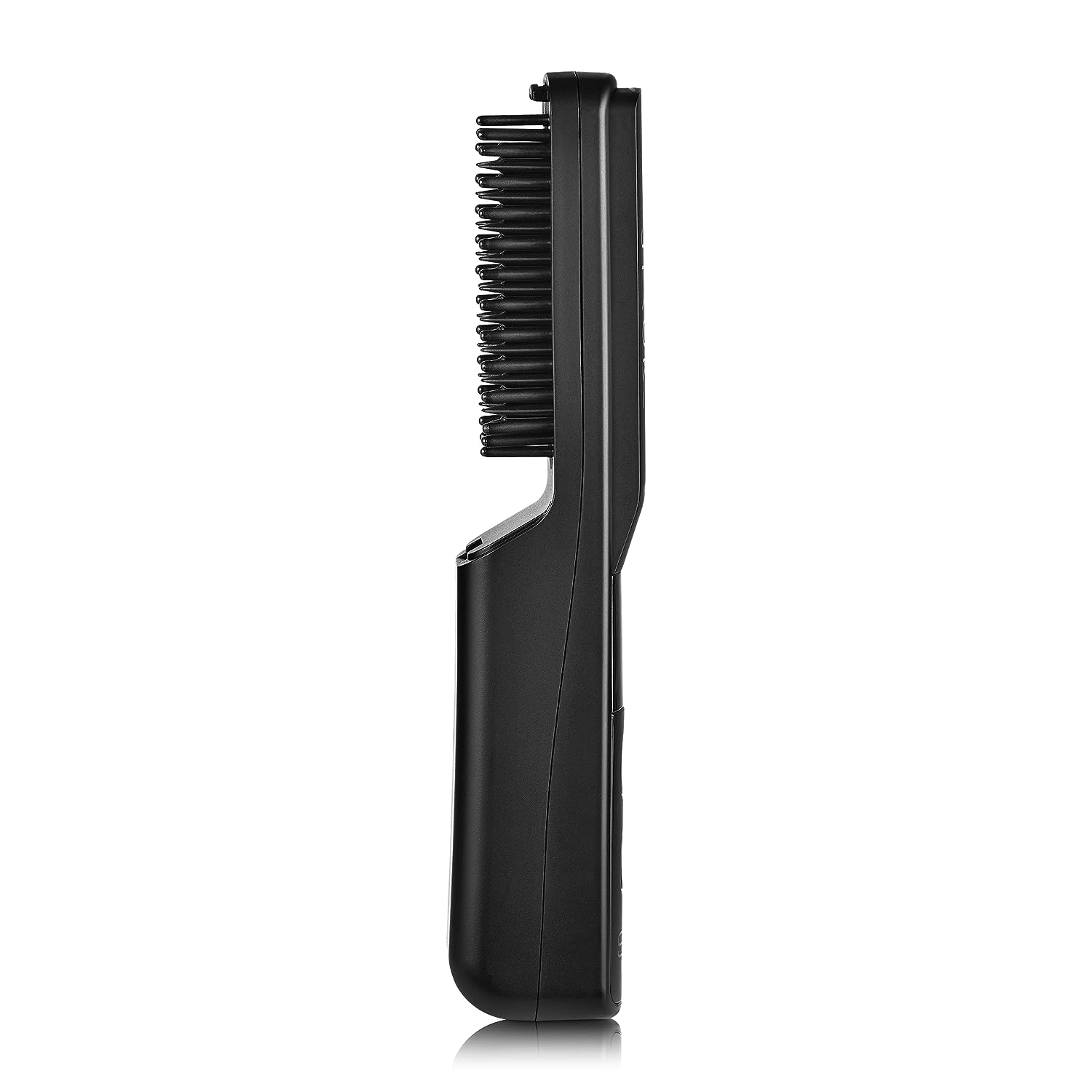 Straightening the fringes, brushing your hair quickly for a quick hairstyle, or styling the beard for the men, this small and powerful device does it all. StyleCraft Heat Stroke Beard & Styling Hot Brush is a quick and easy way to work on your strands without much hassle. The brush is equipped with the 3 heat settings 310F°, 350F°, and 385F° and can work without charging for about an hour. This is a great hair styling tool when you are pressed for time.

Pros
Auto shut-off
Power bank compatible
Multiple heat settings
Anti-burn cool touch tips
Easy to carry

Cons
Not for long hair
7. TYMO Hair Straightener Brush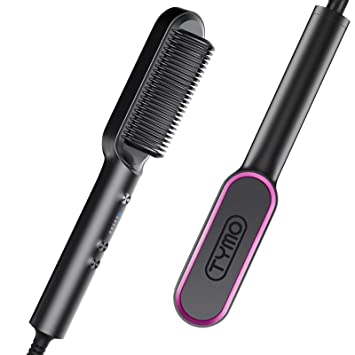 The TYMO Hair Straightener Brush will rescue the day when needed for last-minute touch-ups. This is a 2-in-1 hair styling gadget that combines a hair straightener comb with a flat hair iron to give you an incredible hairstyle in only one round! It combines 3D brush teeth with modern heating technology to give equal heat, reducing heat damage to your hair by over 50% and creating a tamed and magnificent hair appearance similar to that of a salon!
Pros
Auto-off function
Delivers even heat
Universal voltage
Anti-scalding shell
Cons
Doesn't suit ringlets and dreads
Read: 13 Best Brushes for Hair Extensions to Ensure Their Longevity
8. FURIDEN Straightening Brush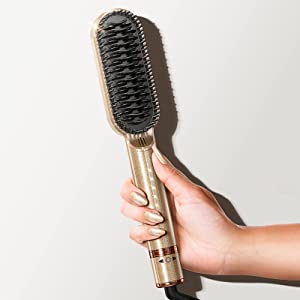 This hair straightener brush is built with cutting-edge ionic technology and a ceramic finish to give you a magnificent smooth and shiny look. It features a wide and highly-toothed style that enables you to brush your hair quickly. Furthermore, the heated brush may add volume to bangs. This hot brush can heat up to 430°F, and its anti-scald technology and heat-resistant bristle nibs will still keep your scalp safe from its high temperature.
Pros
Heat resistant bristles
Perfect for every hair type
Looks great on the table
Ceramic glaze on bristles
Cons
9. 7MAGIC Hair Straightener Brush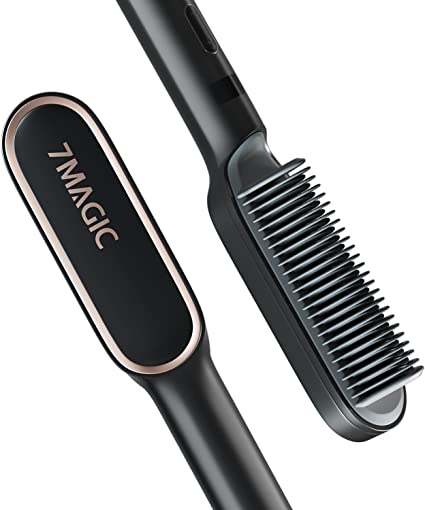 Whether you want to straighten your hair or curl the ends, this 2-in-1 heat brush hair straightener is ideal for both! It does not tangle or pull your hair and glides through it gently. It works well on thick, frizzy, straight, or curly hair with its 9 adjustable heat settings from 120°C to 200°C. Though it reaches the scalp's roots smoothly, it does not damage the hair shafts and provides ultimate straight hair till the tips.
Pros
Ergonomic design
Travel-friendly
Multiple settings
3D comb
Cons
Not suitable for short hair
10. Miropure Enhanced Hair Straightener Heat Brush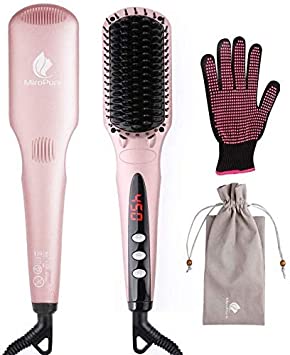 Get the natural lustrous look in seconds with the MiroPure Hair straightener brush!  By reducing split ends and knotting, one can get silky and healthy hair, rather than a flat burnt-out look. It's simple to operate and the handy glove provides a massaging effect on the scalp stimulating the hair follicles. As a built-in safety feature, this hair straightener brush will automatically shut off if not used for 60 minutes and has a 360-degree swivel power cord for efficient use!
Pros
Auto-off switch
Fast heating
Anti-scald design
Reduces heat damage
Cons
11. COOLKESI Ionic Hair Straightener Brush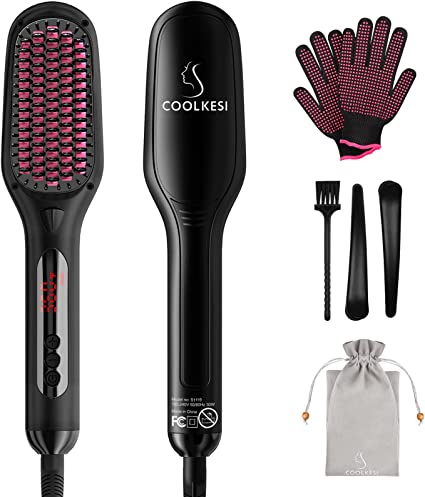 Unlike flat irons, this hair straightening comb minimizes heat damage and promotes healthy-looking hair with its ionic technology. The 15 adjustable heat settings from 180°F to 450°F are visible on the LED temperature display. Brush through your hair to smooth away frizz and waves with the iron bristles that won't snag on your hair. It features protective guards around the teethed brush to reduce the chances of scorched hair and works smoothly on every hair type with no distinction.
Pros
Safety gloves provided
Efficient to use
Hanging hook 
Travel-friendly
Cons
Not suitable for thin hair
12. JUMPHIGH Ionic Hair Straightening Brush with Fast MCH Ceramic Heating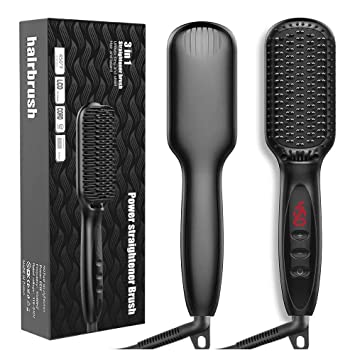 Simple, helpful, and stylish are some ways we might define this incredible product. The metal ceramic heater provides equal heat distribution and short temperature recovery time thanks to its innovative technology. It comes with 12 temperature settings that allow you to alter the heat temperature from 250°F to 450°F (120°C to 230°C), allowing you to fit any hair type from thin, fine, thick, curly, or wavy. It can reach the correct temperature and provide excellent results in just one minute.
Pros
Auto-off function
Portable design
Dual voltage
Anion spray technology
Cons
Needs to improve for a silky finish
13. CNXUS Ionic Hair Straightener Brush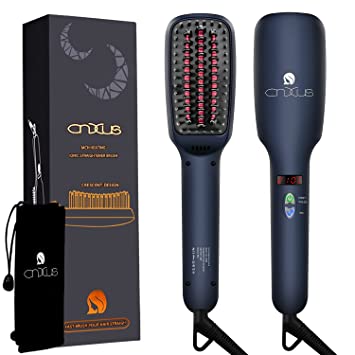 The navy blue hair straightener with pink highlights on the brush is a fashionable choice compared to the others. The built-in ionic generator emits molecular particles in your hair to repair smooth hair cuticles. It results in stronger hair that is more resistant to dry, damaging impacts. The dual voltage range of 100V to 240V and the 360° swivel power cord avoid wire twining and make it suitable for professional salon usage, travel, and at-home hair care!
Pros
Heats up fast
Anti-scald design
Reduces styling time
Leaves hair silky and smooth
Cons
14. InStyler Straight Up Ceramic Straightening Brush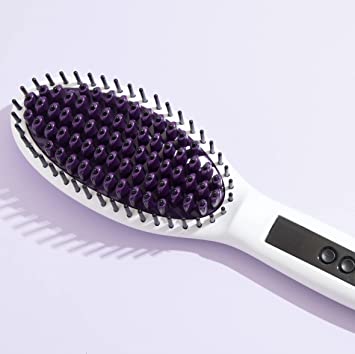 Straight Up is for anybody who wishes to smooth and de-frizz their hair, whether they have curly, thick, or wavy hair! It has 65 strong ceramic heated plates and 7 adjustable temperature settings ranging from 330°F to 450°F that can be easily changed on the digital temperature monitor. It contains a cool tip ionic bristle and a professional swivel cord for tangle-free styling, as well as an automated cut-off when not in use.
Pros
De-frizzing bristles
Ceramic coated brush
Volumizes hair
Tangle-free styling
Cons
15. LANDOT Negative Ion Hot Brush Hair Straightener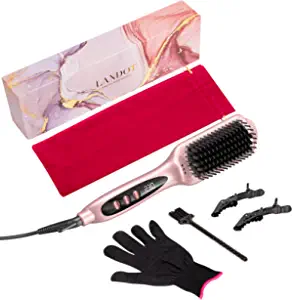 Styling your hair in the morning can become effortless with the ceramic smooth glide bristles that don't snag on the hair. The 75 ceramic heated plates deliver consistent even temperature and the negative ion technology gives your hair extra shine, reducing the chances of static and frizzy hair. The brush styler maintains your hair's volume and prevents heat damage to the scalp. With the pretty neat packaging, it makes for a perfect gift option for your dear ones!
Pros
Quick heating
Affordable
Negative ion tech
Cleans easily
Cons
Not effective on thick hair
16. L'ANGE HAIR Le Vite Straightener Brush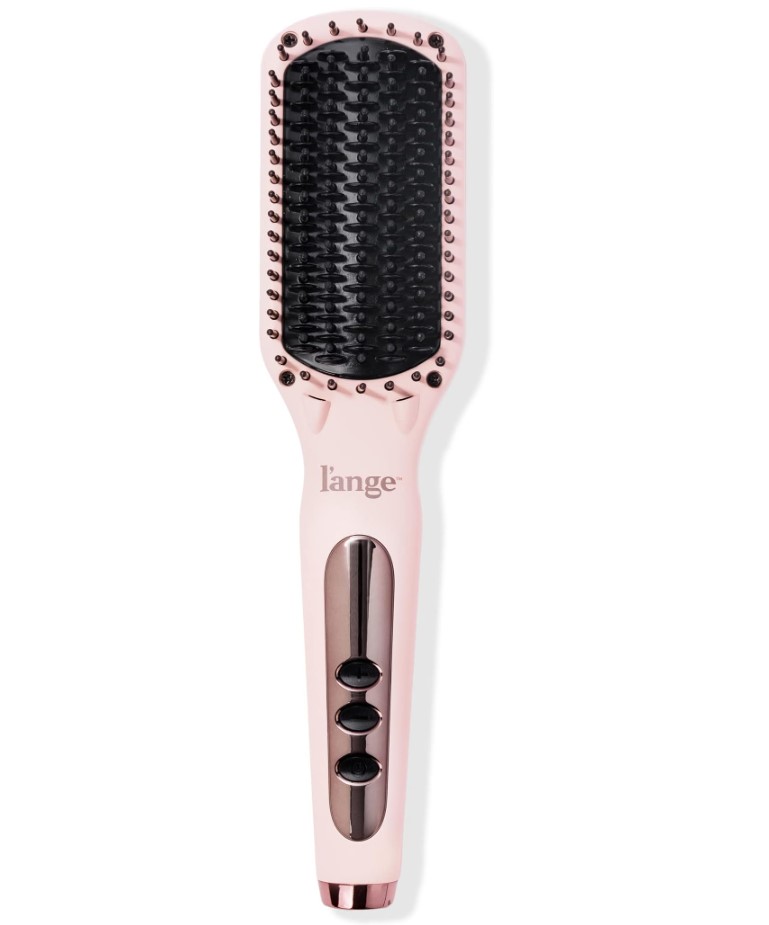 After trying out this product by L'ange, we noticed that it smoothed out thick chunks of hair in a single glide, which is great news for people who wish to give their hair a quick-fix when in a hurry. Among the best hair straightener brushes, this hot tool consists of an advanced, double negative ion technology that ensures your hair doesn't lose too much moisture in the styling process. Addedly, this electronic straightening brush has an LCD interface that allows you to pick the precise temperature for styling your hair, so you don't end up roasting your precious locks!
Pros:
- Reduces static and frizz
- Enhances shine
- Automatic turn-off feature
- Works well for thick and curly hair
Cons:
- Takes time to turn on and heat up
17. Graphene Times Ionic Hair Straightener Brush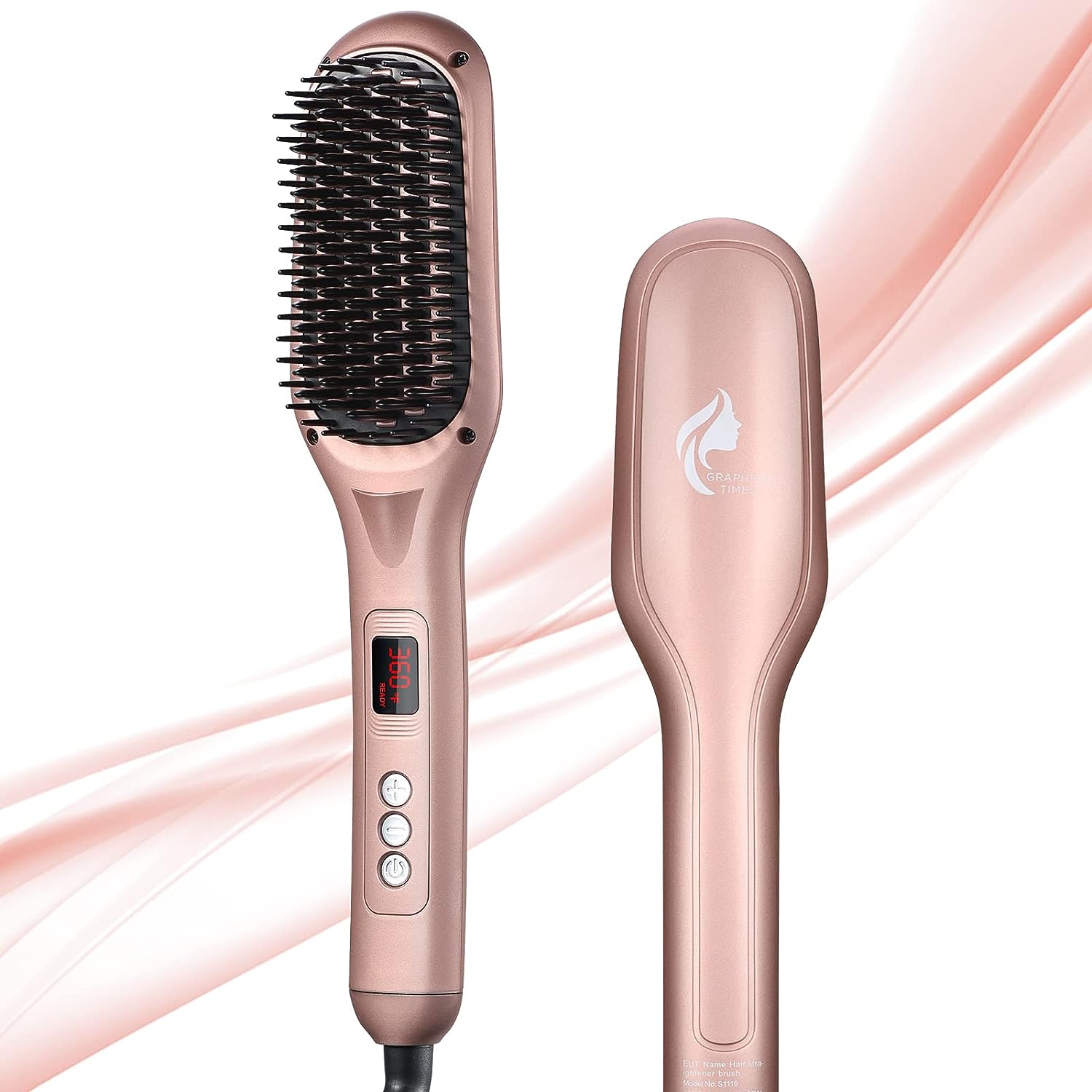 Those afraid of burning themselves in the process of styling should definitely consider this heated straightener brush from Graphene Times for its anti-scald ceramic bristles. The tool not only glides safely and smoothly along your roots, it also smooths out unruly pieces of hair that have disfigured due to humidity. Plus, the heating plate of this brush has an arch-shaped designed that allows for faster heat dissipation, thereby leading to efficient and lazy-girl-friendly styling results! 
Pros:
- Improves hair texture
- 360 degree swivel cord
- Excellent detangler
- Adds volume
Cons:
- Can't be used on wet hair
- Tough to handle
How to Choose a Straightening Brush?
Check the bristles: Using improper bristles might cause hair tugging and breakage. Check the bristles to see if they are connected or securely anchored to the base of the brush.
Easy to hold: While styling your own hair, it might be uncomfortable at times to hold the brush for a longer period. Always choose hair brushes with a comfortable handle and a 360-degree swivel cable to easily rotate the brush.
Features: Purchase a hairbrush with anti-frizz and anti-scald technology to maintain an average or steady heat temperature while styling your hair to avoid causing harm.
Setting and temperature: Select a temperature-controlled hair straightening brush for optimal usage. To reduce damage, style hair with adjustable heat settings, which may produce similar results to touchups and frizzy hair.
Brush Width And Length: While the plating, bristles and other features of your brush may do a favor to your hair, its size may not do a favor to your arm! This means that is brush is too big or heavy to hold, it's going to be more of a nuisance than it sounds. Hence, give priority to sleeker and more ergonomic designs for best results.
Ceramic Plating: If you don't just want your hair to straight but also smoother and silkier, without losing much moisture on heating, we recommend investing in a hot brush with ceramic plating. This material helps control, distribute and hold heat better than others, which makes them a great investment.
MCH vs PTC Technology: We only expect hot tool-geeks to know of this already — most straightening devices consist of a Metal Ceramic Heater or a Positive Temperature Co-efficient technologies — the former being more suitable for result-efficiency and the latter for energy-efficiency. So, depending on the frequency of use and styling requirements, you can select either of them and make a purchase.
Automated Shut Off: For those who've had several accidents for clumsily leaving the straightener plugged in, need an advanced device that shuts off automatically on overheating. 
Heating Speed: For efficient styling results, it is important that the device not only tames the hair properly but also that it heats up quickly before one begins to use it. This saves a great deal of time and comes handy on days when you are running late.
How to Use a Hair Straightening Brush?
Step 1: Start by priming your hair with some heat protectant to prevent any thermal damage. Follow this by roughly combing your tresses. While you do this, you can allow your device to heat up by plugging it in.
Step 2: Set your brush to a desired temperature, whether you're doing it manually or by using its digital features. Give the device a few seconds to heat up properly.
Step 3: Then, start styling your hand by brushing it with this tool from underneath. When running it through your hair, don't go too fast or too slow to prevent roasting any strands or getting negligible styling results.
Step 4: Repeat these steps for different chunks of your hair, turn by turn, to see optimal results. 
Conclusion 
So there you have it — the above-listed products are some of the best hair straightening brushes that you'll find out there. These tools are an unsung hero in the world of hairstyles, as they are a solution to most everyday hair problems, such as unruly waving, frizz, hair knots, unmanageability, etc. but are often overlooked for their potential. Hence, through this article, we would like to incentivize you to try them out to find out their real worth! For those of you who have never used a hot brush — it is similar to using a professional blow dryer while combing your hair simultaneously, but minus the hassle and enhanced with efficient results. We hope you like our product recommendations. Happy shopping!
Why Trust Pinkvilla
As a hair care expert, Neha understands the struggles of styling unruly hair daily. Hence, after extensive research and testing, she sought brushes that combined straightening and detangling capabilities while minimizing heat damage. Her goal was to recommend efficient and user-friendly options to beauty aficionados that catered to different hair types. By sharing her review, she aimed to further empower her readers with the knowledge to choose the right hair straightening brush, making their styling routine quicker, easier, and more satisfying.
Our product experts study the specifications of every product we suggest and try them out to bring what's proven to be worthy of your money, time, and energy. We also have subject matter experts from various fields like Fashion, Skincare, Haircare, Home Decor, and Health & Fitness onboard to make sure our suggestions are credible and trustworthy. You can trust Select to be your faithful shopping guide for all the right reasons!
FAQ's
Does straightening brush damage hair?
Any kind of direct heat can damage the hair, but hair straightener brushes containing special coating are less likely to damage one's hair.
---
Are straightening brushes better than a flat iron?
Straightening brushes are more efficient and less time-consuming as they do not snag or damage with double penetrative heating on both sides of the hair.
---
Can I use a straightening brush every day?
To prevent hair from damage, restrict its exposure. Using a hair straightener brush on a daily basis is less dangerous than using a typical hair straightener since the heating element is not in direct touch with the hair.
---
Do straightening brushes work on thick hair?
traightening brushes with adjustable heat temperatures work great on thick hair and do not frizz or dry it up.
---
Can you use a straightening brush on wet hair?
To retain the quality of hair and reduce the chances of split ends and frizzy hair, we must advise that using a flat iron or straightening brush on wet hair is a no-no!
---
Are hair straightening brushes suitable for short hair?
Only if that specific product is suitable to use along the roots of your hair. Other hot brushes wouldn't be of much help for short hair.
---
How do I clean and maintain a hair straightening brush?
Once the brush has cooled down completely, you can gently remove any tangled hair balls with your fingers or with a Q-tip. Then, wipe the bristles with a soft, dry cloth in case there's any dirt accumulated that you must get rid off.
---
Do you need heat protectant for straightening brush?
Absolutely! Using a heat protectant is a non-negotiable step when using any hot tools to prevent thermal damage.
---
Is it OK to straighten hair once a week?
Yes, it is perfectly safe to do so if you use a heat protectant spray without fail, and maintain a healthy haircare routine.
---
Can hair straightening brushes help reduce frizz?
Yes! While most straightening brushes don't provide results as immaculate as conventional irons, they are an ideal choice to reduce frizz, tame unruly strands and give a neat shape to your mane on a regular basis.
---
Are hair straightening brushes safe to use?
Like every other heated styling tool, straightening brushes too are capable of causing thermal damage to your hair, if you overuse it and don't take routinely care of your tresses. However, they are perfectly safe if you limit the usage to 1-2 times a week, always prime your hair with a heat protectant, and moisturize your hair and scalp with oils, serums, and conditioners.
---
Can hair straightening brushes replace flat irons?
For temporary styling needs and every day use, hot brushes are a great alternative to flat irons. However, to get an impeccably straight mane for special occasions, we recommend using a conventional straightener.
---
Can a hair straightening brush be used on all hair types?
Our tests have shown that they work for most hair types. However, a straightening brush may not be very effective for extreme coils and Afro hair.
---

---