15 Best UV Nail Lamps of 2023 for a Flawless At-home Gel Manicure
Now, you can get yourself a DIY gel manicure without having to pay the salon bills! See our list of the best UV nail lamps to get stylish nail looks at home.
Updated on Oct 28, 2023 | 01:19 PM IST | 764.9K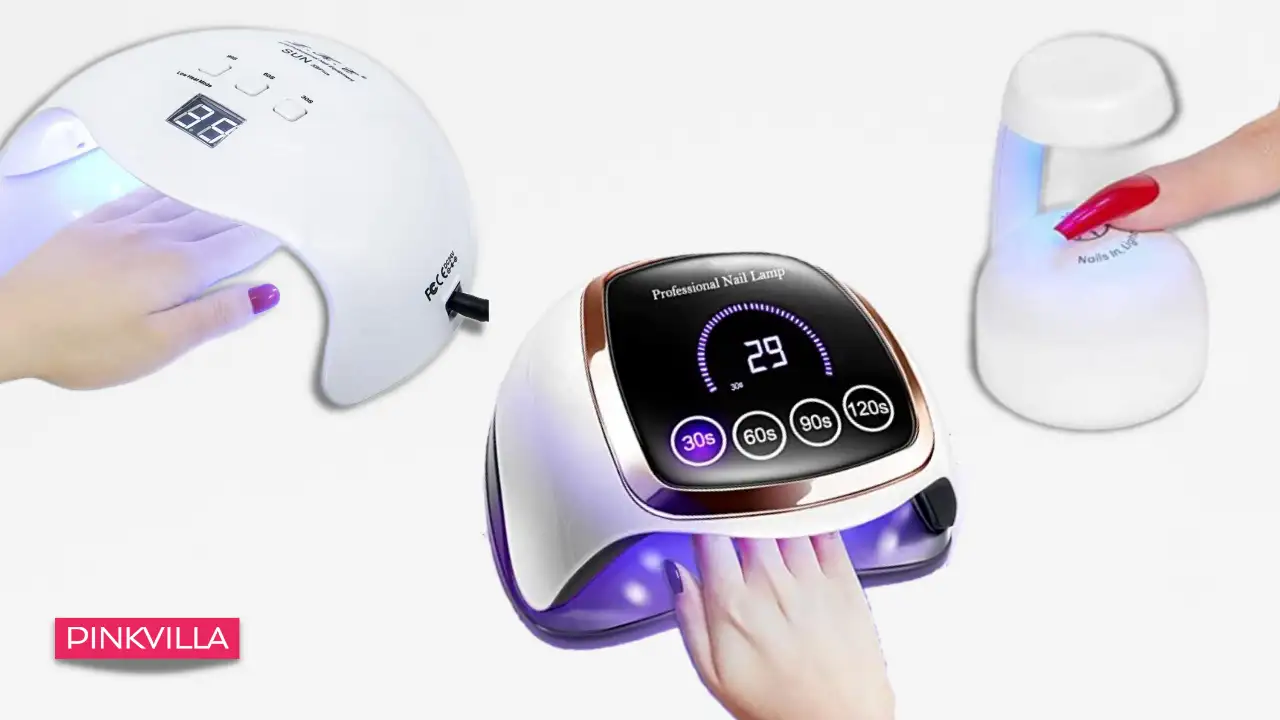 The products curated for this article are independently chosen by the editorial team. If you make a purchase through the
links
mentioned below, we may receive a commission. Check out our
product research & curation process
Nothing can spruce up your nails as beautifully as a gel manicure! And besides the glossy, stunning aesthetic of it, gel/shellac manicures save you the frequent hassle of reapplying the paint on your nails. However, any nail aficionado will confirm the fact that gel manicures take ages to dry — putting you in an awkward place where your hands are occupied but you have nothing to do! But with the best UV nail lamps available at your place, you can not only avoid this waiting game but also save precious bucks at the salon. 
UV nail lamps are simple devices embedded with LED beads. These beads provide even lighting and expose your nails to UV rays to neatly and efficiently curate your gel nail polish in seconds. However, the safe and effective usage of a UV nail lamp is a risky business, and using a cheap product can cause harm to your skin. Hence, we took the liberty to curate a list of the best LED nail lamps on Amazon to help you shop better and wiser. Keep reading to learn more. 
Our Top Picks:
1. LKE Gel UV LED Nail Lamp - Best Overall
2. Liteland UV Gel Nail Lamp - Best for Smudge-proof Nails
3. Gugusure Professional Nail Lamp - Best for Durability
4. Beetles Flash Curing Lamp - Best for Beginners
5. Kiara Sky Beyond Pro Rechargeable LED Lamp - Most Travel-friendly
15 Best UV Nail Lamps for A Gorgeous DIY Gel Manicure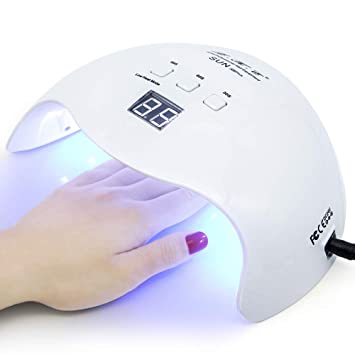 This LED nail lamp by LKE has an ergonomic structure with LED light sources to dry your gel nail polish, as well as three timer settings to adjust the duration. It has a curved housing design that prevents the light rays from falling on your eyes. The device emits a very soft light and prevents your skin from becoming brown. With this product, you can make your nails look sleek and glossy by smoothing out the cracks and imperfections in the enamel. 
Customer's Review: "I love this, it's not bulky and super lightweight. Works great to cure my gel polish!" - Kailey Holford
Pros:
- Lightweight
- Anti-break design
- Easy to use
- Cost-effective
- Dries quickly
- Doesn't make the enamel bubbly
Cons:
- Not wireless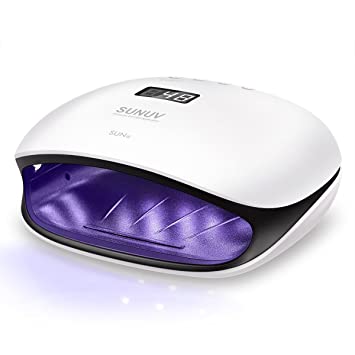 SUNUV's LED nail dryer works well with all kinds of gel nail polishes such as base coat, top coat, hard builder gel, sculpture gel, etc. The device provides ample space to accommodate your entire hand or foot. Its automatic sensor turns the light on when you place your hand in and off once you take it out. Plus, the device has a large LCD screen that displays the curing time, so you know how much time it takes to dry out a particular gel nail polish. 
Customer's Review: "This nail lamp is great! Any type of gel dries perfectly. If you can I would suggest to splurge on this one, its worth it!" - Christopher Mcferrin
Pros:
- Energy-efficient
- Smart over-temperature protection
- Dries hard gel painlessly
- Lightweight device
- Great for the price
Cons:
- Overuse can cause blisters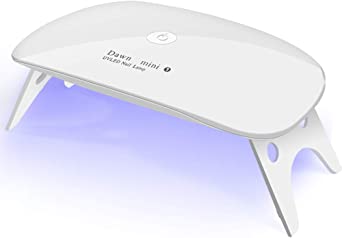 This UV nail lamp by Kepma is a great device for a painless manicure session. It has a weightless, ergonomic design with six light sources. You can attach this travel-friendly device to a power bank or a MacBook and make it easily accessible to dry your nail polish. The product comes with three-time controls to dry different kinds of gel nail polishes with ease. 
Customer's Review: "For the price, I definitely expected to be returning this. However, it works great. It's easy to use. I have had no issues with it. It was worth it!" - Kristin
Pros:
- Cost-effective
- Easy to use
- Gentle on eyes and skin
Cons:
- Not strong enough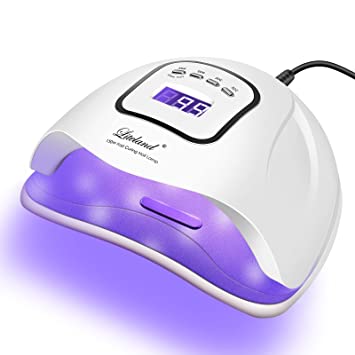 With 45 LED lights embedded in this UV nail lamp, you can save precious time by getting your nails dried quickly. Its infrared smart sensor light turns the device on once you place your hand, which makes it convenient to use. The smart, low-heat design makes the product safe for your nails, skin and eyes, and an ideal choice for beginners to do nail art. 
Customer's Review: "I like this product :) Easy to use and it dries your nails quick ! I love the timer 😃" - Aroura Campbell
Pros:
- Easy to use
- Time-displaying LCD Screen
- Travel-friendly
- Works for gel and shellac polishes
- Prevents smudging
Cons:
- Causes a slight burning sensation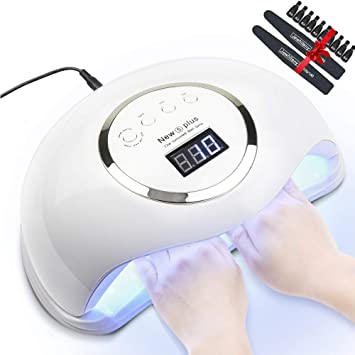 This LED nail lamp by JEWHITENY is incredible for curing all kinds of gel nail polishes. Its structure provides enough space to comfortably place both hands or feet, to prevent colliding them and messing up the nail polish. The device consists of 32 lamp beads for efficient drying results.  Besides its automatic sensor, this nail lamp has a smart time memory mechanism that makes it very convenient to use. 
Customer's Review - "I've had this Lamp for about 8-9 months and it still gets the job done. You won't be disappointed." - Dess
Pros:
- Lightweight
- Smart over-temperature design
- Detachable bottom
- LCD display screen
Cons:
- Not for gluing false nails
- Overheats and shuts off quickly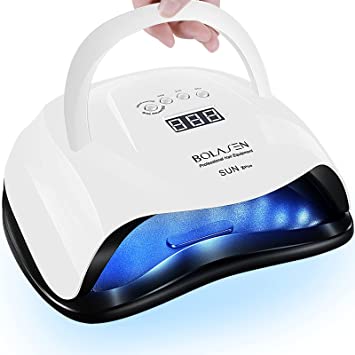 This device by BOLASEN comes with a handle that makes it easy to carry and use. It is one of the best UV nail lamps on Amazon to quickly cure your nails as it comes with 42 light beads that dry your nails from all directions. The detachable magnetic tray at the bottom of the device allows you to place your feet along with your hands. Besides, the curing process of this device is so efficient and neat that you will not notice any bubbling on the cured nail spots. 
Customer's Review - "This is a great product. I love it. It cures my gel effortlessly.
I plan to purchase one for my daughter." - Serrice Webster
Pros:
- Lightweight
- Absolutely painless
- Suits all gel polishes
- Cost-effective
- Evenly distributed light beads
Cons:
- Residual light leaks out
- Hands can't be placed comfortably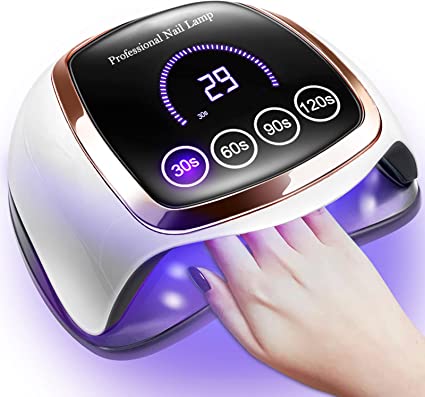 The large LCD display timer and motion-sensor settings of this nail lamp not only make this device highly aesthetic but also convenient to use. With 42 LED beads ergonomically embedded in the structure, this UV nail lamp curates your nails faster than most others. It is a beginner-friendly device that will help you save precious bucks that you'd spend at the salon. 
Customer's Review - "I have previously owned a different lamp but this one is by far much better! It literally takes half the time to do my nails. I highly recommend!" - Carolyn Ramirez
Pros:
- Lightweight
- Prevents nails from chipping
- Detachable bottom plate
- Durable
Cons:
- Short cord
- Inefficient infrared sensor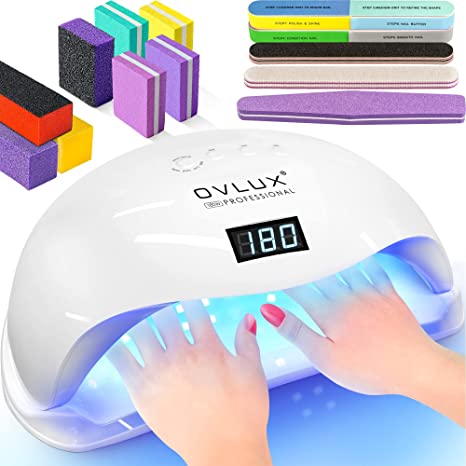 This UV nail dryer by OVULUX has a long cord, which allows you to use it conveniently anywhere in your house. It not only comes with four-time modes but also allows you to adjust the heat intensity as per your preference. The device is adequately spacious, so you can comfortably and concurrently place your hands or feet underneath. What makes it special is that the device comes with nail filers and buffers to spruce up your nail care routine. 
Customer's Review - "This product got here super fast and is so easy to use, I was able to get the "fresh out of the nail salon" look and I'm so happy 🥰" - Shanti 
Pros:
-  Energy-efficient 
- Smart automated sensors
- 4 time modes
- Super-fast drying
Cons:
- Not very durable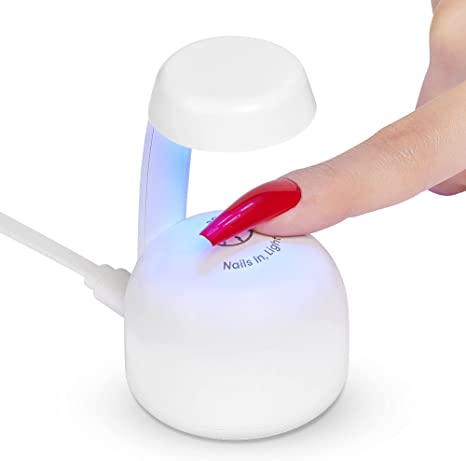 This adorable nail-curing light by Beetles is effective for drying one nail at a time — an ideal pick for beginners. It is an excellent device to instantly curate your nail art or glue artificial nails in place. With its unique design, you don't have to worry about your skin darkening as you don't need to expose your entire hand to the UV light. 
Customer's Review - "Bought this to do individual nails as I do poly gel nails at home. I have no regrets. It is light weight and easy to carry." - Genevieve Oliverie
Pros:
- Smart sensor
- Travel-friendly
- Lightweight
- Quick fix for nails
Cons:
- Overpriced
- Skin contact can trigger allergy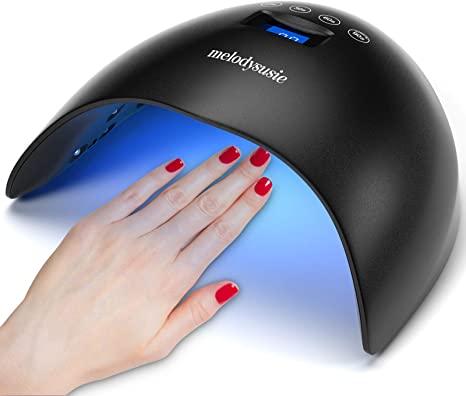 The large, dome-shaped design of this UV LED nail lamp for gel nails by melodysusie provides ample space to concurrently adjust both hands or feet at the same time. It comes with multiple time settings to curate different types of gel nail polishes. The device provides high luminance and dries out your nail polish from multiple angles to save time and give great results. 
Customer's Review - "Solid lamp. Love the timers, number of lights (so many compared to any other lamp I've had), & how spacious it is." - Ashley
Pros:
- Energy-efficient
- Touch control
- Easy to use
- Prevents light leaks
- Stable performance
Cons:
- Not very durable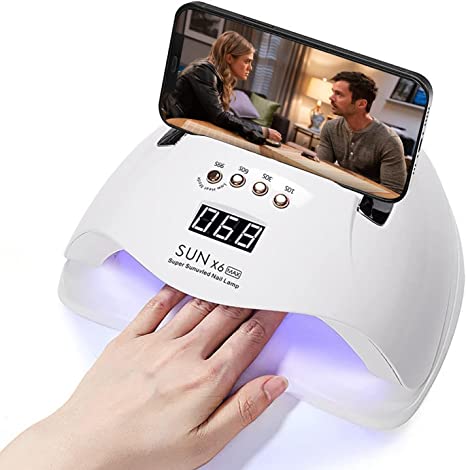 The groove of this ergonomic LED nail lamp is useful to place your phone, so that you can spruce up the beauty session with some quick entertainment. With 45 LED beads, you can expect this device to curate your nails quickly and give them a sleek finish. Plus, the device is very easy to use and beginner-friendly. 
Pros:
- Compact and portable 
- Automated sensor
- Detachable base
- Easy to clean up
Cons:
- Inefficient adapter plug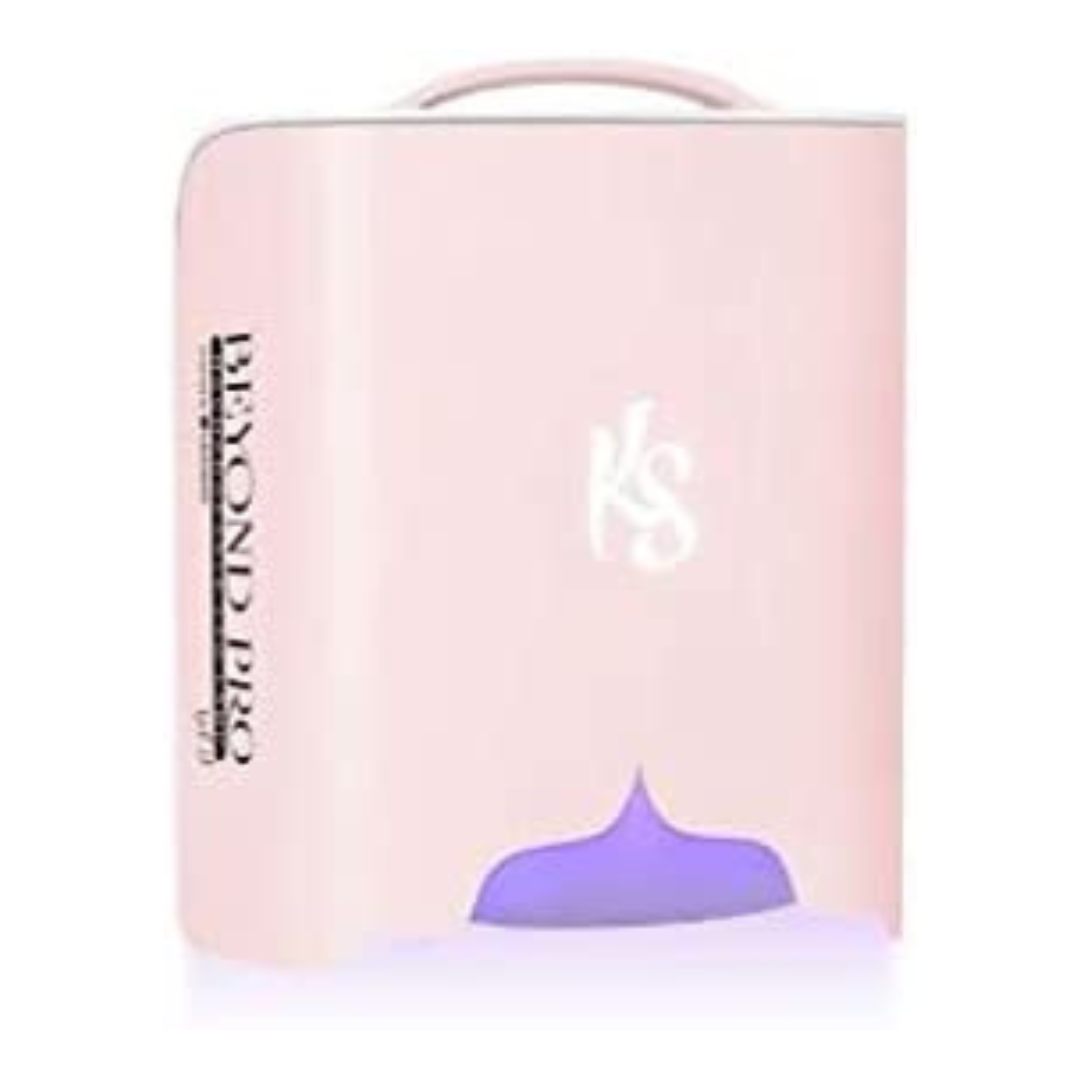 This rechargeable LED nail lamp has a sleek, portable design and a long battery life — ideal for traveling. To make it more convenient to carry around, the device also comes with a convenient handle. It comes with a motion sensor activation and multiple time settings to efficiently and satisfactorily curate your nails. Also, its bottom stainless steel tray is detachable, so you can comfortably curate your toenails too. 
Customer's Review - "Purchased this for my wife. She uses this at least once a week. Been using for a year with no issues." - Jonathan
Pros:
- Easy to clean
- Cute design
- Acetone-resistant
- LCD display timer
Cons:
- Not durable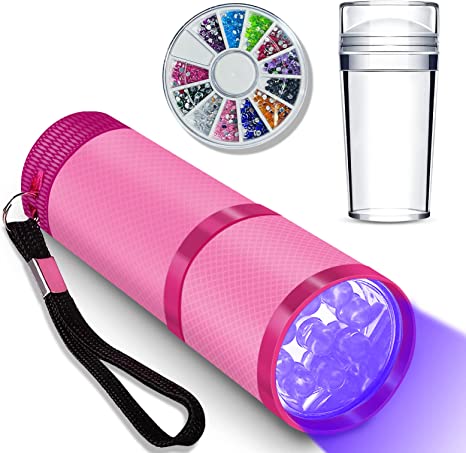 Instead of placing your nails underneath the UV light, with this LED flashlight, you can have better control when curating your nails as you can hold and aim it in any direction. The unique design of this device makes it a lot more efficient and convenient to use than traditional nail lamps wherein you have to squeeze and adjust your fingers. 
Customer's Review - "Really nice for flash curing gems and gel! It's so small you can use it quickly and more concentrated. I love it!" - Tasha Glancy
Pros:
- Non-slip body
- Waterproof
- Ideal for drying regular nail polishes too
- Compact design
- Multiple uses
- 9 LED beads
Cons:
- Weak for some nail polishes
- Not durable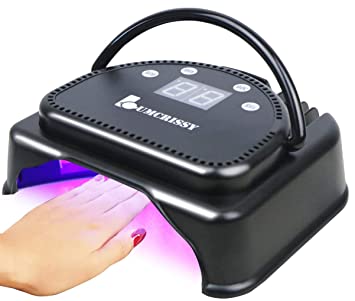 The anatomically spacious design of this cordless LED nail paint dryer by Lumcrissy is perfect for placing both hands or feet together while curating the nails. Depending on the type of gel nail polish you're using, the device dries your nails in about 45 seconds. It also helps bake the glue for artificial nails neatly and seamlessly. This LED nail light is a great beginner-friendly device to use at home. 
Customer's Review - "Looks and works exactly like the ones in the nail salon up the road! My daughter loves it, and I love that she can do this at home and save money :)" - Mary Vander Lugt
Pros:
- Anti-slip design
- Powerful LED beads
- High-quality adaptor
- Strong metal cover
Cons:
- Burns out in a few months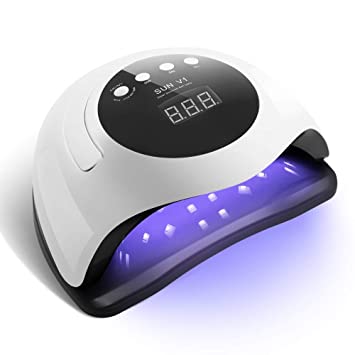 You can easily clean and maintain this LED nail lamp by KOCECER, which is useful and handy for at-home manicures. It works excellently with all forms of gel nail polishes and gives a sleek, glossy finish by distributing the light evenly. You can concurrently place your both hands or feet to curate the nails efficiently. 
Customer's Review - "Definitely a must have, you would think your nails was done by a professional ( according to wifey)" - Jocelyn Bontemps
Pros:
- Auto infrared sensor
- Detachable magnet base
- Lightweight
- 45 LED beads
Cons:
- Not durable
- Leaves dead zones
Now that you've seen our product picks for the best UV nail lamps, let us go through the following buying guide and steps to use to make the best of the product and shop wisely.
How to Choose the Best UV Nail Lamps?
Check Your Nail Polish: Most UV nail lamps are recommended only to use on a gel lacquer, be it hard gel, soft gel, acrylic, vinylux, etc. However, some nail lights with fewer LED beads can be used to dry regular bases and top coats as well. To be sure of which nail lamp you need, check the packaging instructions of the nail polish you're planning to apply. Always prioritize UV lamps that can curate all kinds of nail polishes. 
Time And Heat Settings: Different gel and shellac nail polishes require different durations of UV exposure to curate. Hence, it is important that the nail lamp you're planning to buy has multiple time settings. Besides, depending on how quick you want your results to be, look for a UV nail lamp with multiple heat settings as well, to cater to your needs. 
Sleekness of the Design: Look for a LED nail dryer with a lightweight body and an ergonomic design, for ease of use. Ensure that it is spacious enough to accommodate your hands concurrently and comfortably to curate all the nails together. To curate the nails on your toes, it is important that the bottom tray of the lamp is detachable. It helps if your UV lamp is compact, cordless, and rechargeable, which makes it travel-friendly. 
Energy Efficiency: Rechargeable lamps with long battery life are often more energy efficient than corded ones. However, no matter what the power source is, it is best to look for energy-efficient UV nail lamps to make an environment-friendly choice. 
Durability: A lot of cheap quality lamps last no more than two to three months. Hence, even if the lamp may be a bit on the expensive side, it is best to invest in durable devices with a warranty period. 
How to Use the Best UV Nail Lamps?
Step 1: Take a generous amount of sunscreen (at least SPF 40) that shields against both UVA and UVB rays. Apply the product evenly on your hands and feet. 
Step 2: Then, apply the first coat of your favorite gel or shellac nail polish neatly on your fingers/toes. 
Step 3: Turn the plugged/charged device on and choose the duration and heat intensity. 
Step 4: Place your hands/feet underneath the LED rays. Curate for about 45 seconds depending on the instruction manual of your gel/shellac nail polish. Don't expose your fingers/toes for any longer than the suggested duration. 
Step 5: Take your hands/feet out. Apply the second layer of your gel/shellac nail polish. Curate for another 45 seconds/as long as instructed.
Step 6: Apply the top coat on each nail and follow the curation process. 
Step 7: To get rid of any sticky residue/uneven finish, absorb some rubbing alcohol in a cotton ball and wipe your nails gently. 
Now that you've gone over our list of the best UV nail lamps, you can achieve a pretty-looking, professional gel manicure from the comfort of your home. Moreover, our comprehensive buying guide will ensure that you make the right purchase while the user's guide will help you get optimal results. Apart from that, you must remember that extended exposure to UV rays, even with lamps labeled as "LED," can harm your skin. Therefore, it's essential that you keep track of how often you use the lamp and always remember to apply a broad-spectrum sunscreen beforehand. Now go ahead and enjoy your shopping experience!
Why Trust Pinkvilla?
Our in-house nail expert Sayantani claims that UV nail lamps are an essential tool when it comes to gel manicures – they are an easy and efficient way to cure gel nail polish and give them a long-lasting finish at home. She says that they can be very time-saving and convenient, ensuring that you get a professional finish without any smudging or chipping. After putting all of the products to the test, she concluded that the LKE Gel UV LED Nail Lamp was the best of them all. It effectively dried her gel nail polish, making her manicure look sleek and shiny. Plus, the curved design eliminated the chance of the light getting into her eyes.
Our product experts study the specifications of every product we suggest and try them out to bring what's proven to be worthy of your money, time, and energy. We also have subject matter experts from various fields like Fashion, Skincare, Haircare, Home Decor, and Health & Fitness onboard to make sure our suggestions are credible and trustworthy. You can trust Pinkvilla to be your faithful shopping guide for all the right reasons!
FAQs
How often is it safe to do UV nails?
While it's safe to use a UV nail lamp for gel nails every few weeks, dermatologists recommend that you leave your nails bare for at least 1-2 weeks in between manicures.
---
Can you leave your nails under UV light for too long?
Yes, exposing your nails to too much UV energy can cause nail damage, infections, breakage, lifting, and thinning.
---
What is the difference between UV and LED nail lamps?
Led nail lamps work for gel polishes that cure only under LED light while UV nail lamps usually work for any type of gel nail polish.
---
What watt UV nail lamp is best?
UV nail lamps that are at least 36 watts work best as they can cure gel nail polish quickly.
---
About The Author
Sayantani is a certified hair and makeup professional turned writer with 2+ years of experience in the same genre. Apart
...
Read more
Top Comments
There are no comments in this article yet. Be first to post one!