10 Best Hair Serums for Men to Get for Overall Haircare
Shampooing and conditioning aren't enough! Your shaft and scalp need special care to look healthy. These best hair serums for men are here to your rescue.
Updated on Aug 21, 2023 | 04:00 PM IST | 3.6M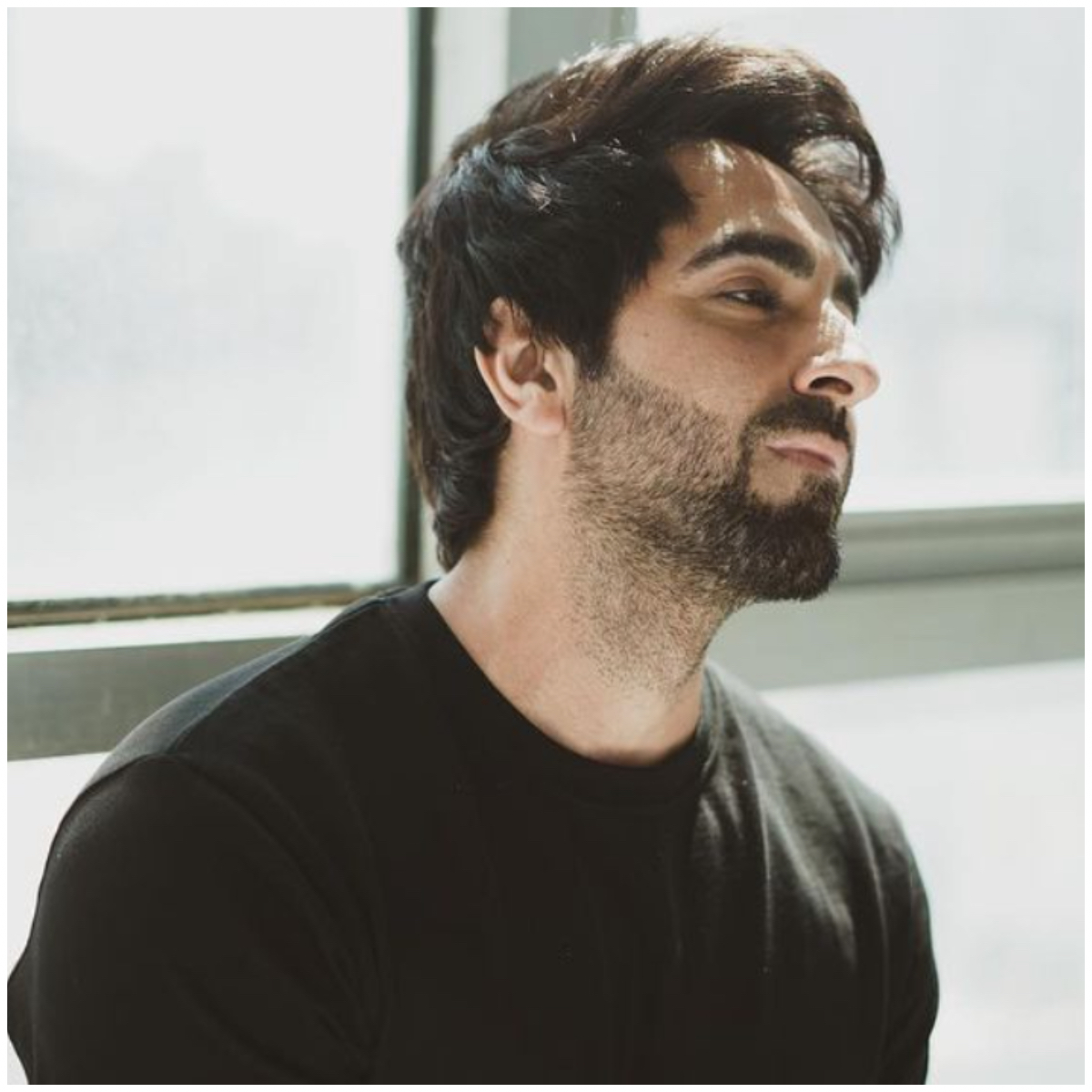 The products curated for this article are independently chosen by the editorial team. If you make a purchase through the
links
mentioned below, we may receive a commission. Check out our
product research & curation process
With all the environmental stress and pollution that our hair faces, it is important to show some extra love and care to our hair. Here we have a list of hair serums and you can choose the best hair serum for men and add it to your routine. Hair serums are a super important part of every hair care routine and should not be ignored. As the beauty industry is flourishing into a gender-inclusive era, we now have hair serums specifically made for men's thicker hair and to address their male pattern hair loss.
"Hair serums are formulated with proactive ingredients to penetrate the hair cuticle. They help control frizz and finish off hairstyles, giving hair and your look, polish, and shine. The serums soften and protect the hair from existing cuticle damage and dullness," says Peter Butler. He is right on point! These hair serums will make your hair soft shiny and manageable in no time. The growth serums, on the other hand, go deep into your scalp and treat your hair loss. Check out the list that we have curated for you—
Top Picks
1. Streax Walnut Serum- Most-loved
2. L'Oréal Paris Extraordinary Oil Serum- Value-for-money
3. ELEVATE Hair Growth Oil- Amazon's Choice
4. TNW-The Natural Wash Black Seed Hair Serum- Works as Heat-protectant
5. Man Matters Hair Strengthening Serum- Strengthens Hair
10 Best Hair Serums for Men to Fight Hair Problems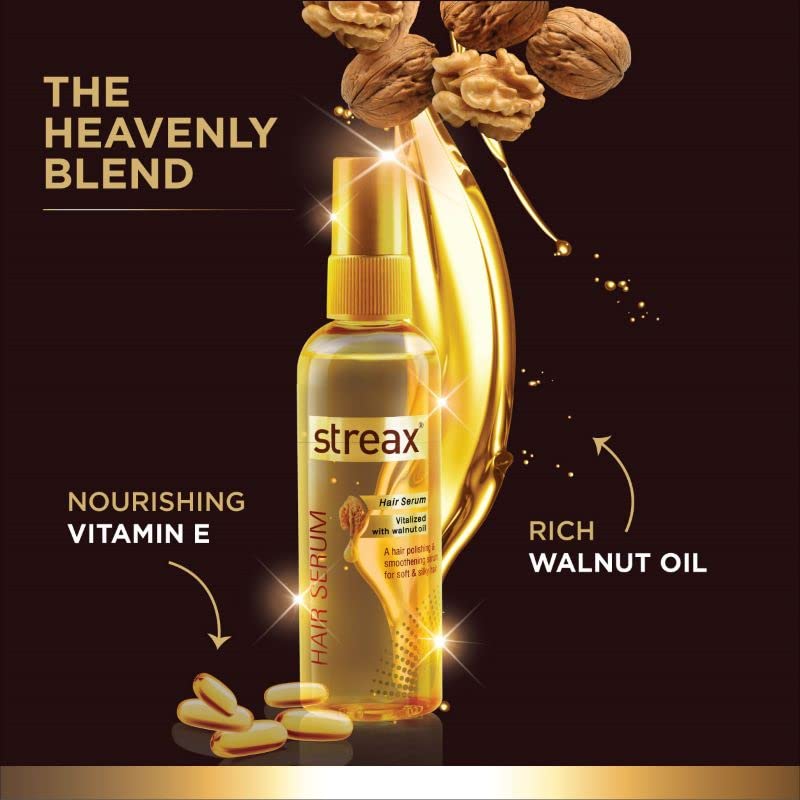 The walnut serum from Streax is one of the best hair serums for men that gives your hair an instant shine and smoothness. It delivers a silky finish, luminous shine, and touchable softness without leaving your hair greasy. It is vitalized with walnut oil which gives a glossy look, by adding polish to every strand of hair. It is carefully crafted to form the most gentle and effective hair serum for all hair types including dry hair. This serum adds a shiny look to your hair while also making it more manageable to give you the confidence to shine all day.
Pros
1. Non-greasy
2. Infuses organic properties
3. Makes the hair shiny
4. Best for dry strands
5. Silky finish
6. Best for frizzy hair
Cons
1. A little runny consistency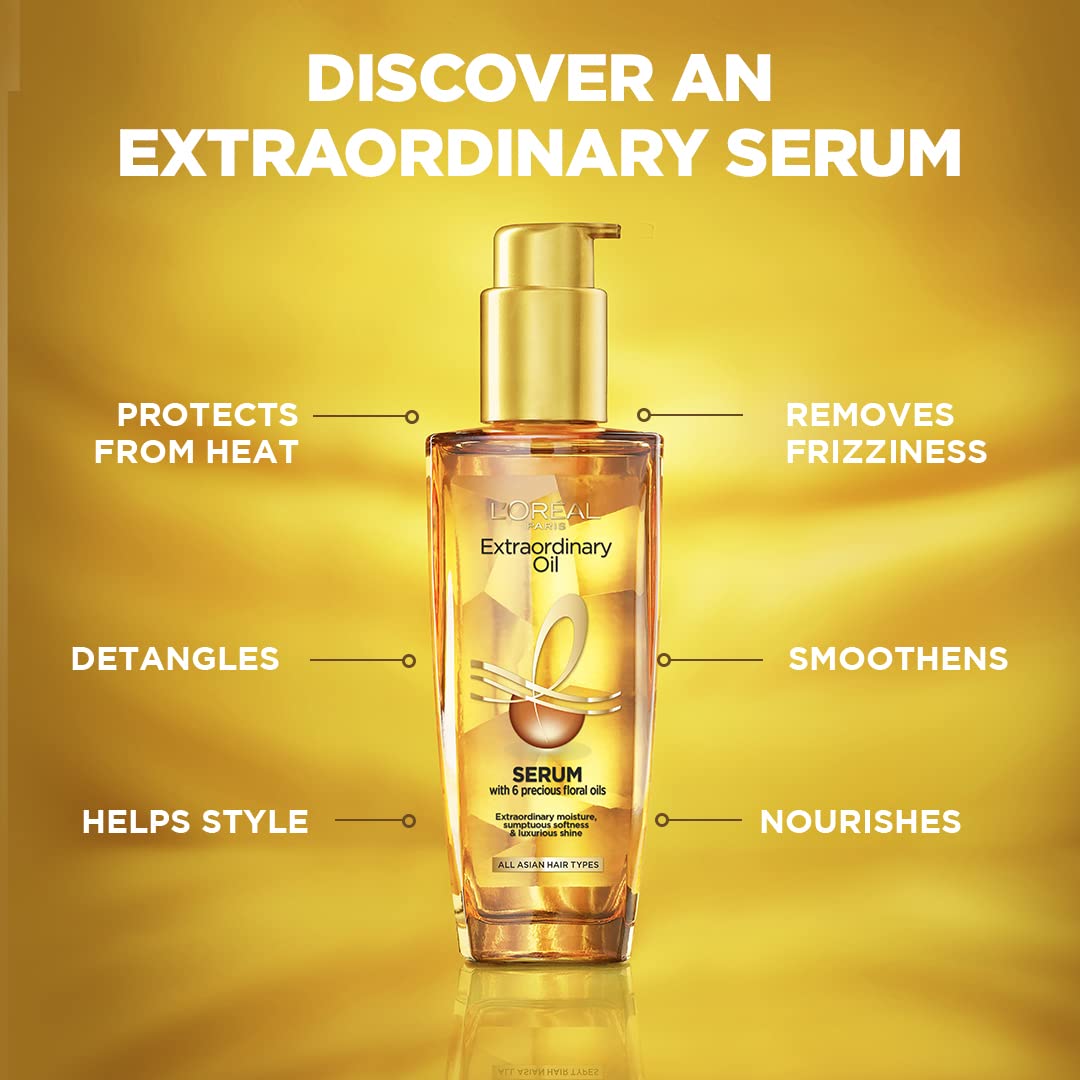 This oil serum comes from the house of one of the best hair serum brands that unveil the secret to soft, smooth, and silky hair. It is not a secret that applying a nourishing hair serum after washing your hair gives a flawless result. This non-sticky hair serum is made from a blend of six rare floral oils that provides hydration to the hair and seal moisture in the hair cuticle. This serum claims to add life to your hair and make it softer and shinier with regular use.
Pros
1. Best for frizzy hair
2. Infused with organic oils
3. Makes the hair soft
4. Seals the moisture
5. Provides hydration
6. Value-for-money
Cons
1. Bottlecap could be better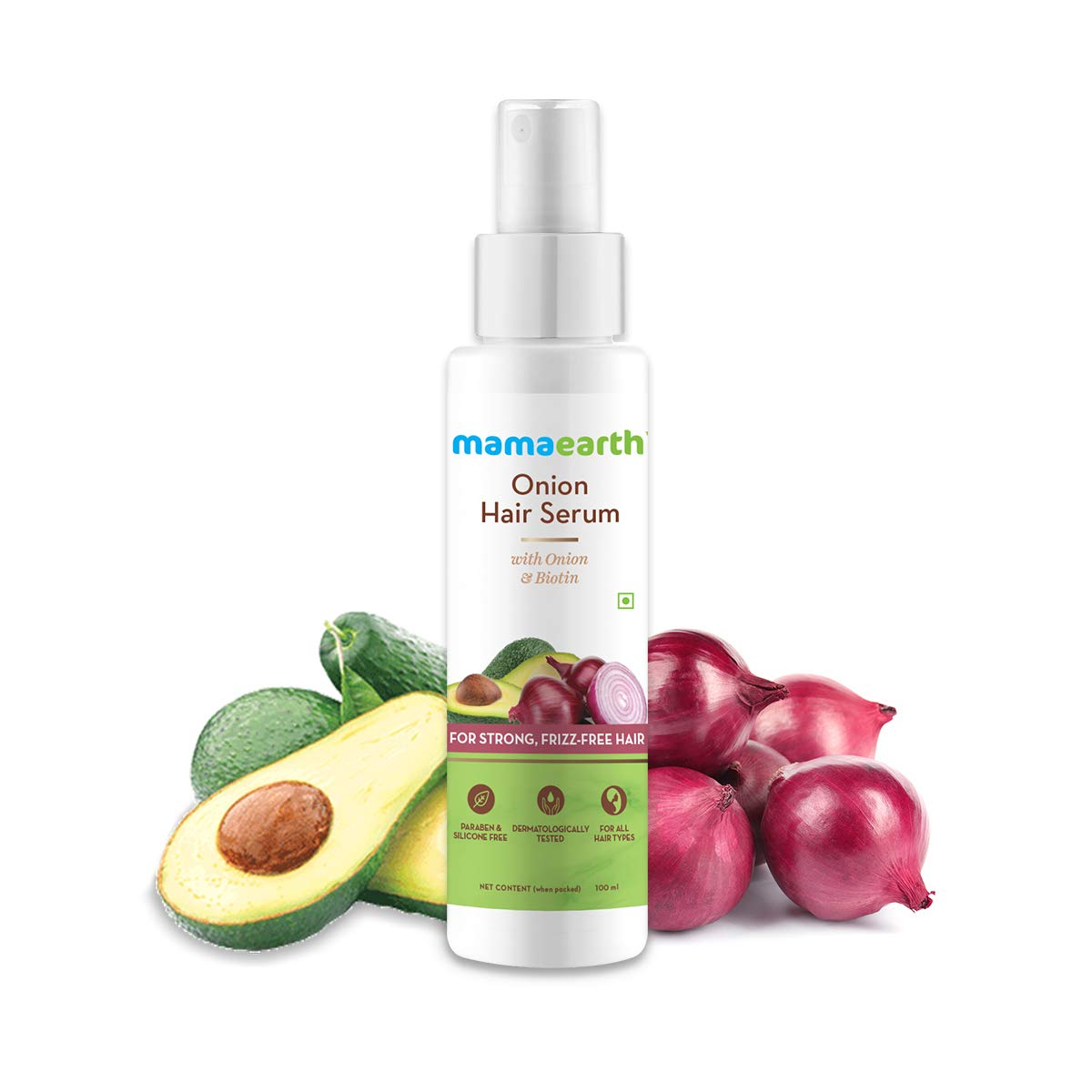 The hair serum comes with the nourishing properties of olive oil that give your hair a frizz-free, sleek look and makes them healthy from within, and it is a great hair serum for ends to deal with split ends. Enriched with the benefits of sulfur in onions, this serum strengthens your hair and reduces breakage. The natural formulation, free of any toxicity, nurtures your hair and gives it a natural shine. Use this for hair so soft that you will want to keep running your fingers through it all day long.
Pros
1. Best for split ends
2. Naturally extracted
3. Nourishing properties
4. Strengthens your manes
5. Provides natural shine
Cons
1. Not for dry hair
This hair serum is infused with the power of argan and almond oil which help nourish and moisturize your hair and also helps stimulate thicker and fuller hair. Get that instant shine and long-lasting softness without weighing the hair down. It is rich in vitamin E and argan oil that supports the scalp. Packed with a blend of essential oils, it helps prevent dryness and tames brittle and frizzy hair.
Pros
1. Infused with almond oil
2. Stimulate thicker hair
3. Doesn't weigh down
4. Enriched with vitamin E
5. Loaded with essential oils
6. Prevents dryness
Cons
1. Doesn't promote hair growth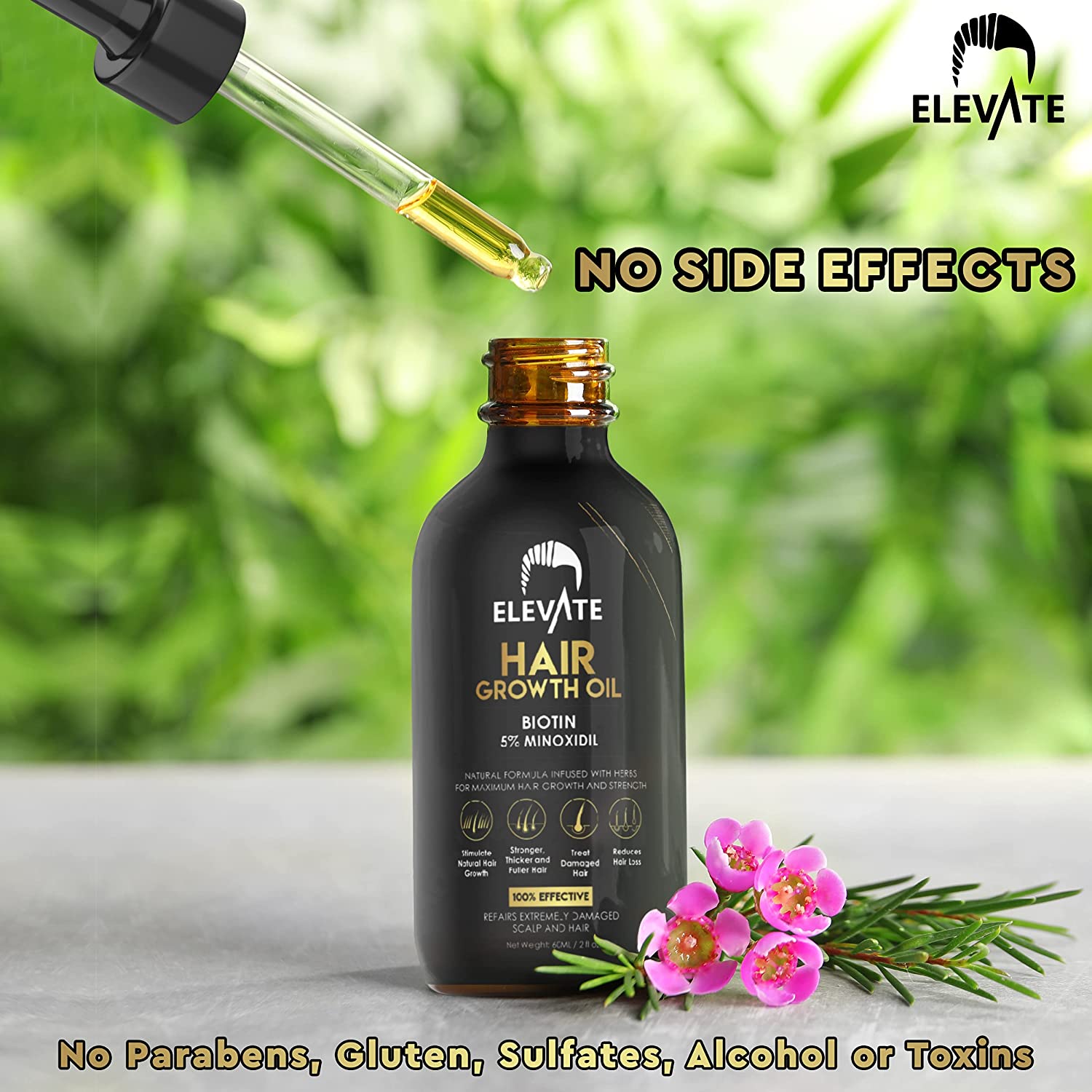 ELEVATE Hair Growth Oil is meant for growth and comes with a powerful and revolutionary formula of 5% minoxidil which is the only proven component to promote hair growth. This men's hair serum benefits your scalp alongside the shafts. It stimulates new hair growth and strengthens the hair follicle that makes your hair fuller, healthier, and thicker in no time. With bioactive nutrients, the formula is clinically approved to replenish the hair while being gentle and safe.
Pros
1. Clinically approved
2. Bio-active nutrients
3. Makes hair fuller and thicker
4. Stimulates growth
5. Best for pattern baldness
6. Little goes a long way
Cons
1. Not cruelty-free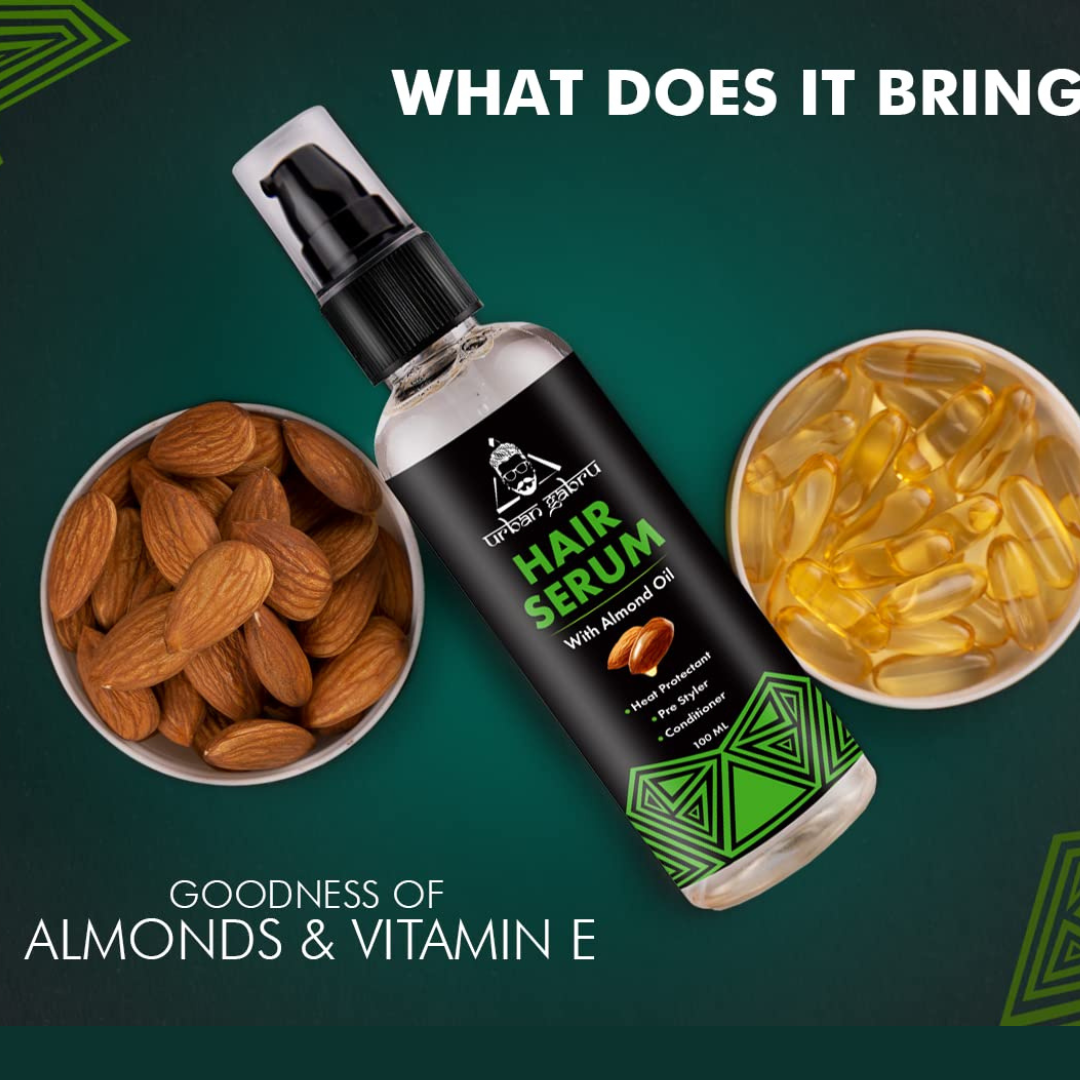 This popular hair serum hydrates the scalp, speeds up drying time, smoothens hair, boosts shine, and a nourishing protective barrier between your hair and high-heat styling tools. It also protects the hair from heat exposure. It can be used before styling with flat irons, blow dryers, and curling wands to give a light texture, natural definition, and effortless finish. This serum can also be used as a leave-in conditioning serum. Get smooth, hydrated, frizz-free hair that looks and feels healthier than ever before.
Pros
1. Boosts shine
2. Dries up very fast
3. Lightweight
4. Makes the hair frizz-free
5. Effortless finish
6. Works as a heat protectant
Cons
1. Too oily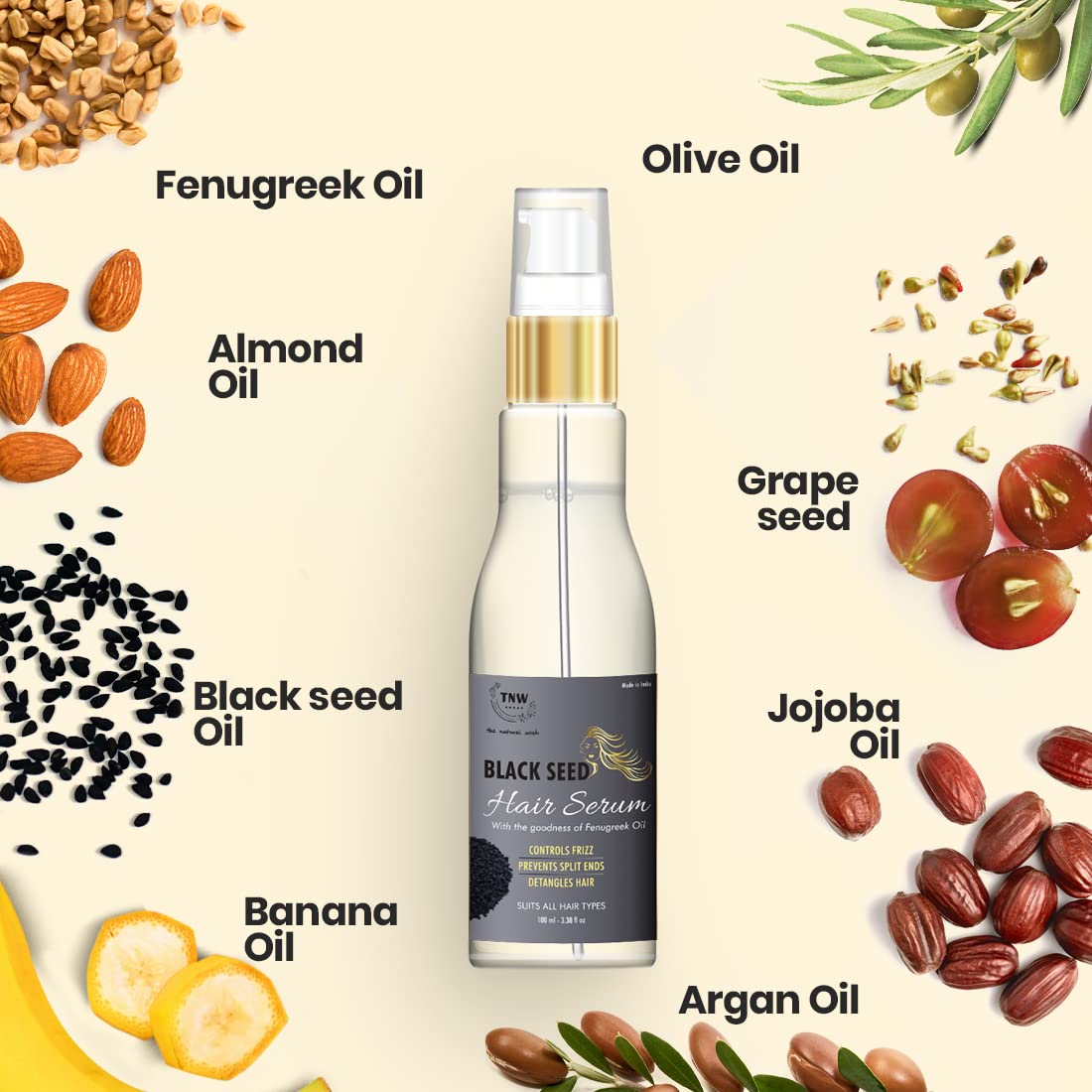 The black seed hair serum from TNW is made with natural ingredients and enriched with essential oils like banana oil, blackseed oil, grapeseed oil, and argan oil. The non-greasy formula won't weigh your hair down and will seal the cuticle to lock out humidity, smooth strands, and tame flyaways for sleek, healthy hair. This smoothing serum can be used as a detangler, conditioner, heat protectant, styling, and finishing aid for all hair types. It can be used on shampooed hair as well as on dry hair to give your hair the perfect shine. 
Pros
1. Best for styling
2. Enriched with essential oils
3. Non-greasy
4. Tames flyaways
5. Works as a heat protectant
6. Gives shine
Cons
1. Contains mineral oil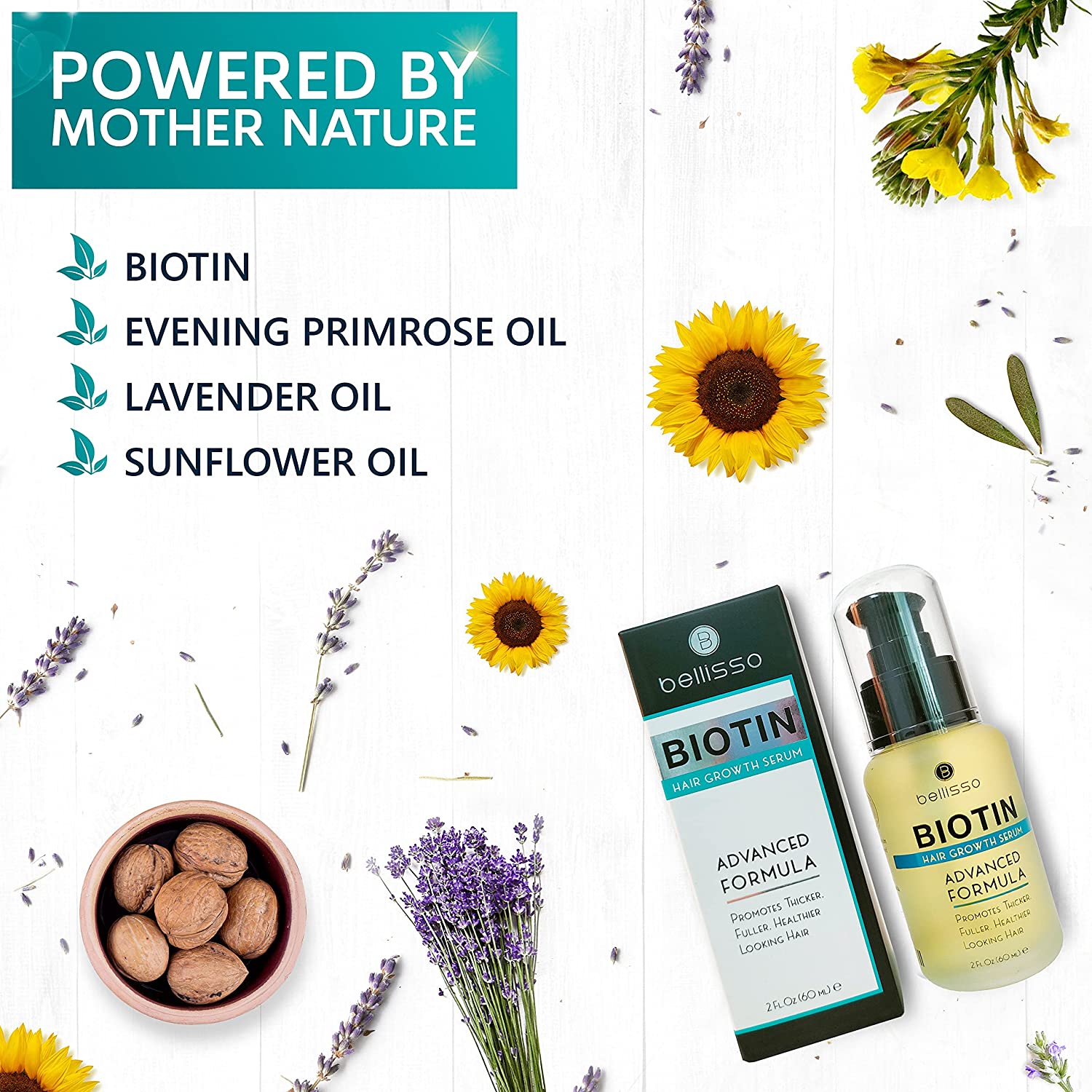 The powerful biotin serum for hair is one of the top-rated hair serums for men which is best for fighting hair thinning by stimulating follicles. Loaded with premium ingredients, the potent serum is crafted with the highest standard to encourage hair growth and deal with split ends and breakage. The essential oils like— sunflower, evening primrose, and lavender oil, present in the serum target the specific concerns and make your hair smooth and shinier in each use.
Pros
1. Contains hair thickening products
2. Deals with split end
3. Prevents breakage
4. Promotes hair growth
5. Naturally extracted
6. Best for hair loss
Cons
1. Greasy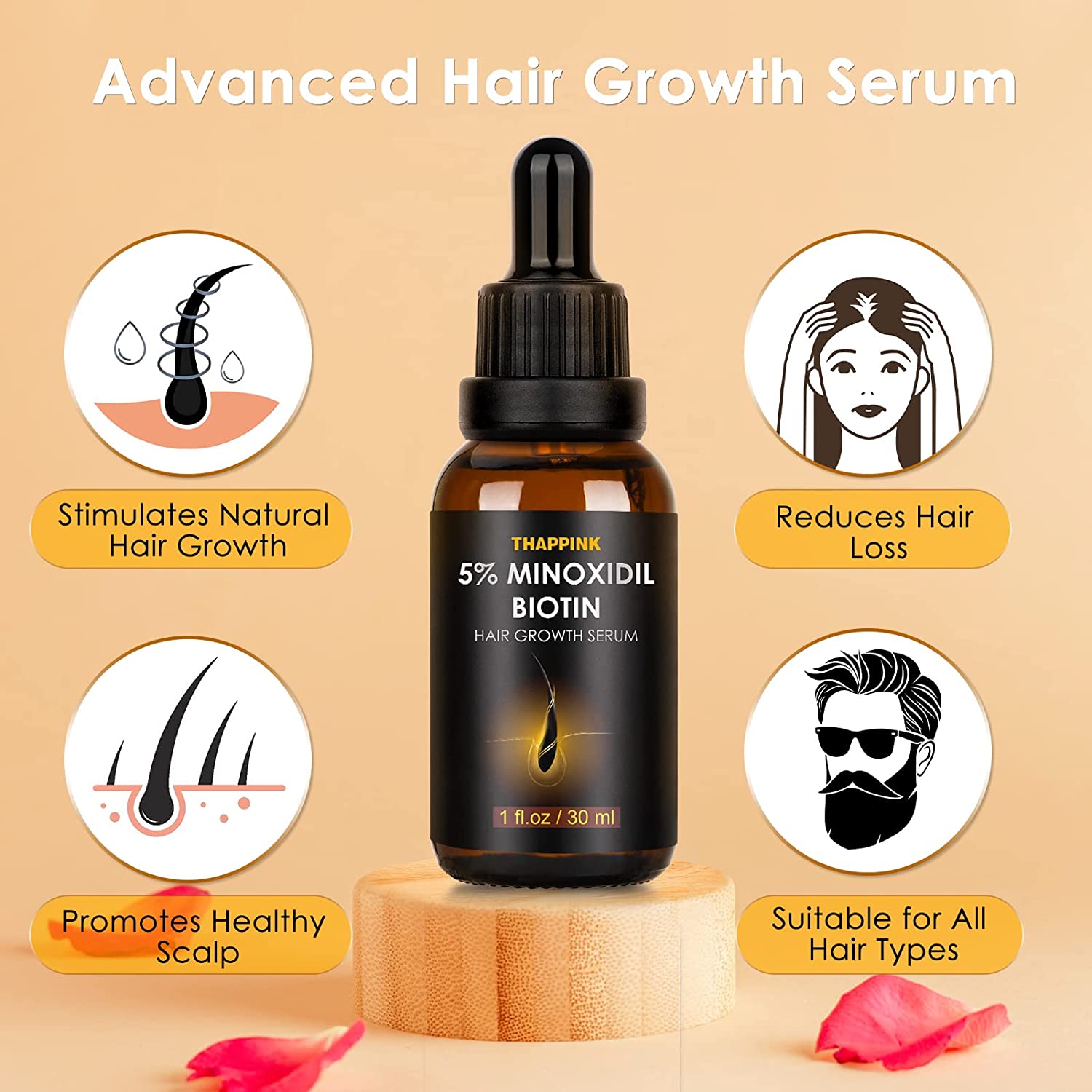 The growth serum comes with a 5% minoxidil biotin formula for your hair growth and it targets your weak hair and scalp to strengthen the shaft and promote hair growth. With the goodness of biotin and minoxidil, the fail-proof hair serum promises to take care of the concerns like baldness, hair thinning, and weak hair with its potent formula. With active ingredients like vitamin E, the effective hair growth serum absorbs easily on your scalp to work faster than the other ones of a similar category.
Pros
1. Strengthens the shafts
2. Promotes hair growth
3. Nutrient-rich
4. Gentle on the scalp
5. Absorbs quickly
6. Best for thinning hair
Cons
1. Thick and greasy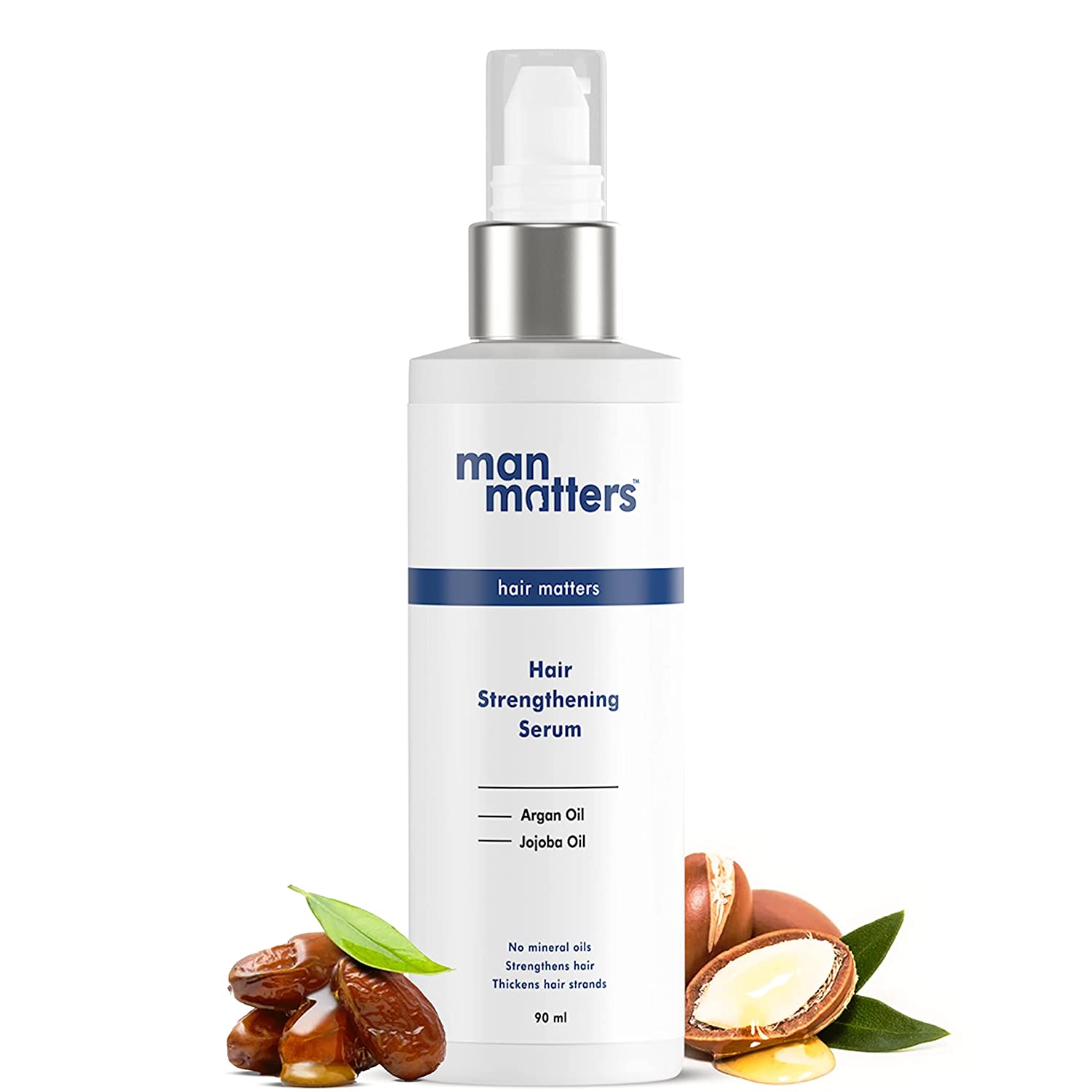 Man Matters Hair Strengthening Serum is a men's hair growth serum that is the perfect solution for men with any hair type. This serum will not only reduce hair fall but also moisturize and soften your hair, giving it a natural glossy look. It boosts the growth of stronger and thicker strands, making your hair look and feel voluminous. The vitamins and fatty acids present in argan oil give a silky and soft sheen to your hair, lock in the moisture in your strands, and make it smooth and frizz-free. Jojoba oil makes the root stronger, stimulates hair growth, and leads to longer, denser hair. Vitamin A moisturizes the scalp, fortifies hair follicles, and protects against dandruff, improving hair growth and overall quality.
Pros
1. Best for hair growth
2. Soften your hair
3. Naturally extracted
4. Works on dandruff
5. Improve hair growth
6. Makes hair stronger
Cons
1. Makes the hair a bit dry in the long run
Benefits of Using a Hair Serum
Hair serums have immense benefits that you must know before laying your hands on them—
a) Provides a barrier: Hair serums meant for shafts provide a barrier around your hair length to protect against UV rays, heat, and pollution to reduce further damage. They also protect against humidity and help the hair to retain moisture in any condition.
b) Makes hair soft and shiny: Hair serums make your hair more manageable and infuse shine to dry and dull hair. It also brings the moisture back as most of the hair serums contain organic oils to treat different hair issues.
c) Treats hair concerns: Hair concerns like bald patches, hair loss, and hair thinning can be treated by using special serums meant to target only hair scalp. The ingredients penetrate the scalp and address concerns from the inside.
How to Choose the Best Hair Serum for Men?
Let us help you how you can pick the best hair serum for your hair—
a) Types- There are two types of hair serums, to begin with. One treats your hair scalp like baldness and hair loss, another one addresses hair length concerns to make your hair smooth and manageable.
b) Hair concerns- First you have to identify your hair needs before buying the product. However, you can use two types of hair serums at a time concerning your length and scalp.
c) Ingredients- Look for ingredients like argan oil, olive oil, and moisturizing properties that mostly target your hair length to make them smooth. If your serum contains biotin and minoxidil, it is for treating the hair scalp. Also, it is no brainer to stay away from parabens, and harmful chemicals.
d) Texture- Go for a lighter texture that will not make you greasy and not weigh it down. The heavier the texture, the more it is prone to catch particles from the hair.
Get rid of the problems concerning hair growth, unruly mane, and dry ends by getting these serums in your stash. Achieve smooth, frizz-free, and manageable hair by investing in a hair serum that addresses only your shafts. However, if your concern is to fight male pattern baldness, get yourself a growth serum and you will not be disappointed. Even men deserve to have a strong, healthy, and happy mane that is well-nourished and hydrated. Choose the best hair serum for men that will suit your hair type and welcome smooth, shiny hair! 
Why Trust Pinkvilla? 
Alvira, our in-house haircare expert is the go-to person for all hair-related tricks and tips. She is currently obsessing over hair serums and thus, we assigned her a task to jot down the best hair serums for men. Having carried out a meticulous research, she highlights the importance of using a hair serum to make one's hair softer, shinier, and more manageable. From this list, Streax Walnut Serum has been her top recommendation for its silky finish and luminous shine. The rest of her top picks are also too good to be true, hence you can splurge on any of them without second thoughts. 
Our product experts study the specifications of every product we suggest and try them out to bring what's proven to be worthy of your money, time, and energy. We also have subject matter experts from various fields like Fashion, Skincare, Haircare, Home Decor, and Health & Fitness onboard to make sure our suggestions are credible and trustworthy. You can trust Select to be your faithful shopping guide for all the right reasons!
FAQ's
Is hair serum good for hair for men?
Hair serums are the most effective way to address male hair concerns, from hair loss to dry ends, a good hair serum can do wonders for your hair.
---
What does a hair serum do?
Hair serums smoothen out the frizz, make the hair manageable, and create a protective barrier around the hair. Also, it treats the hair scalp and addresses issues like hair loss and baldness.
---
About The Author
Journalist. Perennially hungry for entertainment. Carefully listens to everything that start with "so, last night...". Currently making web more
...
Read more
Top Comments
There are no comments in this article yet. Be first to post one!