18 Best Salicylic Acid Products for Clear And Radiant Skin
Tap the power of BHAs to treat acne, blackheads, and more while getting a radiant complexion. For this, shop for the best salicylic acid products listed below.
Updated on Mar 17, 2023 | 09:19 AM IST | 1.1M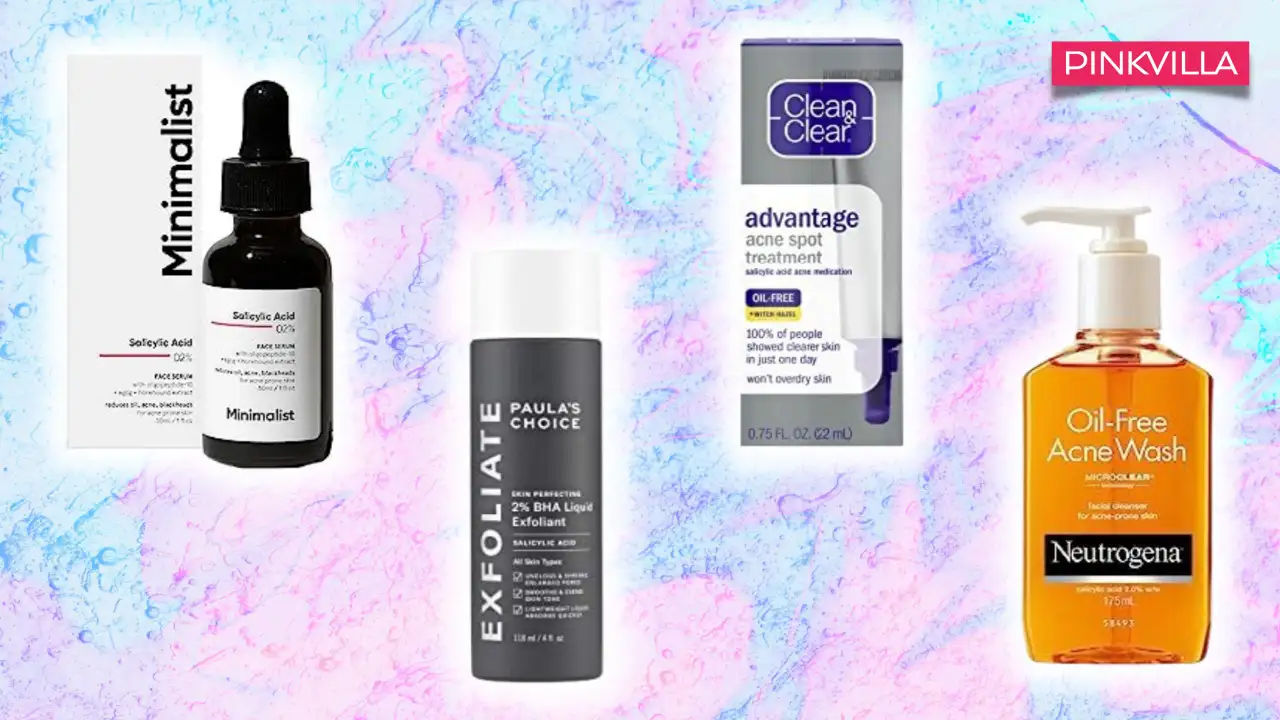 The products curated for this article are independently chosen by the editorial team. If you make a purchase through the
links
mentioned below, we may receive a commission. Check out our
product research & curation process
These days, salicylic acid seems to be the ultimate solution for all skin problems. Whether you are dealing with acute acne, have a lot of blackheads and clogged pores, or have dull patches that you want to brighten, this marvelous skincare active can help with all! But here's where things get tricky — there are a plethora of products in the market containing this ingredient, such as gels, serums, cleansers, etc. and it gets confusing to find the best salicylic acid product from the pile. Fret not, as we're here to help you with the same!
What is Salicylic Acid?
Salicylic acid is an antibacterial agent necessary for improving the quality of your oily and acne-prone skin. It is an organic compound and a type of BHA (beta-hydroxy acid) that helps in shedding dead skin cells and unclogging your skin's pores of impurities. It is also called ortho-hydroxybenzoic acid and contains anti-inflammatory properties to alleviate acne issues, swelling, redness, irritation, itchiness, and so forth (1). 
You too can reap these benefits with the following product recommendations. 
Our Top Picks
1. PAULA'S CHOICE SKIN PERFECTING 2% BHA LIQUID EXFOLIANT - Best Overall
2. Minimalist 2% Salicylic Acid Face Serum - Best Serum
3. Clean & Clear Advantage Acne Spot Treatment - Best Spot Treatment
4. CeraVe Acne Control Cleanser - Best Face Wash
5. Bodywise 1% Salicylic Acid Body Wash - Best Body Wash
18 Best Salicylic Acid Products for Oily And Acne-prone Skin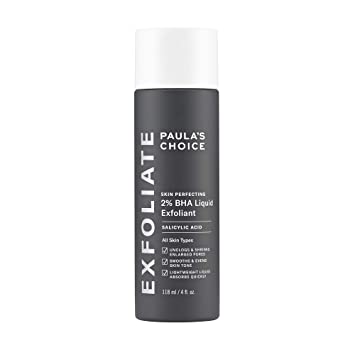 Paula's Choice liquid exfoliant is a great representative of what one would expect from any salicylic acid product! The product has a watery, lightweight consistency that stays low-key on your face — perfect for a leave-on exfoliant. It contains 2% salicylic acid, which is an optimal concentration to deep-cleanse your pores of dirt and oily filaments to prevent several skin problems. Also, it contains green tea extracts that soothe inflammation in your skin (2). It is safe and effective as it is free from unnecessary filler ingredients. 
Ingredients: Green tea extracts
Pros:
- Prevents acne
- Gives an even tone
- Smoothes skin's texture
- Shrinks enlarged pores
- Suits most skin types
- Works as an incredible toner
- Contains no fragrance 
Cons:
- Bit expensive
- Excess use can have a drying effect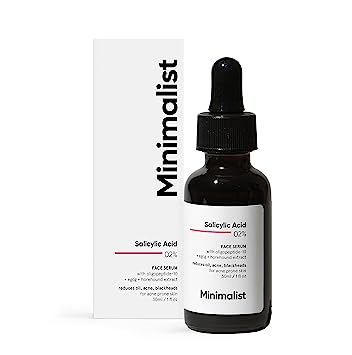 With this groundbreaking formula by Minimalist, you can bid adieu to the abrasive effects of exfoliation as it is plush with humectants such as hyaluronic acid. One of the best serums with salicylic acid, the product works marvelously in improving the skin's texture by sloughing off dead skin cells. In some time after application, you will notice that your skin subtly sheds whiteheads and sebaceous filaments on its own, which you can simply wipe off. And, while there is no tingling sensation to signal that, the product almost magically reduces your pimples and zits. 
Ingredients: Oligopeptide, horehound extracts, EGCG, and hyaluronic acid
Pros:
- Fights effects of pollution
- Moisturizing serum
- Very little goes a long way
- Non-comedogenic
- Anti-inflammatory
- Boosts collagen production
Cons:
- Overuse can cause skin sensitivity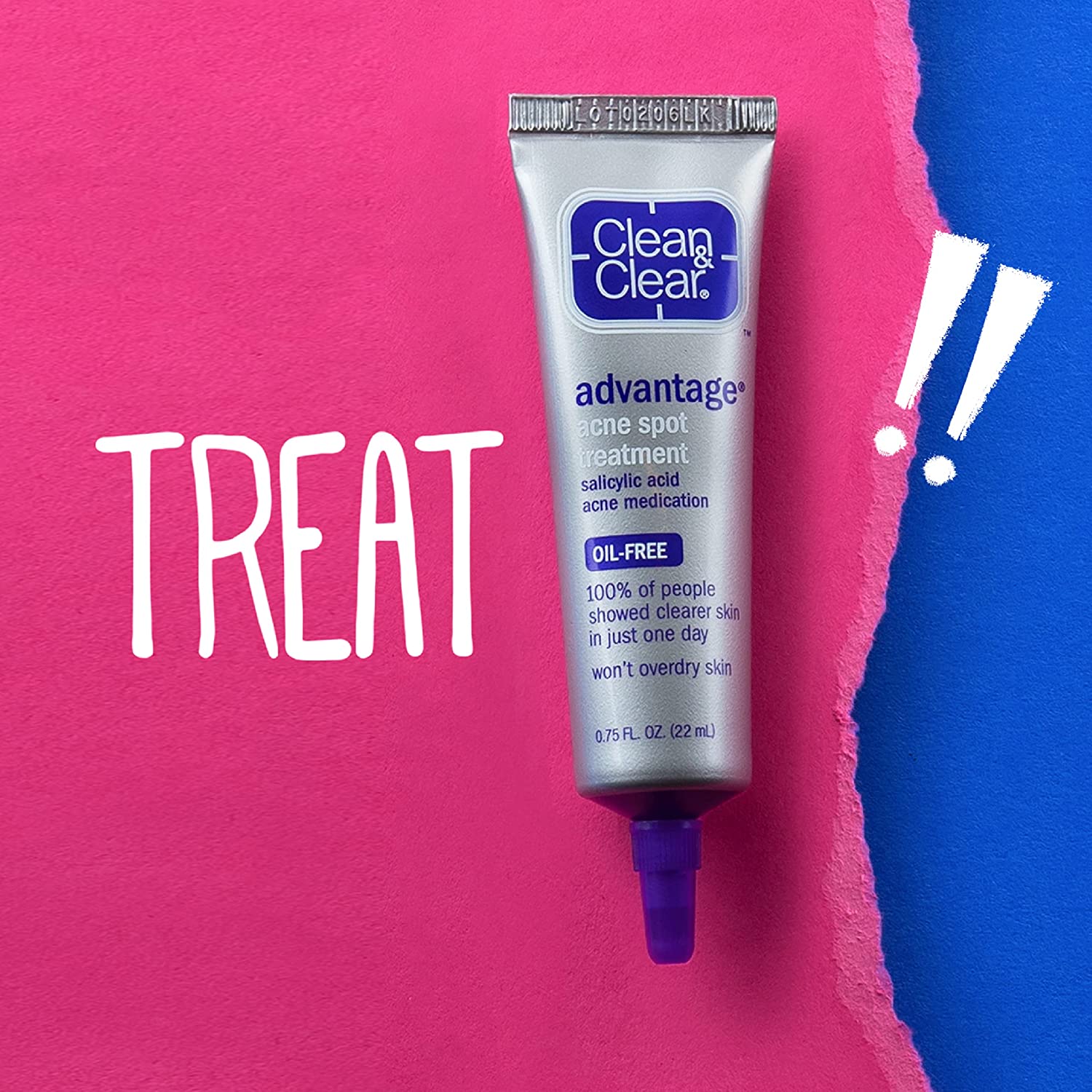 For spot treatment of acne and annoying zits, get your hands on this super-effective salicylic acid product by Clean & Clear. With this product, you can ensure that you provide powerful exfoliation and sebum-absorption properties only on the affected region to prevent abrading other skin areas. Formulated with BHA and witch hazel extracts, the product helps to get rid of acne-causing bacteria, removes dead skin cells, and treats the pimple without over-drying your skin. Besides, the product is safe to apply 2-3 times a day. 
Ingredients: Witch hazel, cinnamon bark, Atlas cedar bark, and pursley extracts
Pros:
- Soothing properties
- Reduces redness
- Diminishes swelling in zits
- Oil-free formula
- Hydrating gel base
- Suits all skin types
Cons:
- Fragranced
- Slight tingling sensation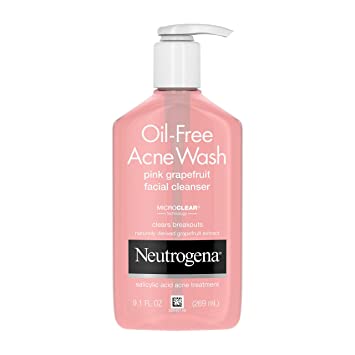 The 2% salicylic acid infused in this gentle cleanser by Neutrogena enhances its skin-purifying properties, so you can count on it to give you squeaky clean skin. It also contains vitamin C, which not only makes the product very refreshing but also improves your skin's radiance. You can also count on this ingredient to fight and alleviate sun damage (3). At a very affordable price, this product helps reduce pimples and breakouts on your skin, making it evenly textured. 
Ingredients: Grapefruit extracts, aloe vera, chamomile extracts, and vitamin C
Pros:
- Hydrating
- Fresh, pleasant scent
- Smoothes the skin surface
- Sulfate-free formulation
- A little goes a long way
- Great for oily and acne-prone skin
Cons:
- Bit drying for sensitive skin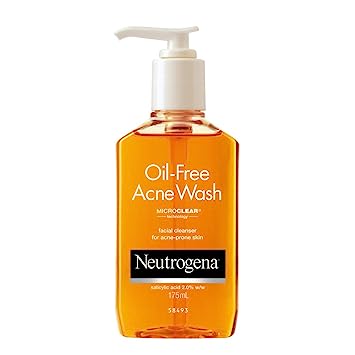 To make the best of this salicylic acid face wash by Neutrogena, massage it on your skin and wait for about two minutes before washing it off. This allows the BHA to properly exfoliate your skin and prevents its effects from being lost when washed away! Its Microclear technology deep-cleanses your pores by dissolving dirt, oil, and debris to purify your skin. Besides, it has some soothing properties to subtly alleviate inflammation and redness on your skin. 
Ingredients: Aloe vera, chamomile extracts, and vitamin C
Pros:
- Non-comedogenic
- Perfect for acne-prone skin
- Leaves no residue
- Fights harmful bacteria
- Smoothes skin's surface
- Gives an even skin tone
Cons:
- Inefficient pump
- Bit drying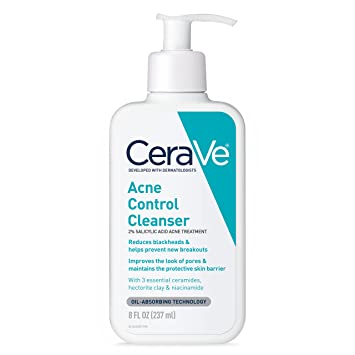 With this salicylic acid cleanser, you can get the exfoliating benefits of BHAs alongside the gentle, skin-pampering promise of CeraVe. The product consists of hectorite clay, which is a skin-friendly absorbent that soaks up excess oil on your skin to prevent sebaceous breakouts and comedones. Plus, the product contains three essential ceramides that nourish your skin's lipid barrier as well as niacinamide that boosts collagen production in your skin, to replenish the exfoliated skin surface (4). 
Ingredients: 3 essential ceramides, hectorite clay, and niacinamide
Pros:
- Moisturizing formula
- Removes blackheads
- Provides natural mattified finish
- Reveals radiant skin 
- Fragrance-free
- Lightweight
- Gives a rich foam
Cons:
- Less effective on acne spots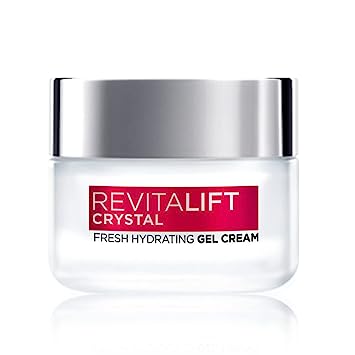 This salicylic acid gel by L'Oreal Paris is a revitalizing product that melts onto your skin and feels very soothing but doesn't compromise on its exfoliation benefits. It also gently purifies your skin by unclogging your pores of dirt, oil, and grime — an important skincare step to prevent whiteheads and comedo-induced zits. Besides, a little amount goes a long way with this product and you can safely top it up with any other skincare products or makeup. 
Ingredients: Hyaluronic acid, vitamin E, glycerin, and caprylyl glycol
Pros:
- Plush with skin-conditioners
- Very hydrating
- Targets zits and breakouts
- Smoothes the skin's surface
- Softens the skin
- Perfect for daytime skincare
Cons:
- Bit too perfumy
- Denat alcohol can be a bit harsh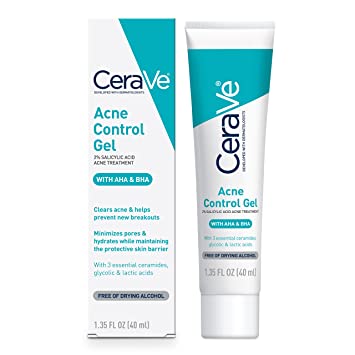 This salicylic acid gel by CeraVe is one of the gentlest exfoliating formulations you will find for your skin. It contains AHAs that enhance the product's properties in getting rid of dead skin and debris. Like most CeraVe products, this acne treatment gel too, is infused with three essential ceramides to replenish the skin lipid barrier and bolster the pore cleansing process of other ingredients, whereas niacinamide works its way to fill those gaps by stimulating collagen production and giving an even texture. As it provides all these benefits in a single formula, the product is an excellent choice for those who prefer a minimalistic skincare routine. 
Ingredients: Lactic acid, glycolic acid, three essential ceramides, hyaluronic acid, and niacinamide
Pros:
- Luxuriously nourishing
- Non-comedogenic
- Richly moisturizing
- Fragrance-free
- Suits all skin types
- Treats and prevents acne
- Removes oily filaments
Cons:
- A bit expensive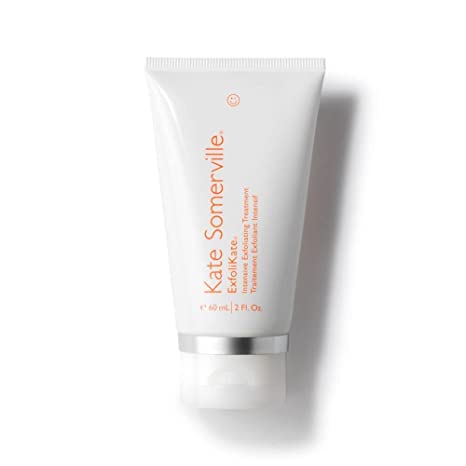 If you want to take your skin-purifying routine a step higher, then this luxury salicylic acid product by Kate Somerville is an incredible choice for you. What makes it truly high-end is that it is made with the choicest skin-friendly ingredients such as rosewood and cinnamon extracts, carefully concocted fruit enzymes as well as AHAs for enhanced exfoliation — to get rid of dead skin cells and reveal a brighter complexion. Plus, the emollient formula mollifies the process and provides overall nourishment. 
Ingredients: Rosewood and cinnamon extracts, AHAs and BHA, fruit enzymes, and botanical humectants
Pros:
- Intensely hydrating
- Unclogs your pores
- Sheds dead skin cells
- Regulates oil production
- Minimal irritation
- Reverses signs of aging
Cons:
- Quite expensive
- Bit abrasive on frequent use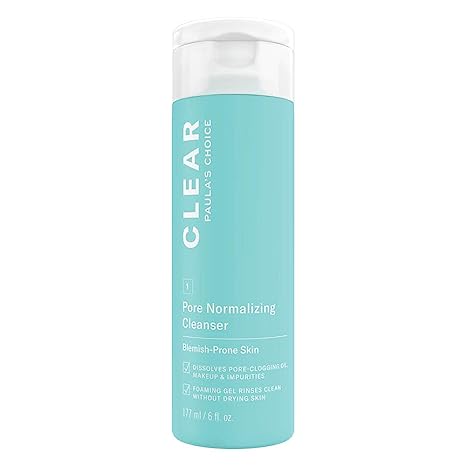 Another luxury skincare product on the list — this mild cleanser by Paula's Choice shows incredible results in reducing acne, comedones, and sebum plugs in your skin by employing the salicylic acid infused in it. However, it has a smaller concentration of this BHA compared to other exfoliating products, hence, it is gentler and suitable for more skin types. It is hard not to fall in love with the clear gel texture and silky consistency of this product, which makes a sublime addition to your skincare regime. 
Ingredients: Glycerin, panthenol, citric acid, hydrogenated castor oil, and caprylyl glycol
Pros:
- Non-irritant
- Suits sensitive skin
- Refreshing formula
- Sulfate-free
- Maintains the skin barrier
- Leaves skin feeling hydrated
Cons:
- Less effective on stubborn dead skin buildup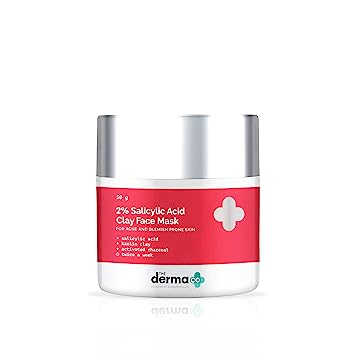 This salicylic acid clay mask by The Derma Co. is the perfect choice for people with very oily and acne-prone skin, as it gives a natural, matte finish. Formulated with kaolin clay and activated charcoal, the product shows a magnet-like effect on skin impurities and excess oil. In addition, the product also contains humectants such as aloe vera extracts to pamper your skin, as well as titanium dioxide to keep sun damage at bay (5). 
Ingredients: Kaolin clay, and activated charcoal
Pros:
- Suits all skin types
- Makes skin soft
- Shrinks enlarged pores
- Reduces blackheads
- Reveals a radiant complexion
Cons:
- Not ideal for dry skin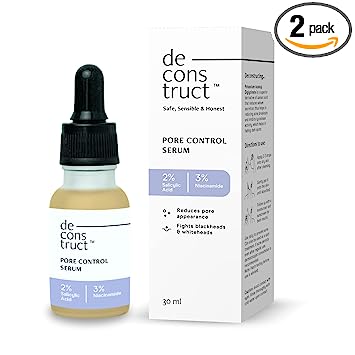 As the name of the brand suggests, this salicylic acid serum retexturizes the skin's surface as if renewing it. The product does so by employing the infused BHA to shed dead skin buildup, acne, and other skin impurities, after which niacinamide synthesizes the building blocks of your skin to strengthen its barrier (4). To top off its benefits, the green tea extracts in the product are incredible in alleviating inflammation and photodamage in your skin  (2).
Ingredients: Niacinamide, and green tea extracts
Pros:
- Revitalizes your skin
- Very soothing
- Regulates oil production
- Purifies skin's pores
- Reduces acne scars
- Suits most skin types
Cons:
- Poor dispensing bottle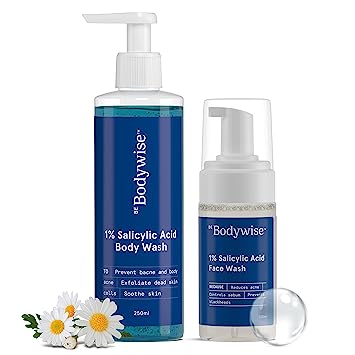 While most salicylic acid products target your face, with this body wash you can provide those benefits to your body as well without having to spend a fortune. This body wash by Bodywise also contains glycolic acid, to enhance the exfoliation benefits and get rid of dirt and sebum filaments while also increasing collagen synthesis in your skin (5). Despite having a soap-free formula, the product deep cleanses your skin and helps to get rid of harmful bacteria and pollutants lingering on it. 
Ingredients: Glycolic acid, and chamomile extracts
Pros:
- Great for getting rid of back acne
- Sheds dead skin buildup
- Non-comedogenic
- Smoothes skin's surface
- Regulates sebum production
- Minimizes enlarged pores
Cons:
- Shows very gradual results
- Not for sensitive skin types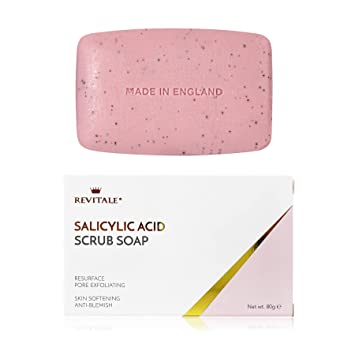 You get dual exfoliation benefits with this soap by Revitale as it combines the power of salicylic acid as well as granulated apricot kernels — perfect to resurface and purify neglected skin areas on your body. With frequent use, you can smoothen and soften your skin's surface to prep it before using a moisturizer. The product gets rid of stubborn dead skin buildup to unravel brighter, even-toned skin. 
Ingredients: Apricot kernel, and walnut shell beads
Pros:
- Smells amazing
- Revitalizing formula
- Suits all skin types
- Treats cystic acne and zits
- Reduces ingrown hair
Cons:
- Bit abrasive
- Slight tingling sensation
15. PROACTIV DEEP CLEANSING BODY WASH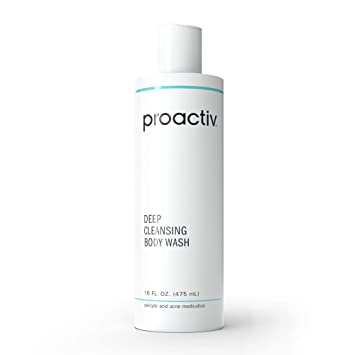 With this salicylic acid body wash by Proactiv, you can renew the appearance of your skin by gently scraping away the dead skin buildup that makes it look dull and lifeless. Combined with the power of glycolic acid and exfoliating beads, the product not only smoothes your skin's surface but also improves blood flow to boost overall skin health. While this isn't a product you should be using every day, you can bathe with it before a special occasion. 
Ingredients: Glycolic acid, acrylates copolymer, aloe juice, shea butter, and coconut extracts
Pros:
- Treats back acne
- Makes skin look plump
- Improves skin radiance
- Great to prevent ingrown hair
- Good product to use before waxing
Cons:
- Slightly drying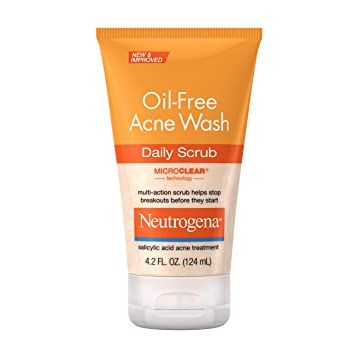 Whether you're using it before facial hair removal or simply want to retexturize your skin, this salicylic acid scrub by Neutrogena is a great product choice. While we don't recommend using it daily, as the packaging suggests, using it once a week or two will give you the best results in purifying your skin. The product helps uncover your radiant complexion by scrubbing off the dullness caused by pollution and dead cells. It is a great product choice, especially for oily and combination skin. 
Ingredients: Glycolic acid, and panthenol
Pros:
- Treats adult acne
- Removes whiteheads and sebum plugs
- Preps skin for moisturization
- Gentler formula than most scrubs
- Great for oily/acne-prone skin
Cons:
- Menthol can be a bit harsh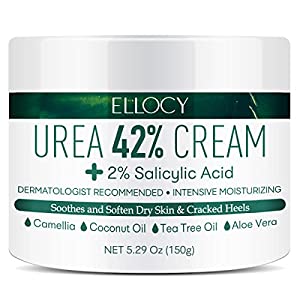 You will love how fast and nicely this foot cream absorbs into your skin and replenishes neglected and weather-beaten areas such as cracked heels. With 2% salicylic acid infused in it, the product sheds dead skin cells to relieve your foot from calluses, feathering, etc., and reveal a softer skin layer underneath. Besides, the product also contains emollient ingredients to nourish and pamper the skin after the exfoliation action. 
Ingredients: Camellia, coconut oil, tea tree oil, and aloe vera
Pros:
- Soothing benefits
- Very revitalizing
- Retexturizes the skin 
- Improves cell turnover
- Anti-inflammatory
- Mollifies skin from external damage
Cons:
- Leaky container
- Surprisingly less moisturizing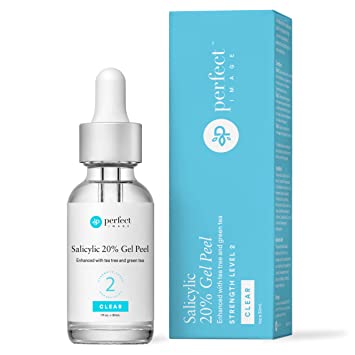 Composed of 20% salicylic acid, this gel peel formulation by Perfect Image aims to clarify your acne, breakouts, and comedones in a unique way. To use the product, all you need to do is apply a pea-sized amount onto the affected area for spot treatment. Once you gently massage it, it will scramble off and snag impurities from your skin. The product contains soothing ingredients such as green tea and cucumber that alleviate inflammation from the exfoliating action to prevent skin sensitization.  
Ingredients: Green tea, cucumber, and tea tree oil
Pros
- Unclogs pores
- Regulates oil production
- Prevents breakouts
- Removes whiteheads
- Rich in antioxidants
- GMP-certified
Cons:
- Tingling sensation
- Not for sensitive skin 
Now that you've seen our product recommendations for the best salicylic acid products, let us go through the following buying guide and steps to use to shop wisely and make the best of the product.
How to Choose the Best Salicylic Acid Products for Acne-prone Skin?
Skin Type: Acne and breakouts can be caused by a plethora of reasons, irrespective of your skin type. But when looking for a salicylic acid product for your acne-prone skin, it is important to consider your skin type as a wrong formulation choice can worsen your skin condition. For instance, if you have very oily or combination skin, then it is likely that the cause of acne is excess sebum production in your pores. Hence, look for a product with a powerful 2% concentration of salicylic acid that can regulate oil production and treat comedo-induced zits. While this concentration may also work for dry skin, it is better to look at formulations with less than 2% BHAs as that can be effective without being abrasive. Sensitive skin types can get irritated with a powerful concentration of any chemical exfoliant, hence, 0.5% to 1% is a safer choice. 
Product Type: Salicylic acid is found in a plethora of products, such as gels, creams, serums, cleansers, etc. So while considering your skin type is a must, here you should also take your existing skincare routine into account. For instance, if you already load up on serums, then you might want to use salicylic acid in a cleanser or scrub form. If you want a lean skincare regime without hoarding on products, then you might want to look for formulas with other actives infused in them, such as peptide complexes, vitamin C, niacinamide, etc. And, if you want a quick fix for existing acne, then a gel-based spot treatment product would be the best choice for you. 
Hydrating Ingredients: Because salicylic acid is usually a mild, non-irritant chemical exfoliant, any exfoliation process needs to be mollified with rich moisturizing ingredients. Hence, ensure the product you're buying contains generous amounts of humectants and emollients such as hyaluronic acid, squalene, vitamin E, aloe extracts, glycerin, etc. However, you can avoid this in the case of a concentrated liquid or toner, as these products are not to be used on a daily basis, and simply follow up with a good moisturizer. 
How to Use Salicylic Acid Products?
Here are some thumb rules to note while using salicylic acid products:
1. Avoid layering your salicylic acid product with loads of makeup! Makeup products can interfere with the exfoliation process, get deposited in your skin's pores, and cause irritations. However, depending on the type of product you're using, a little bit of makeup, such as a BB cream or compact won't cause trouble.
2. It is mandatory to seal up your chemical exfoliant with a good moisturizer to nourish and hydrate your newly unclogged pores and prevent overdrying your skin. 
3. While salicylic acid doesn't make your skin photosensitive like certain AHAs, it is best to still layer it up with broad-spectrum sunscreen when stepping out of the house.
4. No matter what the product packaging says, it is best to apply the product at 1-2 days intervals to prevent over-exfoliation, irritation, sensitization, or hives of your skin. 
Now, let us understand how different salicylic acid formulations must be used differently to get the best results:
Gels And Spot Treatments: Such products have high concentrations of BHAs and are meant to be applied only to the targeted area as a quick fix for clearer skin. Depending on the instructions on the product's packaging, repeat the application 1-3 times a day. 
Moisturizing Creams: If you're using salicylic acid in a cream base, then it is best to use it at night so that the BHA can gradually re-texturize as well as replenish your skin with moisture. After applying such a product overnight, ensure you wash your face off the exfoliated dirt and grime to make it squeaky clean. 
Cleansers/Scrubs: It is tricky to use skincare acids in rinse-off products because they would get very little time to show their best results. Hence, if you are using a salicylic acid cleanser, allow it to settle on your skin for at least a minute after lathering before you wash it off. With scrubs, ensure you gently massage the product onto your skin for at least two to three minutes before washing it off. 
Acne Pads/Wipes: Acne pads are generally infused with a high concentration of salicylic acid and hence, must be used with great care. Swipe the pad gently and slowly on the affected area, allowing the infused solution to work on your skin. Like spot treatment gels, acne pads can be used 1-3 times a day depending on the instruction manual. 
Serums: Serums are the most versatile, effective, and easy-to-use salicylic acid products that suit most skin types. These products help keep your skincare routine lean and fuss-free. Apply 2-3 drops of your serum on a cleansed face, and spread it evenly all over. Follow up with a rich moisturizer and sunscreen. 
Toners/Exfoliating Liquids: The best time to use exfoliating liquids or toners is before bedtime to get rid of dirt, grime, makeup residue, or pollution that your skin may have come in contact with throughout the day. Follow up with a moisturizer.
You can consider this article to be not only based on products' reviews but also a salicylic acid 101, especially for those who are new to using chemical exfoliators. The above-mentioned products are highly and positively reviewed by their users and are anecdotally proven to give clear and beautiful skin. Ensure you go through our buying guide and the steps to use before making a purchase. Happy shopping! 
Sources:
1. Hydroxy Acids, the Most Widely Used Anti-aging Agents
https://www.ncbi.nlm.nih.gov/pmc/articles/PMC3941867/ 
2. Efficacy and Safety of Oral Green Tea Preparations in Skin Ailments: A Systematic Review of Clinical Studies
https://www.ncbi.nlm.nih.gov/pmc/articles/PMC9370301/ 
3. The Roles of Vitamin C in Skin Health
https://www.ncbi.nlm.nih.gov/pmc/articles/PMC5579659/
4. The potential of a niacinamide-dominated cosmeceutical formulation on fibroblast activity and wound healing in vitro
https://www.ncbi.nlm.nih.gov/pmc/articles/PMC7950568/ 
5. Characterization of titanium dioxide and zinc oxide nanoparticles in sunscreen powder by comparing different measurement methods
FAQ's
How long should you leave salicylic acid on acne-prone skin?
This depends entirely on the formulation. With creams, serums, gels, and toners, you can leave the product on for up to 12 hours, be it overnight or during the day. However, cleansers, scrubs, and masks need to be rinsed off in a minute or two.
---
What are the side effects of using salicylic acid on the face?
Overuse of any chemical exfoliant, including salicylic acid can cause skin irritation, photosensitization, and hiving. It can also cause a tingling sensation and discomfort on your skin.
---
How do you know if salicylic acid is working?
Fortunately, you don't have to wait too long to see the marvelous results of salicylic acid on your skin. While your pores seem to get unclogged and cleansed in about 12 hours (in the case of serums and topical creams), removal of dead skin cells would take about 3-4 consecutive uses to show effects.
---
How long should I let salicylic acid sit on my skin before moisturizing?
In the case of gels, spot treatments, wipes and serums, you can wait for 10-15 seconds before layering your skin with a moisturizer. With cleansers and scrubs, you can do so immediately after washing your skin off.
---
About The Author
Anoushka is certified in Professional Skincare and is a Mass Media (Journalism) graduate from Mumbai University. As a...n experienced writer, she is an advocate of sustainability in skincare, haircare, fashion, and lifestyle. She loves mind-stimulating conversations, trivial or intense, which fuel her creative ideas. In her leisure time, she enjoys yoga, sitcoms, reading, early morning beach walks, and cafe hopping.
Read more
Top Comments
There are no comments in this article yet. Be first to post one!