Bentonite Clay for Skin: Benefits And Homemade Face Masks to Try
Bentonite clay is a medicinal marvel from the earth's crust. From detoxification to acne treatment, learn all about the benefits of bentonite clay for skin.
Updated on May 25, 2023 | 12:47 PM IST | 30.7K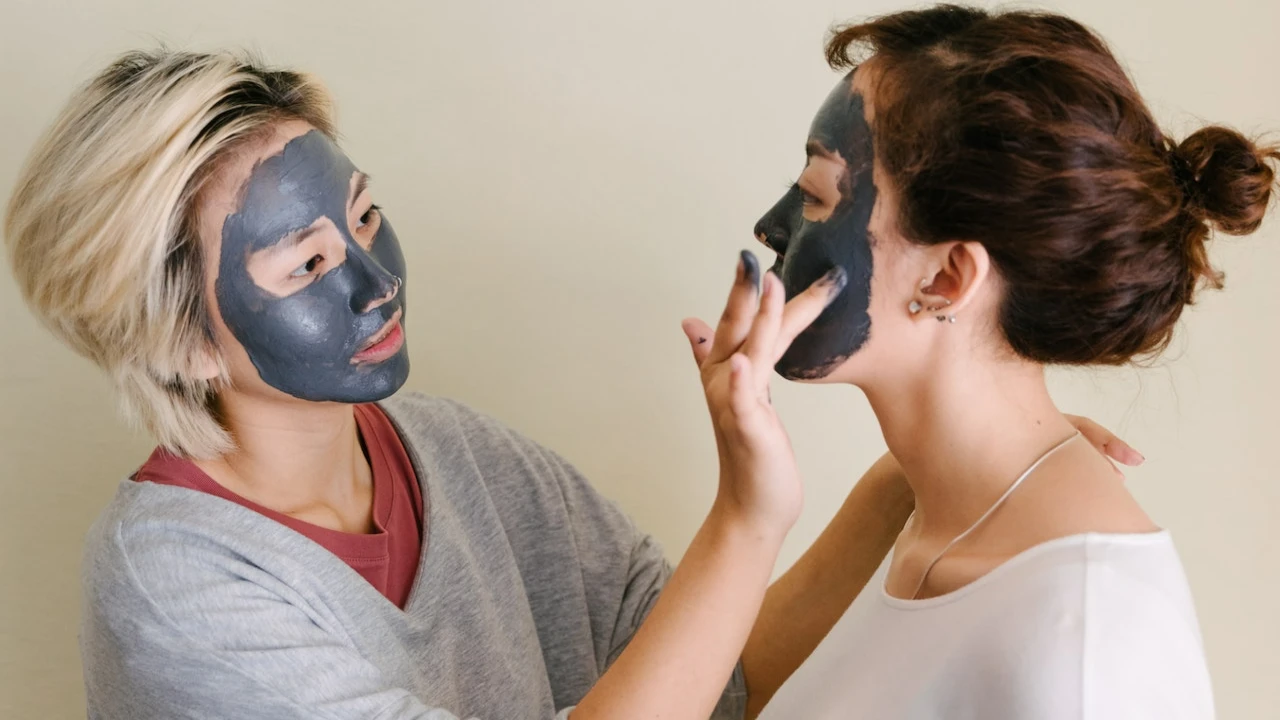 A lot of us have been toying around with the idea of going all-natural and eco-friendly with our skincare. These include anything from fruit extracts and certain edibles to plain and simple 'mud masks'. You heard me right! What if we asked you to wash your face with mud every morning? Scientifically called bentonite clay, this mud facial works better for sensitive skin than a lot of other store-bought soaps and cleaners. The benefits of bentonite clay for skin are versatile and long-lasting. The bentonite clay benefits are the result of its high moisture and mineral content, forming a miracle face pack. Let us unravel the mysteries of this piece of earth and understand the role of bentonite in skin care.
What Is Bentonite Clay?
Bentonite, commonly called bentonite clay, is extracted from weathered volcanic ash or seabeds. It is so named because Fort Benton, Wyoming, is where its principal sources are. It is also called Montmorillonite clay, from the Montmorillon region of France, where it was first discovered. It has been used for many generations by some indigenous cultures in the USA and is often rich in minerals that are essential for human life. 
The discovery of bentonite clay in the shape of balls resting in tiny pouches on the ruins of ancient civilizations has led to the conclusion that these clay balls served a variety of daily purposes (1). The uses of bentonite clay are gaining popularity in today's generation as well!
70% of bentonite clay is mostly montmorillonite, a smectite group of minerals that gives it its 'unique' qualities. Silica is another vital component that contributes to its smooth texture. The mineral components include aluminum, iron, magnesium, and calcium (1). 
Bentonite clay has a number of distinctive qualities that add to its appeal and a wide variety of applications (1). 
Here is a quick summary of the unique nature of bentonite clay:
One of bentonite clay's most unique qualities is its capacity to absorb and swell when exposed to water. This feature makes it highly effective at absorbing toxins, pollutants, and excess oil from the skin or other surfaces.
The inorganic compounds in bentonite clay are negatively charged. This allows it to attract and bind to positively charged particles, such as toxins and heavy metals.
Bentonite clay is rich in minerals that have proven healthcare benefits of its own.
These distinct qualities make bentonite clay a versatile and popular ingredient in a variety of industries, particularly skincare and wellness products.
Amazing Benefits of Bentonite Clay for Skin
The benefits of bentonite clay for skin are the latest addition to the skincare industry today. The clay retains moisture while allowing your skin to absorb the essential minerals for tissue regeneration and repair.
Here are some of the most amazing bentonite clay benefits for skin: 
1. Deeply Cleanses And Detoxifies the Skin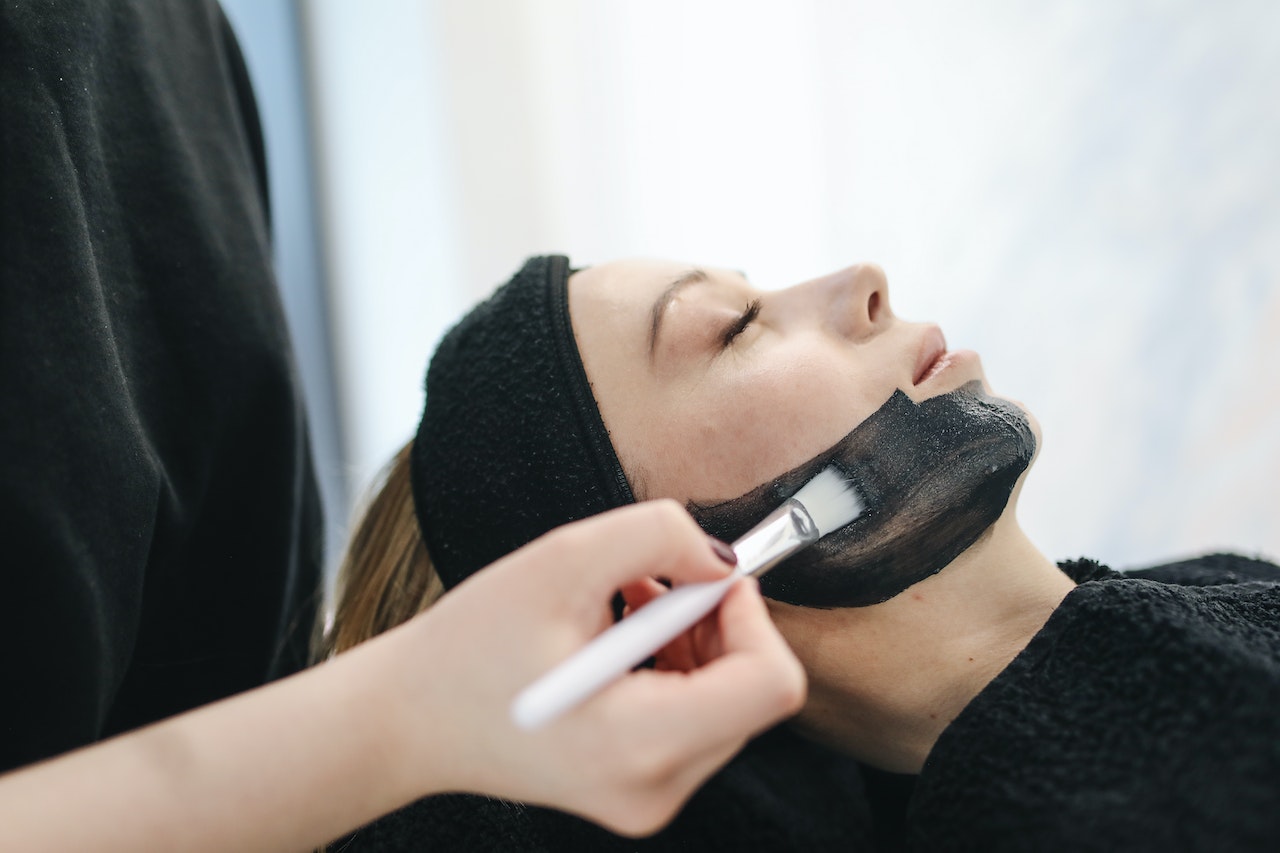 The strong absorbing qualities of bentonite clay make it efficient at removing toxins, impurities, excess sebum, and grime from the skin. It can aid in clearing out clogged pores, removing debris, adsorbing toxins, dirt, and heavy metals, and promoting healthy blood circulation, leaving the skin clean, detoxified, and revitalized (2). 
2. Exfoliates the Skin 
The smooth texture of bentonite clay, due to its high silica content, makes it a gentle exfoliant. It can aid in removing dead skin cells when used as a scrub or mask, promoting a smoother and more radiant complexion.
3. Helps Reduce Acne
The silica and the smectite are highly absorbent in nature. It can remove excess sebum from the skin, which lessens the unwanted oily shine and helps to avoid clogged pores and breakouts (2). 
4. Tightens And Tones the Skin
 Bentonite clay can temporarily tighten skin when applied topically, giving it a firmer, more toned appearance. People looking to minimize the appearance of enlarged pores or lessen the visibility of fine lines and wrinkles may find this to be particularly helpful (1). 
5. Calms And Soothes the Skin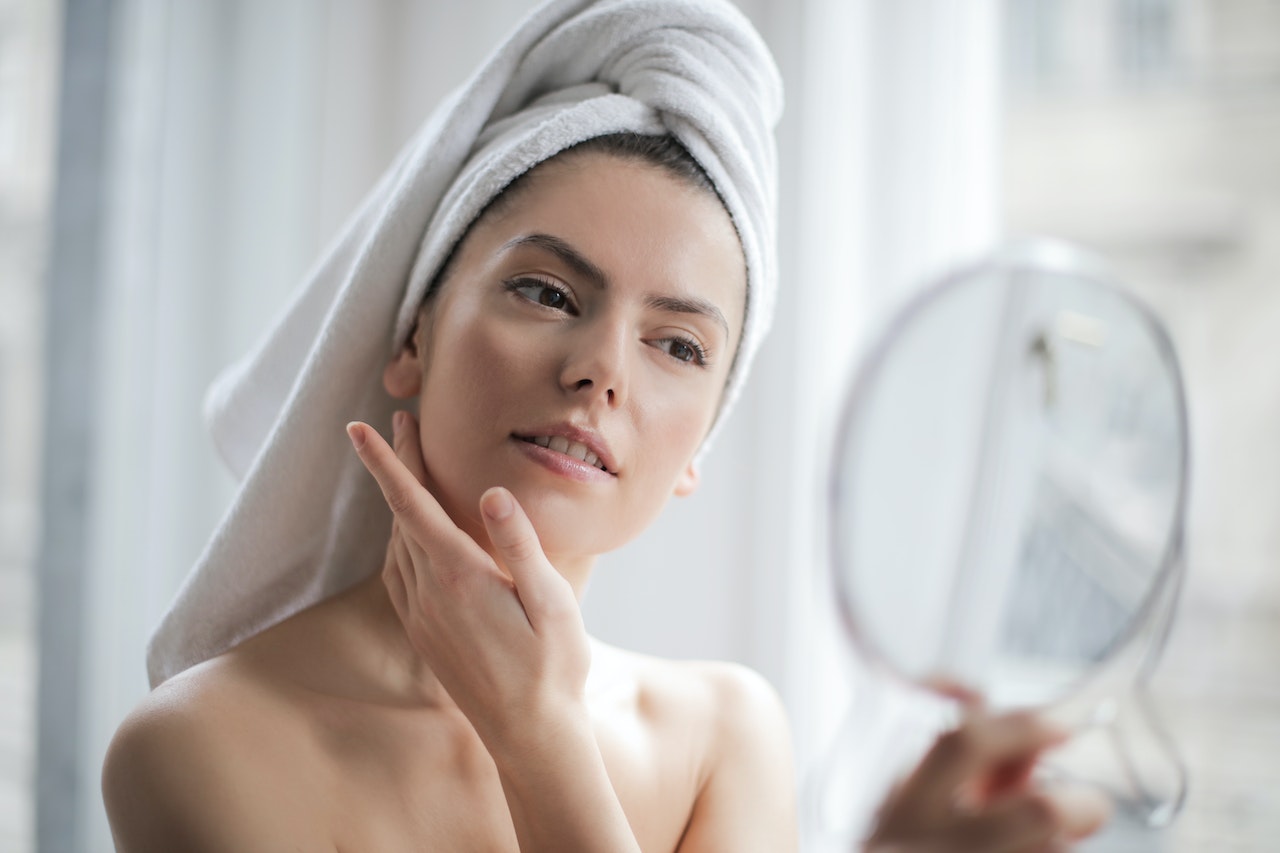 The natural calming properties of bentonite clay can help soothe irritated skin and lessen redness. It may relieve conditions like eczema (3).
6. Has Moisturizing Properties
The benefits of bentonite clay for skin are widespread. Usually, a skincare product that tones the skin and unclogs pores is not moisturizing. Bentonite clay does both; it is moisturizing due to its capacity to combine with water molecules and swell up to retain the water. This is why it is a unique, all-natural product for skin care (4). 
7. Reduces Skin Inflammation
Studies suggest the use of bentonite clay for diaper-induced skin inflammation or dermatitis. Bentonite clay powder, when mixed with water, forms a moldable, gel-like structure that can be applied to irritated skin in a thin layer. This barrier can protect the skin from irritants found in feces and urine, preventing further irritation and accelerating the healing process (5).
8. Stimulates Collagen Formation
Studies on animal models have shown a positive effect of bentonite clay on tissue regeneration and collagen synthesis. Both properties are ideal for skin health, the healing of wounds, and the removal of wrinkles and fine lines (6). 
9. May Act as Natural Sunscreen
Does bentonite clay lighten skin? It may, owing to its sun-protective and skin regenerative benefits. Bentonite clay is rich in minerals like magnesium and aluminum. These metal ions are integral to mineral-based sunscreen lotions. Thus, bentonite clay-infused sunscreen would be an ideal sun protective factor (7).
How to Use Bentonite Clay for Skin
While bentonite clay makes an amazing mud facial, it can also be used in combination with other ingredients. Let us discuss the various ways to use bentonite clay for skin:
1. Bentonite Clay And Rose Water Face Mask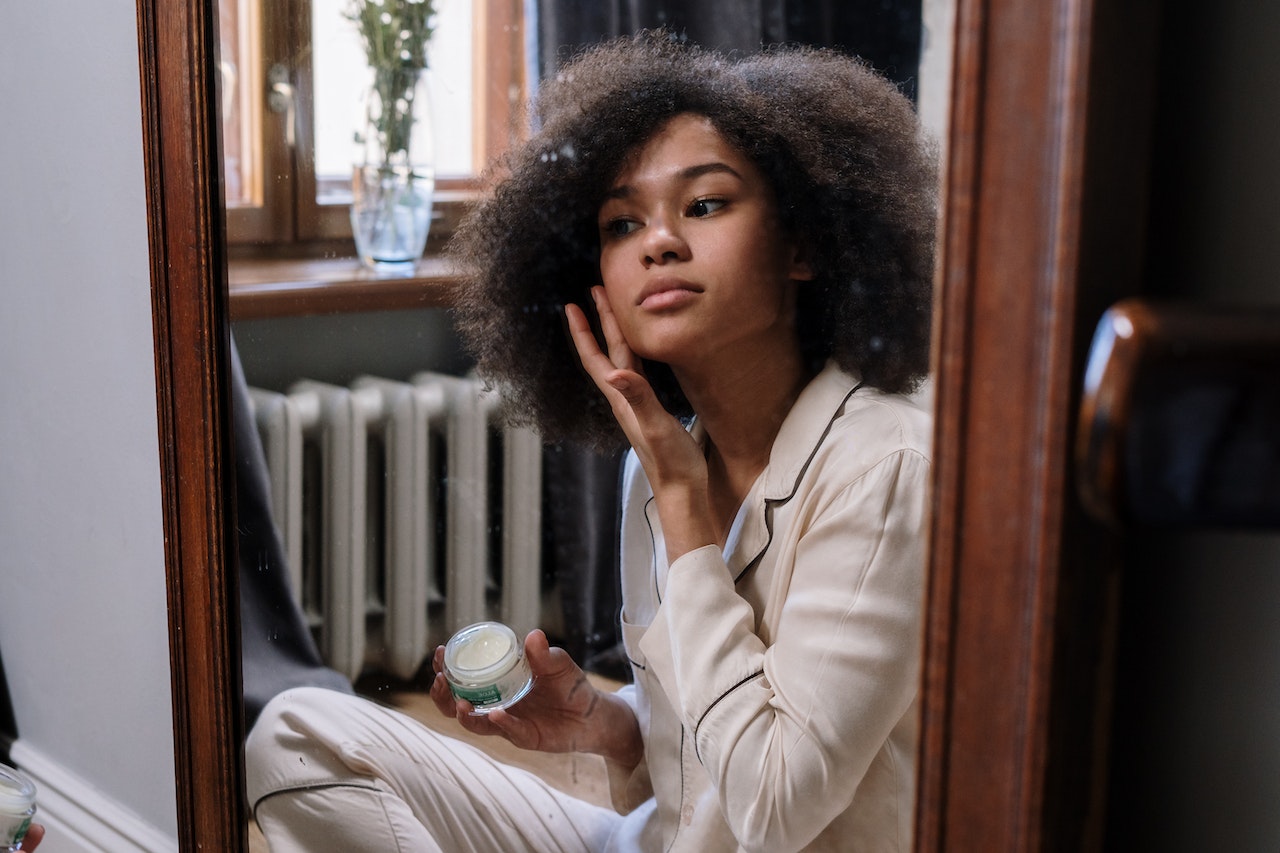 One of the most popular and efficient uses for bentonite clay is to use it as a facial mask. Combine 1 teaspoon of bentonite clay with 2-3 teaspoons of water or 2-3 drops of a skin-friendly extract like rose water to make a thick paste. The mask should be applied to clean skin, left on for 10 to 15 minutes, or until it dries, and then removed with warm water. This procedure facilitates skin detoxification and pore unclogging giving your face a lovely glow (8).
2. Bentonite Clay Face Mask for Acne
You can make a paste out of 1 teaspoon of bentonite clay with 2-3 teaspoons of water for spot treatment of skin problems like pimples, acne, zits, blemishes, or bug bites. Directly apply this paste to the area, let it sit for around 20 minutes, and then rinse it off. Clay has the ability to absorb extra oil, lessen inflammation, calm the skin, and accelerate skin repair.
You can also add 2-3 drops of tea tree oil to the paste since this essential oil is known for its antibacterial effects on acne (9). This is one of the best ways to use bentonite clay for acne. 
3. Bentonite Clay And Jojoba Oil Mask for Blackheads
Bentonite clay for blackheads is a wonderful remedy as it helps draw out impurities, excess oil, and dead skin cells from pores. Create a paste by mixing bentonite clay with water and apply it to the affected areas, focusing on the T-zone, the forehead, the nose, and the chin. Let it dry for about 15 minutes, and rinse off with lukewarm water. Repeat it no more than 3 - 4 times per week and see the results over time. You can also add jojoba essential oil to the paste for the added inflammatory and skin-calming properties (10). 
4. Bentonite Clay And Turmeric Face Mask
To harness all the benefits of bentonite clay for skin at once, add a pinch of turmeric to the bentonite clay powder and water mixture. Add one teaspoon of bentonite powder to two teaspoons of water and a pinch of turmeric. Mask a paste and apply it all over the face and neck. Leave it on for 10 - 15 minutes. 
The mask will begin to dry out and crack as the skin becomes extremely tight. Use a warm washcloth to remove it, then moisturize after. The antioxidant and antibacterial effects of turmeric powder are abundant. The acne, enlarged pores, blackheads, and damaged, dull skin patches can be treated all at once (11)
5. Bentonite Clay Bath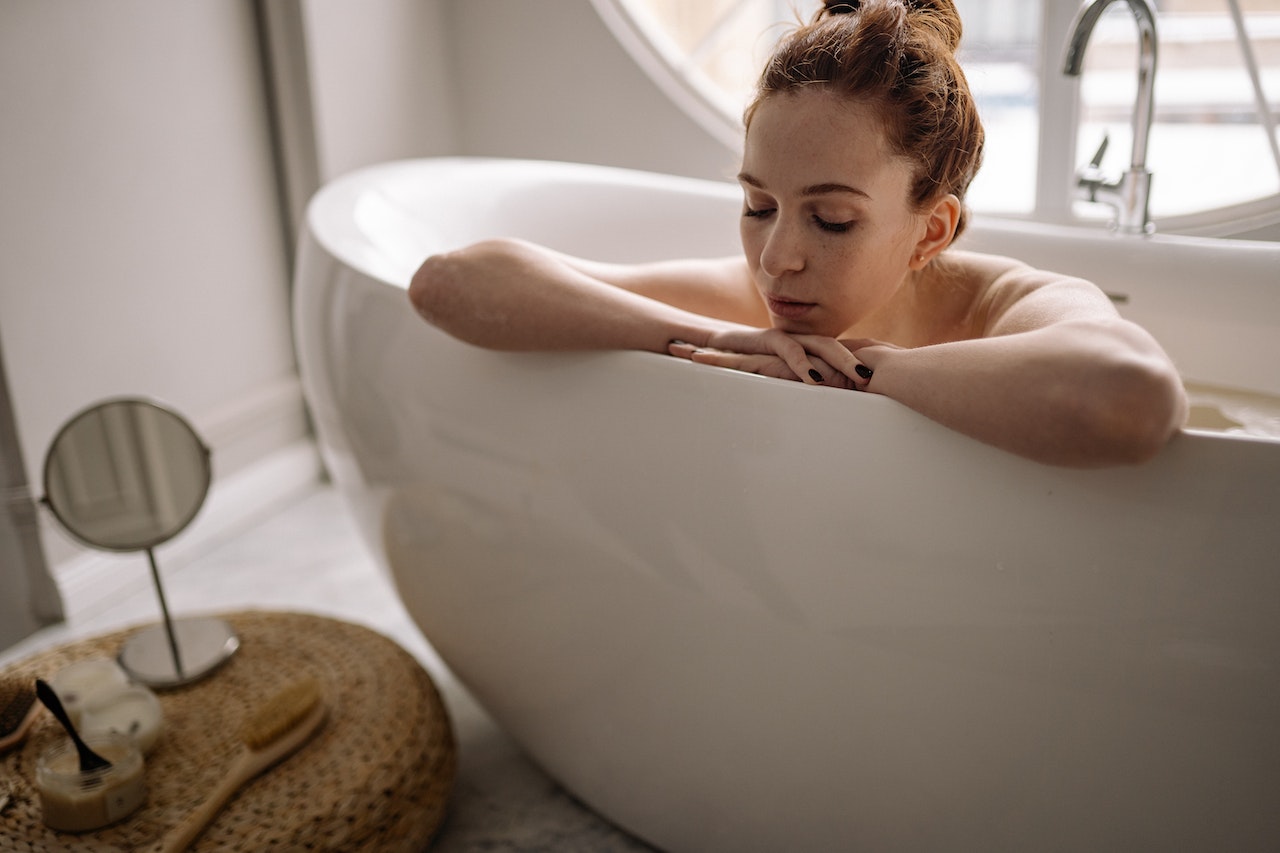 For a purifying and calming bath, add a few tablespoons of bentonite clay to the water. To ensure that the clay is distributed uniformly, thoroughly mix the clay with the water. Allow the clay to act on your skin by soaking it in the bath for 15 to 20 minutes. This technique can be used to remove toxins, calm skin irritants, and promote relaxation.
Bentonite is a highly potent natural ingredient with scientifically proven and anecdotal skin benefits. However, if you have sensitive skin, it is better to be aware of the potential side effects of bentonite clay.
Are There Any Side Effects of Using Bentonite Clay on Skin?
It is advisable to take a patch test for 48 hours before applying any natural or synthetic ingredients to the face. You may have extremely sensitive skin that you are unaware of. 
Bentonite clay does not have any scientifically studied side effects on skin, hair, or overall health. However, anecdotal evidence states that if you have very dry skin, the bentonite clay mask may dry the skin further. Despite its water retention capacity, its features of absorbing oil and unclogging pores may strip you of the natural sebum, drying the skin further.
A recent study stated that the FDA has warned the world against the use of unknown brands of bentonite clay because their production is not regulated. A popular manufacturer of bentonite clay powder was shown to infuse lead particles in their products. Chronic exposure to this heavy metal can result in lead poisoning, which can impair your immune system, kidney function, and central neurological and nervous system functions (12).
Conclusion
The use of bentonite clay has been around since time immemorial. Its distinctive properties and unique features of moisturizing and oil absorption make it ideal for skin care purposes. From deep cleansing to soothing inflammation — there are a plethora of benefits of bentonite clay for skin. This versatile clay unclogs pores, detoxifies, and revitalizes your complexion, leaving you with smoother and healthier skin. 
Bentonite clay's uses go far beyond the skin. It has been effectively used as an all-natural dry shampoo for your oily scalp, as a poultice for sprains, and also ingested for inflamed gut and bowel conditions. While it is generally safe for most individuals, it is good to be mindful of the potential side effects and perform a patch test. Bentonite clay can be a valuable addition to skincare routines, providing natural and effective support for healthier, clearer, and more radiant skin.
References
1. Moosavi M. Bentonite Clay as a Natural Remedy: A Brief Review. Iran J Public Health. 2017 Sep;46(9):1176-1183. 
https://www.ncbi.nlm.nih.gov/pmc/articles/PMC5632318/
2. Meier L, Stange R, Michalsen A, Uehleke B. Clay jojoba oil facial mask for lesioned skin and mild acne–results of a prospective, observational pilot study. Complementary Medicine Research. 2012;19(2):75-9.
https://karger.com/cmr/article-abstract/19/2/75/356423/Clay-Jojoba-Oil-Facial-Mask-for-Lesioned-Skin-and?redirectedFrom=fulltext
3. Mahmoudi M, Adib-Hajbaghery M, Mashaiekhi M. Comparing the effects of Bentonite & Calendula on the improvement of infantile diaper dermatitis: A randomized controlled trial. Indian J Med Res. 2015 Dec;142(6):742-6.
https://pubmed.ncbi.nlm.nih.gov/26831423/
4. Fowler JF Jr. A skin moisturizing cream containing Quaternium-18-Bentonite effectively improves chronic hand dermatitis. J Cutan Med Surg. 2001 May-Jun;5(3):201-5.
https://pubmed.ncbi.nlm.nih.gov/11685665/
5. Mahmoudi M, Adib-Hajbaghery M, Mashaiekhi M. Comparing the effects of Bentonite & Calendula on the improvement of infantile diaper dermatitis: A randomized controlled trial. Indian J Med Res. 2015 Dec;142(6):742-6. 
https://pubmed.ncbi.nlm.nih.gov/26831423/
6. Valenti DM, Silva J, Teodoro WR, Velosa AP, Mello SB. Effect of topical clay application on the synthesis of collagen in skin: an experimental study. Clin Exp Dermatol. 2012 Mar;37(2):164-8.
https://pubmed.ncbi.nlm.nih.gov/22340693/
7. Movahedi MM, Alipour A, Mortazavi SA, Tayebi M. Production of a Novel Mineral-based Sun Lotion for Protecting the Skin from Biohazards of Electromagnetic Radiation in the UV Region. J Biomed Phys Eng. 2014 Mar 8;4(1):9-12. 
https://www.ncbi.nlm.nih.gov/pmc/articles/PMC4258857/
8. Boskabady MH, Shafei MN, Saberi Z, Amini S. Pharmacological effects of rosa damascena. Iran J Basic Med Sci. 2011 Jul;14(4):295-307.
https://www.ncbi.nlm.nih.gov/pmc/articles/PMC3586833/
9. Carson CF, Hammer KA, Riley TV. Melaleuca alternifolia (Tea Tree) oil: a review of antimicrobial and other medicinal properties. Clin Microbiol Rev. 2006 Jan;19(1):50-62.
https://www.ncbi.nlm.nih.gov/pmc/articles/PMC1360273/?__hstc=252998230.28a2e81f1a073d09f90c4bcdab3c9c6f.1529123595278.1529730887914.1529740245078.15&__hssc=252998230.6.1529740245078&__hsfp=868638841
10. Lin TK, Zhong L, Santiago JL. Anti-inflammatory and skin barrier repair effects of topical application of some plant oils. International journal of molecular sciences. 2017 Dec 27;19(1):70.
https://www.mdpi.com/1422-0067/19/1/70
11. Thangapazham RL, Sharma A, Maheshwari RK. Beneficial role of curcumin in skin diseases. Adv Exp Med Biol. 2007;595:343-57.
https://pubmed.ncbi.nlm.nih.gov/17569219/
12. https://www.fda.gov/drugs/drug-safety-and-availability/fda-warns-consumers-not-use-best-bentonite-clay
FAQs
Is Multani Mitti bentonite clay?
No, Multani Mitti is not the same as bentonite clay. Multani Mitti, a particular variety of clay from the Multan area of Pakistan, differs from bentonite clay in terms of its characteristics and mineral makeup.
---
Can I use bentonite clay on my face every day?
It's not advisable to use bentonite clay on your face every day. Although it might be good for the skin, using it too often can cause irritation and severe drying. It is preferable to use bentonite clay masks or treatments no more than 2-3 times per week, giving your skin time to recover and produce natural sebum. Remember to moisturize your skin after each application.
---
Does bentonite clay remove tan?
The exfoliating properties of bentonite clay can aid in removing the outermost dead skin cells and promoting skin repair, regeneration, and skin tightening, which together can eventually lighten your skin after sun exposure. (1)
---
About The Author
Chhavi is a certified Skincare Coach and she's also certified in Makeup Artistry. Her fascination with skinc...are peaked when she got to know more about the vastness of the cosmetic industry. Chhavi made it her mission to educate her readers so that they can take care of their skin better. In her free time, she can be seen reading about different herbs and experimenting with cosmetic formulations. She has more than 3 years of experience in SEO content writing. She loves penning down her thoughts creatively and identifies as a Potterhead.
Read more
Top Comments
There are no comments in this article yet. Be first to post one!