Why did Attack on Titan fan target the One Piece Gear 5 anime? Details HERE
In the anime world, it's not just the main characters competing against each other on screen. Sometimes anime fandom itself gets into some pretty heated arguments supporting their favorite anime.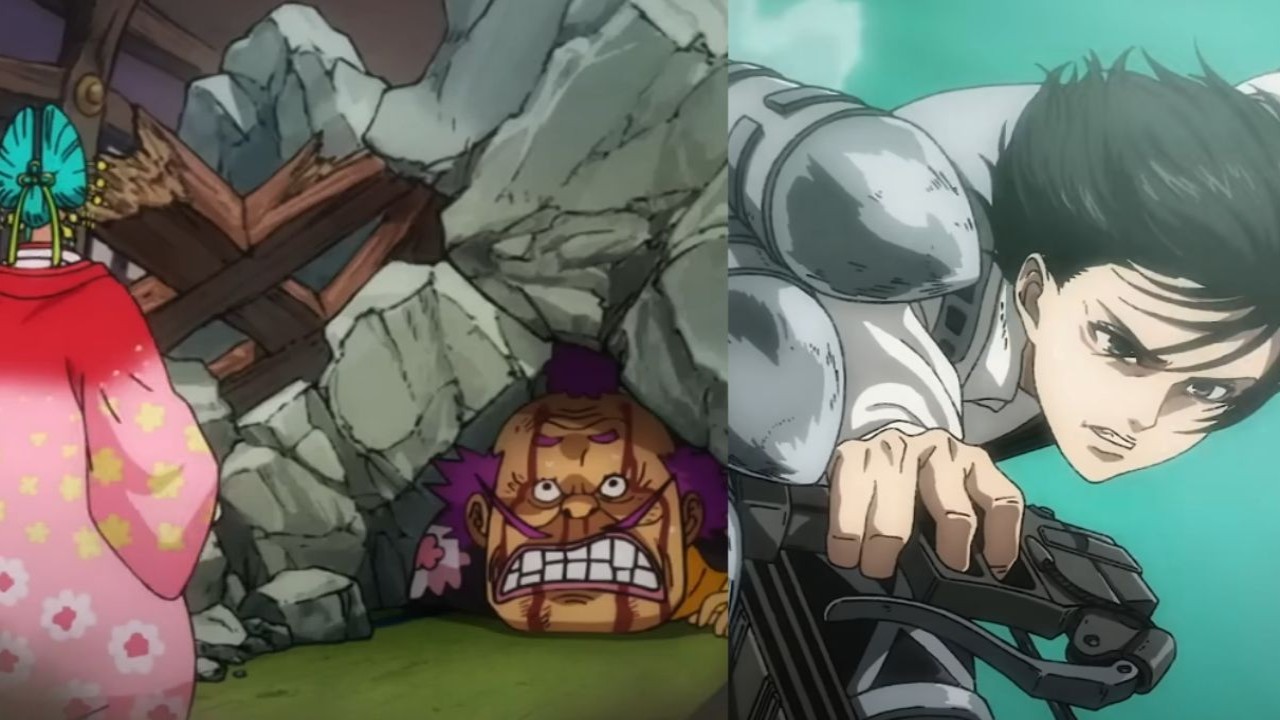 Key Highlight
A fan of Attack on Titan created 300 Gmail accounts to defame One Piece Gear 5 episode 1071

Crunchyroll's website crashed before the first episode of One Piece Gear 5 was even aired
One Piece is currently the most popular anime in the world, and with the hype surrounding Luffy's Gear 5 awakening, it's no surprise that rival fandoms are jealous and will do everything in their power to trash episode 1071 for the first time ever featuring Gear 5.
ALSO READ: When is One Piece Episode 1072 releasing? Date, time, streaming details, and more
How did Attack on Titan fans slander One Piece Gear 5 episode?
Fandom wars aren't new, and they can turn nasty pretty fast. There are plenty of cases of fanbases going head to head to destroy a show's reputation, including review bombing a series to lower its IMDb and MyanimeList scores.
According to Sportsskeeda, a fan of Attack on Titan has reportedly created 300 Gmail accounts in order to give episode 1071 a rating of 1 out of 10 in order to lower the overall score of the episode. This has caused outrage among One Piece fans, who have accused the fan of being petty and jealous.
This alleged jealous and spiteful decision was made with the sole intent of destroying the legacy of Gear 5's highly-anticipated transformation. It's no wonder that many anime fans believe Gear 5 will be considered one of the best transformations in anime's history and placed in the same category as Super Saiyan & Ultra Instinct.
One Piece fans claim that this is an intentional attempt by AACK01 to harass the One Piece community, which is against Twitter's rules and grounds for termination of his Twitter account. Therefore, they urge people to report AACK01's account and teach him a lesson.
Meanwhile, many episodes of One Piece have been review bombarded by rival fans in the past, resulting in a drop in the overall rating.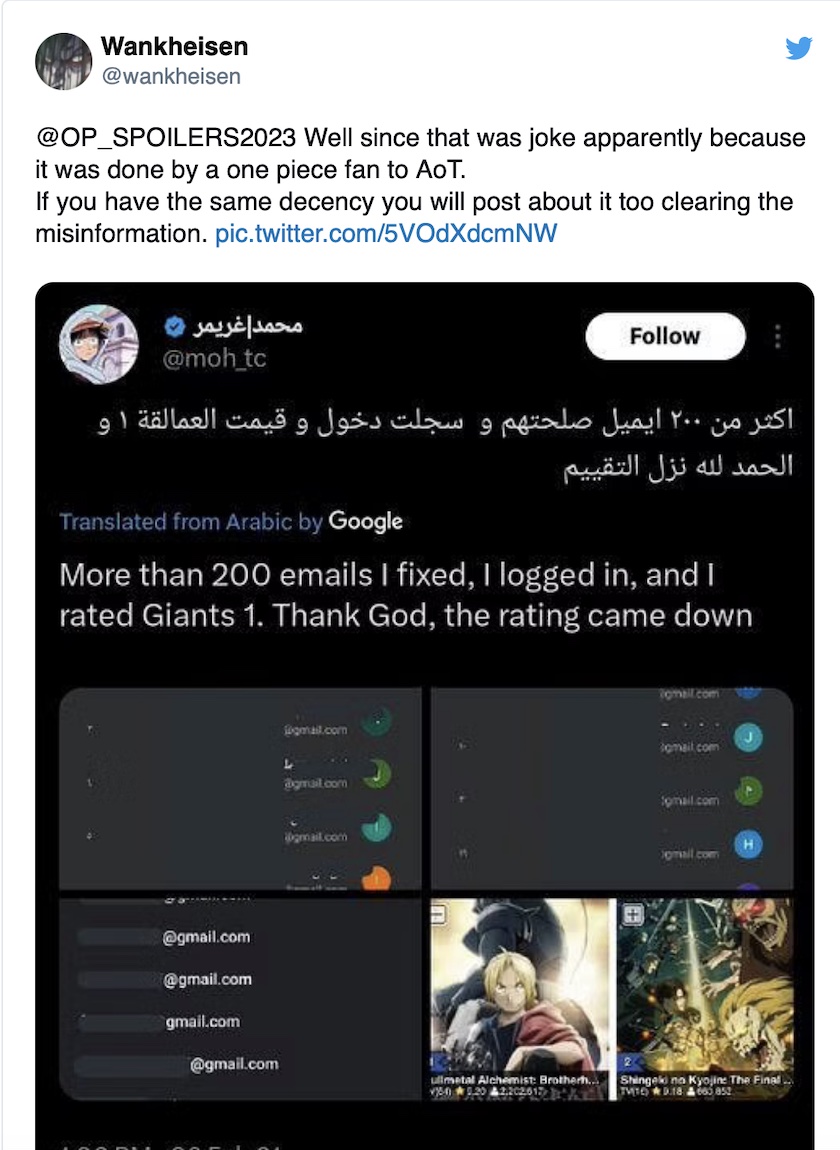 Has One Piece Gear 5 really crashed the internet?
The latest episode of One Piece 1071, has been getting rave reviews from fans all over the world. It's the first time we get to see Luffy's amazing Gear 5 transformation, and it's causing a huge amount of traffic on streaming platforms around the world.
In addition, episode 1071 of One Piece has become a trending topic on social media sites like Twitter and Reddit. Fans are enthralled by the quality of animation and by Luffy's Gear 5. 
Crunchyroll, the world's biggest anime streaming site, had a major server outage when Gear 5 made its debut in episode 1071. It crashed before the episode even aired because so many people were waiting for Gear 5 to come out.
However, the fans of the rival anime series don't think that the episode broke the internet.
ALSO READ: One Piece Gear 5: How Episode 1071 broke the internet and left fans in a frenzy?
FAQs
Where can I watch all 1000 episodes of One Piece?
One Piece are available across different platforms like Netflix, Hulu, Disney+, Amazon and Funimation. Platforms like Netflix and Amazon have content available only on selected region.
---
Is One Piece anime ending?
No, it is not ending. Given the anime started in 1999, the new episodes are still releasing and currently there are 1075 episodes available to watch.
---
How many hours is 1,000 episodes of One Piece?
With over 1000+ episodes, if you were to sit and watch the whole anime without any breaks, given the time stamp of every episode, it will take 420.8 hours.
---

Highlights of the Month
Star Thalapathy Vijay
Born:
22 Jun 1974 (age 49 years), Madras, Tamil Nadu, India
Latest Movies:
Leo (2023)
NET Worth: ~ 53.78 MN USD (RS 445 cr)
Over the last 5 years, Thalapathy Vijay has established himself as the biggest superstar in the modern era from the Tamil Film Industry. His films have attained the status of being 'critic-proof' as his star power is enough to set the cash registers ringing. October was no different, as his collaboration with Loke...
Read more
Movie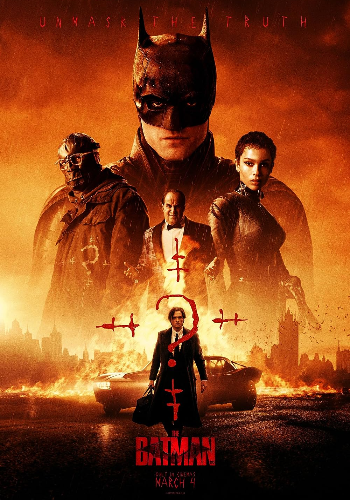 The Batman
Action, Drama, Crime
Cast:
Zoe Kravitz, Jeffrey Wright, Zoe Kravitz
BOX OFFICE Collection: ₹ 77 cr.
Robert Pattinson, who played the role of Batman, in the 2022 movie. The Batman once landed up leaving fans upset. The actor joked about not working out on his physique for his role and left fans enraged. Despite all the love he got for being cast, he also faced a massive negative backlash after one particular joke he made. Ba...
Read more
---