BTS, ATEEZ, Stray Kids, SHINee, MONSTA X's I.M and more: June 2023 K-Pop comebacks and debut schedule
In the month of June, we have many K-Pop comebacks and debuts lined up with stars like Stray Kids, B.I, ATEEZ, SHINee, MONSTA X member I.M and many more!
Published on Jun 05, 2023 | 05:08 PM IST | 216.9K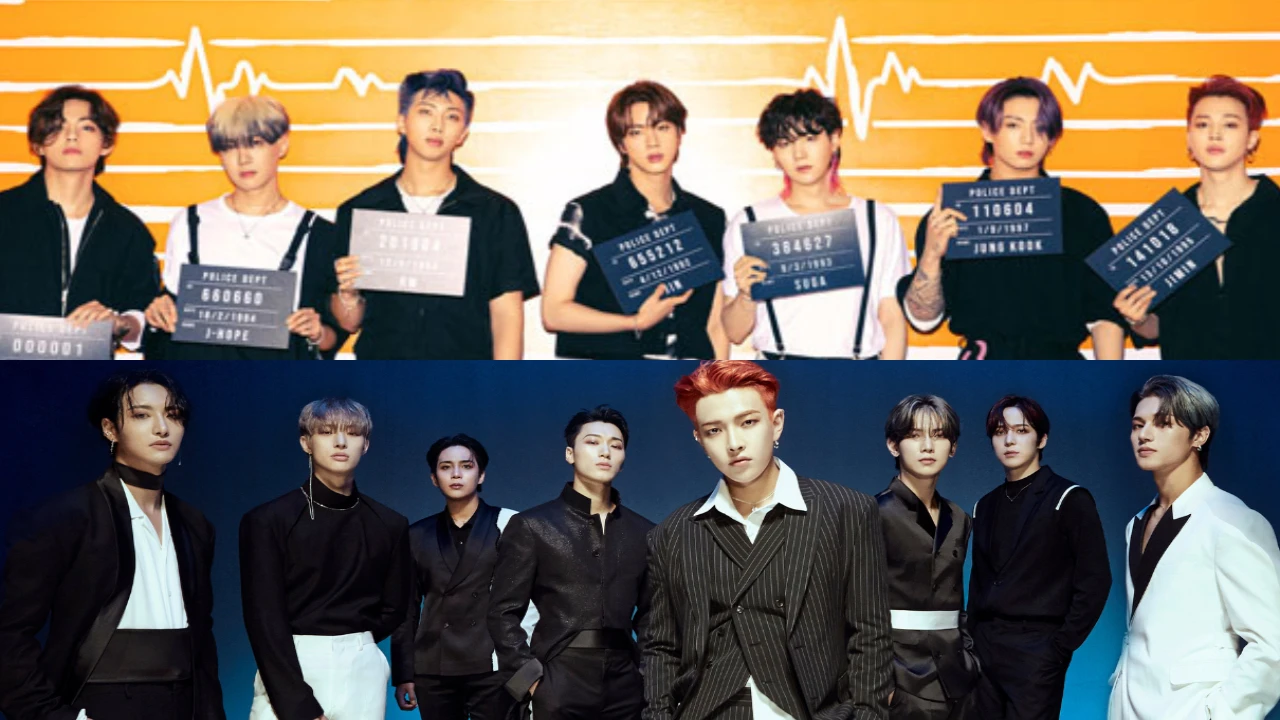 Key Highlight
BTS, SUGA, ATEEZ, Stray Kids and more will be making their comeback in June 2023

Take a look at the list to see if your favorite artists have a comeback lined up this month!
In the 6th month of 2023, fans are excited at the many K-Pop comebacks and debuts like MONSTA X's I.M, NCT's Taeyong as well as BTS' surprise comeback, SHINee, Stray Kids, ATEEZ and more! Seeing the list of all the artists gearing up to release songs, we are thrilled to see them on-screen again!
BTS' activities: 
BTS created 'Take Two' by expressing their desire to remain together in the future, their gratitude to ARMY for sharing brilliant moments together, and their appreciation for the love from their fans. If BTS' debut in 2013 was their first act, this song conveys the message about everything from the past ten years to the second act that BTS will move forward, which they credit to their loyal ARMYs. BTS spills details about the time they spent with ARMY, and the days they will be spending under the theme of 'Take Two.'
ATEEZ's activities: 
The story of ATEEZ is told in the second chapter of the episode 'The World,' and the ninth mini album is more exciting and energetic than the previous one. It contains a sum of 6 songs including the title track 'BOUNCY (K-HOT CHILLI PEPPERS)' and will be delivered on June sixteenth at 1 PM KST. 
Taeyong's activities: 
NCT's Taeyong made his solo debut with SHALALA.The title track 'SHALALA' is a hip-hop kind of melody that consolidates Taeyong's clever rap flow, addicting ensemble, and free beat in the bridge part. The lyrics convey the confidence-boosting message, "We can all shine anywhere."
Here's the comebacks for June: 
June 1: 
B.I
Title Track: Die for love Feat. Jessi, Dare to Love Feat. BIG Naughty
Album: 2ND FULL ALBUM 'TO DIE FOR'
ZHOUMI
Title Track: 'Mañana (Our Drama) (Feat. SUPER JUNIOR's Eunhyuk)' 
Album: Digital Single [Mañana (Our Drama)]
HWANG CHI YEUL
Title Track: You Are My Spring
Dustin
Title Track: 'BLACKLIST
Album: 3rd Album- BLACKLIST
ChoCo1&2
Title Track: "Fruity Loops (515 version)
Grizzly
Title Track: 친구 얘긴데 (Feat. Skinny Brown)
June 2: 
Stray Kids
Title Track: S-Class
Album: 3rd Album 5-STAR
MCND
Title Track: Pop Star
Kang Minhee (LMK)
Title Track: No one like you(이제는 없겠죠)
H5YUN 
Title Track: LOVE DRUNK (Feat. Rosie)
Kim Hyun Jin
Title Track: Moment
June 3: 
Lim Young Woong
Title Track: 모래 알갱이
EK
Title Track: ACID (Feat. Loopy) / Like That
LEE YEEUN, Jeon Gunho
Title Track: I LOVED YOU
Yoo Yong Min
Title Track: Your Era
June 4: 
Kassy
Title Track: Crush on you
Dept
Album: Ocean
Track and Lyric Video: – Ocean (Feat. Ashley Alisha, Barmuda) and Summer Wave (Feat. Ashley Alisha, J.O.Y)
BAKJIJI
Title Track: Unbalance
Lee Juck
Title Track: I Promise
June 5: 
TAEYONG (NCT)
Title Track: SHALALA
Album: The 1st Mini Album SHALALA
Halsey Feat. Suga of BTS
Title Track: Lilith
OST: Diablo IV
fromis_9
Title Track: #menow
Album: 1st Album- Unlock My World
June 6: 
XODIAC
Special Love MV Release
tripleS +(KR)ystal Eyes
Title Track: Touch+
ACID EYES (tripleS)
Cherry Gene
June 7: 
THE NEW SIX (TNX)
Title Track: Kick It 4 Now
Album: The 3rd Mini Album BOYHOOD
KANG DANIEL
Pre-release track
Album: 4TH MINI ALBUM REALIEZ
June 8:
P1Harmony
Title Track: Jump
Album: 6th Mini Album Harmony: ALL IN
June 9: 
BTS
Title Track: Take Two
AleXa
Title Track: Juliet
LAYSHA
Title Track: REDFLOWER
June 12: 
VAV
Title Track: Designer
Album: 7TH MINI ALBUM Subcönscióus
HASHTAG
2nd Digital Single DIAMOND
Q6IX
Title Track: C.C
June 13: 
REN
Title Track: Ready to Move
Album: The 1st Mini Album Ren'dezvous
June 14: 
DKB
Title Track: I Need Love
Album: 𝟨𝗍𝗁 𝖬𝗂𝗇𝗂 𝖠𝗅𝖻𝗎𝗆 I Need Love
June 15: 
LUN8
Title Track: Voyager, Wild Heart
Album: 1st Mini Album CONTINUE?
June 16: 
ATEEZ
Title Track: 'BOUNCY (K-HOT CHILLI PEPPERS)'
Album: 9th Mini Album THE WORLD EP.2 : OUTLAW
June 19: 
Kang Daniel
Album Release: 4TH MINI ALBUM REALIEZ
Bunny.T 
Album: 1st Digital Single Album BODY SHAKE
June 23: 
8TURN
Album: The 2nd Mini Album UNCHARTED DRIFT
SHINee
Album: The 8th Album HARD
June 28: 
Kim Sung Kyu
Album: 5th Mini Album- 2023 S/S Collection
UKISS
Album: MINI ALBUM PLAY LIST
June 29: 
WEi
Album: 6th Mini Album Love Pt.3 : Eternally
ALSO READ: WATCH: NCT leader Taeyong finally makes his solo debut in kitschy and avant-garde MV for SHALALA
Stay updated with the latest Hallyu news on: Instagram, YouTube, Twitter, Facebook and Snapchat
About The Author
A BMM graduate, Anoushka has been writing professionally for over 2 years. K-Pop and K-Dramas consume her day and she
...
Read more
Top Comments
There are no comments in this article yet. Be first to post one!