BTS' RM and Jungkook will attend the 2023 Grammys? Here's why it's payback time for the K-pop group
As the Academy's official Instagram account started following RM and Jungkook from BTS, rumours began floating about their 2023 Grammys attendance.
Updated on Jan 12, 2023 | 07:10 AM IST | 2.5M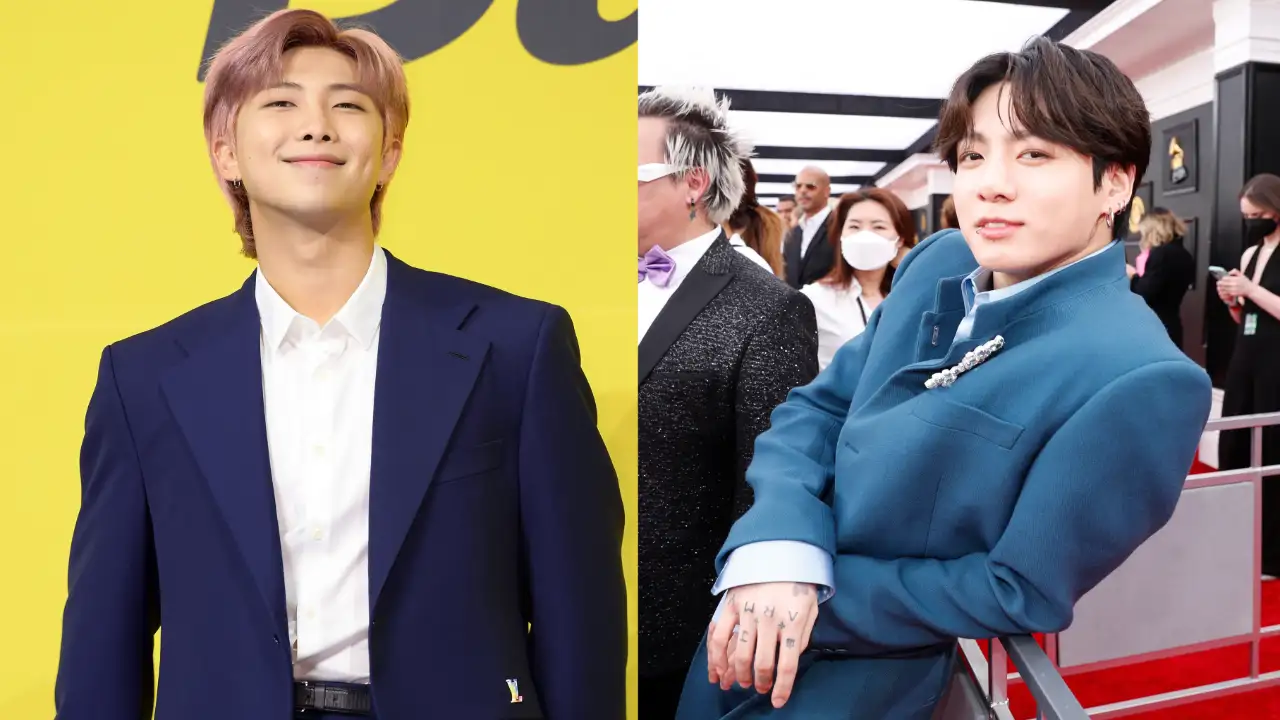 The official account of the Grammys recently started following the two members of BTS, which includes RM and Jungkook, on Instagram. There has been increasing speculation amongst ARMY and others about why the Grammys started following only two out of the seven members of the boy band group. Rumors are going around that Namjoon and Jungkook from BTS might attend the 2023 Grammys award ceremony. 
Rumors of RM and Jungkook attending 2023 Grammys  
Now, there have been rumors that BTS leader RM aka Namjoon and Jungkook will be soon travelling together to attend the 2023 Grammys. RM is expected to be representing BTS at this year's awards ceremony while Jungkook's attendance is under question. BTS has created history by being nominated for three categories for the 2023 Grammy Awards. These include Best Music Video for 'Yet To Come', Best Pop Duo/Group Performance for the collaboration track 'My Universe' along with Coldplay, and Album of the Year for Coldplay's 'Music of the Spheres'. This is the third consecutive year in which BTS has been nominated for the Grammy Awards.
Even though ARMY have a love-and-hate relationship with the Academy awards, they feel that BTS should definitely gain their due recognition in the music industry. While official sources have not yet confirmed all this, fans are very excited to see their idols from the biggest K-pop group in the prestigious ceremony. The fans quickly took to Twitter to express their happiness with the trending hashtag 'BTS Paved The Way' on Twitter.
BTS members have yet to react to nominations or rumors of RM and Jungkook travelling to the U.S.A. for the award ceremony. However, RM did share an Instagram story over the announcement video along with tagging Coldplay in November 2022 following the revelation of the nominations.
Did the Grammys purposefully snub BTS last year?
When BTS released their first ever English title track 'Dynamite' in 2020, it broke several long-standing records on multiple platforms including breaking the record of most views on YouTube within 24 hours, ranking in the Billboard Hot 100 Chart for consecutive thirty-two weeks, reaching 100 iTunes No.1s in just eight hours, ranking first on Global Top 50 chart on Spotify's daily, along with breaking two Guinness World Records. The release of 'Dynamite' further earned BTS their first Grammy nomination in 2021. With these incredible achievements of BTS' 'Dynamite', it was consistently questioned why this K-pop group ended up being mere nominees and not the winner of the award.
This was also repeated last year when BTS was nominated for the Best Pop Duo/Group Performance for 'Butter'. They lost this award to Doja Cat and SZA's song 'Kiss Me More'. The seven members of BTS not only made a distinctive entrance to the awards ceremony, but they also completely wowed the audience with their smashing performance while even bringing in Olivia Rodrigo for a cameo.
Fans' reaction to BTS not winning Grammys   
The K-pop community and massive fan following of BTS were left fuming with the Grammys for snubbing BTS for the second consecutive year. Since then, the tag #Scammys has been making rounds on the internet. ARMY, BTS' followers accused the Academy of using the popularity of the K-pop brand to scoop up the increased viewership counts for the award ceremony. Grammys' use of endless BTS promotions and performance teasers further did not help their case.
One user tweeted that even though they are happy for Doja Cat to win the award, the decision is extremely unfair as the Grammys have snubbed the biggest pop songs for two consecutive years. While other fans simply tweeted that even though BTS has not won a Grammy, they are still the real winners. ARMY even started questioning the credibility of the show.
This controversy further fueled several allegations of xenophobia and racism considering the previous track record of the Grammys. Users noted that throughout the years there has been a lack of diversity and differential treatment of artists of colour. BTS fans were quick to talk on their socials accounts that not winning Grammys does not make one of the best K-pop groups any less valuable.
BTS has certainly made a huge impact on the music industry. There is not only the K-pop group's best commercial success, but they have also garnered a fan following of millions of people around the world. It is even interesting to note that from this Korean boy group, only RM is fluent in English and yet they have resonated with people around the globe, breaking any language barriers.
ALSO READ: Top 10 quotes by BTS members to bring you warmth this winter season
About The Author
Journalist. Perennially hungry for entertainment. She spends most of her time either binge watching rom-coms or ...talking about dogs. After completing graduation in Mass Media, her love for celebrity gossip helped her in making web more entertaining place.
Read more
Top Comments
There are no comments in this article yet. Be first to post one!