BTS' SUGA enlists in military after Jin and J-Hope, sweet messages pour in as fans bid farewell to rapper
BTS' SUGA officially began his mandatory military service on September 22, and fans and celebrities alike are sending heartfelt messages, wishing him the very best on his journey.
Updated on Sep 22, 2023 | 05:47 PM IST | 1.7M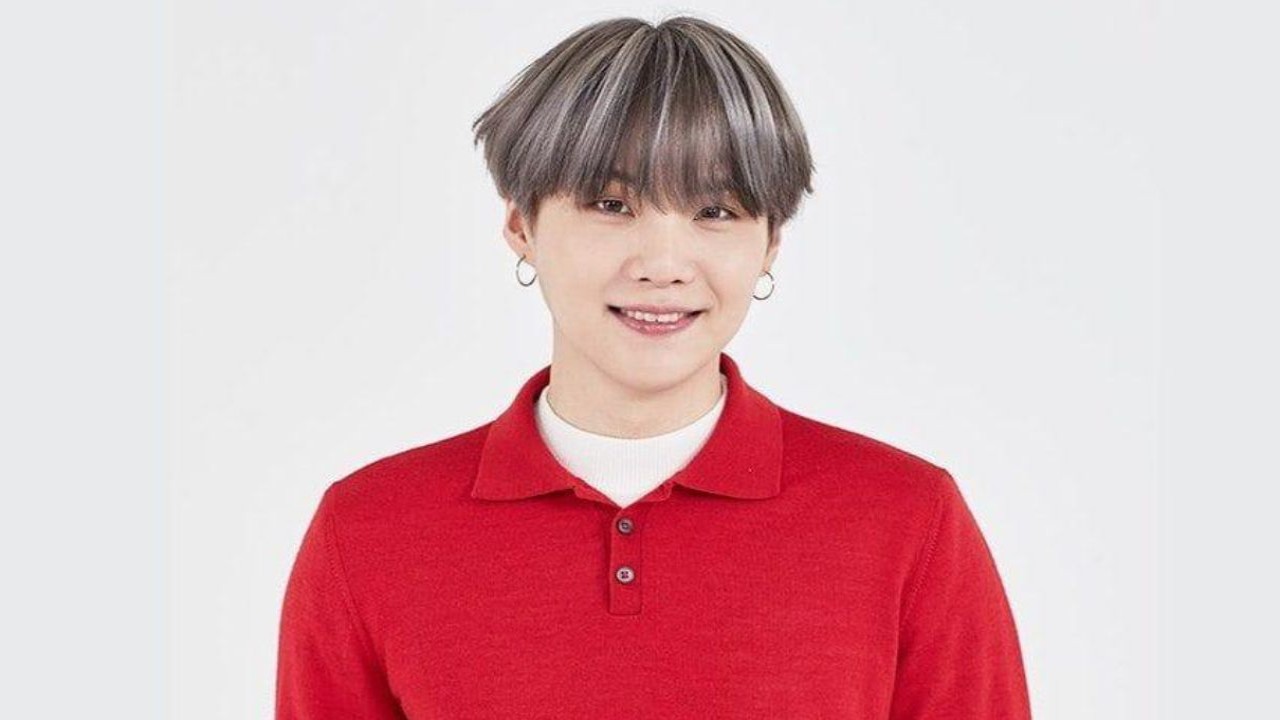 Key Highlight
BTS' SUGA has started his mandatory military service

Good wishes for the rapper pour on from fans as he embarks on the new journey

Miu Sakamoto, the daughter of the late Ryuichi Sakamoto also sent a heartfelt message to the rapper
BTS' third member and second oldest, SUGA, has embarked on his mandatory military enlistment. Earlier, it was announced that SUGA would be enlisting on September 22. Prior to his departure from mandatory service, the BTS rapper held a live session with fans to bid his final goodbyes and also left a message on the fan community app. Fans and supporters of SUGA have been flooding in with messages, sending their well wishes for a safe and healthy journey during his time in the service. One of the most poignant messages came from SUGA's inspiration Ryuichi Sakamoto's daughter Miu Sakamoto.
BTS' SUGA and Ryuichi Sakamoto
SUGA is a beloved idol for many due to his kind and humble nature. His calm, transparent, and composed persona has earned him love and admiration from fans, friends, and fellow celebrities alike. Before his departure, SUGA treated fans to a solo album titled D-Day. This album featured several meaningful collaborations that held a special place in both SUGA's and his fans' hearts.
One collaboration, in particular, stood out and was deeply inspiring to both SUGA and his fans. This collaboration was with the late composer Ryuichi Sakamoto. The renowned Japanese composer and musician shared a personal connection with the BTS members through their mutual love for music. He had previously praised SUGA's passion, skills, and talent in music.
Sakamoto and SUGA had a private meeting in September when SUGA visited Tokyo. Despite their brief encounter, the two artists were able to bond over their shared love for music and composing. In his Shincho essay, the 71-year-old artist spoke highly of his admiration for the K-pop idol, highlighting SUGA's dedication to music.
On April 2, after the sad news of the legendary Japanese composer Ryuichi Sakamoto's passing, BTS' SUGA took to his Instagram story to share a heartfelt farewell message for the artist. It was evident from SUGA's message that he held immense respect and admiration for Sakamoto.
The two talented musicians had a chance to collaborate on the song Snooze, which also featured Woosung, a member of the South Korean rock band The Rose. A documentary titled Road to D-Day was released alongside the album, providing insights into the making of the record. This documentary included footage of SUGA's meeting with Sakamoto and their collaboration on Snooze. It was a poignant moment as the late Japanese composer, who passed away at the end of March at the age of 71, contributed to the project.
SUGA also emphasized the profound influence of Sakamoto's compositions on his own music. These interactions and their final collaboration clearly demonstrated the positive feelings and mutual respect they had for each other.
Furthermore, this sense of mutual respect extended not only to Ryuichi Sakamoto but also to his family, showcasing the deep connection and appreciation SUGA had for the late composer and his loved ones.
Miu Sakamoto sends heartfelt message to BTS' SUGA
Miu Sakamoto, daughter of the late Ryuichi Sakamoto, shared a heartfelt message for SUGA on her Instagram story, expressing her warmest wishes as he embarks on a new chapter in his life. Addressing SUGA affectionately as "Beautiful Yoongi-san," the Japanese singer conveyed her enduring gratitude for the love he had shown to her family. She went on to express her desire to make the most of her life, ensuring that when the seven members reunite in 2025, she can take pride in her accomplishments and once again be a part of the fandom's shared love. Miu Sakamoto expressed her willingness to patiently await SUGA and extended her well wishes for his happiness and a fulfilling journey. This heartfelt exchange between SUGA and the Sakamoto family is always cherished by fans.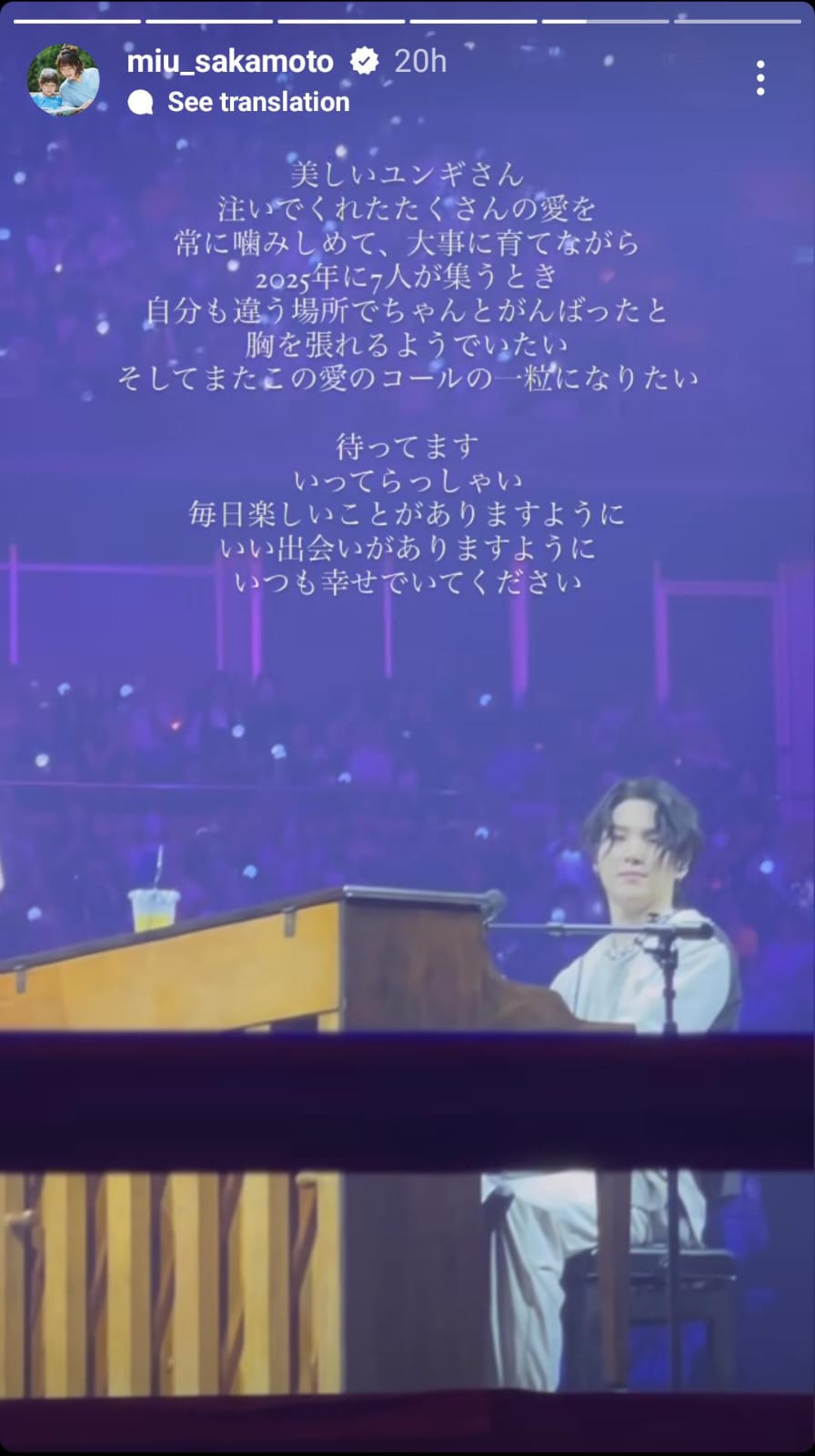 Fans wish SUGA well
Fans of BTS, affectionately known as ARMY, poured in their wishes and kind words for the rapper as well. While many felt sadness at seeing SUGA depart, they also expressed their hopes for his swift return. Wishing for his good health and well-being during his military service was a common sentiment among fans. Some ARMY members also shared lighthearted jokes and messages to lighten the moment and celebrate this new chapter in SUGA's life. It's worth noting that BTS' SUGA is the third member to enlist for mandatory military service, following Jin and J-Hope.
Stay updated with the latest Hallyu news on: Instagram, YouTube, Twitter, Facebook and Snapchat
ALSO READ: BTS' SUGA to enlist for mandatory military service soon, applies to cancel postponement
About The Author
Pratyusha Dash is an English Literature Graduate from Vivekananda Institute of Professional Studies with a deep passion for Korean
...
Read more
Top Comments
There are no comments in this article yet. Be first to post one!