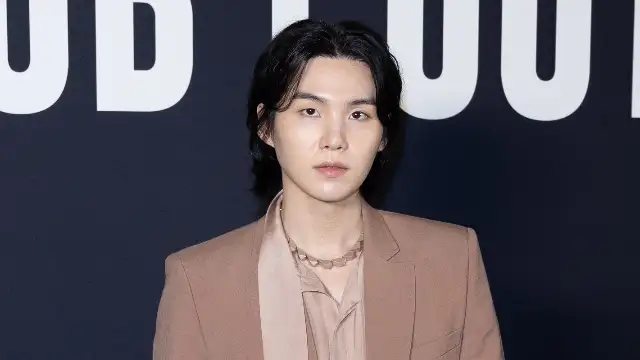 BTS' SUGA sat front row at the Valentino Haute Couture Spring 2023 Show on January 25. The rapper saw a turnaround from his usual all-black or white comfort fits to get into some sleek neutrals that would wow any onlooker.
SUGA at Paris Fashion Week
Cooking up a storm is just the usual for any BTS member at this year's Paris Fashion Week. The third in line, following members J-Hope and Jimin is SUGA who brought a well-styled monochrome look from the Unboxing Valentino collection. His full beige suited look was one of Maison Valentino's best from the night adding colour to the mostly dark themed Valentino Le Club Couture fits seen on the rest. Tight lipped as usual, he waved to the fans with a smile on his face. His entrance caused cameras to flash left, right and centre as the cheers became louder. His skin shone under the Parisian light as has been customary for the BTS member whose glossy face has become a fan favourite topic.
SUGA with fellow guests at the fashion show
From videos inside the event, it was noted that 'Unholy' singer Sam Smith sat beside SUGA with Charli XCX following next in line. The English singer has previously worked with BTS' Jin, Jimin and Jungkook for 'Dream Glow' which was an original soundtrack for the group's game 'BTS World'. Fans hoped for a quick reunion of the two acts. Ashley Park who is known to be a BTS fan and has performed their hit song 'Dynamite' as Mindy in 'Emily in Paris', sat two seats away and we wonder if they had a chance to interact. At the same time, Anne Hathaway was also in attendance, making fans try to manifest a crossover.
SUGA attends the event fresh off his announcement as the brand ambassador for the brand promoting their Essentials range and at the same time being revealed as a part of their Valentino Di.Vas troupe. He is one of the only two members from BTS to have their individual brand deals so far, the other one being Jimin for Dior.
What do you think of SUGA's look? Let us know below.
Stay updated with the latest Hallyu news on: Instagram, YouTube, Twitter, Facebook and Snapchat