Band, Baaja, Bollywood: Revisiting King of Romance SRK and Gauri's love story on their 25th marriage anniversary!
Updated on Oct 26, 2016 | 08:47 PM IST | 1.9M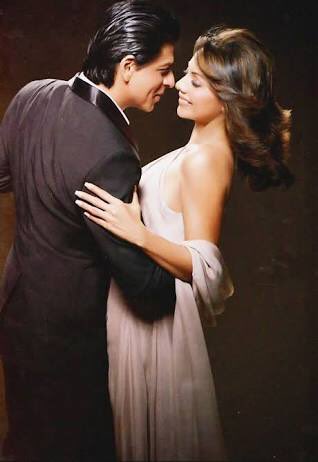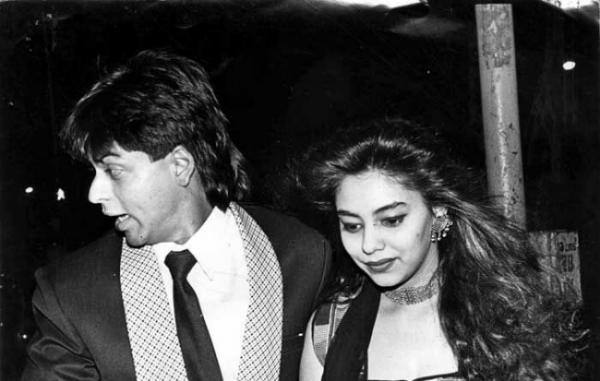 They say marriages are a 'match made in heaven'  and for everyone out there, someone 'special' is waiting. Amidst the falling apart of relationships, frivolous liaisons and divorces in today's era, a few couples of Bollywood have stood the test of time. While a few have been married for a couple of years, many lovebirds have recently tied the knot. In this new section on Pinkvilla -, Band, Baaja, Bollywood - we will revisit some of the most iconic marriages and new-age love stories of the celebs. This one is to re-open their wedding albums, put out some unseen sides of their love stories and make the readers fall in love with their 'wedding story,' all over again....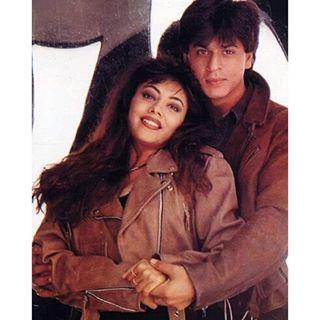 For the first in the series, we will have a look at the King of Romance, Shah Rukh Khan and his wife, Gauri's 'love-struggle-story.' The couple is  ringing  in their 25th wedding anniversary today! A magical tale, their marriage has survived many tests of time, making them one of the most inspiring and  loved  couples in B-Town. 
Love.. At First Sight!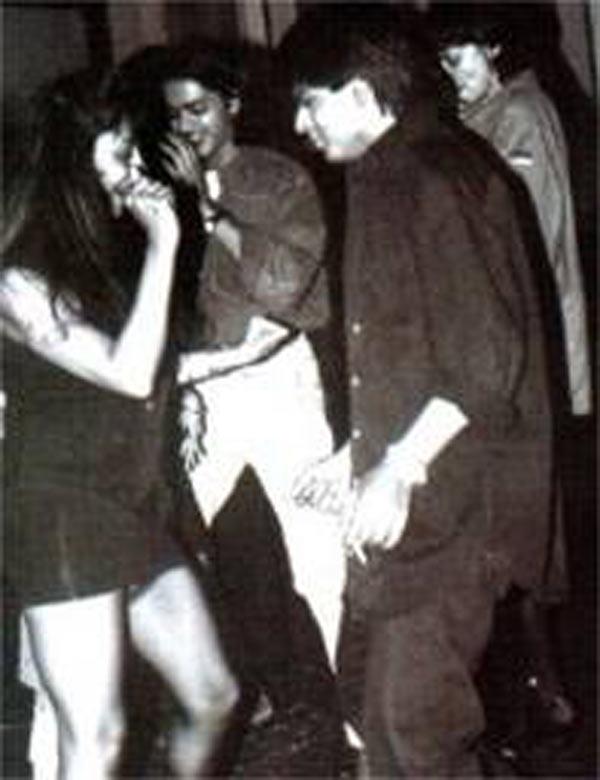 Gauri Chibber was a 14-year-old teenager when Shah Rukh, for the first time, set his eyes on her at a common friend's party in 1984 in Delhi. Khan was only 18 years old. By his own admission, SRK saw Gauri dancing with another boy, and due to his shy nature, the actor could not ask her for a dance. Interestingly, after much ado, SRK did muster some courage and went up to Gauri, asking for a dance. Much to his disappointment, Gauri quashed Khan's dreamy castles and turned him down by saying that she was waiting for her boyfriend. However, in real, no 'boyfriend' existed in Gauri's life. She was there at the party with her brother! Khan, a couple of years down the line, told about what happened next, when later when he came to know about this 'brother fiasco'. Apparently, SRK called Gauri and said, "Mujhe bhi apna bhai samjho." (Consider me your brother too!). 
And the story began...
SRK - The Possessive BF!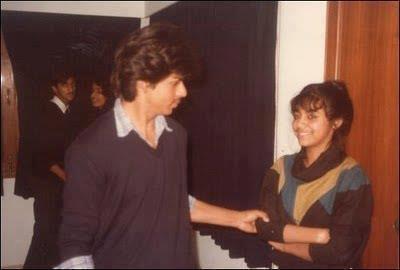 Yes, you read it right. But then, it was a young Shah Rukh. On the other end, Gauri too couldn't escape the wit, confidence and the inexplicable charm of SRK. However, Shah Rukh's possessive BF side became a major hurdle in the two's relationship. Khan was averse to Gauri speaking to other boys or keeping her hair open or even wearing a swimsuit. Once, he almost beat up one of Gauri's friend's boyfriend because the poor fellow had visited his GF! However, one day, his possessive streak became so stifling for Gauri that she decided to take a break from the relationship. On Gauri's 19th birthday, SRK decorated his room with balloons and filled with presents. As Gauri came and saw the room, she burst into tears. But, a day after her birthday, Gauri quietly left for Mumbai with her friends, leaving SRK oblivious of this news.
Cupid Strikes - Realization Of Love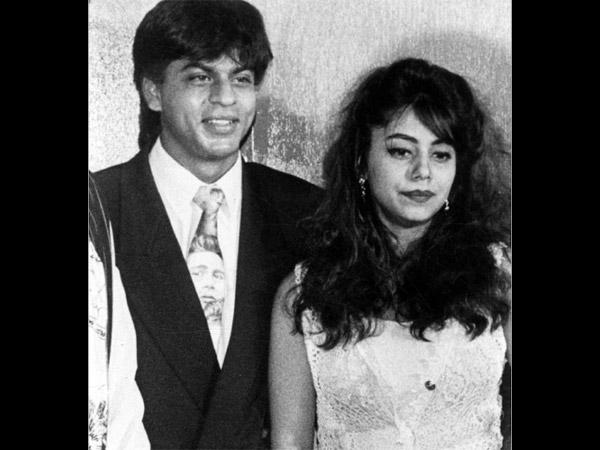 SRK couldn't deal with Gauri's sudden exit. His world came crashing down and he confided in his mother, who guided him to look out for his love and gave him Rs. 10,000. Khan, in a TV interview, once shared, how with utmost difficulty he was able to trace that Gauri had left for Mumbai, but to where - he was clueless. Khan, with his friends, searched the entire Bombay (then) but had no luck in finding Gauri. After several days passed, SRK finally found her at a beach (as Gauri loved the sea). The moment these two set their eyes on each other, there was no looking back. Sobbing profusely, the two broke down in each other's arms, realizing their depth for each other. It was then and there that SRK-Gauri vowed to be together and get married. 
As per the book, Shah Rukh Can: The Story of the Man and Star Called Shah Rukh Khan by author Mushtaq Sheikh, back home SRK's career was looking up, owing to the tremendous success of his TV show Fauji. But Khan wanted to go for the big kill, Bollywood, and movies. Simultaneously, Khan's mother started falling ill and post her unfortunate demise, he moved to Bombay. The city of dreams was an uncomfortable place for Khan. Each day, he would call Gauri from an STD Booth in the Shivaji Park area near Dadar. However, the conversations between the two were one-sided as Gauri used to reply only in monosyllables. 
The Dramatic Proposal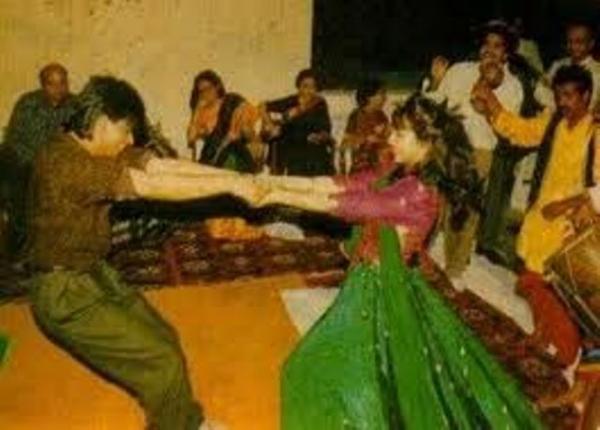 During a TV chat show, SRK revealed how he mustered the strength to ask the big question and he did it in the utmost unexpected style. "I had a Fiat car back then and I was dropping her home. That is when I asked her if she will marry me and went off, I didn't even wait for her to say 'yes' or 'no.' She must have said a 'yes' only because then we were married off," said the actor. There was also a kahani main twist element as Gauri belonged to a family of Hindu Brahmins. Her father was a pure vegetarian, and even had a temple within the house. And, Shah Rukh was a Muslim and a young and immature & unsettled match in the eyes of Gauri's parents.
As Mushtaq penned, much later, when Gauri and his wedding plans were in full swings, SRK used to call Gauri every day, but this time around, it was Gauri's possessive streak and her insecurities which were turning out to be roadblocks in their relationship. "We would end up fighting because she didn't like the fact that I was in here. What are you doing there, which heroine - were the usual suspicions because you were in a field where that was considered from the outside as a f*** up," said SRK. He added, "I thought, that if I moved to Bombay I would take her with me. So in a certain sense, the decision to join the films hastened also hastened my marriage."
After much struggle, and eight years of wait, and with Gauri's parent's consent, SRK-Gauri tied the knot in an Arya Samaj wedding on October 22, 1992. But the court marriage had already taken place on August 26. There was also a Muslim wedding, which was a quiet affair, in which Gauri's name was given Ayesha. In the book, SRK revealed, "We have not told this to many people." Do you know, during the Arya Samaj wedding, Khan christened himself as 'Jeetender Kumar Tulli.' Jeetender- for the film star his grandmother thought he resembled and Tulli, because it was Rajendra Kumar's real surname. 
The Filmi-Drama in SRK's Baaraat!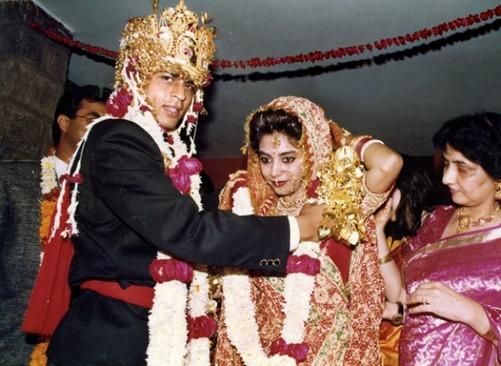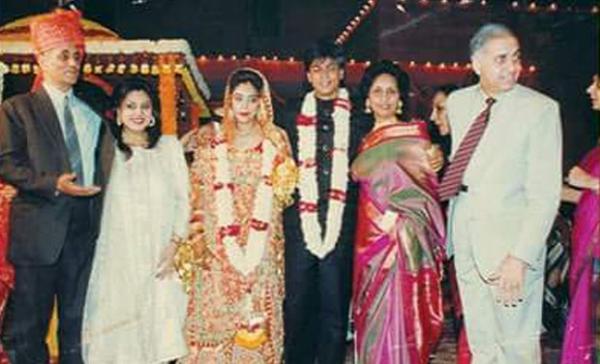 Just when the auspicious time of the wedding was nearing, SRK got a panic-stricken call. The car that was supposed to pick Gauri from the beauty parlour had broken down. The groom rushed to pick up his bride, deposited her back home and rushed back to his house. Halfway through the baarat, Khan got down from the horse and started dancing with the baraatis. By the time the baarat reached the venue, the army band was playing the songs from SRK's recent releases - Deewana and Raju Ban Gaya Gentleman - a tribute from SRK's father-in-law, Late Col. Ramesh Chandra Chibber. 
Suhagraat - The First Night Shenanigans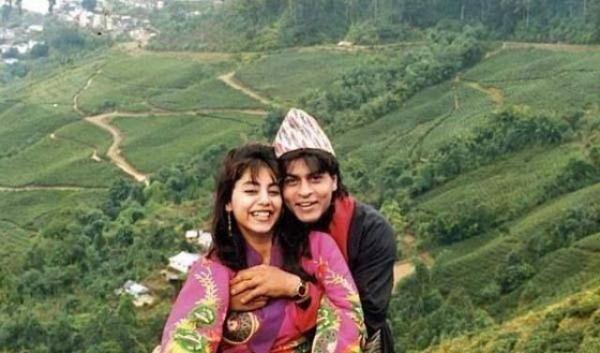 Next day, after their marriage, Mr. & Mrs. Khan flew to Mumbai. There, SRK's close friend and director Aziz Mirza offered them to use their empty flat but actor and producer Viveck Vaswani thought otherwise. He gifted the couple a two-night stay in the Sun-n-Sand hotel in the city.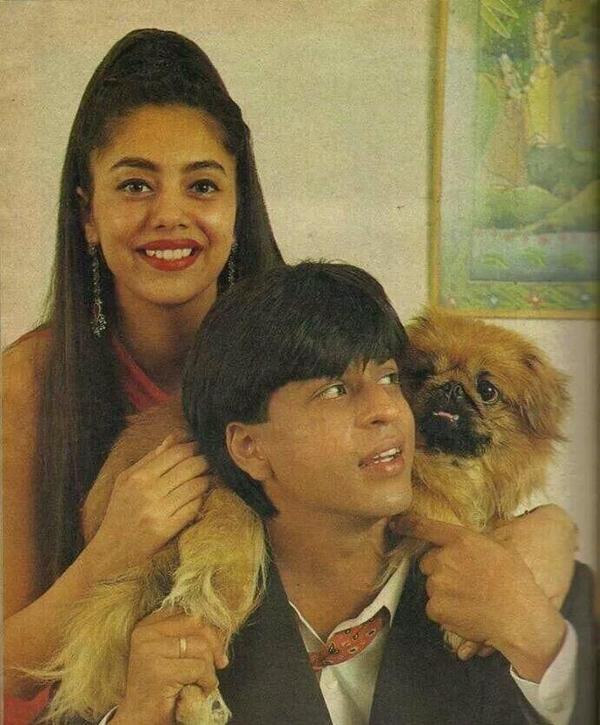 The Family Planning & Kids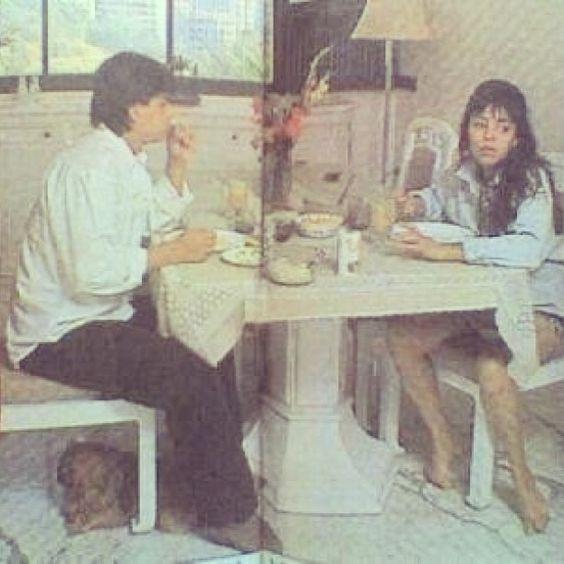 Around the year 1995-96, the Khans had begun to plan their family. As per the book, the actor would toss around with the baby names. For a son, SRK had Siddharth, Mustafa, Vikram in mind but they finally settled on Aryan. As for a girl child, it was Azziza or G-2 (Gauri II). On December 13, 1997, Gauri was taken to Breach Candy Hospital where she underwent a difficult childbirth. SRK was a mess, as with each passing hour complications were increasing. Khan revealed the experience in Mushtaq's book, "I have lost my parents in hospitals. I don't like being in hospitals. Then, I saw her in the hospital with tubes and stuff and she was becoming delirious and she was really cold. I went with her to the operation theater for the Cesarean...And I thought she'd die. Didn't even think about the kid at that point of time. But as time passed, Aryan came into the world. I hated myself when I saw Gauri going through all the labour pain, In the 13 years I have known her, she's never fallen ill even once and now because of me she had to go through this." In a loving spirit, Gauri often says, though, had SRK been given a choice to he would have asked the doctors to save Aryan as he doted on his son the moment he came into the couple's life.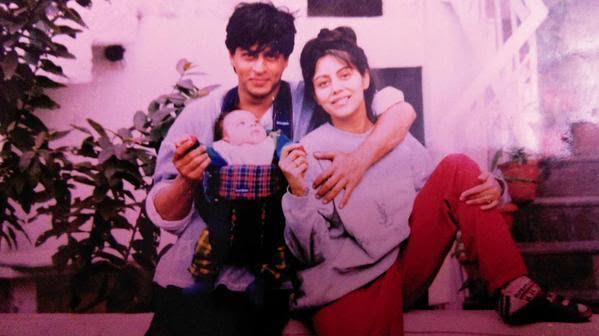 The duo became proud parents to a baby girl, christened Suhana on 22 May 2000 (May 22). The couple also became lucky parents to AbRam, their youngest child on May 27, 2013. The kid was born via surrogacy. Initially, a lot of negative reports were run about the same, hounded by Gauri's hidden pregnancy news etc. However, when AbRam was declared all healthy post the birth, only then did SRK make a formal announcement about his baby boy.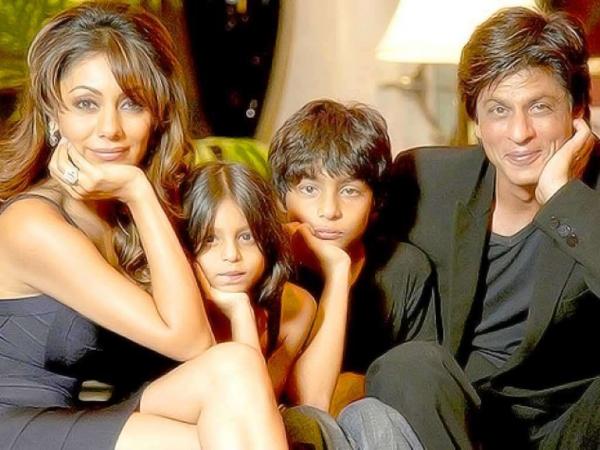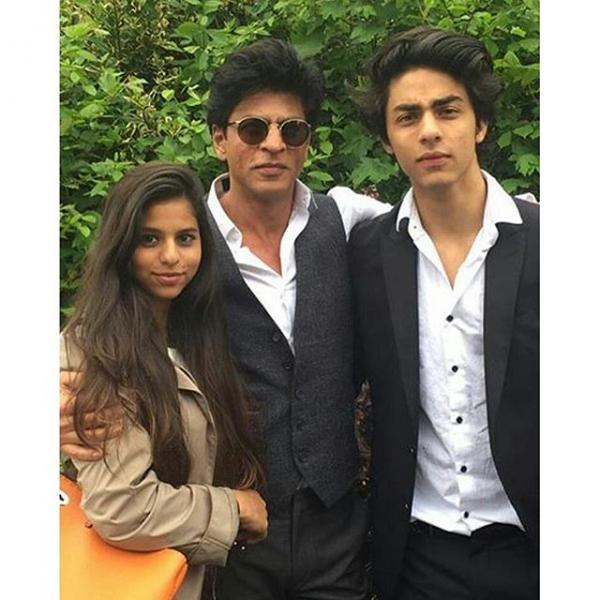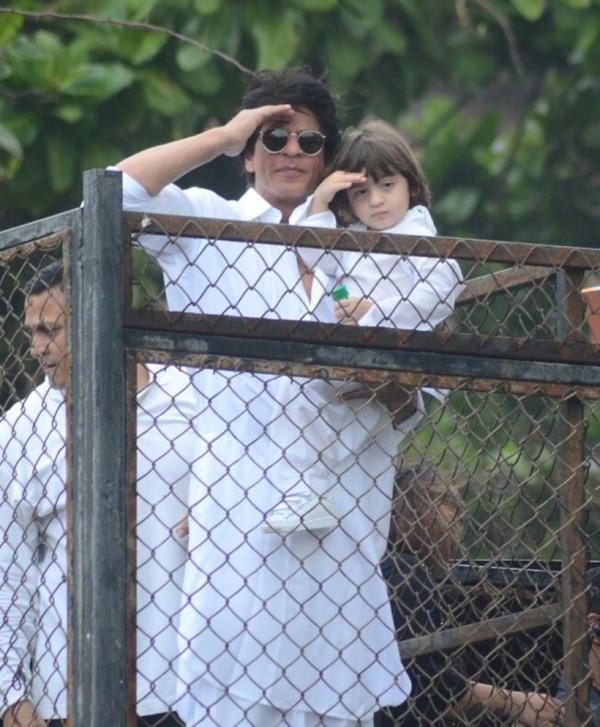 With SRK-Gauri completing 25 years of their marriage today, the two have been through many ups and down, upheavals in their marriage and each time, emerged beautifully, maturely and gracefully. It would be right if we begin our journey with this magical wedding story which is nothing less than filmy and itself, a blockbuster material!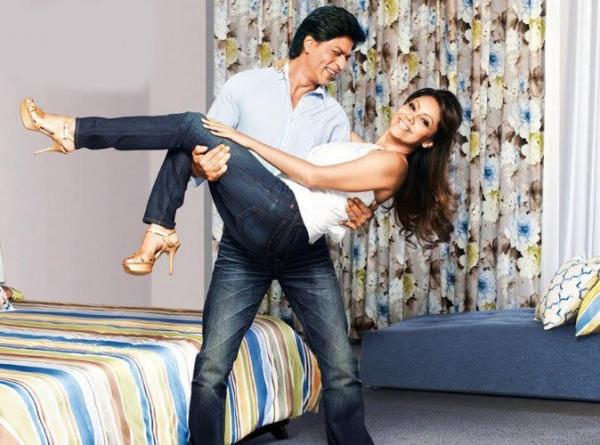 About The Author
Journalist. Perennially hungry for entertainment. Carefully listens to everything that start with "so, last night...". Currently making web more
...
Read more
Top Comments
There are no comments in this article yet. Be first to post one!