Drunken Truth Ep 3-4 Review: BTS' Jin's alcohol and cooking earns Baek Jong Won, Kim Nam Gil's praise
BTS member Jin is his charming and talented self, learning the technicalities of alcohol making.
Updated on Nov 20, 2022 06:30 PM IST | 328.4K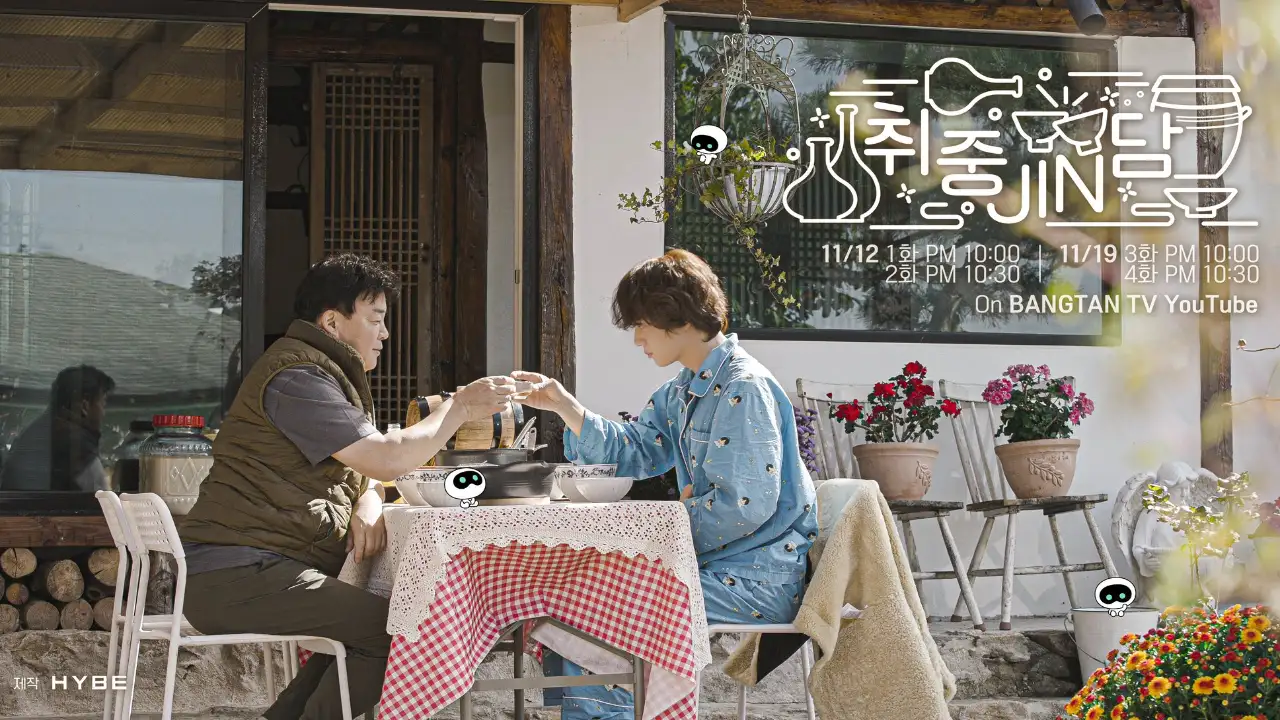 BTS' Jin is good at a lot of things, singing, being 'worldwide handsome', cooking for Bangtan, and now even making alcohol. The second week of his own program, Drunken Truth, which starred well-known chef Baek Jong Won and saw a guest appearance from actor Kim Nam Gil, unfolds in unique ways.
Drunken Truth Episode 3
As Jin and Baek Jong Won reach a spot to take care of the final steps of his first try at making makgeolli (rice wine), the two show another attempt at their flourishing synergy. Jin is known to be good with elders as he can joke around and that is clearly visible in the show. The two head out with their own bottles of self-made alcohol, their destination is a traditional market. Being a chef, it is Baek Jong Won's territory who is recognized by the vendors which consist of mostly older women and is asked for photos, while funnily enough, they are unaware of BTS member Jin. A neck-and-neck competition between them shows the difference in preferences between the older and younger generations.
Drunken Truth Episode 4
Baek Jong Won and Jin are just getting ready to make some side dishes to go along with their drinking session when a guest makes himself known. Popular actor Kim Nam Gil's casual presence adds fun to the episode. The older ones take turns poking fun at Jin who in turn is his cheeky self around them, displaying his closeness with the two. They enjoy the food and alcohol made by the two and Jin's keeps cracking jokes throughout as is his personality. The show focuses on the chef's aim to keep the integrity and bring back the popularity of traditional Korean alcohol- soju. Kim Nam Gil is a silent observer who was invited impromptu by Jin but adds his meaningful remarks throughout. As Jin gifts a set of his famous pyjamas to Baek Jong Won, the night runs deeper. The next morning, they are back at it again, appreciating Jin's skills.
Jin heads to meet the alcohol maestro Park Rokdam to ask for giving him the recipe to him so he can be able to share it with the rest of the BTS members. The artisan names this alcohol 'Brothers of Four Seas'. Jin is congratulated for his fantastic first effort.
ALSO READ: Emergency Declaration Review: Im Siwan's stirring portrayal makes way for Kim Nam Gil & Lee Byung Hun's flight
Top Comments
There are no comments in this article yet. Be first to post one!