EXO's Suho makes a surprise appearance at Lala and Minsu's wedding; YouTubers 'Enjoy Couple' get emotional
EXO's Suho and comedian Yoo Jae Suk attended the wedding of Lala and Minsu. They make the ceremony of YouTubers 'Enjoy Couple', a star-studded affair.
Updated on May 22, 2023 | 09:03 PM IST | 261.9K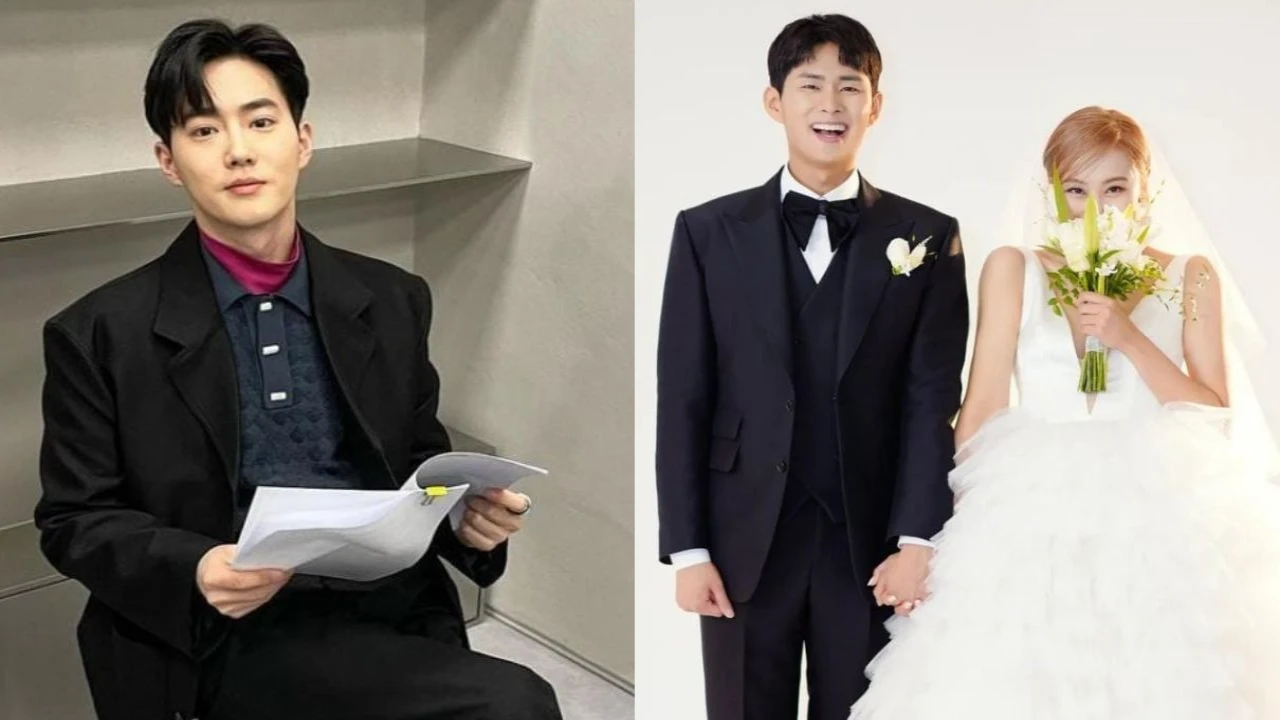 Key Highlight
EXO's Suho surprises YouTubers Enjoy Couple by making an appearance at their wedding.

Suho also sings them a song and the couple gets emotional.
In a heartwarming turn of events, EXO's Suho recently made a surprise appearance at a fan's wedding, leaving everyone in attendance and fans worldwide in awe. The unexpected encounter between Suho and the bride created an emotional moment that touched the hearts of all those present.
Suho's appearance at the YouTubers Enjoy Couple's wedding 
Suho the leader of the popular K-pop group EXO, pleasantly surprised a fan by making an unexpected appearance at their wedding, turning their special day into an unforgettable experience. Suho's heartwarming gesture created a buzz on social media, as he revealed himself to the couple, who are well-known YouTubers called the 'Enjoy Couple.' On Sunday, May 21, Lala and Minsu exchanged vows, and Lala, an ardent fan of EXO, couldn't contain her emotions as she watched Suho sing for them. Apart from Suho, South Korean comedian Yoo Jae Suk was also present at the wedding.
An unforgettable lasting impression
Lala and Minsu are creative content creators on YouTube, known for their reactions to EXO's music videos. During one of their videos, Lala shared her deep admiration for EXO, confessing that she had been a dedicated fan since her middle school years. Among the EXO members, Suho held a special place in her heart. To her astonishment, she had the opportunity to meet Suho in person for the first time when she coincidentally encountered him in a radio show's waiting room. The encounter left a lasting impression on her. The surprise appearance of Suho at Lala and Minsu's wedding has brought joy and excitement to fans around the world. It serves as a beautiful testament to the power of music and the profound connection between artists and their dedicated supporters.
Reportedly, it was the groom who extended the invitation to Suho for their wedding. However, both the bride and groom were equally moved when the K-pop idol made a grand entrance, serenading the couple with his heartfelt rendition of 'Let's Love.' The emotional lyrics resonated deeply with Lala and Minsu, leaving them overwhelmed with tears of joy.
As Suho concluded his performance, Lala expressed her gratitude for his presence and playfully remarked, "Since I'm already married, let me give you one last hug." The blissful moment shared between Suho and the newlyweds stirred immense happiness among EXO fans worldwide, who were elated to witness Lala's dream come true. Comments flooded social media platforms with fans describing Lala as the luckiest fan, praising Suho for his princely appearance, and expressing awe at the eruption of cheers from the wedding guests.
In a light-hearted tone, some users jokingly shared their own fantasies, stating that if their ultimate bias were to appear at their wedding, they would reconsider getting married altogether. The heartwarming story of Suho's surprise appearance at the wedding has touched the hearts of fans and serves as a reminder of the extraordinary connections forged between idols and their dedicated supporters.
Stay updated with the latest Hallyu news on Instagram, YouTube, Twitter, Facebook, and Snapchat
ALSO READ: Netflix reportedly planning to release short film series Persona: Sulli posthumously
About The Author
A tenacious individual and a witty writer who graduated with a degree in Journalism & Mass Communication with over t...hree of experience in writing in different fields. She enjoys reading, dancing, singing, and being dramatic on occasion. After working for a while and now having the opportunity to pursue her passion for writing pieces related to Korean entertainment, she is in the ninth cloud. Read more
Top Comments
There are no comments in this article yet. Be first to post one!