GOLDEN Live On Stage: BTS' Jungkook unveils Golden Closet Film in Budapest; J-Hope, Jimin, RM lend support
Jungkook's GOLDEN Live On Stage was a captivating journey, with performances, chat with ARMYs, interaction with RM and virtual support from J-Hope and Jimin. Read on for more highlighting moments!
Published on Nov 20, 2023 | 08:46 PM IST | 117.7K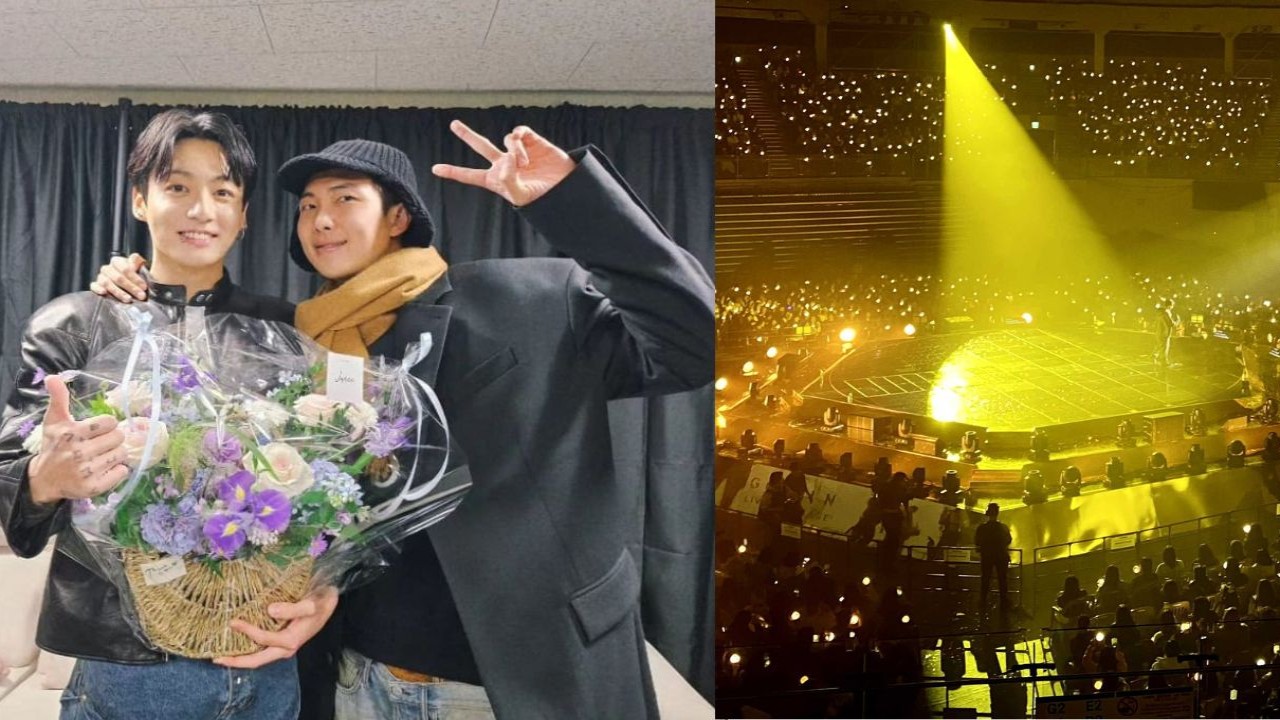 Key Highlight
Jungkook premieres Golden Closet Film in Budapest after 4 years at GOLDEN: Live On Stage

BTS members RM, Jimin, and J-Hope cheer on their GOLDEN maknae Jungkook
BTS' Jungkook's GOLDEN: Live On Stage was an immersive experience, featuring captivating performances, heartwarming engagements with the ARMYs, and words of encouragement by RM while J-Hope and Jimin cheered on virtually. Jungkook unveiled the Golden Closet Film in Budapest at the live showcase after a four-year hiatus of his exclusive series. Explore the thrilling highlights of this unforgettable event that resonated deeply with fans.
GOLDEN: Live On Stage; Jungkook's Golden Closet Film makes a return in Budapest after a 4-year hiatus
Jungkook, adorned in classic blue denim, a white t-shirt, a black leather jacket, and combat boots, took center stage amidst ARMYs' fervent cheers, setting the tone for an electric performance. His opening remarks, expressing gratitude and excitement, instantly connected with the audience, showcasing his endearing rapport.
The concert boasted a diverse setlist, ranging from high-energy tracks like Yes or No to emotive renditions of Somebody and Closer To You, where Jungkook's enchanting expressions and dance moves mesmerized the crowd. His solo performances were met with immense praise and adoration from fans, who hailed him as "Jeon Jungkook" and "Jungkookie," showcasing their unwavering support throughout the show.
Notably, Jungkook's heartfelt interactions, including mentions of his mom and fans' affectionate nicknames, added a personal touch, further solidifying the bond between him and ARMYs. From sharing stories behind his album GOLDEN to candid moments captured in the Golden Closet Film (GCF) shot in Budapest, fans were treated to an intimate glimpse into Jungkook's life and creative process.
Watch Jungkook's Golden Closet Film in Budapest here:
RM, Jimin, and J-Hope show support for BTS' youngest member, Jungkook
As Jungkook's GOLDEN: Live On Stage took place in Seoul, speculation arose about the BTS members in attendance. Even before the event commenced, netizens buzzed with excitement, seeing leader RM among the audience, beaming proudly. As the showcase wrapped up, RM lauded Jungkook with praise. Adding to this support, RM posted a video of Jungkook's stage performance on his Instagram.
Here's how the endearing interaction between Jungkook and his idol hyung RM went:
Despite not all members being present, ARMYs were moved to see J-Hope engaging in the chat pre-show despite his military service. Jimin also participated during the live broadcast, leaving comments akin to fans' reactions. Adding to the sentimentality, Jungkook performed BTS' Magic Shop during the encore, preserving the voices of SUGA, Jin, V, and others, eliciting a heartfelt response from fans.
Stay updated with the latest Hallyu news on: Instagram, YouTube, Twitter, Facebook, and Snapchat
ALSO READ: EXO's D.O. stars in new PICS from Company Soosoo; Fans hail him as 'CEO Kyungsoo'
About The Author
Saumya is Journalism & Mass-Communication graduate with a specialization in digital journalism. She comes with nearly a
...
Read more
Top Comments
There are no comments in this article yet. Be first to post one!