Andrew Garfield's awkward grin to Hugh Grant's uncomfortable interview, top 10 memes from Oscars 2023
Andrew Garfield's reaction to Jimmy Kimmel mentioning Spiderman will live on in the Meme Hall of Fame forever. Here are more such moments from the Oscars 2023.
Updated on Mar 15, 2023 | 04:21 PM IST | 84.7K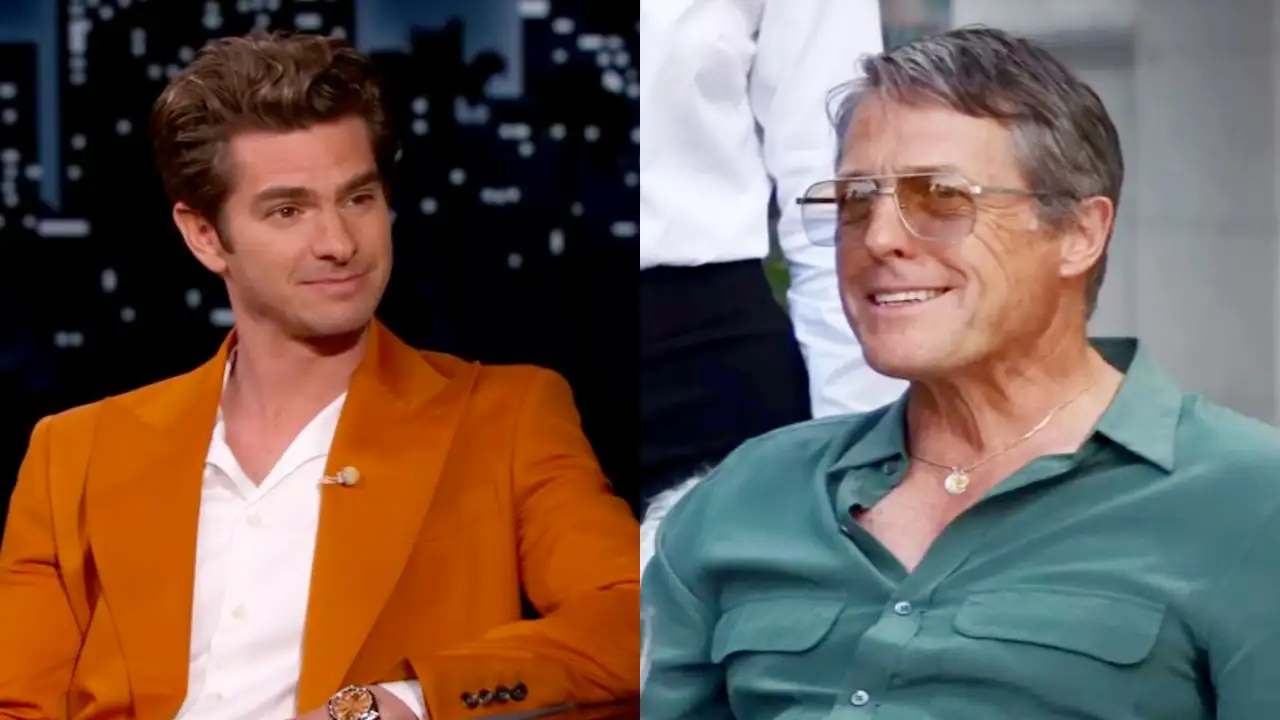 The Oscars 2023 might have been over but the memes are not. The biggest night in Hollywood gave us a lot of priceless moments, power-packed performances, stunning red-carpet appearances, and many deserving winners. But, apart from this, there were also some hilarious and extraordinary moments that began a meme fest on social media. So, let us look at the top 10 meme-worthy moments from the 95th Academy Awards.
Top 10 Oscars 2023 memes
Hugh Grant's awkward interview with Ashley Graham
Hugh Grant's awkward interview with Ashley Graham
Hugh Grant's listless interview with American model Ashley Graham instantly made headlines. Grant had a series of unexciting answers to Graham's queries but what took netizen's attention was his reference to the 1848 novel Vanity Fair by William Thackeray, which Graham mistook for the popular magazine that hosts the Oscars afterparty each year.
2. Hugh Grant say's 'scrotum' on stage
Later on, in the awards ceremony, Hugh Grant called his face a 'scrotum' while presenting an award live on stage.
3. Lady Gaga's makeover
While Lady Gaga arrived at the Oscars red carpet in a gorgeous mesh-corset ensemble and glamourous makeup, she then changed into something very casual for her on-stage performance of her Oscar-nominated song Hold My Hand from Top Gun: Maverick. The songstress then changed back into her glamorous look once again, all in a matter of a few hours. This gave way to another Oscars 2023 memes. 
4. David Byrne's hotdog fingers
Speaking of Oscar-nominated songs, David Byrne also got on stage to perform his Oscar-nominated song titled This is a Life with Son Lux and Mitsk from Everything Everywhere All at Once. A few seconds after he began his performance he revealed his choice of accouterment - long hotdog fingers which is a reference to a popular scene from the aforementioned movie.
5. Jenny, the donkey
Here is another Oscar 2023 meme. Jenny, the donkey from the Oscar-nominated film the Banshees of Inisherin got its spotlight on the Oscars red carpet and stage as well. "If you're feeling upset or if you win or if you're feeling anxious or if you just love mules, come up and give her a hug," said host Jimmy Kimmel.
6. Cocaine Bear and Malala
Cocaine Bear, the titular lead of the movie of the same name was also seen at the Oscars. She appeared on stage with director Elizabeth Banks and later approached Malala Yousafzai on stage with Jimmy Kimmel having to say, "Cocaine Bear, leave Malala alone".
7. Andrew Garfield's priceless reaction
This is probably one of the funniest Oscars 2023 memes. While Kimmel talked about last year's infamous SlapGate incident, and in doing so, he made a passing reference to Spiderman aka Andrew Garfield. When his name was mentioned, Garfield looked at the camera and flashed an awkward grin, sending Twitterati into a spin.
8. Happy Birthday in the Oscars style
In what was a fabulous moment, the entire Oscars audience sang happy birthday to James Martin, the lead actor of An Irish Goodbye. The movie won the Best live action short film.
9. A jibe at the Oscar nominations
Did not hear of many of the films nominated for the Oscars? Same.
10. Ke Huy Quan's emotional speech
Ke Huy Quan ended his awards season run with an Oscar for Best Supporting Actor in Everything Everywhere All at Once and his acceptance speech had everyone emotional. "Mom, I won an Oscar!" he said, crying. While this is not exactly a funny moment, it did however end up in as one of the top moments among the Oscars 2023 memes. 
FAQs
Which movie won Best Picture at 2023 Oscars?
Everything Everywhere All At Once won the Best Picture Award at the 2023 Oscars.
---
Who won the Best Actor award at Oscars 2023?
Brendan Fraser won the Best Actor Award for The Whale at the 2023 Oscars.
---
Who won the Best Actress award at 2023 Oscars?
Michelle Yeoh won the 2023 Oscar in the Best Actress in a Leading Role category for her performance is Everything Everywhere All at Once.
---
About The Author
A content writer for 3 years, Priyakshi channels her love for everything cinema through the written word, as she dabb...les in entertainment articles, movie reviews, and interviews.
Read more
Top Comments
There are no comments in this article yet. Be first to post one!