65+ Best Christmas Movies as per IMDb That You Must Watch
When you're in the Christmas mood, there's nothing better than a festive movie. So, here are some of the best Christmas movies of all time, as rated by IMDb!
Updated on Dec 24, 2022 | 10:52 AM IST | 562.1K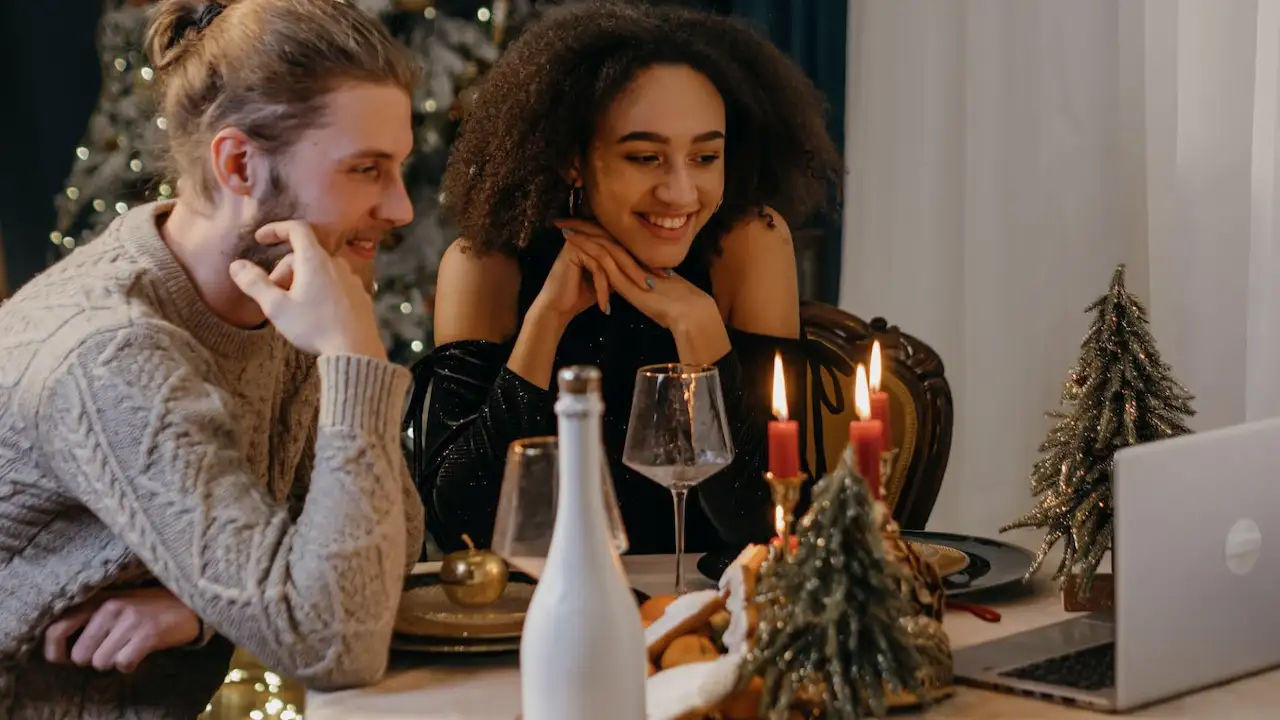 Christmas is not only a one-day festival. Rather, Christmas is an emotion for a whole lot of people across the world. In this article, we have mentioned a range of genres and plots (from rom-coms, musicals, and animated tales to action and mysteries) for everyone to watch, enjoy, and get yourselves in the holiday cheer and festive mood!
While most of the websites mention the most popular (yet repeated) Christmas movies to watch every year, we thought why not catch up on some holiday classic underdog movies! Not only will it serve as a breath of freshness this holiday season but also revive the Christmas spirit - you never know what ideas or inspirations you may get from them!
Without further ado, let's hop on the Santa Claus' wagon of must-watch Christmas movies that are highly rated as per IMDb. Fala la la la la...let the holiday magic begin!
Best Christmas Films Ever Made as per IMDb
You can stream these holiday movies on any streaming platform, including Netflix, Amazon Prime Video, Disney+, Hulu, Apple TV, or YouTube.
1. Die Hard
Released = 1988
IMDb = 8.2
Debatable, but it still is a Christmas holiday film. The movie starts out with John McClane and his wife being at an airport, and they are being hijacked. Now, John McClane, a police officer, has to keep his daughter safe while rescuing his estranged wife at a Christmas party in the Nakatomi Plaza.
2. The Nightmare Before Christmas
Released = 1993
IMDb = 7.9
The protagonist, Jack Skellington, is the king of Halloween Town, but he becomes bored with it. He breaks into Christmas Town to be entertained. He becomes so fixated on the joy of Christmas and how to make it last forever that he starts kidnapping children and stealing their souls. When Jack finally realizes his folly, he tries to return all the kidnapped souls to the children and manages to save Santa Claus.
3. Home Alone + Home Alone 2: Lost in New York
Released = 1990, 1992
IMDb = 7.7
An 8-year-old Kevin Mc Callister is left home alone to protect their house against burglars. The movie will show how the baby has to look after themselves in the home and how they must use the natural surroundings to help them defend the house. This holiday classic film will also show some of the challenges that come from being on your own at home, such as troubles with potty training and being tired or cranky because of a sleeping pattern being interrupted.
4. Love Actually
Released = 2003
IMDb = 7.6
Love Actually, a Christmas romantic comedy, is all about eight diverse couples dealing with love. Sometimes, the love that we think we want is not the love that will make us happy.
5. Silent Night (TV movie)
Released = 2002
IMDb = 7.5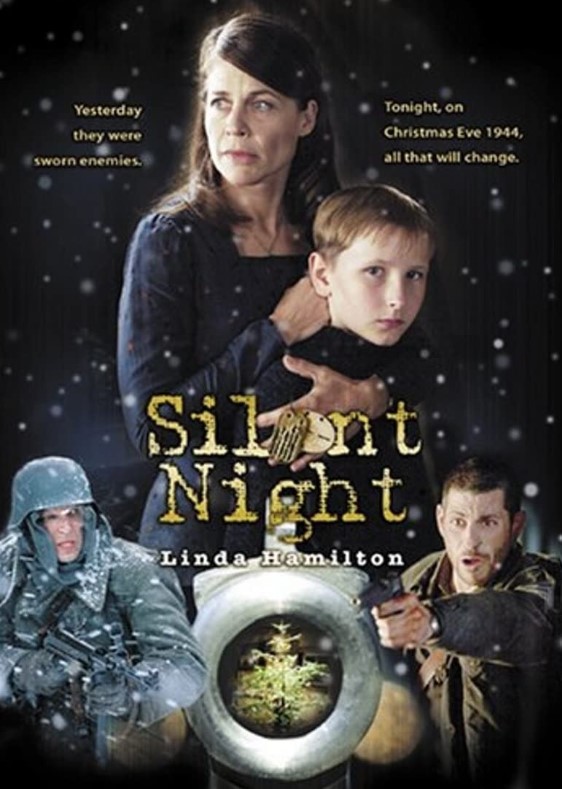 The movie is set in the era of 1944. In a cabin on a WWII front, a German mom and her son together mediate for a truce to happen between three American and three German soldiers so they can all celebrate Christmas Eve together.
6. Next Stop, Christmas (TV movie)
Released = 2021
IMDb = 7.1
Angie is committed to spending Christmas alone. However, her usual commuter lift turns into a Hallmark Christmas train, dropping her off in her hometown.
7. Arthur Christmas
Released = 2011
IMDb = 7.1
Grandsanta and Arthur, Santa Claus' clumsy son, set out on a task to hand out a present to a young girl that they misplaced. They only have less than two hours. Will they succeed?
8. Bad Santa
Released = 2003
IMDb = 7.1
A miserable and pathetic conman poses as Santa while his companion poses as Santa's Little Helper to rob several department stores on Christmas Eve. However, they start running into hilarious problems when the conman befriends a disturbed kid.
9. Lovely, Still
Released = 2008
IMDb = 7.1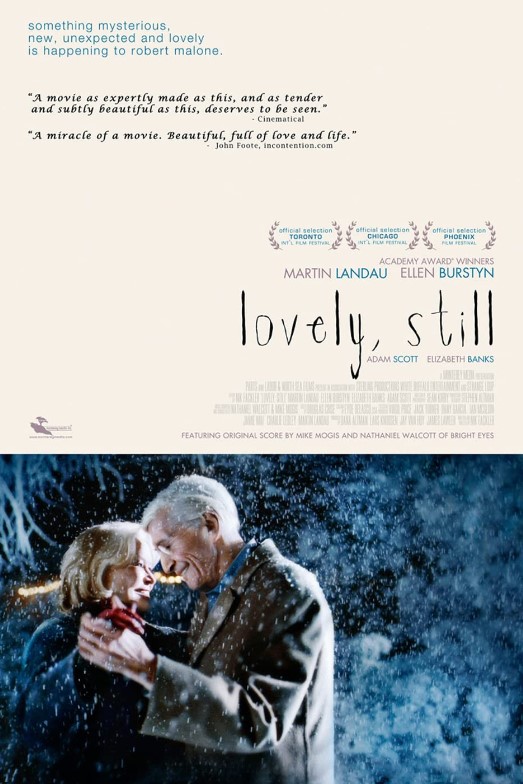 Directed by Nik Fackler, this Christmas film shows a holiday fable that narrates a heartwarming story of an elderly man who discovers love for the first time.
10. Elf
Released = 2003
IMDb = 7
Elf is a movie that everyone should watch at least once during the Christmas season, if not every year. It is both entertaining and heartwarming, with great acting by Zooey Deschanel and Will Ferrell. The story of Buddy, an elf who was raised by humans but later finds out about his real identity, is one that will make you laugh and cry in equal measure. And it has some pretty catchy tunes too!
11. A Christmas Carol
Released = 2009
IMDb = 6.8
If you're looking for a movie that will tug at your heartstrings and make you cry then A Christmas Carol is just what the doctor ordered. Based on Charles Dickens' 1843 novel of the same name, this modern retelling follows a wealthy businessman who neglects his family during the holidays. On Christmas Eve, he is visited by four ghosts who try to change his ways - but will they succeed?
12. Serendipity
Released = 2001
IMDb = 6.8
A couple first met, fell in love, and separated. Convinced that one day they would end up together they keep searching for each other years after that fateful first night. Will the Christmas miracle bring them together? It is one of the perfect movies to watch with your boyfriend while cuddling up in a warm blanket!
13. Miracle on 34th Street
Released = 1994
IMDb = 6.6
Miracle on 34th Street is another Christmas movie that is sure to put you in the holiday spirit. It stars Richard Attenborough, who plays a man with an unusual obsession - he believes himself to be Santa Claus. His daughter, played by Elizabeth Perkins, and her husband, are not convinced though. When the daughter gets sent home from school for telling her classmates about her father's beliefs, he sets out on a quest to prove his identity. This movie has all the elements of a good Christmas film - it is heartwarming, funny, and well-acted.
14. Happiest Season
Released = 2020
IMDb = 6.6
Happiest Season is a holiday rom-com Hollywood film that wholeheartedly captures a range of emotions linked to being true to yourself, wanting your family's acceptance, and trying not to ruin Christmas by revealing a nasty secret. This Christmas movie is truly a roller coaster and a must-watch with your family!
15. Better Watch Out
Released = 2016
IMDb = 6.5
Better Watch Out is a film wherein a babysitter must defend a twelve-year-old boy from intruders on a quiet suburban street. However, the twist comes when they realize that it is not an ordinary home invasion. Watch this Christmas film to find out what happens next.
16. A Very Harold & Kumar Christmas
Released = 2011
IMDb = 6.2
This dark comedy Christmas movie revolves around two stoner buddies, Kumar Patel and Harold Lee. Six years after their Guantanamo Bay adventure, the two friends cause a holiday brawl by inadvertently igniting down Harold Lee's father-in-law's glory Christmas tree. The comic timing and acting make this movie a worthy Christmas watch with your family members!
Popular Christmas Movies that You Must Watch
17. How the Grinch Stole Christmas! + How the Grinch Stole Christmas
Released = 1966, 2000
IMDb = 8.3
"How the Grinch Stole Christmas" is the story of a grumpy hermit who comes up with an evil plan to steal Christmas from the Whos of the town of Whoville. Watch this classic and popular Christmas movie with your family, and have a fun-filled evening!
18. The Nightmare Before Christmas
Released = 1993
IMDb = 7.9
"The Nightmare Before Christmas" is yet another super famous animated movie, perfect to watch this Christmas with your kids while having a cup of hot chocolate at home. The story centers around the King of Halloween Town, Jack Skellington. Jack discovers Christmas Town, but his endeavors to bring Christmas to his own hometown create chaos and confusion. Will he be successful?
19. Black Christmas
Released = 1974
IMDb = 7.1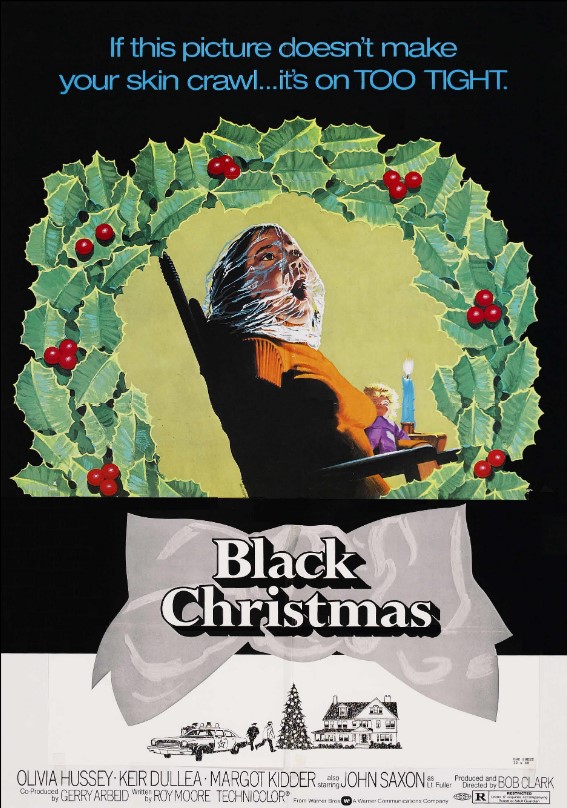 "Black Christmas" is not exactly your typical cheesy Christmas movie. Instead, this Hollywood film is full of thrill, mystery, and horror, making it an ideal movie to watch with your significant other. The storyline revolves around a close group of sorority sisters who start receiving mysterious letters while everyone is on Christmas break. Watch how the group deals with their stalker!
20. 8-Bit Christmas
Released = 2021
IMDb = 6.7
"8-Bit Christmas" is a popular holiday movie set in the 1980s in Chicago, wherein a 10-year-old boy sets out on a mission to get the Christmas gift of his generation - the latest and best video game.
21. A Boy Called Christmas
Released = 2021
IMDb = 6.7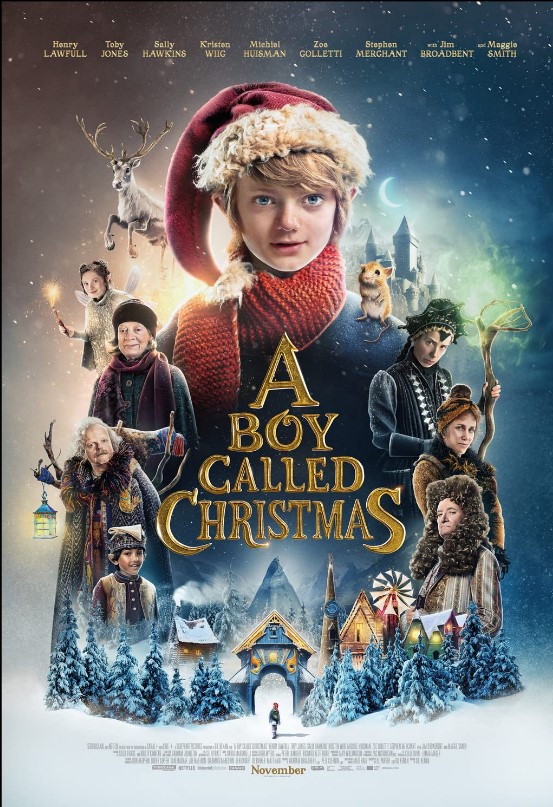 In this advent tale of Father Christmas, an ordinary boy (with a reindeer and a pet mouse by his side) goes on an extraordinary adventure to find his father, who is on a mission to locate the fabled village of Elfhelm.
22. Last Christmas
Released = 2019
IMDb = 6.5
Kate is a smart young woman but somehow always makes bad decisions. She wants to be a singer but works as an elf in a year-round Christmas store. However, when she meets a charismatic Tom, her life accepts a new fateful turn. Is it too good to be true or merely some Christmas magic?
23. The Family Stone
Released = 2005
IMDb = 6.3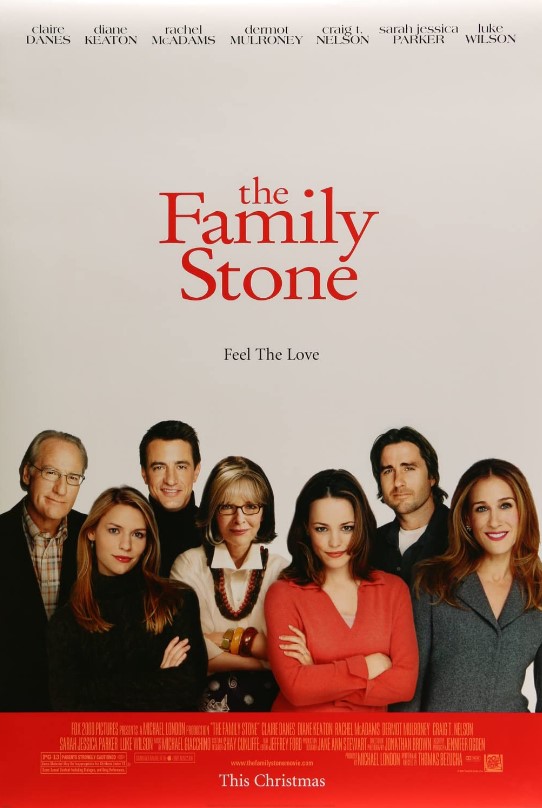 "The Family Stone" is one of the perfect movies to watch with your family this Christmas. The story shows a conservative and uptight businesswoman who accompanies her boyfriend to his super eccentric, loving, and outgoing family's annual Christmas celebration. However, she soon finds herself like a fish out of water in their free-spirited and simple life. Will they accept her for who she is? Or does the magic of Christmas has something else in store for her and her boyfriend?
24. Krampus
Released = 2015
IMDb = 6.2
Frustrated by the endless conflict between his dysfunctional family members, Max has always had one of the worst Christmas. However, this time, he unknowingly summons a festive demon to his family home. What will that demon do to him? Or will the demon punish his family?
25. Holidate
Released = 2020
IMDb = 6.1
"Holidate" is a mix of romance and comedy. The storyline revolves around two strangers who are tired of being single on holidays and decide to be each other's nonsexual plus-ones (dates) all year long. But it won't be a Christmas movie if they do not catch real feelings, would it? Will they confess and give love an actual chance?
26. Fatman
Released = 2020
IMDb = 5.9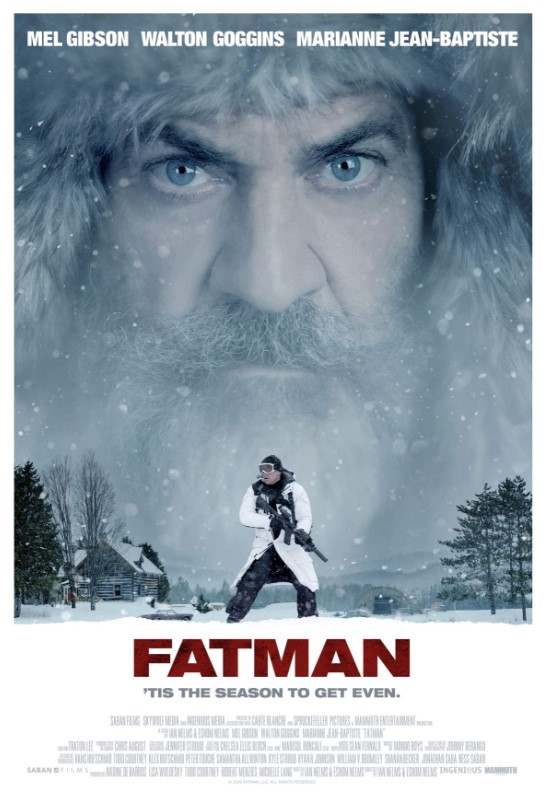 "Fatman" is a movie about an unorthodox and unruly Santa Claus struggling to save his declining business. On the other hand, a 12-year-old intelligent yet neglected Billy hires an assassin to kill Santa Claus because he received a lump of coal in his stocking. How do you think the story will unwind?
27. Love the Coopers
Released = 2015
IMDb = 5.8
"Love the Coopers" is an intertwined tale of four generations of the Cooper family and how things unfold right before the yearly family reunion on Christmas Eve. The question is: will they be able to endure the most exquisite time of the year?
28. Four Christmases
Released = 2008
IMDb = 5.7
"Four Christmases" is a light-hearted comedy story revolving around a couple who is struggling to visit all four of their divorced parents to celebrate Christmas. Will they succeed?
29. A Bad Moms Christmas
Released = 2017
IMDb = 5.6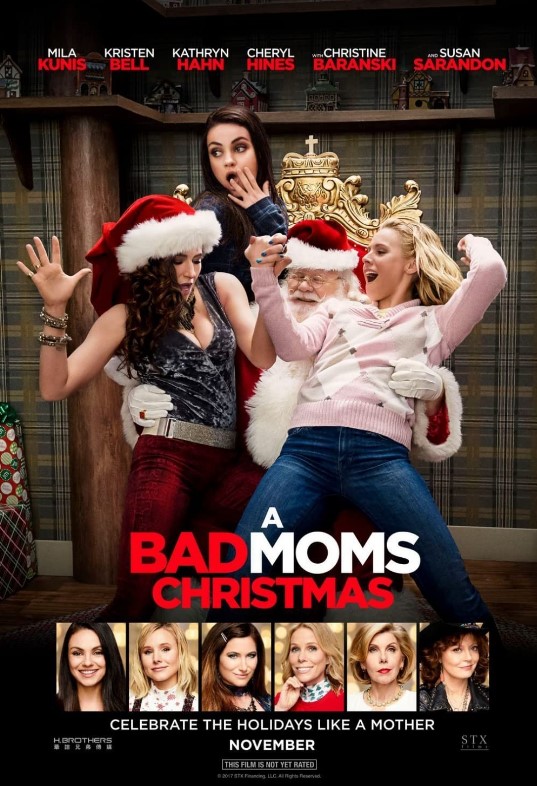 "A Bad Moms Christmas" is a raunchy Christmas movie centering around three over-burdened and under-appreciated moms. As their mothers drop in unexpectedly, they rebel against the expectations and challenges of Christmas, the ultimate Super Bowl for mothers! Will this rebellion make them seen or will it ruin the holidays for everyone?
30. Christmas with the Kranks
Released = 2004
IMDb =5.4
Nora and Luther Krank decide to skip Christmas as Blair, their daughter, is away in Peru. However, Blair, out of the blue, decides to come home and unknowingly causes an uproar. Now Nora and Luther have to become a Christmas-loving family at the last minute. Watch this popular Christmas movie with your family members as the Kranks hilariously try to celebrate the festival!
31. Deck the Halls
Released = 2011
IMDb = 5.3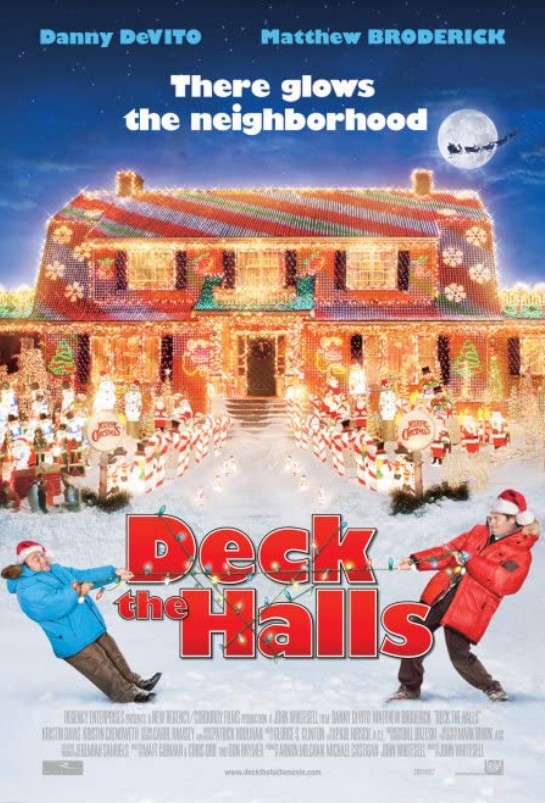 Detective Regan Reilly teams up with Alvirah Meehan, a cleaning-woman-turned-private-investigator, to examine the kidnapping of two people just before the holidays - Regan's father and a young female driver. "Deck the Halls" is a popular action Christmas movie highlighting the race to save the pair and get them home just in time to celebrate Christmas.
Best Hallmark Christmas Movies of All Time
32. November Christmas
Released = 2010
IMDb = 7.5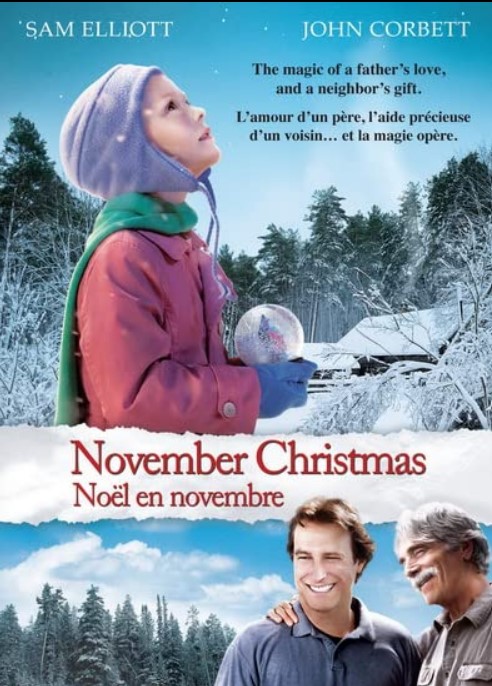 "November Christmas" is a TV movie showcasing the life of a brave young girl and her battle against cancer. The storyline also highlights how people around her are affected and how her father plans to celebrate Christmas way before than 25th of December out of fear that she may not live until then. Watch this heartwarming movie to feel the warmth of the father-daughter bond!
33. Signed, Sealed, Delivered for Christmas
Released = 2014
IMDb = 7.4
"Signed, Sealed, Delivered for Christmas" is yet another Hallmark Christmas movie that will take you on a dramatic journey full of mystery and romance. The plot of this Hollywood film revolves around a critical letter written to God on Christmas Eve by a little girl whose mother's life hangs in the balance. When the adored quartet of postal detectives discovers that letter, they delay their own plans to help that little girl.
34. The Christmas Secret
Released = 2014
IMDb = 7.3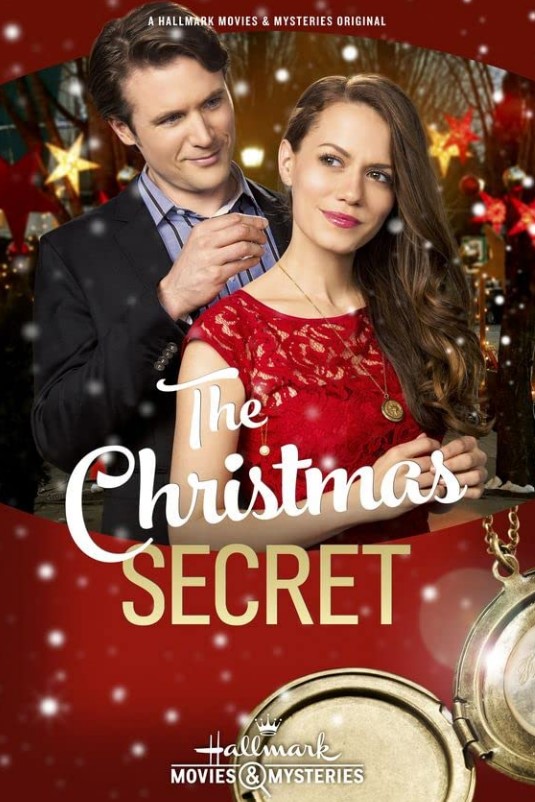 "The Christmas Secret" is a Hallmark movie full of festive magic revolving around a secret magical family heirloom. The storyline shows a single mom Christine whose life is falling apart. However, one fine day, she finds a magical family heirloom that turns her miserable life into good fortune and full of love during Christmas.
35. A Dog Named Christmas
Released = 2009
IMDb = 7.3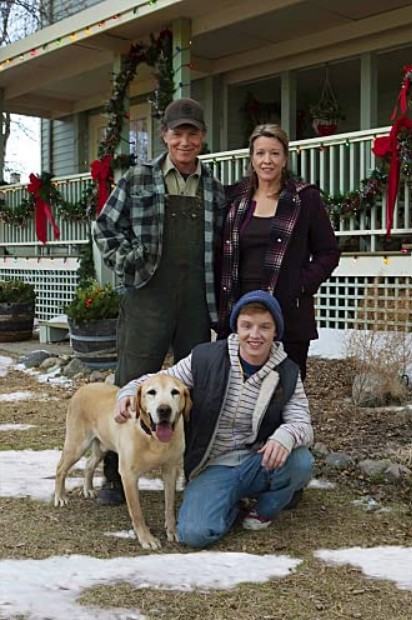 The story of this Christmas film centers around a developmentally challenged young man who has a penchant for caring for animals in need. He sets out to persuade his family (alongside their whole rural community) to participate in the "Adopt a Dog for Christmas Program", a local shelter's inaugural.
36. The Most Wonderful Time of the Year
Released = 2008
IMDb = 7.2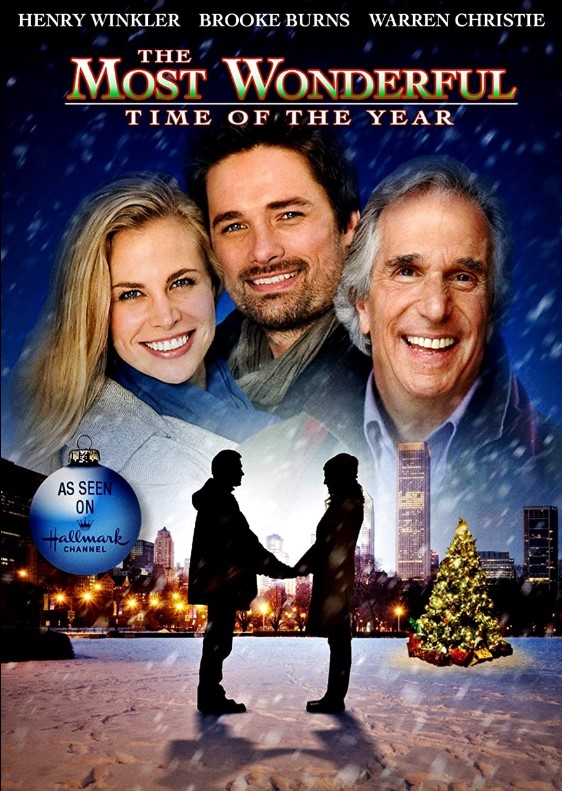 Jen is a single mom and a corporate analyst. Funnily she tackles Christmas with her business-like approach. However, when her uncle arrives in town with a handsome stranger, she starts thinking about giving her life - and love - another chance!
37. Christmas with the Campbells
Released = 2022
IMDb = 7.2
"Christmas with the Campbells" is the traditional holiday Hallmark romance movie. The plot of this dark comedy Hollywood film starts when Jesse gets dumped by Shawn, her boyfriend, right before the holidays. But Shawn's parents somehow persuade her to spend Christmas with them (despite their breakup). Plot twist, Shawn is away while his handsome cousin is in town. You can imagine the drama!
38. Jingle & Bell's Christmas Star
Released = 2012
IMDb = 7.2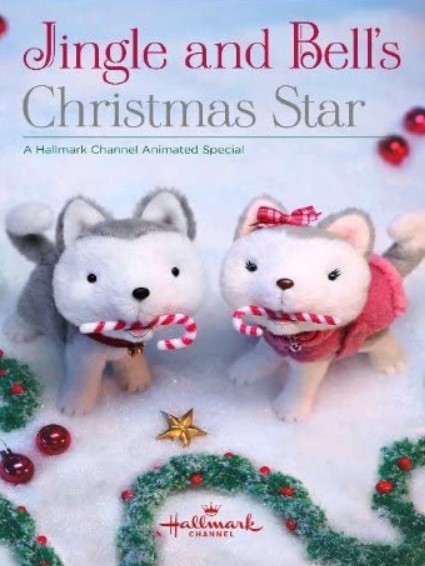 The Hallmark film, "Jingle & Bell's Christmas Star", tells the story of two buddies - Andrew and Jingle, the Husky puppy. Soon they meet new friends, Sofia (who is about Andrew's age) and Bell, her Husky puppy. Since Sofia and Bell are new in town just before Christmas, their world is in chaos and completely upside down. And when it started looking like it might be their worst Christmas ever, they get some help from Andrew and Jingle. Together, they discover that the festive Christmas joy is not about the place - but about the people, you spend the holidays with!
39. The Nine Lives of Christmas
Released = 2014
IMDb = 7.1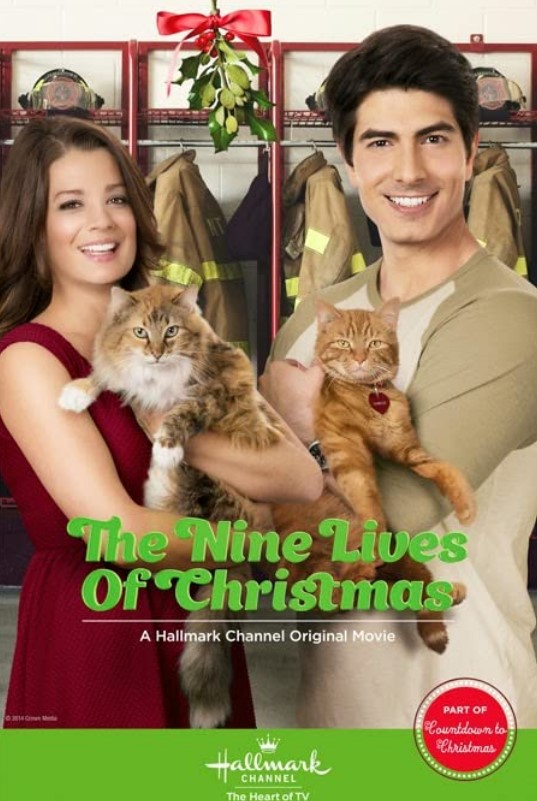 The storyline of the movie "The Nine Lives of Christmas" revolves around a stray cat who adopts Zachary, a fireman. Then the cat meets Marilee, a veterinary student, and admits that the single life is not as satisfying as he thought it was.
40. A Bramble House Christmas
Released = 2017
IMDb = 7.1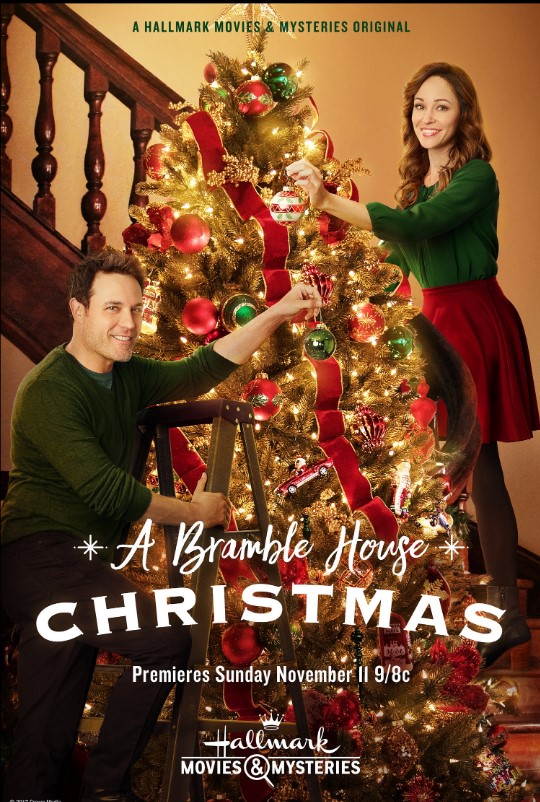 Finn Conrad becomes doubtful when his father leaves $100,000 to Willa, a nurse. Out of suspicion, Finn goes undercover to analyze the matter. However, will she ever trust him again after discovering his true identity? Watch this Christmas Hallmark movie to find out what really happens!
41. Journey Back to Christmas
Released = 2016
IMDb = 7
A nurse from the WWII era is transported to the year 2016. Lost and scared, she then meets a man, and together they learn the importance of family bonds and that the real meaning of Christmas is everlasting!
42. Christmas Getaway
Released = 2017
IMDb = 7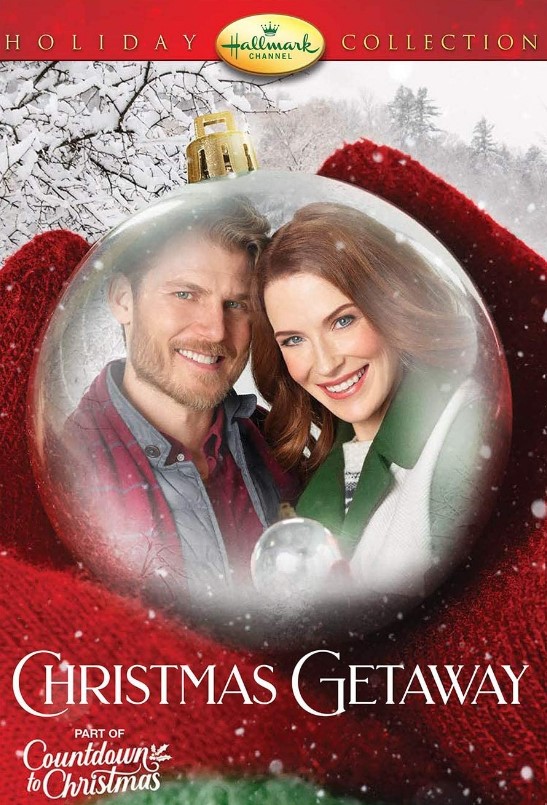 An ardent travel writer decided to take a Christmas vacation at a holiday inn. However, in a twisted fateful event, she realizes her room has a double booking with a widower, his daughter, and his mother. Watch this hilariously romantic Hallmark Christmas movie to enjoy the festive spirit.
43. Christmas with Holly
Released = 2012
IMDb = 7
"Christmas with Holly" is a story of a 6-year-old girl who stops talking to anyone after being traumatized by her mother's death. However, with the care and love of her three uncles, she starts realizing the importance and meaning of family. This Christmas Hallmark film is perfect to watch at a cozy family gathering to cherish the love of your dear ones!
44. Jingle All the Way
Released = 2011
IMDb = 7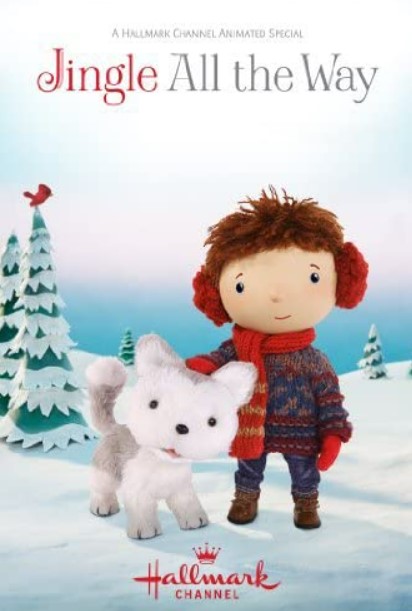 The movie "Jingle All the Way" tells the story of an enthusiastic Husky pup, who is looking for a home at a Christmas tree farm. During his search, he immediately bonds with a young boy, who is visiting the tree farm with his parents. Sadly, the boy is not able to keep him and rides away. But the puppy escapes the tree farm and embarks on a snowy journey to find the boy. He is not alone though, with the guidance of an intelligent cardinal and the jingling bells, the pup eventually receives more help from a big man in a red suit! Watch this heartfelt movie and relive the warmth of the Christmas festival.
More Classic Christmas Movies to Relive the Magic of Christmas
45. A Charlie Brown Christmas
Released = 1965
IMDb = 8.3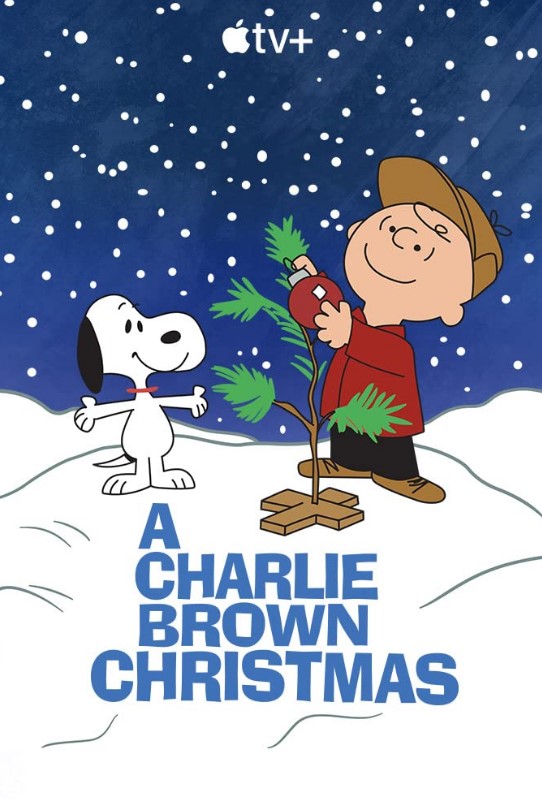 This classic comedy Christmas film revolves around Charlie Brown (from the Peanuts comic strip), who is depressed because everything around him seems commercialized. A Charlie Brown Christmas is a movie wherein we see him trying to find a deeper and true meaning of Christmas.
46. Rudolph, The Red-Nosed Reindeer
Released = 1964
IMDb = 8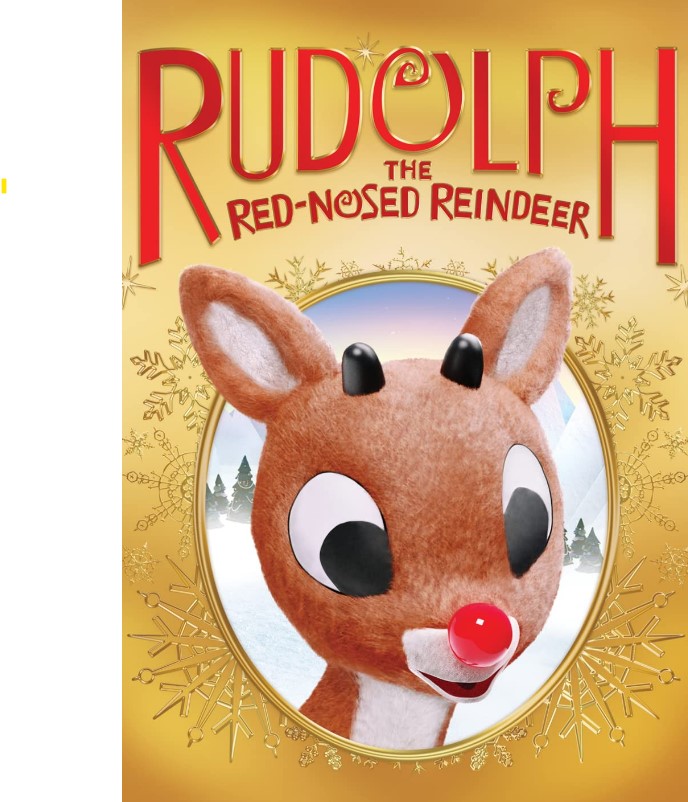 It is an animated adventure movie featuring the life of Rudolph, a young reindeer who lives at the North Pole. Rudolph is expected to be one of Santa's reindeer just like his father. However, he has a red nose. Will this unique feature become his setback?
47. A Christmas Story
Released = 1983
IMDb = 7.9
Set in the 1940s, "A Christmas Story" is a hilarious tale of Ralphie Parker, a young boy who wants the most bizarre Christmas gift - a Red Ryder Range 200 Shot BB gun. Throughout this comedy movie, we see his humorous attempts to persuade his parents, teacher, and Santa Claus for that perfect Christmas gift.
48. National Lampoon's Christmas Vacation
Released = 1989
IMDb = 7.5
"National Lampoon's Christmas Vacation" is the story of the Griswold family. Clark Griswold loves everything about Christmas and ensures a big family Christmas plan to celebrate the festival. However, a twisted turn of events turns his promises into a big comical disaster.
49. Kiss Kiss Bang Bang
Released = 2005
IMDb = 7.5
"Kiss Kiss Bang Bang" is a crime story featuring Robert Downey Jr., a New York thief who is mistaken for an actor. Watch how this comedy story unfolds during Christmas when he, alongside a private eye and a struggling actress, is thrown into a murder mystery.
50. The Holiday
Released = 2006
IMDb = 6.9
"The Holiday" is yet another Christmas rom-com that may leave you longing for your partner or hugging them more tightly than ever. This classic Christmas film is a tale of two women unlucky in love. They swap homes to get away from their mundane lives, only to find the guy of their dreams!
51. The Santa Clause
Released = 1994
IMDb = 6.5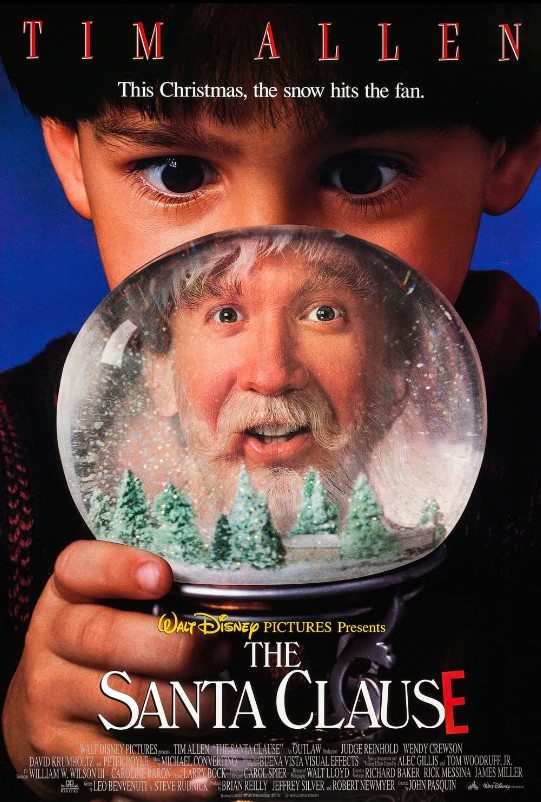 "The Santa Clause" is a dramedy holiday movie wherein a man unintentionally makes Santa fall off his roof. Not only that, the man magically finds himself replaced on Christmas Eve. Will he be able to deliver becoming a Santa?
52. Fred Claus
Released = 2007
IMDb = 5.6
Fred Claus is Santa's bitter elder brother. He is compelled to help Santa (and his elves) to prepare for Christmas in exchange for cash. The question is: will he help or go to the North Pole only to collect his cash?
Best Christmas Movies of 2022 That You Must Watch
On one hand, Freddie Prinze Jr. and Lindsay Lohan make a big comeback with their brand of romantic comedy Christmas plot. On the other hand, Ryan Reynolds and Will Ferrell team up to bring a musical comedy blast. Find below a list of this year's Christmas releases that will make you roll with laughter leaving you high with festive spirit.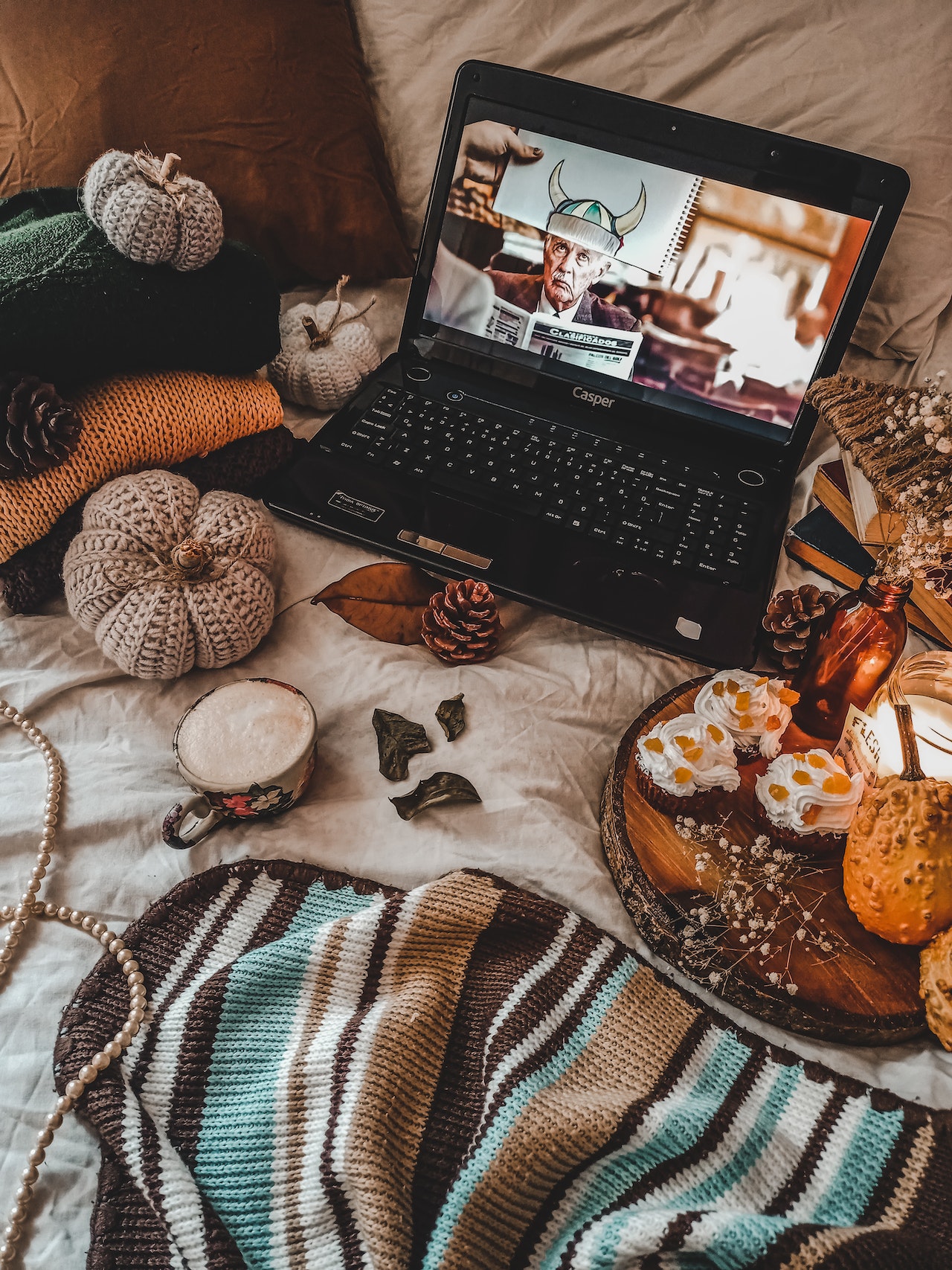 53. Scrooge: A Christmas Carol
IMDb = 8.7
54. A Christmas Story Christmas
IMDb = 7
55. Spirited
IMDb = 6.6
56. The Noel Diary
IMDb = 6.5
57. About Fate
IMDb = 6
58. Christmas On Repeat
IMDb = 5.7
59. Christmas With You
IMDb = 5.6
60. Falling For Christmas
IMDb = 5.3
61. Something from Tiffany's
Release December 2022
62. I Hate Christmas (TV series)
Release December 2022
63. Violent Night
Release December 2022
64. Your Christmas Or Mine?
Release December 2022
65. Christmas Full of Grace
Expected Release November 2022
66. The Claus Family 3
Expected Release December 2022
Wrapping Up
Christmas, indeed, is a time for celebration, family, and movies. A perfect time to curl up with some hot cocoa and watch some of the best Christmas movies. While some people eagerly wait for this day to reunite with their loved ones, others chirp up the holiday season and brush off their creative skills, including decoration, culinary, shopping, and even preparing a curated Christmas movie list. So, we did the digging for you and brought to you an assorted collection of Christmas films to make the festival even more enjoyable!
Which Christmas movie or series do you enjoy watching with your friends, family, or partner? Tell us your favorites in the comment section below!
Also Read: Top 15+ Movies to Watch with Boyfriend On A Movie Date
FAQs
What are the top 5 Christmas films of all time?
It's A Wonderful Life, Christmas Vacation, A Christmas Carol, Meet Me In St. Louis, and Klaus are the top 5 Christmas films of all time as per popularity and IMDb ratings.
---
What are the best family Christmas movies?
Santa Claus is Coming to Town, the Home Alone movie series, The Preacher's Wife, A Boy Called Christmas, Jack Frost, and 8-bit Christmas are amongst the best family Christmas movies.
---
What are the best Christmas movies for kids?
Jingle Jangle: A Christmas Journey, LEGO Star Wars Holiday Special, The Christmas Chronicles, The Claus Family, The Christmas Project, The Nutcracker and the Four Realms, and The Guardians of the Galaxy - Holiday Special are amongst the best Christmas movies for kids.
---
What are the best animated Christmas movies?
Dr. Seuss' the Grinch, Trolls Holiday, Olaf's Frozen Adventure, DreamWorks: Home for the Holidays, Angela's Christmas, Shaun the Sheep: The Flight Before Christmas, and Arthur Christmas are amongst the best animated Christmas movies.
---
About The Author
With a marked inclination toward Interiors and a Post Graduation degree in Interior Design from VIFT Bangalore, Anubhuti... became a certified Home Decor writer to help people design their dreamy homes. With 4+ years of experience, she found her passion and solace when penning content backed with creativity, spice, sarcasm, fun, practicality, and a cup of strong coffee. Anubhuti is an ambivert, dog mom, traveler, critic, epicure, selenophile, nyctophile, bibliophile, and orophile! Read more
Top Comments
There are no comments in this article yet. Be first to post one!