Black Panther: Wakanda Forever director Ryan Coogler pens EMOTIONAL letter thanking fans for movie's success
In his heartfelt letter, Ryan Coogler wrote on Black Panther: Wakanda Forever's tremendous global success: "I thank you for giving me professional purpose, and an emotional outlet."
Published on Nov 24, 2022 10:55 AM IST | 76.8K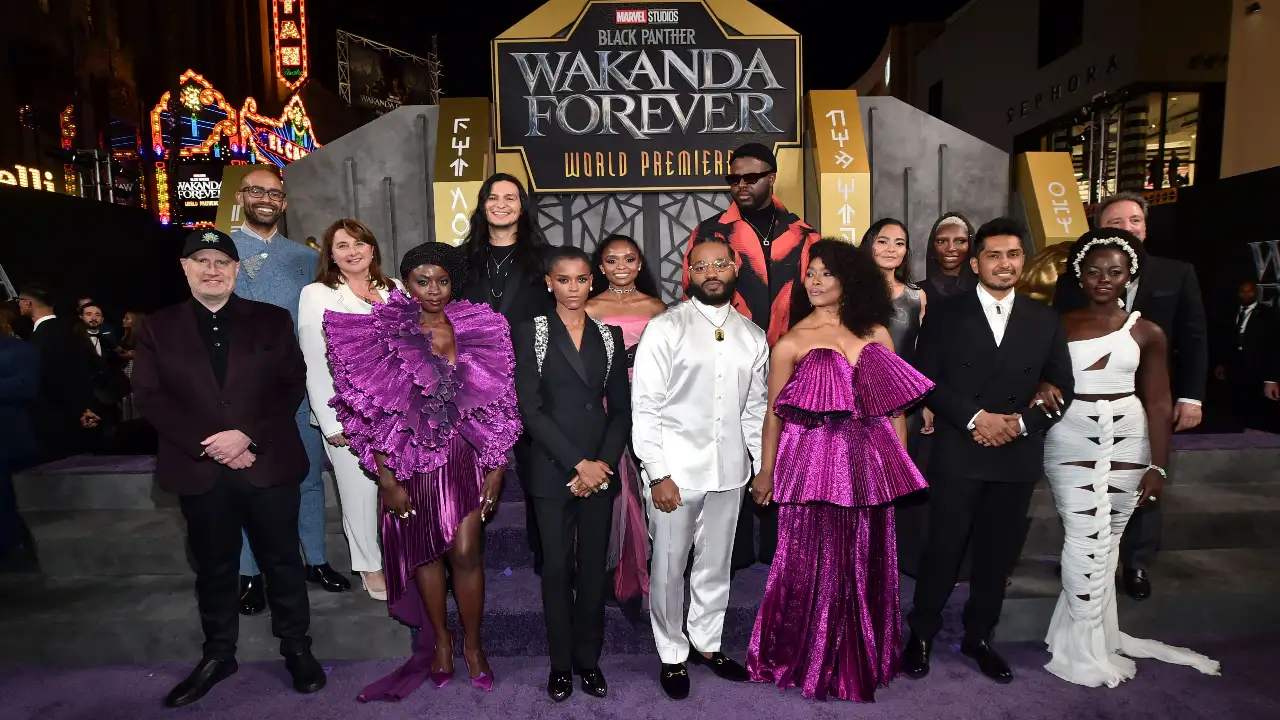 Black Panther: Wakanda Forever - a poignant tribute to Chadwick Boseman as well as masterfully carrying forward Wakanda's narrative in the Marvel Cinematic Universe - is not just critically acclaimed, but also a commercially successful movie. Recently, the Ryan Coogler directorial crossed the USD 500 million mark at the global box office! As a token of gratitude, Coogler penned a touching letter thanking fans for the tremendous global success of the sequel...
Ryan Coogler Pens Emotional Letter to Fans on Black Panther: Wakanda Forever's Global Success
In a heartfelt letter to fans - shared on Black Panther's official Instagram page - an overwhelmed Ryan Coogler was all about gratitude for those who showed their relentless support to Black Panther: Wakanda Forever: "Gratitude. That is the only word that comes to mind for your support of our work on the film Black Panther: Wakanda Forever. I am filled with it."
Thanking those who went the extra mile for Black Panther's sequel, Ryan Coogler added, "Thank you. Thank you to the people who bought their tickets early and camped out opening weekend. Thank you to those of you [who] took their families out- young ones and elders in tow. To those who organized youth screenings and afterparties, who bought out theaters for communities and friends. To all of you who watched multiple times, and encouraged other folks to check it out." Coogler couldn't help himself from quipping, "Our film is over two and a half hours long, so thank you for holding those bathroom breaks. Our film has 6 languages spoken in it. Thank you for bearing with the subtitles."
Given how grief is the pivotal storyline arc in Black Panther: Wakanda Forever, Ryan Coogler further mentioned how the MCU movie was to honour Chadwick Boseman: "And our film deals with the inescapable human emotion of grief. Thank you for opening yourself up to the emotional journey of this film. We made something to honor our friend, who was a giant in our industry, and we also made something to be enjoyed in a theatrical setting with friends, family, and strangers. Something to be quoted and discussed. To be debated. Something to make people both physically and emotionally feel seen."
On how fans' undying support helped Ryan Coogler personally, the Oscar-nominated filmmaker thanked, "This medium wouldn't exist without an audience, and I thank you for giving me professional purpose, and an emotional outlet," before promising there's more to come in the future: "I look forward to bringing you more stories in the future."
"Sincerely, Ryan Coogler," he signed off before concluding, "Liik'k Talokan Wakanda Forever Chadwick Forever Long Live T'Challa."
Check out Ryan Coogler's heartwarming letter to fans on Black Panther: Wakanda Forever's outstanding success below:
Black Panther: Wakanda Forever was truly a collaborative effort by talented people who adored Chadwick Boseman and King T'Challa...
What did you think of Black Panther: Wakanda Forever and how the story dealt with Chadwick Boseman's inimitable loss? Share your personal review with Pinkvilla in the comments section below.
Black Panther: Wakanda Forever Cast Gets Emotional About Chadwick Boseman
Pinkvilla got to speak to Black Panther: Wakanda Forever cast members Letitia Wright aka Shuri, Mabel Cadena aka Namora and Alex Livinalli aka Attuma in EXCLUSIVE interviews. On her happiest memory of "big bro" Chadwick Boseman, Letitia recalled, "Oh, man! So many memories. Happy memories is just being on set with Chad. Definitely being in Shuri's lab with him. I remember when he, that classic scene of T'Challa coming into the lab to see what the new tech his sister has for him. And then, she bows down and she says... that was all improv. That was all just moments of us having fun. And we created the handshake together and Ryan kept it and then loved it. So, those were some of the fond memories that I have of myself and Chadwick on the set of Black Panther."
On the other hand, Mabel Cadena and Alex Livinalli shared how they felt to shoot alongside the OG Black Panther cast, who had to film for the sequel while grieving Chadwick Boseman. Alex recounted, "I think it's very inspiring. Seeing how everyone came together to make this project and honour their, not their castmate, not just a co-worker, but someone, who they truly, that deeply that they care about. Chadwick meant so much to everyone in this film. Mainly, the returning cast that knew him. And for us [points at Mabel Cadena and himself], we didn't get a chance to meet him personally, but at the same time, working with the cast and the crew that knew him, you hear the stories from Chadwick; how he would act, the things that he would say. So, in a sense, we got to know him. And I'm very grateful for that. Listen! We would not be here without Chadwick and the Black Panther."
"Yes! Absolutely. I think we have this opportunity because, actually, the first Black Panther movie opened a lot of doors for the world. So, we are Latin Americans and Mexican and it represents a lot for me, for a lot of people, but that's the legacy of Chadwick," Mabel Cadena added fondly.
Watch Pinkvilla's EXCLUSIVE interview with Black Panther: Wakanda Forever's cast below:
ALSO READ: Black Panther: Wakanda Forever: 5 Best Moments from Letitia Wright, Angela Bassett's movie that left us shook
Top Comments
There are no comments in this article yet. Be first to post one!