Did Jeffree Star just BLAST Hailey Bieber's skincare brand amid her feud with Selena Gomez? Watch VIDEO
Jeffree Star declared that he is team Selena Gomez as he slammed Hailey Bieber's skincare brand and tossed it into the garbage. Watch the video inside.
Updated on Mar 17, 2023 | 02:55 PM IST | 122.1K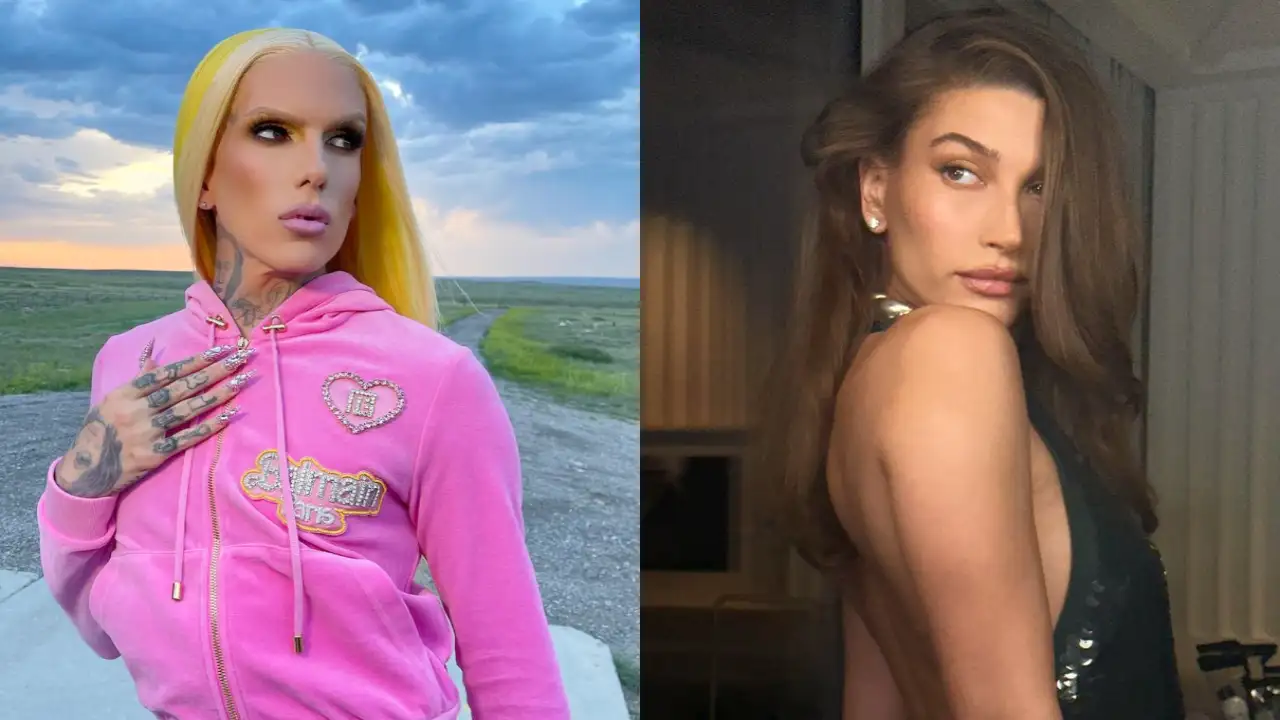 The Selena Gomez and Hailey Bieber drama does not seem to be ending any time soon. While the internet is divided regarding whom they are supporting in this apparent feud, Jeffree Star has made his choice very clear. It would not be a lie to say that lately, Hailey Baldwin Bieber has been bearing the brunt of netizens' wrath, and now popular makeup artist and influencer Jeffree Star has also blasted the model and entrepreneur. Read on to know more.
Jeffree Star calls Hailey Bieber's skincare brand's packaging 'boring'
Recently, Jeffree took to his Instagram space and posted a video where he is seen reviewing Hailey's skincare brand Rhode Skin. The MUA revealed that he received the package via mail before he started to share his opinions on the products and their packaging. And it's safe to say that Jeffrey is not a fan. "Okay, so the packaging is so boring. And then I open it up, and girl! She literally looks like she wants to die. Like focus. Oh my god, that face is like, 'why did I do this? Why did I create a skincare brand?'" he said.
Jeffree Star further went on as he declared that he is team Selena Gomez in the ongoing Bieber-Gomez feud. "We are team not bullying anyone," the influencer said, referring to the now infamous eyebrow drama wherein Hailey, along with Kylie Jenner seemingly mocked Selena on an Instagram story uploaded by Jenner.
Watch Jeffree Star's Instagram video blasting Hailey Bieber below
Jeffree Star throws Hailey Bieber's package into trash
You would think that Star was done slamming Hailey but that is not the case. Toward the end of the Instagram clip, Jeffree is seen throwing the entire Rhode package in the dustbin as he said that he is going to skip the review. But then, he paused and said that Hailey 'does not even deserve a pink trash can', before he tossed the package in a dirtier garbage bin. "And just like Shawn Mendes said, 'bye,;" Jeffree said ending the video.
The video has now garnered over 2.5 million views, with some fans siding with Selena, while others bashed Jeffree Star and called out his actions as 'hypocritical' and 'disgusting'.
ALSO READ: Justin Bieber takes Hailey Bieber's side amid Selena Gomez feud, shares cuddly pictures from beach getaway
FAQs
How old is Hailey Bieber?
Hailey Bieber is 26 years old.
---
When did Justin Bieber and Hailey Baldwin get married?
Justin Bieber and Hailey Baldwin tied the knot in 2018.
---
What is Hailey Bieber's skincare brand called?
Hailey Bieber's skincare brand is called Rhode Skin.
---
About The Author
A content writer for 3 years, Priyakshi channels her love for everything cinema through the written word, as she dabb...les in entertainment articles, movie reviews, and interviews.
Read more
Top Comments
There are no comments in this article yet. Be first to post one!