Does Mary J. Blige regret passing THIS iconic song to Rihanna that became a chart-topper?
Mary J. Blige passed THIS iconic song to Rihanna as she found her deserving, but later regrets it. Know what it's about
Published on Mar 04, 2023 | 05:42 AM IST | 86.7K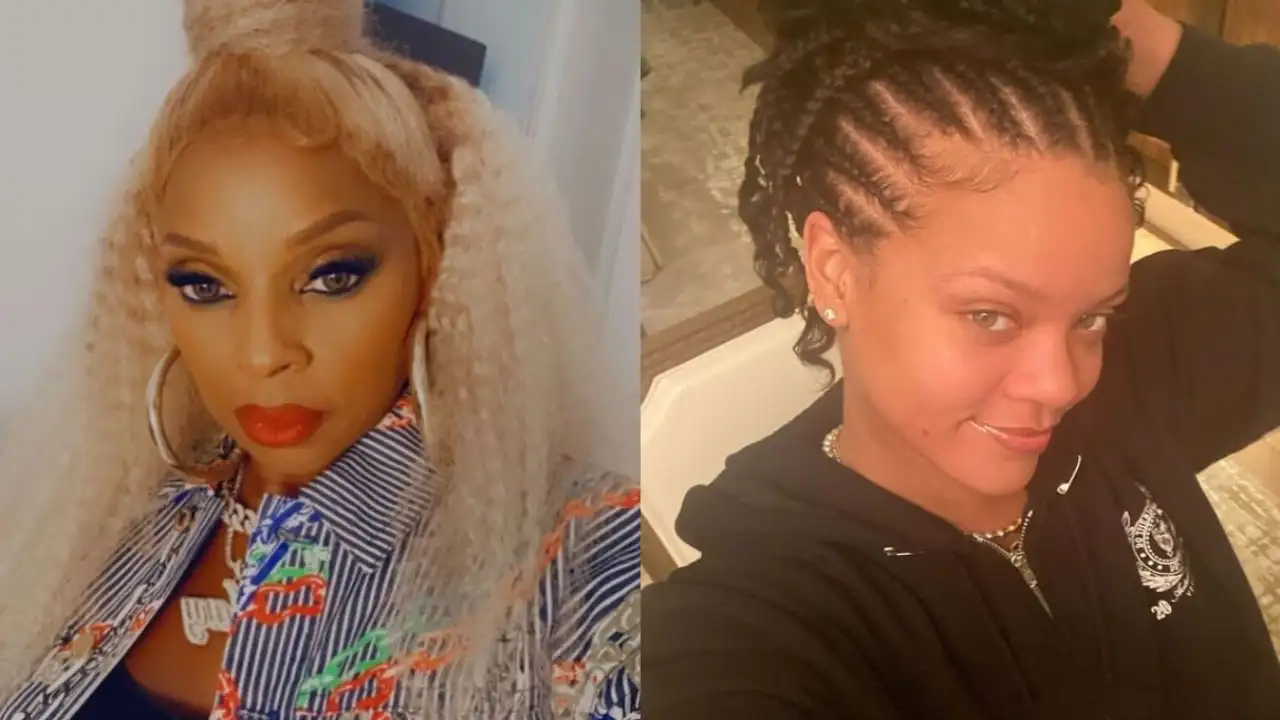 The rumor sparked when "Umbrella," which is famously sung by Rihanna, was topping the charts. Which led to the backstory of how Mary J. Blige was the one to pass this song, as she was not able to do so.
Cut – short, who knew that if her Susmita Sen mother hadn't  motivated her, then she wouldn't be anything as the 52-year-old singer, Mary J. Blige, passed the iconic hit song to Rihanna, claiming that she was more deserving than herself? But later regrets having this movement is what fans are wondering and talking about.
To put all the rumors to an end, Mary J. Blige came on air to clear up the confusion and rather talk about how to uplift others rather than grumbling and regretting missed opportunities, which she knew she wouldn't have done the way Rihanna did it.
ALSO READ: Rihanna confirmed to headline Super Bowl Halftime Show in 2023
Blige clears the rumor on the new BET show "The Wine Down."
Do what you can do and not overburden yourself is a takeback from Mary J. Blige's downsizing of personality.
During her new BET show "The Wine Down," the 52-year-old hip-hop legend revealed all the details.
Instead of feeling bad about leaving one of the most memorable songs of the early 2000s, Blige said that it was for the best.
"That wasn't for me—it was for her," she answered honestly.
She felt that nobody would have done it better than Rihanna, who took the song to another level by adding not only hip-hop beats but also smooth vocals, for which Rihanna received an ACE.
To further that point, she stated that another reason she was unable to record the song was because "it was around Grammy season for me; it was a huge Grammy moment."
"I was nominated for eight Grammys, and I was trying to prepare for that," Blige stated.
"And during that time, that's when 'Umbrella' came to me, and I couldn't do anything with it because I was so busy with my own life, and I was like, you know what? It doesn't even sound like me anyway."
ALSO READ: Rihanna's Super Bowl performance gets a US senior citizens rendition in viral TikTok; Internet loves it
Here is why "Umbrella" has been in the air recently:
Bringing old songs to life is Rihanna's passion. According to sources, the fan-favorite smash song returned to the music charts when she sang it during her Super Bowl halftime show appearance, landing at No. 37 on the Billboard Hot 100.
Even Mary J. Blige recognised how well the song fit Rihanna's vocals and attitude over her own.
"No, because everything about that song was tailor-made for Rihanna, and nothing about that song was Mary J. Blige," she went on to say.
Despite the song's current success, the song's writer acknowledged that it was originally created for Britney Spears. But despite the odds, it is Rihanna who has taken ownership of the song, and the best part is that she did justice to her role as a singer.
ALSO READ: Is Rihanna looking to tie the knot with ASAP Rocky before releasing a new album? Find out
FAQ
1. When did Rihanna give birth to her son? 
On May 13, 2022, Rihanna gave birth to her son.
---
2. Is Rihanna married?
No, she is not married to anyone as of now.
---
3. When was the Umberall song released?
The song came out in 2007.
---
4. Who wrote the song Umberlla?
The song was co-written by Jay-Z, Tricky Stewart, and Kuk Harrell, with additional composition by The Dream team.
---
About The Author
Expertise: Hollywood, Entertainment, Philosophy, and Lifestyle - "Mirror of Life" complier and co-author ...of several other anthologies. Summerizes' love for writing and creating magic with words has always been her passion. Akanksha, who comes with 2.5 years of experience, has contributed to a diverse field of content creation. For her, writing is what completes her. Read more
Top Comments
There are no comments in this article yet. Be first to post one!