Fans call out Hailey Bieber for copying Selena Gomez as old videos resurfaces
Hailey Bieber intimates Selena Gomez's every action: Fans take a dig at old videos and find a link to Selena Gomez's action.
Published on Mar 11, 2023 | 07:49 AM IST | 440.4K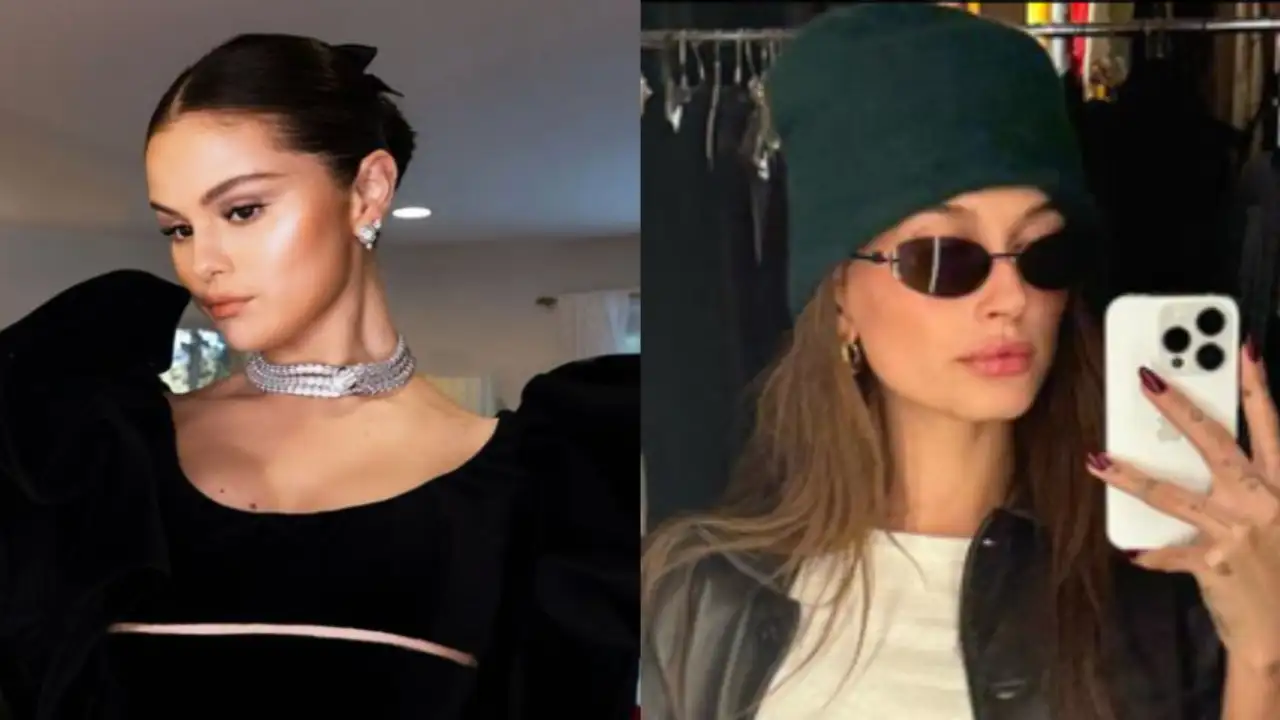 Hailey Bieber takes a lesson from Selena Gomez and makes sure to intimate just the way Gomez does, which seems to be going viral. Fans call out Hailey Bieber for being Selena's biggest fan, as nobody can do the exact same thing the way Hailey makes sure to do it.
From her house tour video to her coy tattoo mark behind her ear just like Selena, Hailey Bieber has made sure to copy the Calm Down singer's every step, and for the same reason, we can say without any doubt that nobody follows Selena Gomez as closely as Hailey Bieber does.
The charismatic founder of rare beauty and Rhode have a long, prolonged history, which brings the two to the spotlight every now and then. The two lovers of Justin Bieber have often created rifts among the audience as the social media has been divided into two teams. One is head over heels with Selena Gomez and protects her from social hate, and the other is someone who sympathizes with Hailey Bieber.
From eyebrows to Justin Bieber's birthday present to the guest, the two have been in the headlines since February, and it seems like this is not going to stop for as long as fans are making sure to do deep research on Hailey Bieber's past and actions.
With videos that are floating around, which is amusing because Hailey appears to be accurate with what Selena Gomez does.
ALSO READ: 'Consider others' mental health': Selena Gomez urges fans to 'be kinder' amid Hailey Bieber feud

ALSO READ: Did Selena Gomez and Justin Bieber follow each other on Twitter amid former's feud with Hailey Bieber?
Viral videos of Hailey Bieber allegedly imitating Selena Gomez circulate.
After noticing multiple occasions when Hailey Bieber appeared to copy her alleged rival, in one of the videos, Selena Gomez is heard discussing the kitchen set of her culinary show, Selena + Chef in one of the videos. Gomez says:
"This is my real home; everything that we're doing is at home. This is my amazing kitchen, which is the set."
In the following video, Hailey Bieber introduces her kitchen in a What's in My Kitchen? YouTube video by saying the exact words:
"Yes, we are actually in my real kitchen in my real house. This is not a set, this is where I really live."
The following portion of the TikTok video shows Selena Gomez inviting family members to the show. Hailey Bieber similarly presents her family on the show the way Wolves singer did.
ALSO READ: Did Justin Bieber and Hailey split up amidst an eyebrow feud? Fans believe so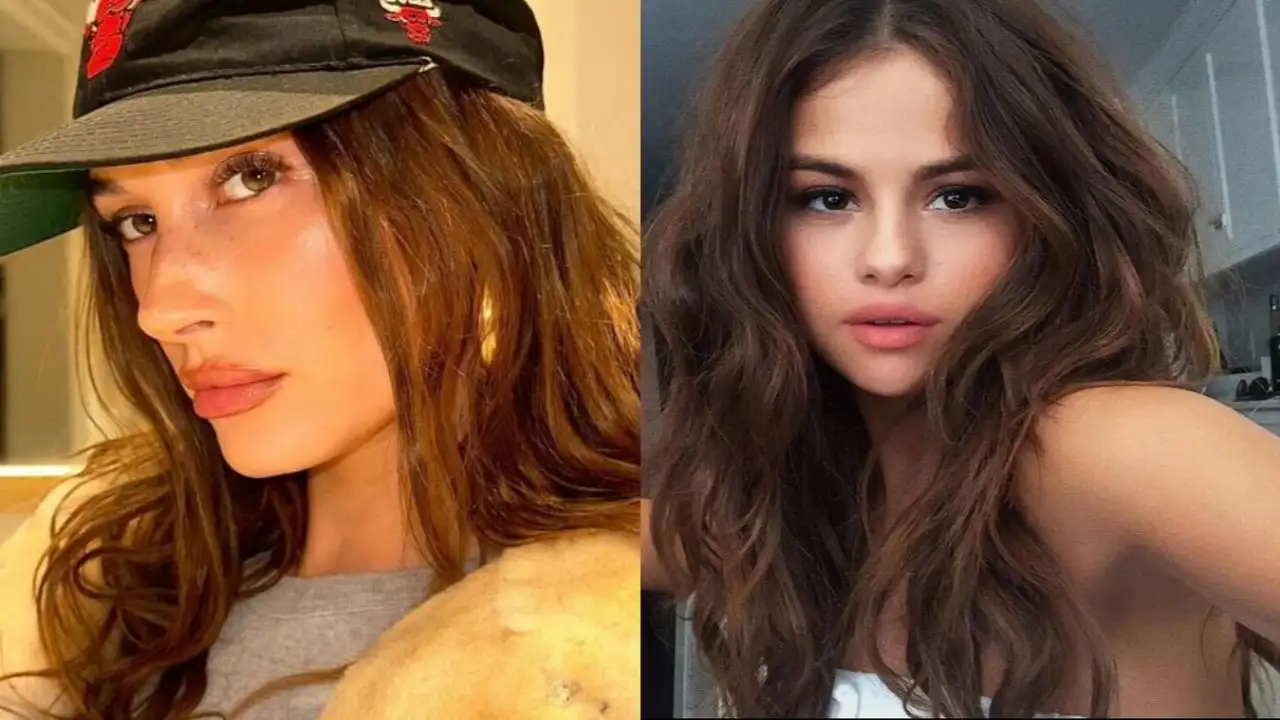 The Ellen DeGeneres Show 
Later, what also came as a shock was when Hailey took over the talk-show statements made by Gomez. It is significant to note that fans believe Hailey Bieber imitated Gomez because the latter's interviews were made public far earlier than those of Hailey Bieber. In an appearance on The Ellen DeGeneres Show, Gomez is heard saying:
"I realized that everybody else seemed to be narrating my life for me, so why don't I put something out that is my side of the story? It's not hateful or anything; it's simply a beautiful moment to let go of, and I was really, really proud of it."
Which was taken up by Hailey Bieber, who was seen quoting the same thing.
"I was able to tell my story about who I was from my own mouth instead of having people from the outside be able to tell my story for me."
The second part of the video shows Gomez continually expressing her desire for her "heart" to be recognized by others. The identical statement by Bieber may also be heard in another interview.
Many contend Hailey Bieber has imitated Selena Gomez in several situations, with the ones described above being just a handful. Which is making fans curious on how Hailey pulls the same stunt as Selena Gomez 
ALSO READ: Selena Gomez-Hailey Bieber drama: Crowd shouts 'f**k Hailey' as Justin Bieber performs on stage
FAQ
1. Does Hailey Bieber have any siblings?
Yes, Hailey has a sister named Alia Baldin.
---
2. How old is Hailey Bieber?
Hailey Bieber is 26 years old.
---
3. At what age did Hailey get married to Justin Bieber?
Hailey got married to Justin Bieber at the age of 21.
---
About The Author
Expertise: Hollywood, Entertainment, Philosophy, and Lifestyle - "Mirror of Life" complier and co-author ...of several other anthologies. Summerizes' love for writing and creating magic with words has always been her passion. Akanksha, who comes with 2.5 years of experience, has contributed to a diverse field of content creation. For her, writing is what completes her. Read more
Top Comments
There are no comments in this article yet. Be first to post one!