Fans suspicious after Kim Kardashian deletes old pictures with brother Rob
What led Kim to delete Instagram pictures with her only brother Rob? Let's find out
Published on Mar 19, 2023 | 07:37 AM IST | 82K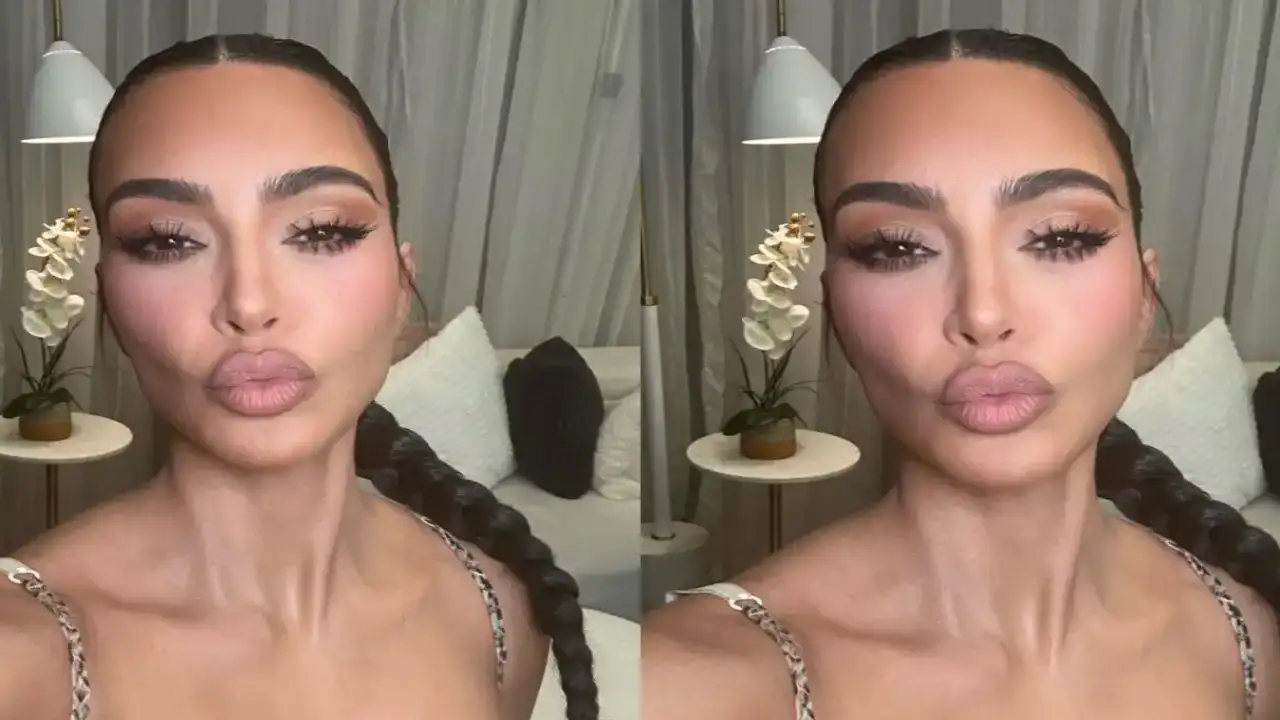 Kim Kardashian's Instagram posts are always under surveillance, and not only Kim's but every Kardashian-Jenner is open to showing their feelings on Instagram and other social media. It's never a hidden gem to find out what's up with the sister's life. Their follows, unfollows, stories, and comments are always viewed and noted by fans and audiences.
Considering the latest issue: Rob Kardashian, who is the only brother of the three Kardashians, shares a name with Rob. It is easy to say that the sisterly love between Jenner and Kardashian is a strong bond, but it is difficult to say how it is with their brother Rob.
What did Kim Kardashian post for her brother Rob that is making headlines?
Kim Kardashian, 42, celebrated her only brother Rob's 36th birthday by posting a number of vintage images on his big day and linking the post to a sweet and beautiful caption.
Kim penned down, "Happy Birthday Robertito."
"I just love you SO SO SO much!" I wish I could post your singing voice notes on here to show the world your true talents".
Here is the picture that Kim deleted.
Soon after Kim shared it, keen-eyed followers discovered that one picture was missing.
In the picture, Rob and Kim were joined by their half-sister Kendall Jenner, their youngest full sister Khloe, and their eldest sister Kourtney.
Whereas Kylie Jenner, the newest member of the Kardashian family, was only partially visible in the photo, leading some followers to believe this is the reason Kim removed her initial post.
Fans took over by addressing the issue with a follow-up question on deleted pictures:
One follower enquired: "Kim reposted and removed this first picture. Why, I wonder".
Another said, "probably because she cropped Kylie out or something, or something was incorrectly photoshopped, I dunno, haha".
"None of these photographs are new from this year or even from last year," another observer commented.
Why is Rob Kardashian not as famous as his sisters? Here is to it
Rob, the only son of Robert Kardashian and his ex-wife Kris Jenner, chose to live a life that was not disturbed by paparazzi and was hidden from public view. Which came to change after the Kardashian sisters took over the name.
He was first noticed when he made his appearance in the first season of KUWTK, which aired in 2007. He and his siblings entered the spotlight at the age of 20.
Years later, Rob started having weight problems, and as a result, his TV appearances gradually decreased. Supporters frequently worry about his health, especially after his sister Khloe liked a mysterious tweet about him in March 2022.
Rob also seems to avoid social media, as his bio states that Jenner Communications manages his official Instagram account. It even came to light when Us Weekly reported that he skipped his sister Kourtney's extravagant Italian wedding to Travis Barker.
Rob, the only brother of the Kardashians, wanted to be there for Kourtney's special day, a source told the magazine at the time, but he didn't want the public's attention.
ALSO READ: Kendall Jenner and Bad Bunny seemingly hug and kiss as the rumoured couple gets spotted together
FAQ
1. Is Rob Kardashian close to any of his sisters?
It's said that Rob and Khloe Kardashian have an unbreakable bond.
---
2. Who is the eldest in the Kardashian family?
Kourtney is the eldest of the girls in the Kardashian family.
---
3. Who is the most wealthy Kardashian?
Kim Kardashian is widely regarded as the wealthiest of the Kardashian sisters. 
---
About The Author
Expertise: Hollywood, Entertainment, Philosophy, and Lifestyle - "Mirror of Life" complier and co-author ...of several other anthologies. Summerizes' love for writing and creating magic with words has always been her passion. Akanksha, who comes with 2.5 years of experience, has contributed to a diverse field of content creation. For her, writing is what completes her. Read more
Top Comments
There are no comments in this article yet. Be first to post one!