Florence Pugh gushes about co-star Chris Pine and more amid ongoing Don't Worry Darling drama
Amid rumours of tension between the Don't Worry Darling cast, Florence Pugh praises her co-stars in a new post.
Published on Sep 08, 2022 03:43 AM IST | 84.2K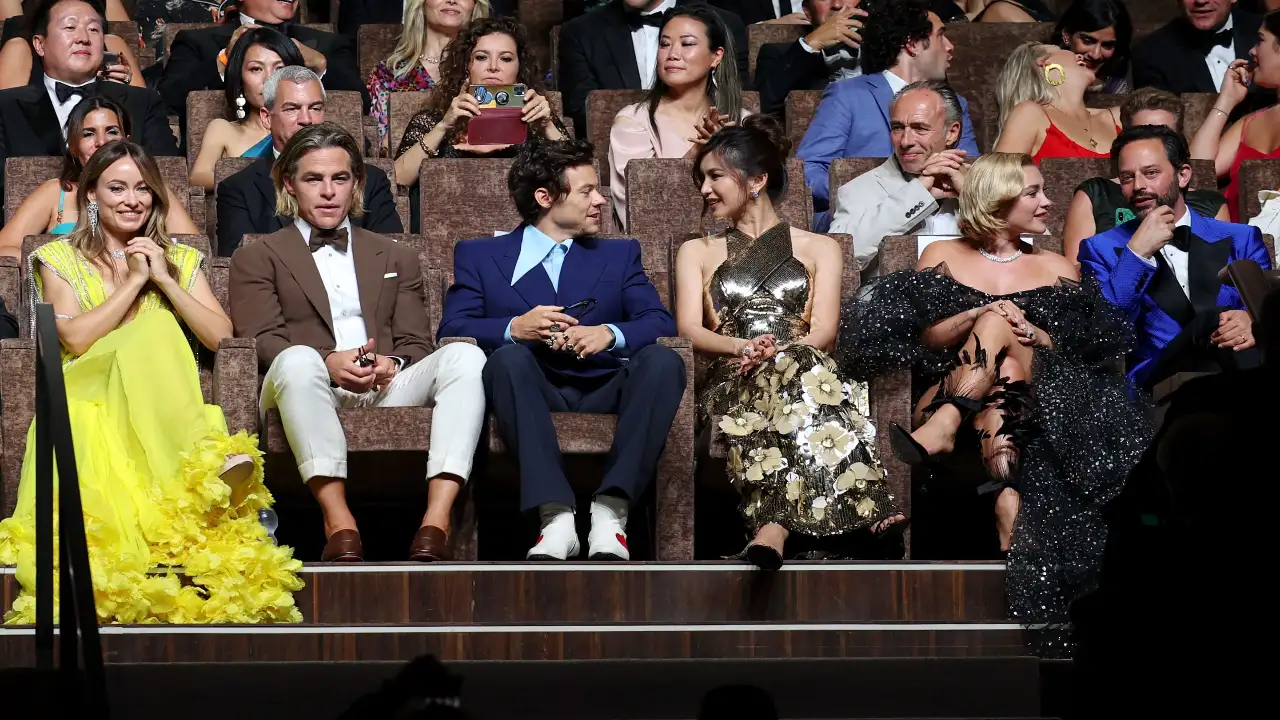 A ray of sunshine amid the rainstorm. Recently, the upcoming highly anticipated psychological thriller Don't Worry Darling has been clouded in controversy with new rumours about the cast arising on a daily basis. Amid this chaos, the main lead of the film Florence Pugh took to her Instagram to put out the fire as she posted snaps of herself and the cast at the Venice Film Festival.
Pugh attended the premiere of her upcoming film and made her debut at the Venice Film Festival red carpet alongside her co-stars Harry Styles, Chris Pine, Gemma Chan, Nick Kroll, Sydney Chandler and director Olivia Wilde. Pugh had been getting tangled in numerous rumours since reports started coming out about her disliking Styles and Wilde's romance on set but things seem to have calmed down with Pugh's much-awaited comment on the film as she had skipped the press conference that took place before the red carpet at the Festival due to scheduling clashes with her shooting for the sequel of Dune.
Check out Florence Pugh's post below:
Pugh wrote in her lengthy appreciation post, "I'm still taking it all in! Qwoaaar. What a moment this was? A massive congratulations to everyone standing on that carpet. We premiered in Venice! A huge wonderful win in itself." She continued, "I'd never been to Venice Film Festival before.. It was mega! The crowds! The cheers! The energy was incredible." She went on to praise her co-stars and the film's crew, "And to all the cast and crew as well who helped to make this movie, thank you for all of your hard work. We genuinely wouldn't have been there without your talent and we appreciate it hugely."
She also gave Chris Pine a special shout-out as she wrote, "I also just can't help but post how bloody cute and hilarious Chris Pine is for being the no.1 photographer, getting down on white pressed trousered knees for angles.. now that's dedication. Love you Chrissy."
ALSO READ Florence Pugh looked 'flawless' as other Don't Worry Darling cast 'invoked questions' at Venice Film Festival?
Top Comments
There are no comments in this article yet. Be first to post one!