General Hospital Spoilers: Has Victor found out about Eileen double-crossing him?
General Hospital Spoilers, 28 March 2023: From Victor-Eileen's encounter to Spencer-Cameron's conversation, here's what you can expect.
Updated on Mar 28, 2023 | 03:11 PM IST | 137.7K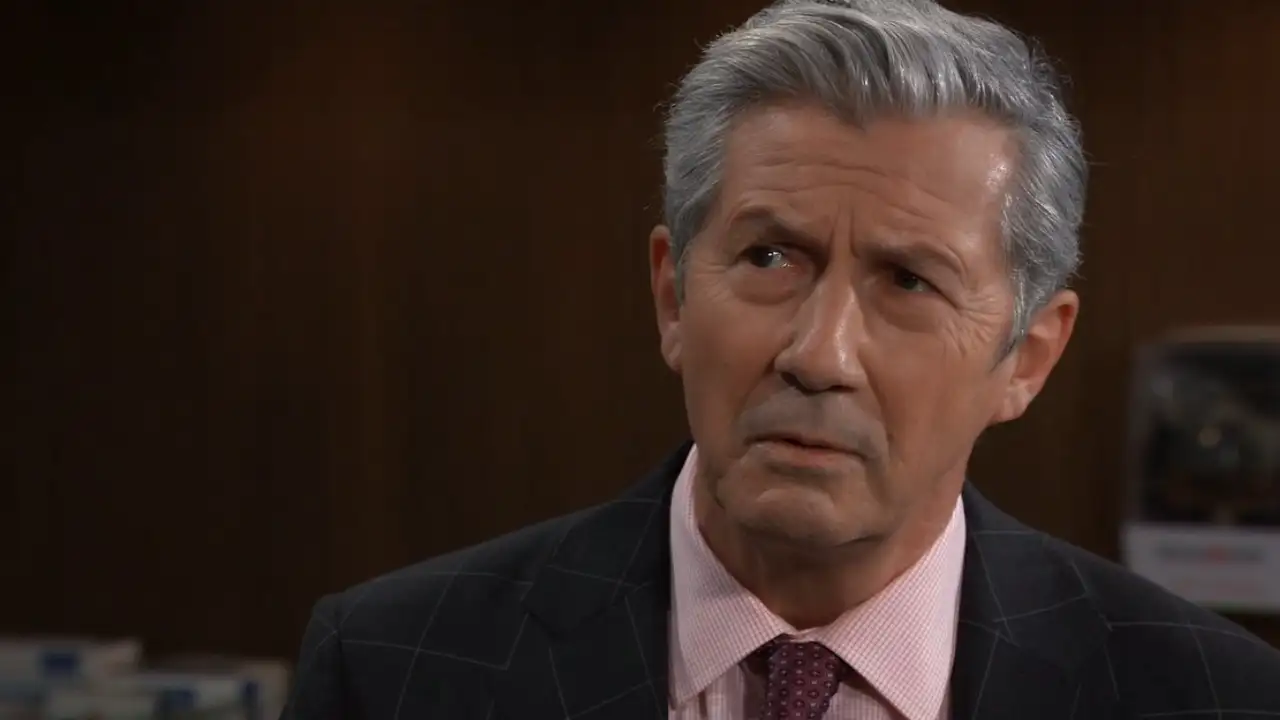 The television drama series General Hospital has been serving intense drama and revelations in the past few episodes and the upcoming episodes will only raise the bar. The audience can expect intriguing equations, surprise guests, and some advice sharing. Continue reading to find out the spoilers and highlights for the 28 March 2023 episode of General Hospital. 
General Hospital Spoilers Highlights
Anna, played by Finola Hughes, feels something is going wrong between Eileen, played by Heather Mazur, and Victor, Charles Shaughnessy. Eileen who is being used as a pawn by Anna and Valentin, played by James Patrick Stuart, is tired of the games and does not want to do what they are asking her to anymore. She wants to leave Victor's room but sees a flash drive on the floor that could be helpful and decides to not leave without it.
ALSO READ: General Hospital Spoilers: Will Sonny find out what Selina did?
When Eileen tries to make an excuse to leave, Victor and his goons stop her while Anna tries to get someone to go into Victor's room and avoid the situation from worsening. Meanwhile, Lucy, played by Lynn Herring, plans the Nurses Ball in secret with Maxie, played by Kirsten Storms, as her surrogate. Despite Lucy's efforts, things don't seem to be going the way she wants, and she is getting irritated and frustrated because of it.
She is tired of living with Anna and Valentin, being away from Port Charles, annoyed by the hard water ruining her hair, and salty about missing out on the spotlight. Maxie reassures Lucy as she grows more annoyed with the situation. Spencer, played by Nicholas Alexander Chavez, is shocked to see Cameron, played by William Lipton, walk in with Esme, played by Avery Kristen Pohl, and baby Ace.
He was already annoyed at Laura for leaving Esme alone with the baby and is growing more pissed because of Cam. On the other hand, Cameron feels he did the right thing and even gives Spencer some advice. News about the death of Epiphany Johnson, played by Sonya Eddy, is slowly making the rounds and reaching various eyes and ears. Elizabeth, played by Rebecca Herbst, gets the news while she is celebrating her oldest son going off to college.
Epiphany was her mentor and friend, and she is left shocked and heartbroken after hearing the news. Diane, played by Carolyn Hennesy, is there for Robert, played by Tristan Rogers. when he needs help, while Scott, played by Kin Shriner, opens up to Laura about his life with Liesl, played by Kathleen Gati.
ALSO READ: General Hospital Spoilers: Will Victor find out the truth about Eileen?
FAQs
Which network does General Hospital air on?
General Hospital airs on ABC.
---
When did General Hospital premiere?
General Hospital premiered on ABC on April 1, 1963.
---
Where can I stream General Hospital?
General Hospital episodes are available to stream on Hulu.
---
About The Author
An author, content writer, and avid reader who loves the world of fantasy, fiction, literature, cinema, and enterta...inment. With over 600 articles to her credit, she is currently creating Hollywood and pop culture content. Read more
Top Comments
There are no comments in this article yet. Be first to post one!