Joe Manganiello unveils his new Armenian tattoo amidst Sofia Vergara divorce
Joe Manganiello's new tattoo honors armenian heritage after Sofia Vergara split
Updated on Sep 08, 2023 | 08:00 PM IST | 94.7K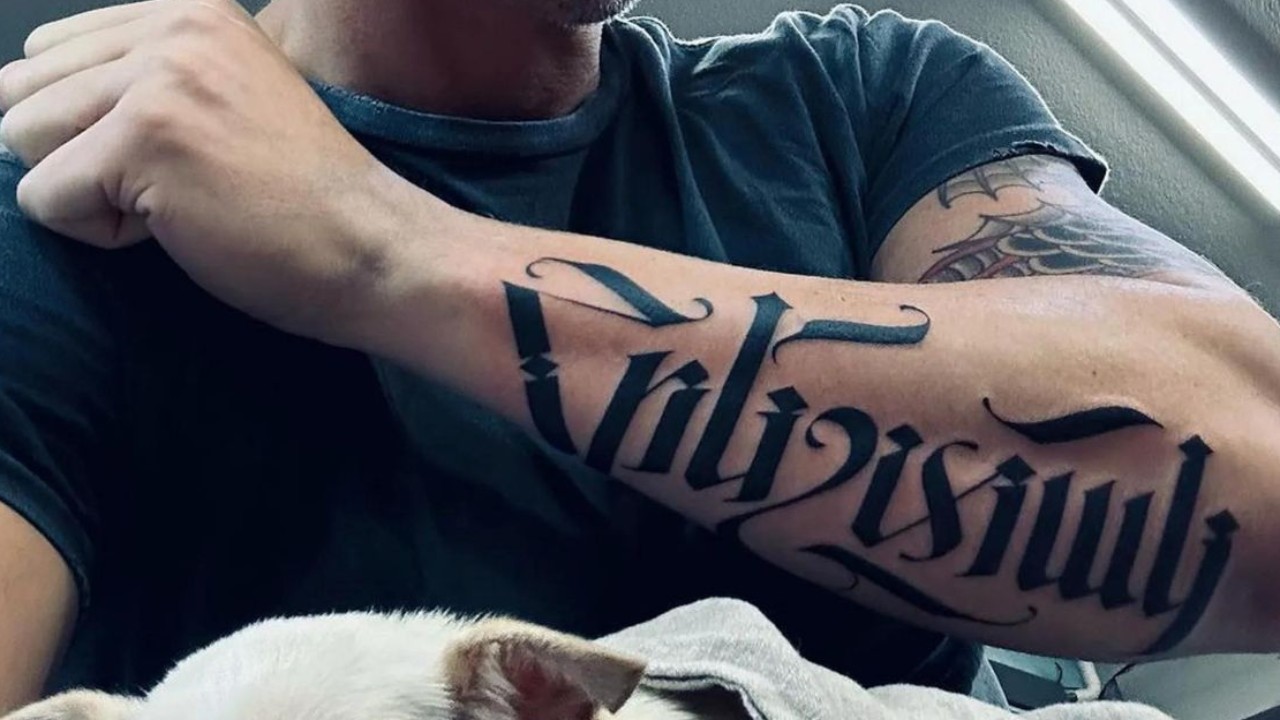 Key Highlight
Joe's new tattoo serves as a heartfelt tribute to his American heritage and connection to his family

The tattoo holds a deeper significance, the strength of Joe's great grandmother

Following his divorce from Sofia, the tattoo becomes symbol of Joe's personal growth and journey
In a bold and touching move, actor Joe Manganiello recently unveiled a significant new tattoo that pays homage to his Armenian roots. Following his divorce from Sofía Vergara, the 46-year-old actor revealed the tattoo while spotted out in Brentwood, California. The tattoo, etched on his left arm, holds a special meaning close to Manganiello's heart.
ALSO READ: Do Sofia Vergara and Joe Manganiello 'still have a few issues' to work on amid divorce process?
Manganiello's Tattoo Revealed
Joe Manganiello proudly displayed his fresh ink while out and about. The large word tattoo, artistically etched in black on his forearm, holds a profound significance. The tattoo reads Հրեշտակ, which translates to angel in Armenian.
The renowned artist behind the tattoo, Ruben Malayan, shared the heartfelt meaning behind the tattoo on Instagram. In a post, he revealed that the tattoo holds deep significance to Manganiello's Armenian heritage. He explained that the tattoo represents not only Manganiello's pride in his heritage but also his personal connection to the word angel.
Manganiello's tattoo has a connection with American heritage
Manganiello's new ink is more than just a piece of body art; it's a connection to his family's history. In an episode of Finding Your Roots, he shared how his great-grandmother survived the Armenian Genocide in 1915. Despite facing unimaginable hardships, including the loss of her husband and children, she managed to escape and survive. This tattoo serves as a tribute to her resilience and the enduring spirit of the Armenian people.
ALSO READ: Sofía Vergara and Joe Manganiello announce DIVORCE after seven years of marriage; Details inside
Manganiello's tattoo navigates divorce from Sofía Vergara
The unveiling of Manganiello's tattoo comes after his divorce from Sofía Vergara, whom he was married to for seven years. The couple's split was confirmed in July, and Manganiello's tattoo stands as a testament to his journey of self-discovery and growth during this period of transition.
Joe Manganiello's new tattoo serves as a poignant symbol of his Armenian heritage, resilience, and personal growth. As he navigates the next chapter of his life following his divorce from Sofía Vergara, this meaningful ink stands as a testament to his strength and connection to his roots.
ALSO READ: 'You come into my dressing room and eat my stuff': Sofia Vergara supports Heidi Klum amid 900 calorie fiasco
FAQ'S
Has Joe Manganiello been married before?
Sofía Margarita Vergara Vergara is a Colombian and American actress and television personality. She rose to prominence while co-hosting two television shows for Spanish-language television network Univision in the late 1990s. Her first notable acting job in English was in the film Chasing Papi.
---
What is Joe Manganiello known for?
He studied acting at Carnegie Mellon University. Manganiello enjoyed some success with the film Spider-Man and TV shows including ER and One Tree Hill. In 2010, he became a popular leading actor with his portrayal of werewolf Alcide Herveaux on the supernatural drama True Blood.
---
Did Sofía Vergara and Joe split?
They announced their separation with a joint statement. It's been a tough month for celebrity relationships, but no loss was felt harder than the breakup between two certified hotties, Sofía Vergara and Joe Manganiello.
---
About The Author
My love for this genre knows no bounds, and I have honed my skills to breathe life into characters,
...
Read more
Top Comments
There are no comments in this article yet. Be first to post one!