Matt Damon breaks silence over Jimmy Kimmel feud, calls him 'demonstrably bad man'
It looks like Matt Damon couldn't keep his silence in place as he ended up throwing shade over Jimmy Kimmel.
Published on Mar 29, 2023 | 06:08 AM IST | 204K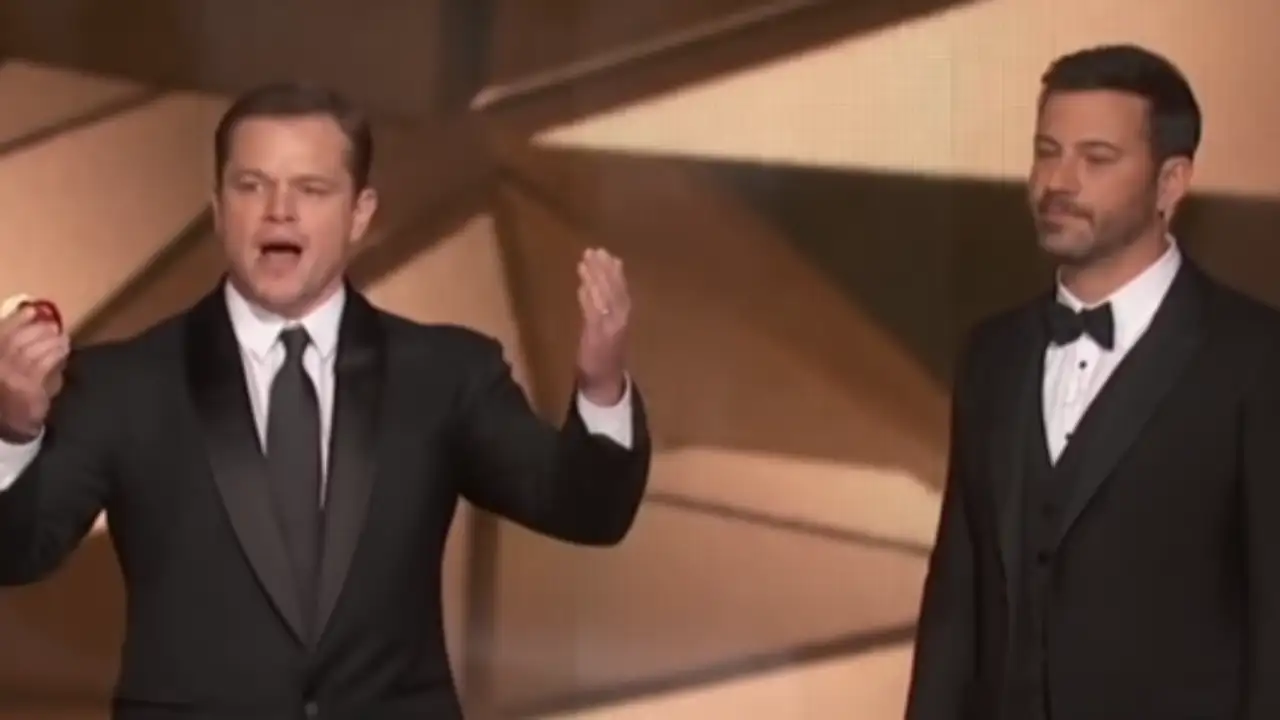 It looks like things have gone out of hand between Matt Damon and Jimmy Kimmel, as the two can't help but throw shade at each other. The issue has ignited to a certain extent where it's been tagged as uncivilized behavior between the two. In the midst of the event.
The contentious "fight" between Jimmy Kimmel and Matt Damon escalates. The two find it difficult to maintain good relations, even on the red carpet.
In an interview with ET's Kevin Frazier, Damon discussed his long-standing acrimonious rivalry with the late-night talk show host while walking the red carpet at the opening of his new movie, Air, on Monday at the Regency Village Theatre in West Hollywood.
Here is what happened on the red carpet:
Damon shouted when asked if he'd ever be interested in burying the hatchet and simply moving on: "No, he's an a**hole, I repeat." "Why would I do that?"
He's a terrible human being. Damon insisted. "He's a terrible human being. He's a demonstrably bad man."
Damon used the chance to poke fun at the host as Kimmel, who has long maintained the amusing illusion of boiling disgust with his old pal, walked the carpet behind him.
"Hey! We ran out of time to take a picture with you, which is a shame!" Kimmel was yelled at by Damon, mocking the show's running joke in which Kimmel apologises to Damon for running out of time at the end of each episode".
As soon as Kimmel approached ET, he casually said, "I don't know who he is, but I do know that I heard him. He made noise."
Despite Damon's adamant denial, Kimmel asserted that Damon "was the cocaine bear" at this year's Oscars, i.e., the person wearing the notorious bear costume.
Will the two ever reconcile on the show? - Here is what Jimmey said:
When asked if they may ever make up on his show or even if Damon might get his own special episode, Kimmel dismissed the notion, saying, "I simply cannot picture it happening. I simply cannot. Ben Affleck will likely be on tomorrow, so that will be as close as we can get."
On April 5, Air, a new movie starring Damon and Affleck, will debut in theatres and be made available on Prime Video at the same time.
ALSO READ: Oppenheimer: Matt Damon reviews Christopher Nolan's film; Heaps praise on Cillian Murphy's performance
FAQ
1. How old is Matt Damon?
Matt is 52 years old.
---
2. Matt Damon resides from?
Matt is English and Scottish.
---
3. Matt is married?
Yes, Matt Damon is married to Colleen.
---
About The Author
Expertise: Hollywood, Entertainment, Philosophy, and Lifestyle - "Mirror of Life" complier and co-author ...of several other anthologies. Summerizes' love for writing and creating magic with words has always been her passion. Akanksha, who comes with 2.5 years of experience, has contributed to a diverse field of content creation. For her, writing is what completes her. Read more
Top Comments
There are no comments in this article yet. Be first to post one!