Nashville school shooting: Hailey Bieber is heartbroken as she shares stats on firearms and children's death
Hailey Bieber expressed sadness at the tragic death of six individuals including three children after the Nashville school shooting. Read on to know more.
Updated on Mar 28, 2023 | 11:41 AM IST | 116.1K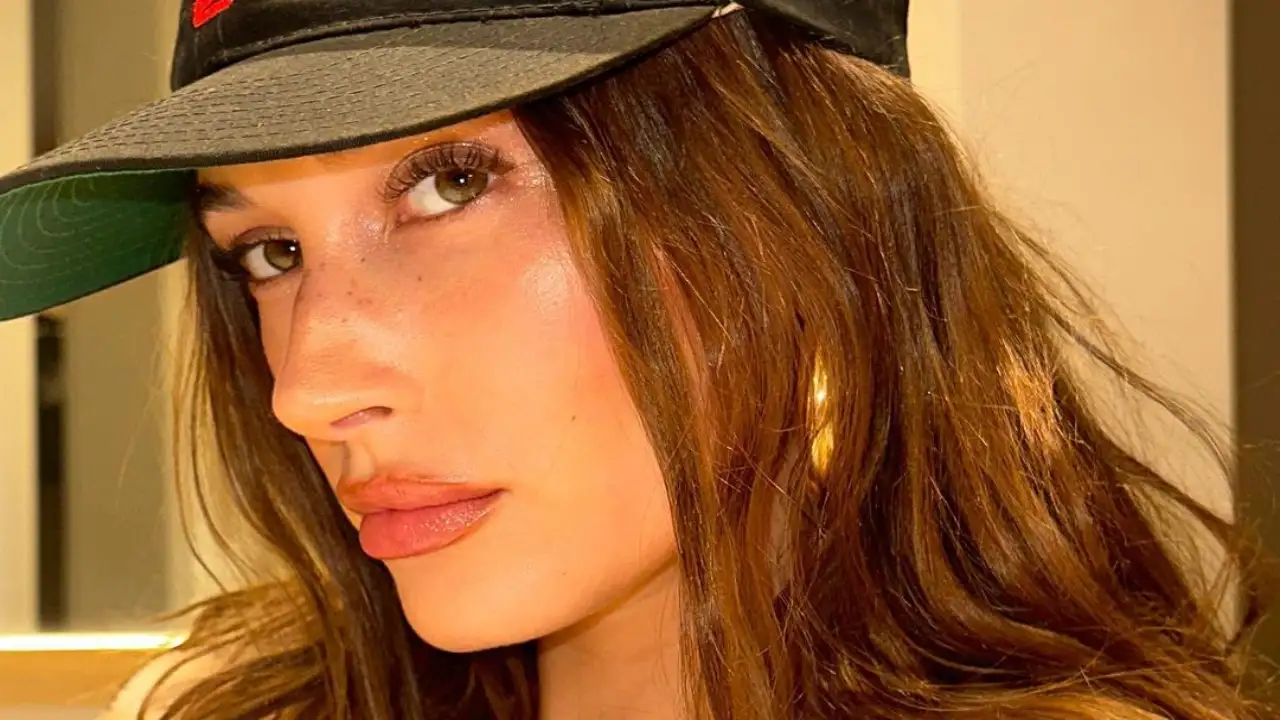 Hailey Bieber is heartbroken following the tragic Nashville school shooting. For the unversed, six people including three children have been killed after a mass shooting took place at Covenant School in Nashville, Tennesse in the US on 27 March, 2023.
According to BBC, the three children killed are aged nine or under, and the adults were staff members at a private Christian school which has about 200 students. The police have named 28-year-old Audrey Hale as the suspect, who was an ex-student of the same school and has a degree in design.
And now, Hailey took to her social media space to express her grief following the unfortunate incident.
Hailey Bieber heartbroken over Nashville school shooting
A few moments ago, Hailey Bieber, 26, took to the story feature on her Instagram space and shared statistics related to firearms and children and teens' deaths in the US. The statistic posted by Every Town Research read, "Firearms are the #1 leading cause of death for American children and teens." Sharing this, Hailey added a caption that said, "Let that sink in…(heartbreak emoji)".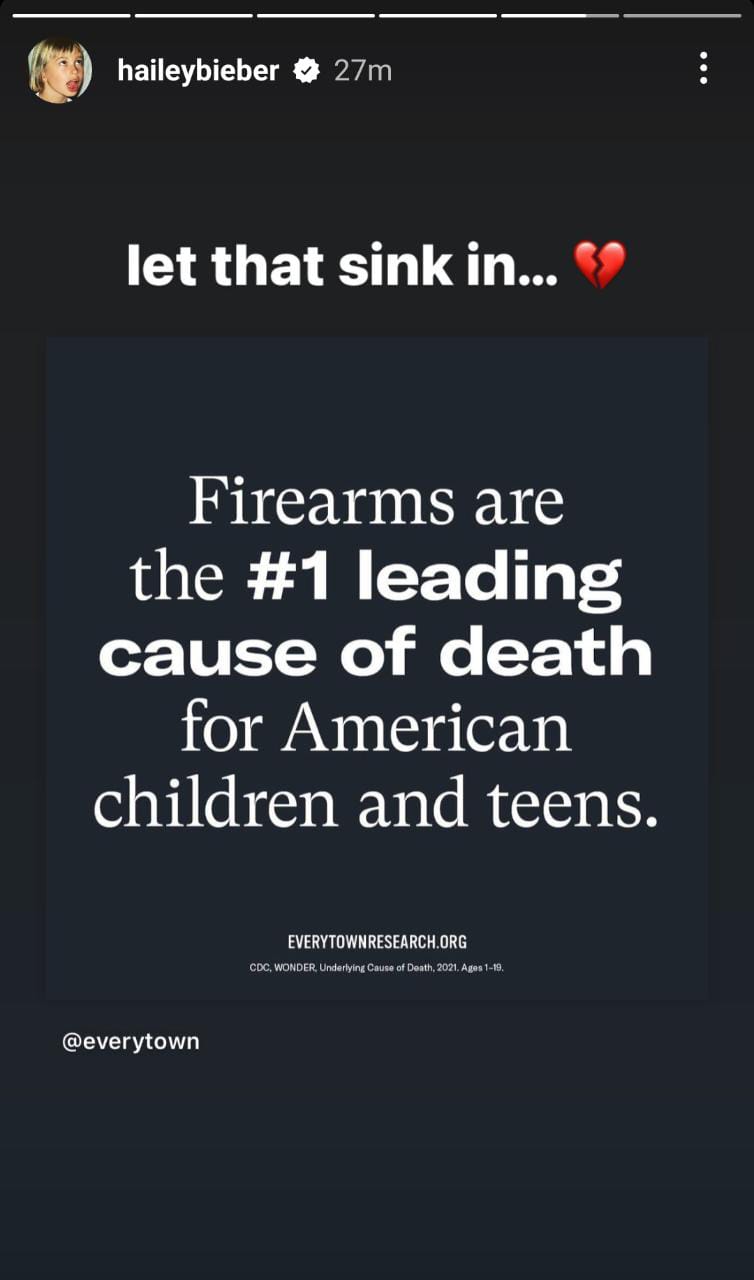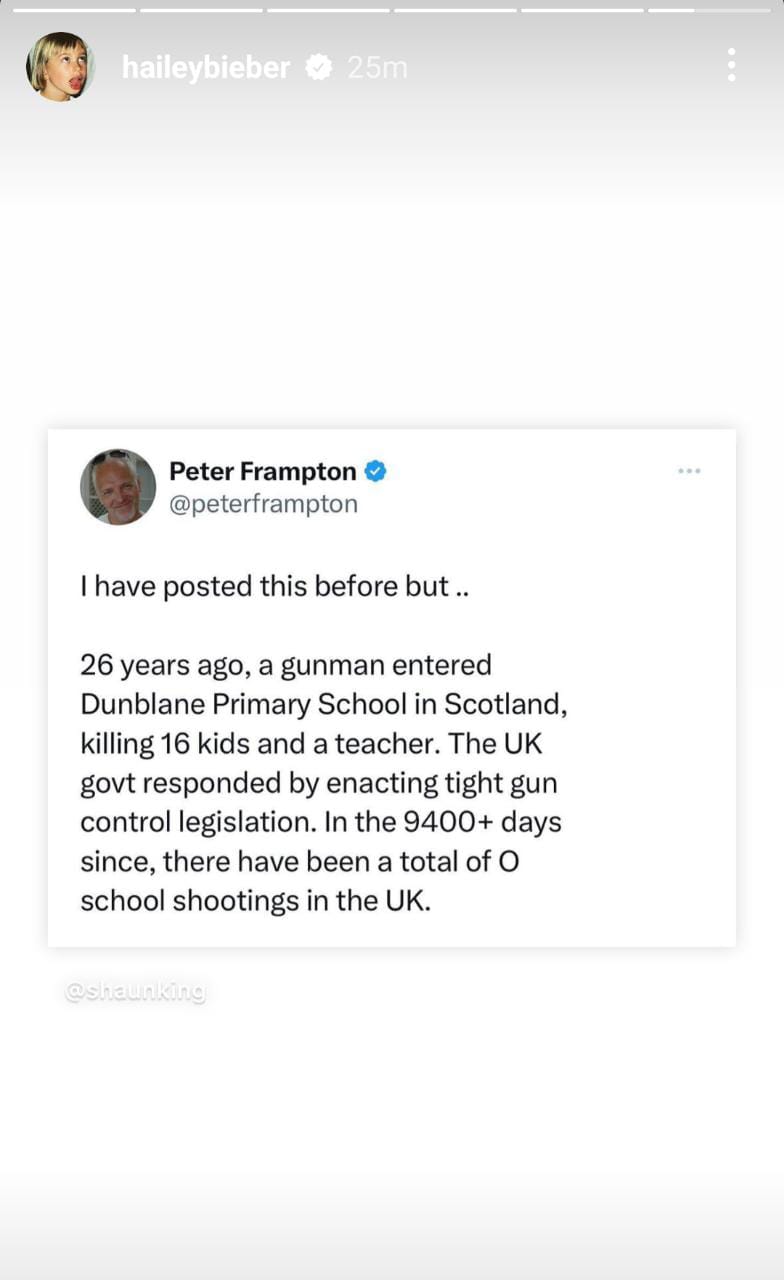 In the next story, Hailey shared another post by Peter Frampton that mentioned tight gun control regulations. It said, "I have posted this before but… 26 years ago, a gunman entered Dunblane Primary School in Scotland killing 16 kids and a teacher. The UK govt responded by enacting tight gun control legislation. In the 9400+ days since, there have been a total of 0 school shootings in the UK. Take a look below.
Hailey Bieber thanks Selena Gomez for defending her
In other news, Hailey Bieber recently thanked Selena Gomez for defending her against apparent trolling and death threats following the eyebrow drama. Taking to her Instagram stories, Hailey wrote, "I want to thank Selena for speaking out, as her and I have been discussing the last few weeks about how to move past this ongoing narrative between her and I. The last few weeks have been very hard for everyone involved and millions of people are seeing so much hate around this, which is extremely harmful. While social media is an incredible way to connect and build community, moments like this only create extreme division instead of bringing people together.  Things can always be taken out of context or constructed differently from what they were intended," she said.
ALSO READ: Hailey Bieber drops a 'like' on Selena Gomez's steamy picture after death threat fiasco
FAQs
How old is Hailey Bieber?
Hailey Bieber is 26 years old.
---
When did the Nashville School shooting take place?
The Nashville School shooting took place on March 27, 2023.
---
Who is the suspect in the Nashville School shooting?
According to BBC, the police have named 28-year-old Audrey Hale as the suspect in the Nashville School shooting case. She was an ex-student of the same school and has a degree in design.
---
About The Author
A content writer for 3 years, Priyakshi channels her love for everything cinema through the written word, as she dabb...les in entertainment articles, movie reviews, and interviews.
Read more
Top Comments
There are no comments in this article yet. Be first to post one!