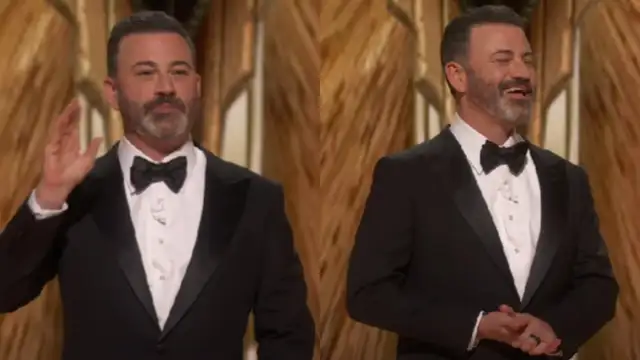 The biggest Awards celebration just aired on Sunday night—Oscars 2023 is impossible to happen without tantalizing your mind with its spice and lime, which Jimmy Kimmel made sure to deliver through his outstanding hosting for Oscars 2023.
On Sunday night, Jimmy Kimmel presided over the 95th Academy Awards. It was the third time the "Jimmy Kimmel Live!" host emceed the show. Back in 2017 and 2018, he graced the Oscars. Though this year's effort was hoping to be less controversial than last year, when host Chris Rock was slapped by Will Smith on the Oscar set.
However, Jimmy Kimmel was in control until he addressed the issue of a new trend that is being followed in Hollywood, which is sudden weight loss, which is being followed by celebrities, television actors, and many stars who have considered using Ozempic to slide into zero-figure shape.
To which Kimmel, 55, commented, 'I can't help but wonder, 'Is Ozempic right for me?' pointing out the weight loss he noticed in the Oscars platform.
What is Ozempic and why are Hollywood celebrities drawn to it?
Ozempic is an anti-diabetic drug used to treat type two diabetes as well as an anti-obesity drug for long-term weight control. Which many celebrities are reportedly using in order to fit into the structural body norms.
As weight loss cannot be a sudden change that happens overnight, it was noticed how celebrities looked different on the night of the 2023 Oscars.
Jimmy Kimmel stood his ground and didn't point out any celebrities or stars who have been subjected to the usage of Ozempic, but there were a few who came out and spoke about using it.
Celebrities who have been associated with the Ozempic
"Shahs of Sunset" star Golnesa Gharachedaghi agreed and candidly spoke about the usage of Ozempic by giving a proper insight on how she injected herself for the weight loss result. Many didn't take it positively and left with negative accusations.
Whereas "Real Housewives of Beverly Hills" star Kyle Richards was notoriously accused of taking Ozempic, she has always denied it on numerous occasions. She claimed she went on a strict diet to get in shape. Which she didn't achieve by any shortcut method of getting ozempic intake.
Kyle Richards commented, stating, 'I stopped drinking almost seven months ago; I don't eat bad things like sugar, pizza, donuts, carbs... so I'd rather be inspiring than have people make up stories about me.'