Prince Harry and Meghan Markle's sweet PDA outside Westminster Hall garners mixed reactions from royal fans
After standing beside his brother Prince William, Prince Harry raises eyebrows as he links hands with Meghan Markle.
Published on Sep 15, 2022 12:35 AM IST | 662.3K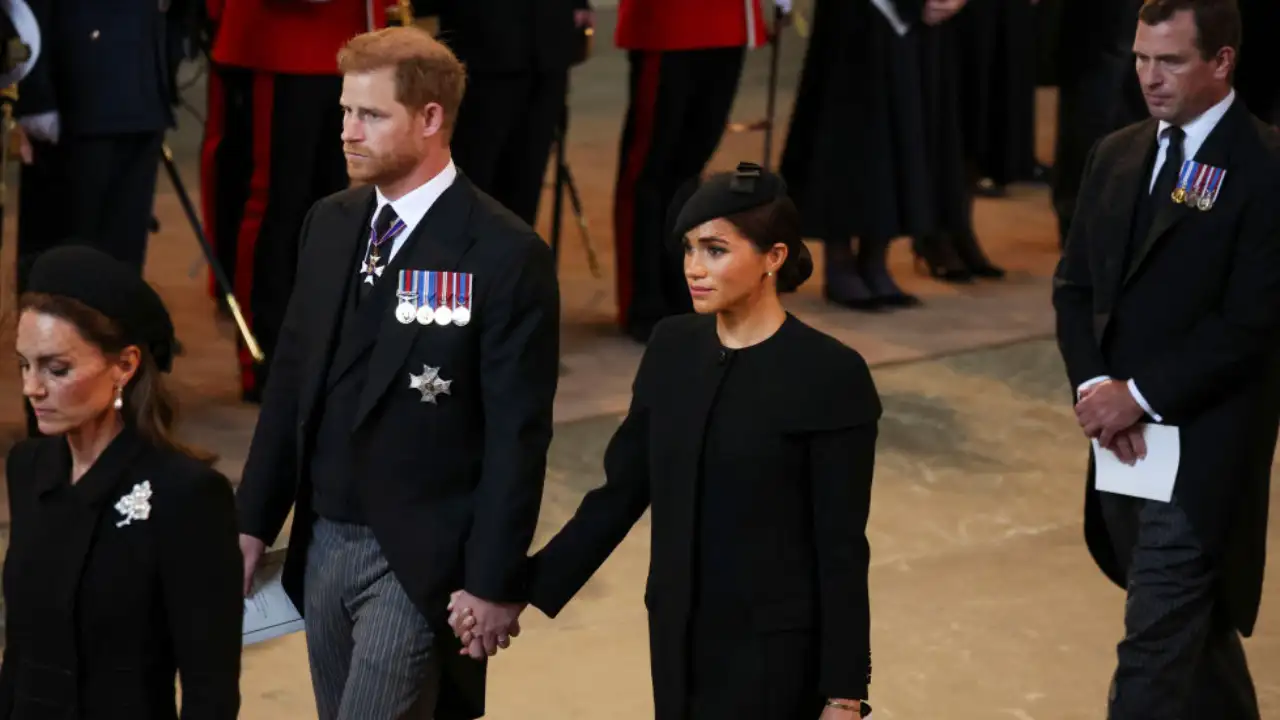 Once again Prince Harry and Meghan Markle's relationship is at the centre of royal fans' discourse. On Wednesday, the couple decided to hold each other's hands while coming out of Westminster Hall after the Queen's coffin was laid in state. Harry surprised many royalists as he accompanied his brother Prince William side-by-side while the royal family walked in the Queen's procession on the streets of Buckingham Palace.
Though his wife Meghan Markle did not join him by foot, she followed the procession closely from behind in a car. The couple was then spotted coming out of the Westminster Hall together, hand-in-hand. Many netizens scorched the pair for holding hands online as they claimed that the couple was being "rude" at the ceremony. But soon fans of the couple came to their rescue as they called out the angry royalists for not letting a wife comfort her grieving husband. Nonetheless, the situation proved that Prince Harry and Meghan Markle have yet to reunite with the people though they do seem to have come closer to the royal family while sharing the loss of the Queen.
Meanwhile, many fans were delighted to see the brothers be reunited and stand together at the procession after they had made an appearance together for the first time in years at Windsor Castle. Prince Harry and Prince William were accompanied by their wives as the quartet greeted the emotional royal well-wishers outside the late Queen's residence days after her demise. For those unversed, the Queen passed away on September 8th at her Balmoral residence after being kept under medical supervision by her doctors.
ALSO READ Oprah Winfrey believes after losing the Queen, Prince Harry and Meghan Markle can make peace with the royals
Top Comments
There are no comments in this article yet. Be first to post one!