Twisted Metal teaser: Anthony Mackie stars in post-apocalyptic action adaptation of PlayStation game series
Twisted Metal is an upcoming action comedy series based in a post-apocalyptic world starring Anthony Mackie and fans are anticipating its release.
Updated on Jul 28, 2023 | 02:11 PM IST | 191.9K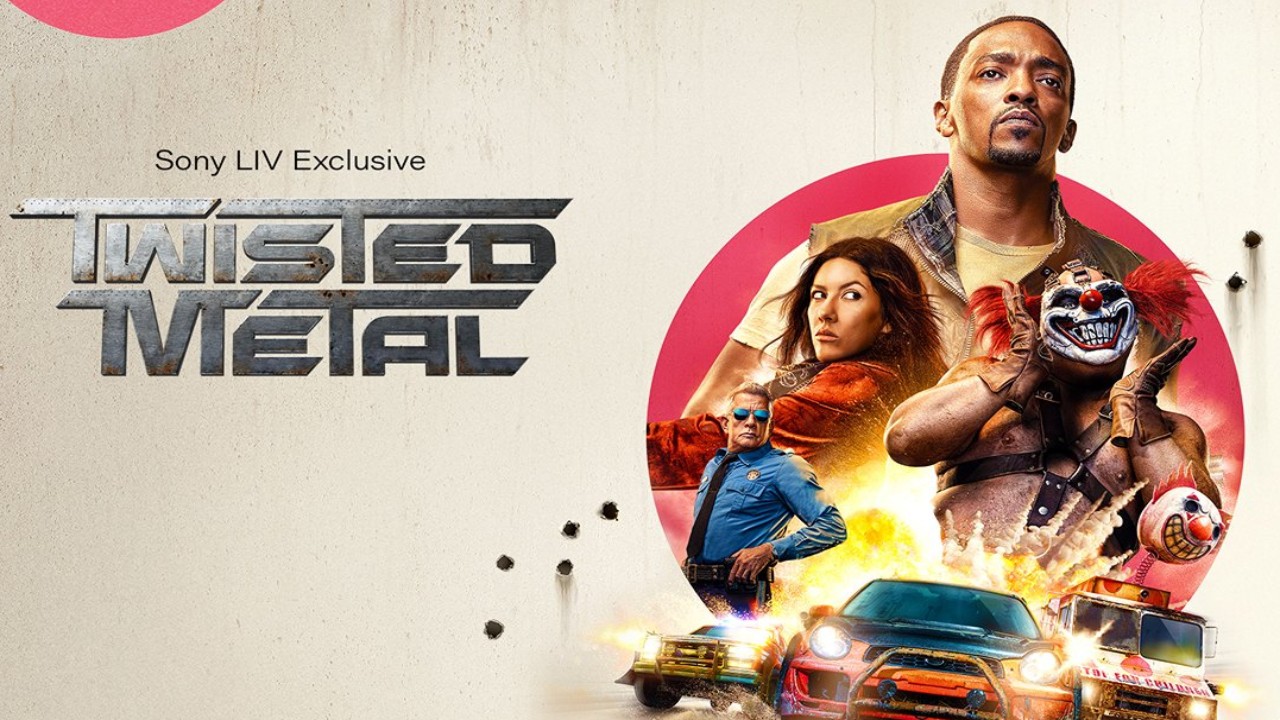 Key Highlight
Twisted Metal is a live-action adaptation of a PlayStation game of the same name

The Peacock series stars Anthony Mackie and is all set to air on July 27, 2023
Post-apocalyptic action-comedy television series Twisted Metal is all set for release on July 27, 2023. The Anthony Mackie starrer is a live-action adaptation of the PlayStation game series of the same name. The teaser of the 10-episode Peacock series features the Marvel star as John Doe. Continue reading to know more about the upcoming adaptation.
Twisted Metal teaser, check it out below
The teaser of the series showcases Mackie starting his car, loading his shotgun, choosing a Road Mix CD to play, and then proceeding to say to the camera, "Ladies and gentlemen, start your engines." He turns up the volume and starts grooving to the music after which he drives away. The teaser then shows a post-apocalyptic Las Vegas, where a shirtless and mysterious man with a clown mask stands in an ice cream truck and pulls down the shutter.
ALSO READ: Hidden Strike trailer out: Jackie Chan and John Cena unite for action-comedy film, fans call it 'freakin sick'
The half-hour live-action series is described to be "a high-octane action comedy" about "a motor-mouthed outsider" who gets "offered a chance at a better life" but he has to "deliver a mysterious package across a post-apocalyptic wasteland." The description adds, "With the help of a badass axe-wielding car thief, he will face savage marauders, driving vehicles of destruction, and other dangers of the open road, including a deranged clown who drives an all too familiar ice cream truck." The series is all set to air on Peacock on July 27, 2023.
Filmed in New Orleans from May to August 2022, the 10-episode series also stars Stephanie Beatriz as Quiet and Thomas Haden Church as Agent Stone. Though professional wrestler Samoa Joe plays Sweet Tooth aka the clown masked man, Will Arnett voices the eccentric character. Richard Cabral also features in the series as Loud. A sneak peek scene released by Peacock shows John Doe getting beat by Sweet Tooth in a fight until "Sisqó's Thong Song brings them together." Mackie's casting was first announced in September 2021.
"We're thrilled to have Anthony Mackie on board. His ability to blend comedy, action, and drama is perfect for the Twisted world we're creating," Asad Qizilbash, head of PlayStation Productions, told Deadline. Glenn Adilman, EVP Comedy Development at Sony TV, added, "We've been big fans of Anthony's phenomenal body of work over the years and knew he was the only actor who could play a character as complex, funny, and compelling as John Doe." Mackie's role is described as "a smart-ass milkman who talks as fast as he drives."
ALSO READ: Miracle Workers trailer out: Harry Potter star Daniel Radcliffe intrigues in season four of anthology series
FAQs
How old is Anthony Mackie?
Mackie is 44 years old.
---
When is Twisted Metal premiering?
Twisted Metal is premiering on Peacock on July 27, 2023.
---
About The Author
An author, content writer, and avid reader, Meenal loves the world of fantasy, fiction, literature, cinema, and
...
Read more
Top Comments
There are no comments in this article yet. Be first to post one!