When will Sweet Tooth Season 2 drop on Netflix? Check release date, time and more
The most-awaited series, "Sweet Tooth: Season 2," will be hitting Netflix screen soon. Here are the details
Published on Mar 15, 2023 | 08:57 AM IST | 69K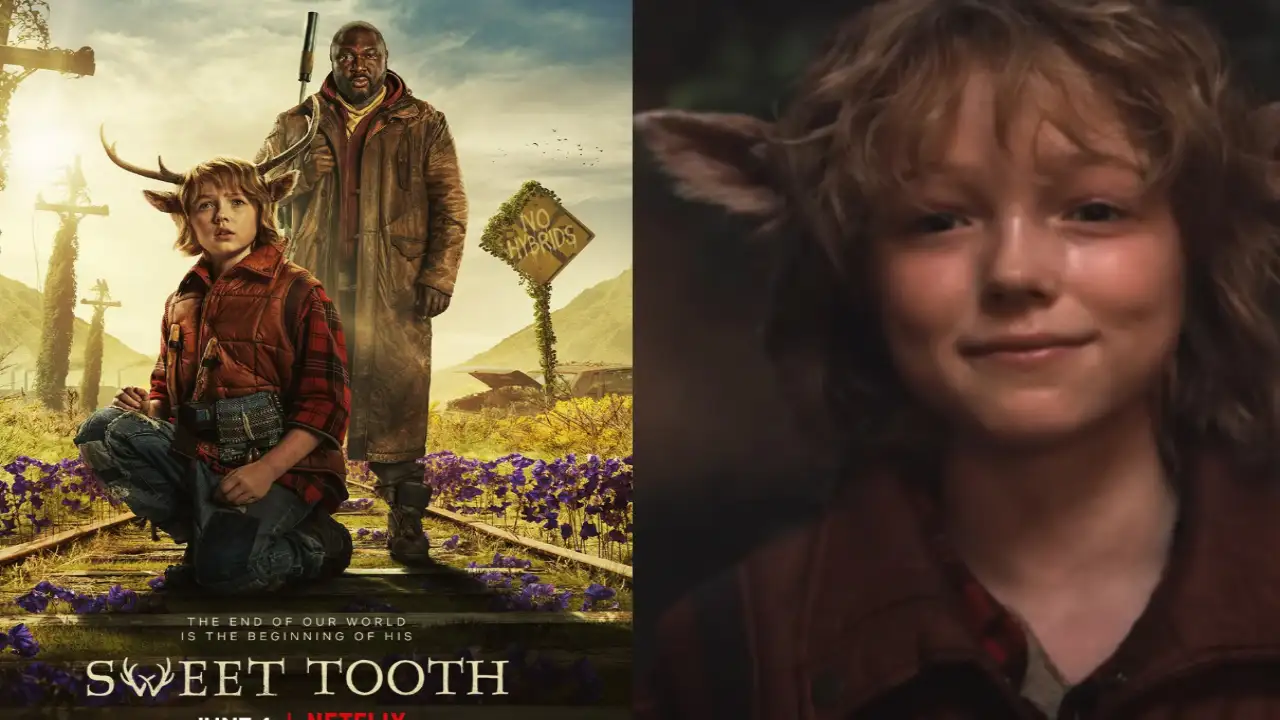 Wondering what the humans will do with the Hybrids who have altered DNA that makes them develop as half animal and half human? Sweet Tooth, which debuted in the fiction storyline, has captivated audiences with its concept. And the way season one came to an end couldn't sum up the thrill of knowing what season two will hold in store for the audience.
Season one, which was last released in June 2021, was off the air for 22 months and is now coming back with all eight episodes as content in season two, which will hit the platform on Thursday, April 27. The comic adaptation of Sweet Tooth has all the ingredients to make the season filled with intriguing storylines.
ALSO READ: Sweet Tooth: Netizens left 'amazed' by Robert Downey Jr's production about a kid in a post apocalyptic world
Here is what Season 2 has in store for its viewers:
According to the official synopsis, "General Abbot (Neil Sandilands) and the Last Men are holding Gus (Christian Convery) and a group of fellow hybrids captive as a lethal new wave of the Sick bears down."
Abbott uses the kids as test subjects for Dr Aditya Singh's experiments while he is being held captive by the evil Abbot in an effort to find a cure and save his afflicted wife Rani (Adeel Akhtar).
Gus agrees to assist Dr Singh in order to save his pals, which kicks off a grim trip into his past and his mother Birdie's (Amy Seimetz) part in the circumstances leading up to The Great Crumble.
Here is the spice to season 2, which will keep the viewers intact
While the hybrids are put to the test. Tommy Jepperd (Nonso Anozie) and Aimee Eden (Dania Ramirez) unite to release the hybrids outside the preserve, but their relationship will be put to the test as Jepperd's secrets are revealed.
Gus and his new family of hybrids are on a collision course with Abbot and the evil forces that want to eliminate them permanently, as the discoveries of the past endanger the chance of atonement in the present.
So hold down to the sweet cravings, as Netflix has got summer plans on the cards for its viewers with Season 2 hitting the screen.
ALSO READ: Why is Robert Downey Jr. not returning to MCU as Iron Man? Marvel clears the air
FAQ
1. Sweet Tooth is being shot at which place?
The season was shot entirely in New Zealand.
---
2. Where was the series shot?
It was shot in Auckland Zoo
---
3. Will season 2 of Sweet Tooth be the last series?
No, Season 3 has been confirmed to be renewed.
---
About The Author
Expertise: Hollywood, Entertainment, Philosophy, and Lifestyle - "Mirror of Life" complier and co-author ...of several other anthologies. Summerizes' love for writing and creating magic with words has always been her passion. Akanksha, who comes with 2.5 years of experience, has contributed to a diverse field of content creation. For her, writing is what completes her. Read more
Top Comments
There are no comments in this article yet. Be first to post one!