Why did Ben Affleck look miserable at the Grammys 2023? Actor explains
Ben Affleck revealed that he actually had a "good time" at the awards ceremony despite the jokes made by users on the Internet after a clip went viral.
Updated on Mar 17, 2023 | 08:53 AM IST | 93.9K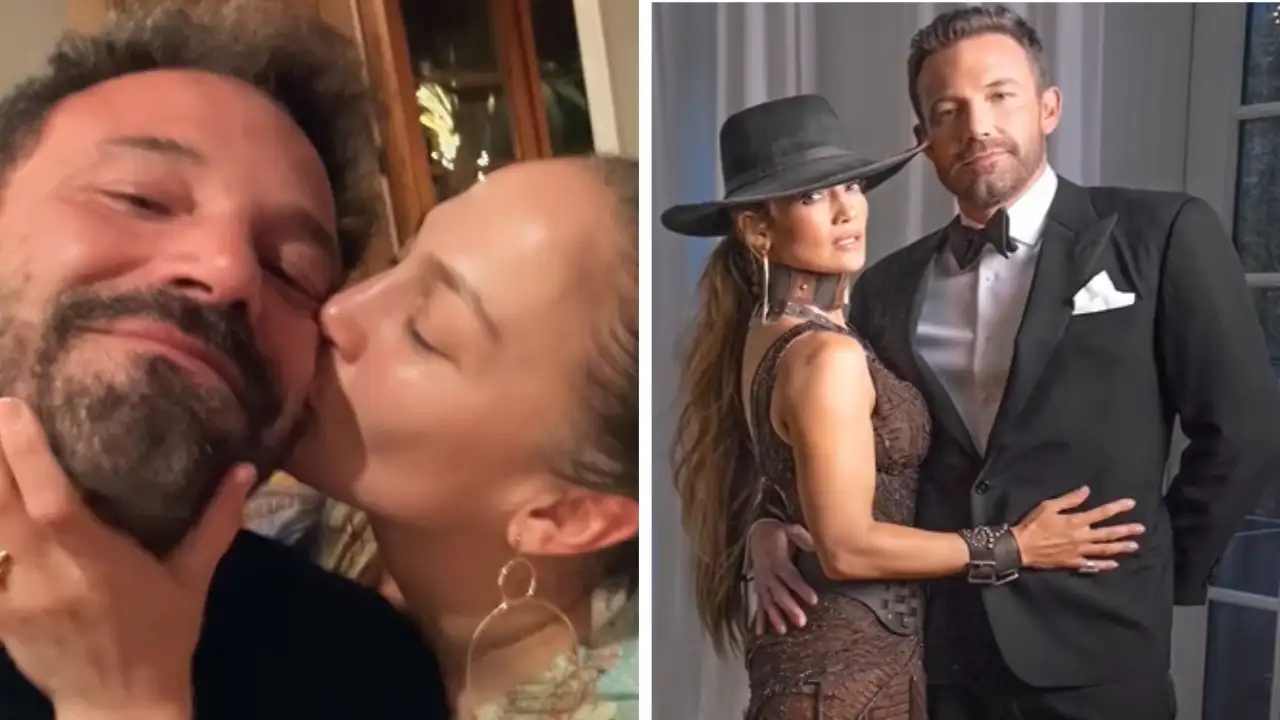 Actor Ben Affleck was in the news recently for supposedly looking "miserable" at the 2023 Grammys after a clip of him with his wife, popstar Jennifer Lopez went viral. The 50-year-old has revealed that he actually had a "good time" at the awards ceremony despite the jokes and comments made by users on the Internet after the clip was aired.
In the video, host Trevor Noah can be seen performing a skit by sitting next to Lopez and pretending to be on the phone with his mom after singer Sam Smith's performance. Affleck leans in and whispers something to Lopez, who pats him on the chest. The visible expression on the 53-year-old actress' face led people to believe that she was scolding her husband. In a recent interview with The Hollywood Reporter, Affleck spoke about the moment and his thoughts regarding it.
Why did Ben Affleck look miserable?
On being asked if the Batman star minded the grumpy memes across the Internet around the incident, he replied that he didn't. Affleck further explained, "I had a good time at the Grammys. My wife was going, and I thought, 'Well, there'll be good music. It might be fun.' At movie award shows, it's speeches and, like, sound-mixing webinars. But I thought this would be fun."
He added, "I saw [Grammy host Trevor Noah approach] and I was like, 'Oh, God.' They were framing us in this shot, but I didn't know they were rolling. I leaned into her and I was like, 'As soon they start rolling, I'm going to slide away from you and leave you sitting next to Trevor.' She goes, 'You better fucking not leave.' That's a husband-and-wife thing."
Was Ben Affleck drunk at the Grammys?
Affleck called the awards show his "wife's work event" and also addressed rumours that he was drunk during the event. "I've gone to events and been pissed off. I've gone and been bored. I've gone to award shows and been drunk, a bunch. Nobody ever once said I'm drunk. [But at the Grammys] they were like, 'He's drunk.' And I thought, that's interesting."
Affleck said that it "raises a whole other thing" about whether it is wise to "acknowledge addiction" because even though there is a lot of compassion, there is also a "tremendous stigma" attached to it "which is often quite inhibiting." He added that he thinks this whole stigma "disincentivizes people from making their lives better."
ALSO READ: Jennifer Lopez on Ben Affleck's engagement ring engraving, Bennifer's 1st breakup feeling like death and more
Affleck and Lopez's relationship history
Lopez and Affleck first started dating in 2002 and got engaged soon after but broke off their engagement in 2004. The two remained cordial with each other through the years but only began dating again in 2021. The duo got re-engaged and tied the knot in July 2022.
FAQs
Does Jennifer Lopez have any children?
Lopez has two children, Emme and Max, with her former husband Marc Anthony.
---
Who was Ben Affleck's first wife?
Affleck's first wife was actress Jennifer Garner.
---
Why didn't Ben Affleck and Jennifer Lopez get married 20 years ago?
Affleck and Lopez cancelled their 2003 wedding days before the ceremony due to excessive media attention.
---
About The Author
An author, content writer, and avid reader who loves the world of fantasy, fiction, literature, cinema, and enterta...inment. With over 300 articles to her credit, she is currently creating Hollywood and Pop Culture content. Read more
Top Comments
There are no comments in this article yet. Be first to post one!