Why is legendary basketball player Michael Jordan not a part of Ben Affleck's Air? Actor spills the beans
At a special screening of his directorial film Air, Ben Affleck revealed why basketball star Michael Jordan is not a part of the project.
Published on Mar 22, 2023 | 02:32 PM IST | 120.4K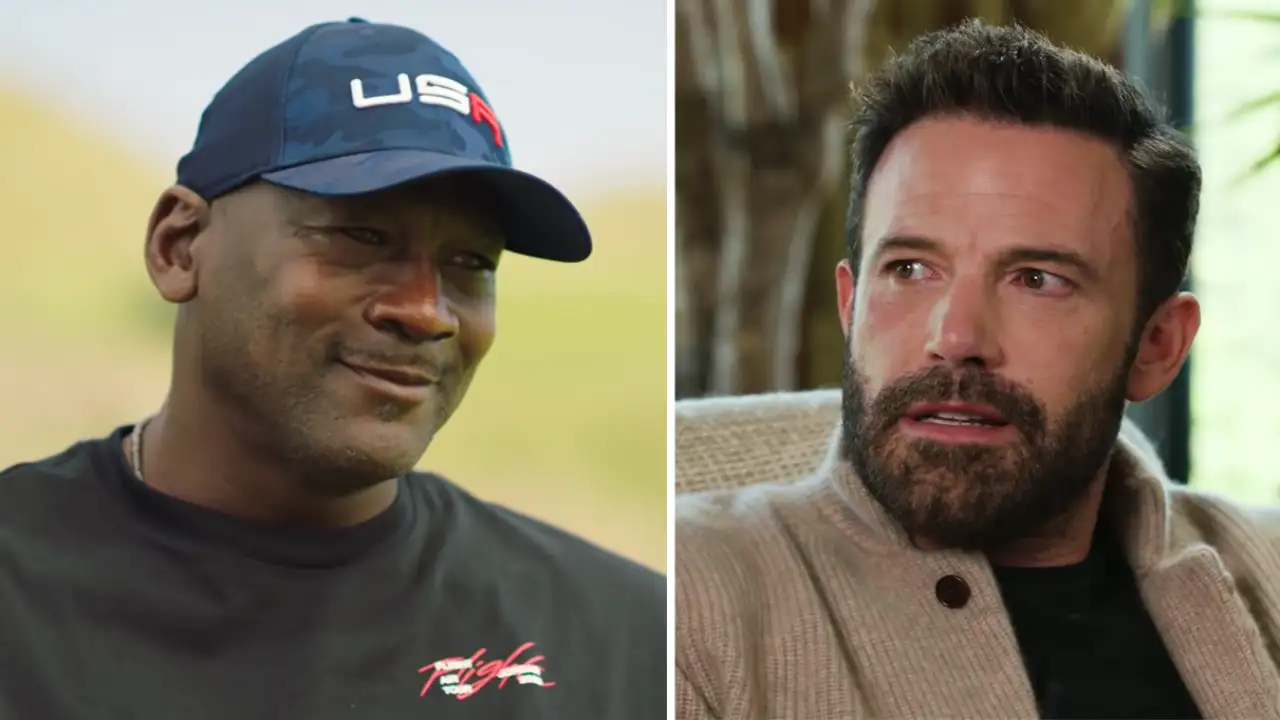 Ben Affleck's biographical sports drama directorial starring himself, Matt Damon, Jason Bateman, Marlon Wayans, Chris Messina, Chris Tucker, and Viola Davis is all set for a theatrical release on April 5, 2023. The story revolves around how a Nike shoe salesman tries to get a young Michael Jordan to sign a deal to wear their shoes.
Naturally, questions arose about why the basketball icon himself was not a part of the film. Damian Young, who plays the role of a young Michael Jordan in the film, is only shown from behind. As per reports, Jordan's face might not even get any screen time during the film. At a special screening of Air, Affleck spilled the beans on why the star player's character is not an integral part of the film. Read on to know what he had to say.
Ben Affleck on why Michael Jordan is not a part of the film
"It was not Michael's decision, I did not ever plan on it, because I never thought for a second— hey, Michael is so magnificent, so famous, the whole reason why he represents and means what he does in terms of greatness and excellence, is because he's so, so enigmatic and majestic and identifiable immediately, by his carriage and demeanor and what we've seen him do physically," said the 50-year-old actor and filmmaker. "That the one sure way to ruin the movie and have the audience understand that the whole thing is a fraud is to point the camera at anybody that's not Michael Jordan and say, 'Hey, that's Michael Jordan!'"
ALSO READ: Viola Davis' 6 most iconic roles that proves she's Oscar royalty
He laughed and continued, "Because all of a sudden, they're like, 'This is the knockoff Michael Jordan!' He's too famous, and I like him being the guy above it. It's how our relationship is with these icons and idols, they're not in our living rooms, in our lives, they're people who are in our fantasies." Affleck proceeded to add, "The only person who could play Michael Jordan, as I've said to him, is too old now to play Michael Jordan."
He told CBS Sunday Morning, "Jordan is too big. He exists above and around the story, but if you ever concretize him, if you ever say, 'Yes, that's Michael Jordan,' we know it's not, really. It's fake. If the audience brought everything they thought and remembered about him and what he meant to them to the movie and projected it onto the movie, it worked better."
ALSO READ: How did Jennifer Lopez help Ben Affleck with his new movie AIR? Details inside
Affleck told The Hollywood Reporter, "This was me saying, "Mike, I'm not going to make the movie if you're not cool with something about it. I just won't do it. I want to know what's important to you." He was very clear. He was the one who told me about [Nike executive] Howard White, who wasn't in the original script, who's played by Chris Tucker."
Revealing how Jordan wanted Viola Davis to play the role of his mother, he said, "And [Jordan] looked at me real straight and — by the way, there's one line for the mother character in the movie at this point — and I'm thinking, "Oh my God, he wants me to offer this to Viola Davis. How am I going to offer Viola Davis a movie with one line? That's not going to happen." But he was like, "That's my mom." He was dead serious. "Viola Davis, that's my mom." And that was it. Discussion was over. However it happened, it wasn't his problem, but it was going to fucking happen."
FAQs
When is Air releasing?
Air is releasing on April 5, 2023.
---
Why is Air rated R?
Air has been rated R for language throughout.
---
Who is playing Michael Jordan in Air?
Damian Young is playing a young Michael Jordan but he barely has any screen time, as per reports.
---
About The Author
An author, content writer, and avid reader who loves the world of fantasy, fiction, literature, cinema, and enterta...inment. With over 600 articles to her credit, she is currently creating Hollywood and pop culture content. Read more
Top Comments
There are no comments in this article yet. Be first to post one!