Kang Soo Yeon's Jung_E poster OUT: Here are some best Korean Netflix movies to watch
Netflix released the main poster for the upcoming futuristic drama JUNG_E starring Kim Hyun Joo, Ryu Kyung Soo and late Kang Soo Yeon.
Published on Dec 29, 2022 | 02:01 PM IST | 339.8K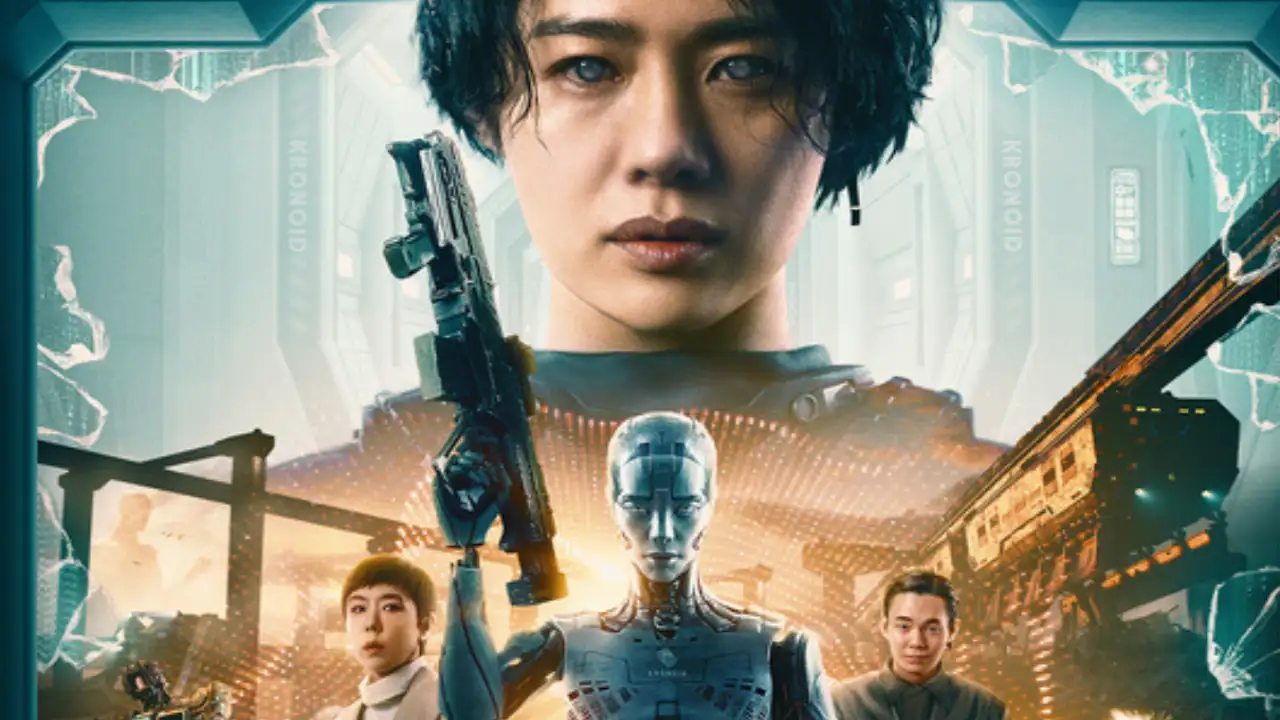 The main poster for JUNG_E, a new film directed by Yeon Sang Ho and the posthumous work of the late Kang Soo Yeon, has been released. The Netflix movie JUNG_E (director Yeon Sang Ho)' is a sci-fi story about people trying to develop the best combat AI by cloning the brain of the legendary mercenary JUNG_E in order to end the war that occurred in a shelter that emigrated from the earth destroyed by climate change. 
JUNG_E:
The main poster, which was released, captures the crisis facing humanity in the future and the three characters struggling in their own ways. First of all, the face of the best AI combat mercenary standing with a gun over the broken laboratory window, and JUNG_E (Kim Hyun Joo), the most elite leader with both combat and tactical skills above it, catches the eye, and the AI ​​at the border between humans and robots. arouse curiosity about
In addition, Seohyun (Kang Soo Yeon), team leader of the Chronoid Research Center, and Sang Hoon (Ryu Kyung Soo), who develops JUNG_E, amplify curiosity about what kind of narrative and purpose each of them has. The copy, "AI combat mercenary JUNG, escapes from humans" raises expectations for the narrative by suggesting an event that will occur between AI JUNG_E and the humans who want to use it.
About the film:
JUNG_E contains a worldview where the cyberpunk genre's unique dystopia and cutting-edge technology coexist, and the story of JUNG_E, a battle-type AI standing on the border between humans and robots, and the people of the Chronoid Lab who develops JUNG_E. Director Yeon Sang Ho, who is in charge of directing, said, "I started this work because I wanted to create a work that combines action with visual elements unique to the SF genre, a material that people can sympathize with as well as a question about the existence of AI." Not only fun, but also an interesting story and a deep message.
About the VFX of the film:
Furthermore, JUNG_E is a work in which things such as unexpectedness from relationships and unexpectedness between humans and non-humans exist. Also, we hope it will be a work that will make you think about whether human nature is really only human." They said, not only surprising the audience with his unprecedented imagination in each work, but also raised questions about the new worldview of director Yeon Sang Ho, who has raised various philosophical topics.
Science Fiction genre of the film:
Expectations are high as a science fiction genre film presented by director Yeon Sang Ho, who brings newness to each work. JUNG_E will be released on Netflix on January 20, 2023. Director Yeon Sang Ho, who has been acclaimed in the global market for the most Korean-style material and story by twisting the grammar and style of existing genres, will present a new chapter that has evolved from the sci-fi movie we know to the Netflix original film JUNG_E'.
Time To Hunt
Cast: Lee Je Hoon, Ahn Jae Hong, Choi Woo Shik, Park Jung Min
Director: Yoon Sung Hyun
Writer: Yoon Sung Hyun
Year of release: 2020
Run Time: 134 minutes
OTT Platform: Netflix
Time To Hunt Rating: 4/5 
Set in a dystopian society, the film follows a group of close friends who know nothing but to earn money through illegal ways. They come together one last time for their biggest heist yet and they are in for an adventure of a lifetime. They target an illegal gambling house, without understanding the powerful people that are involved in the place and as they steal the cash, they have enemies on their tail. This action film has full twists and turns. 
Cast: Joo Won, Camilla Belle, Jung So Ri
Director: Jung Byung Gil
Writer: Jung Byung Gil, Jung Byung Sik
Year of release: 2022
Run Time: 132 minutes
OTT Platform: Netflix
Carter Rating: 3/5
Carter is a real-time action movie in which Carter (played by Joo Won), who was put into a mysterious operation, must recover himself within the given time and complete the mission. Joo Won, who appeared intensely, first caught the audience's eyes with an action scene in the bathroom. Since then, he has blended into most of the extreme actions that take place in various spaces such as motorcycle, car chasing, train, helicopter, skydiving, as well as bare body and gun action without a substitute. Jumping, rolling, and flying, Joo Won's gestures, which seem to have transcended all human limitations and physical limitations, are even phenomenal.  
Cast: Jinyoung, Park Hae Soo, Lee El
Director: Na Hyun
Writer: -
Year of release: 2022
Run Time: 125 minutes
OTT Platform: Netflix
Yaksha: Ruthless Operation Rating: 3/5 
The Netflix movie 'Yaksha' is an espionage action film depicting the breathtaking battle between the black team dedicated to the secret operation of the NIS led by the so-called 'Yaksha', special inspection prosecutors, and intelligence agents from each country in Shenyang, China, the biggest contact point for spies. 'Yaksha' is a term that comes from the icy lake of India and Buddhism. It is a scary ghost that catches people, and it is also a guardian deity that protects Buddhist laws. In the movie, it is the nickname of the character played by Seol Kyung Gu.
ALSO READ: BTS' V's fansite to open cafes globally for his birthday; Here are some heartwarming projects over the years
Stay updated with the latest Hallyu news on: Instagram, YouTube, Twitter, Facebook and Snapchat
Which film are you watching? Let us know in the comments below.
About The Author
A BMM graduate, Anoushka has been writing professionally for over 2 years. K-Pop and K-Dramas consume her day and she... enjoys writing articles about it. So far, she has written close to 3000 articles. She loves films, music, art, and food! She spends most of her time either discovering a new film or burying her nose in a gripping novel.
Read more
Top Comments
There are no comments in this article yet. Be first to post one!