From praising Kareena to talking about guys being upfront in the West, this KWK episode with Priyanka was a roller-coaster ride!
Updated on Jan 24, 2017 | 03:33 AM IST | 765.2K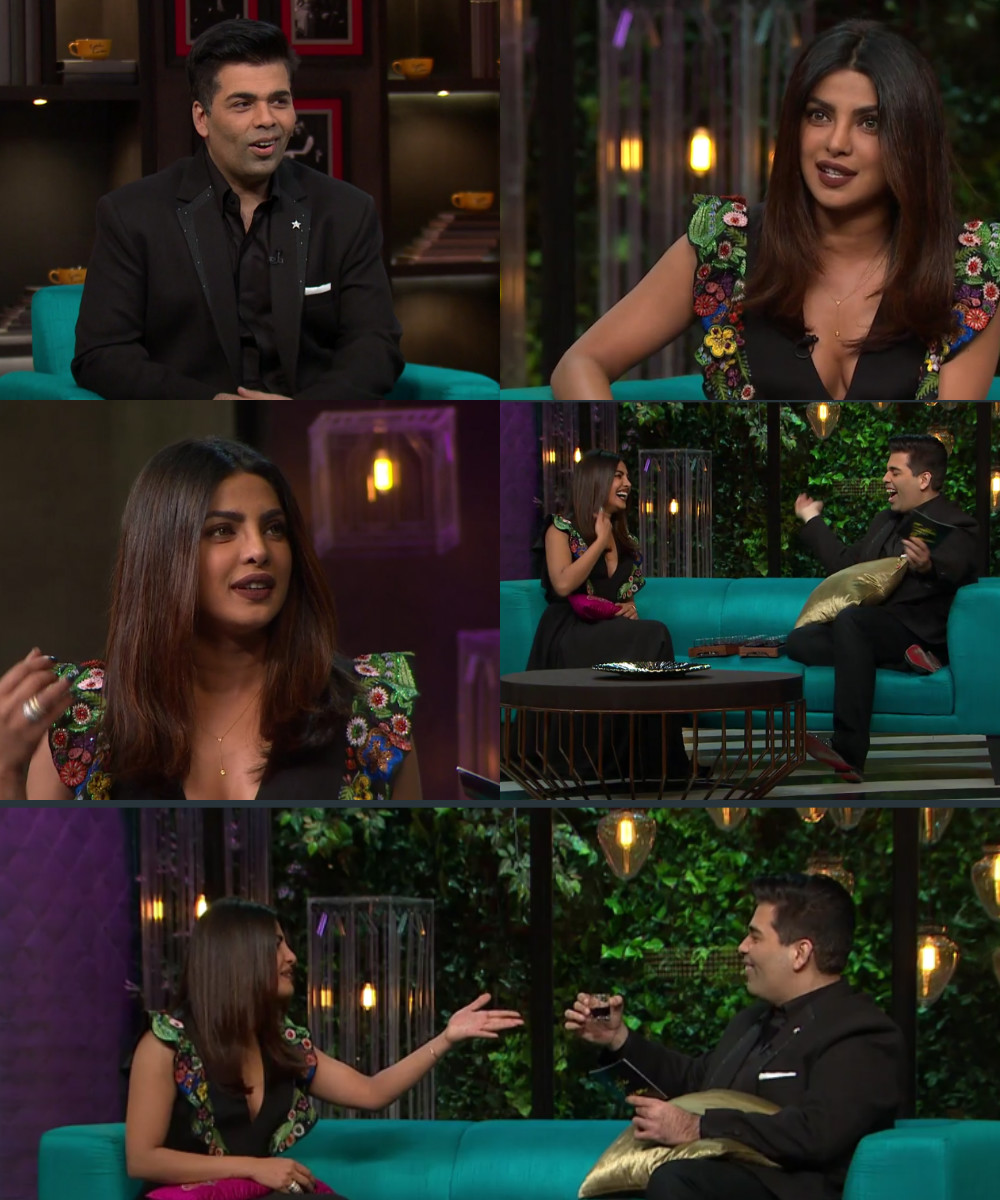 Priyanka Chopra, undoubtedly, has become an international sensation and her journey to fame wasn't easy one. This year, PeeCee will be the first solo guest on this season of the talk show Koffee With Karan.
Here're the highlights of the show: 
Hugging the crown to becoming a biggest news-maker!
On the show, she opened up on how she never expected that she'll do this big in the industry. She also talked about how her music helped her get into Hollywood. She also revealed that, she auditioned for Quantico for the first time and she was nervous as it never happened in India as she won the big crown. 
Kuch toh Priyanka hai!
"I noticed the big difference and now that I have spent so so much time in America, I think the stars in West will ever understand the love and affection we see and the kind of stardom we see. It's impossible for them to fathom," said Priyanka while talking about her fame in the US. She even went on describing how her Indian fans just bypass her American fans to get clicked with her. Isn't PeeCee just amazing?
Relationship Statuses...
The conversation between Priyanka and Karan did dig out secrets of the current relationship statuses of our favourite B-Town celebs.
Priyanka: You just told me about it in the living room. 
Karan: Shut up! Don't put all on me
Priyanka: You just told me, but I can't say it on camera
Karan: I just said Ranbir is not dating anyone, he's single!
Priyanka: I just got my answer, he's single.
Karan: Anything else you found about?
Priyanka: Only the stuff you told me!
Well, they have indirectly told us that all's well between Ranveer Singh aka Ram and Deepika Padukone aka Leela. What do you have to say about it?
Priyanka is indeed a true Bhartiya naari!
There came an amusing part where PeeCee was asked to differentiate between the way Indian men and foreigners approach her. To which she gave a funny reply, she said, "The boys here (in India) are a little cautious. There it's straight-up. 'I'm free tomorrow night. I'm in New York, lets go for dinner!' Na jaan na pehchaan... Akele... Itni forward nahi hoon mein!" And how does Pee Cee handle all this attention? With a simple maneuver in which she smiles, calls out to some invisible person and then says 'Hold that thought. I will be right back!'"
LOL! 
Girl Power...
Priyanka has surely carved her path to success and is she single or committed? When Karan asked about future plans, she said, "When there is a ring on the finger, the world will know. I believe you are single until you are married." She also added that, "Single or Married, I'll work till my fans love me." On the very same lines, she went to praise Kareena Kapoor Khan and Kajol who are working post their marriage and still enjoying the stardom. Kudos to them!
RAT - Race Against Time for Priyanka!
Well, in this section, PeeCee's GK was tested. She was given 2 and half minutes to answer 30 questions and she has to get 20 right. 
She was asked questions like three Ranveer Singh movies, three Prime Ministers, three Mughal emperors and three Marathi words. 
Wait! She did name two prime ministers of India, but got stuck with third one. Karan had to help her with that one. 
Funny! What more amusing was when KJo asked about three words for Twitter haters and her reply was, "One starts with F, other with S and the last one is Get Lost."
Koffee Shots!
Surely an interesting segment! Priyanka opened up on kissing an ex, having phone sex and role play and even wished that her mother shouldn't watch this episode!
To end it here, she also revealed that she would want her autobiography to be named as Fire on Ice!
This episode was surely was a roller-coaster ride!
About The Author
Journalist. Perennially hungry for entertainment. Carefully listens to everything that start with "so, last night...". Currently making web more
...
Read more
Top Comments
There are no comments in this article yet. Be first to post one!