Koffee With Karan: Some serious discussions to candid revelations, Imtiaz, Kabir and Zoya's show is something to look out for!
Imtiaz ali, Kabir Khan and Zoya Akhtar's Koffee With Karan's episode was indeed an intellectual one!
Updated on Feb 28, 2017 | 11:01 AM IST | 470.2K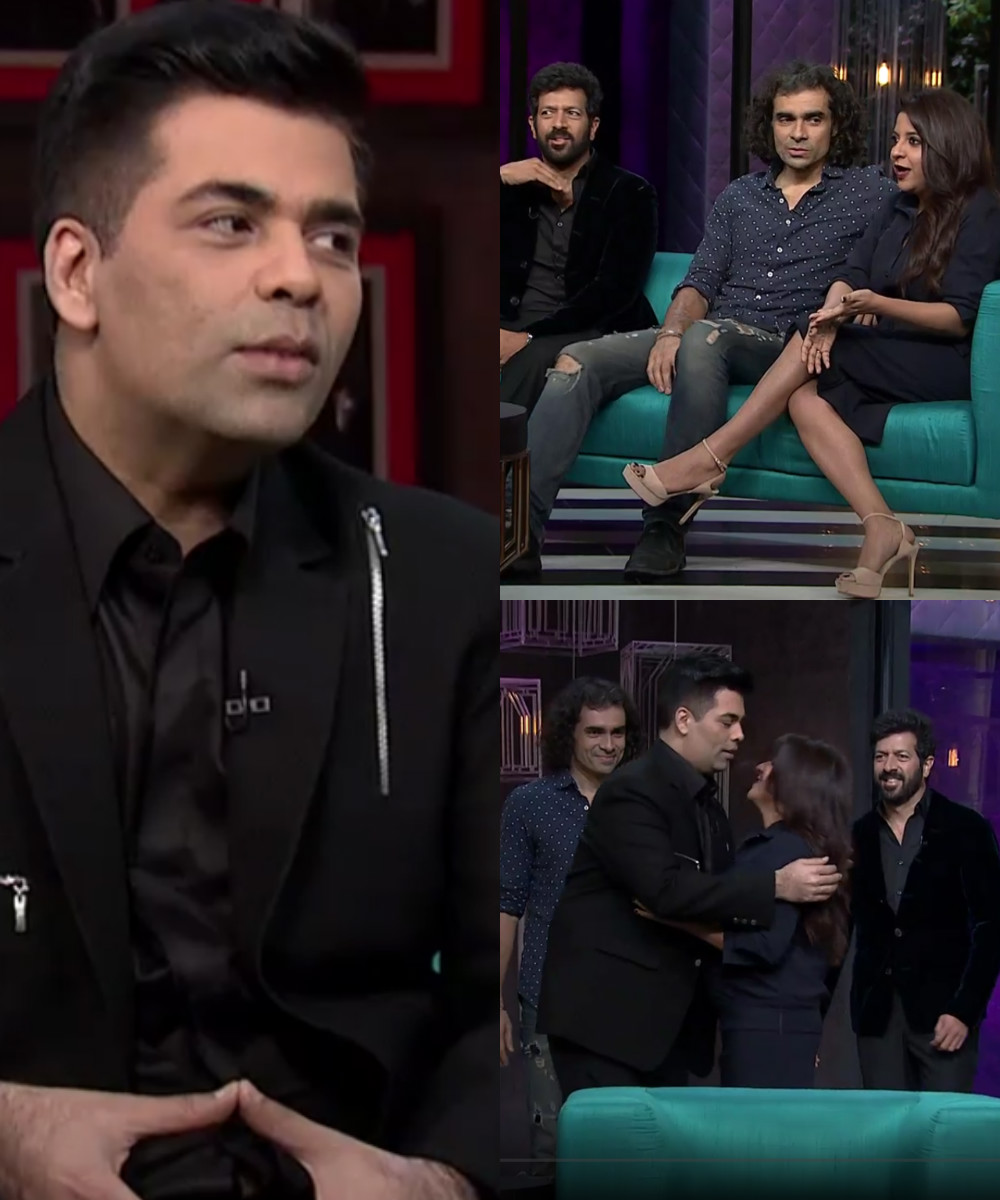 Directors and filmmakers like Imtiaz Ali, Kabir Khan, Zoya Akhtar and Karan Johar are under one roof and you can expect some serious discussions and some candid confessions. Well, this Koffee With Karan was a little different as you get to hear the experiences of the people who are behind the camera and not in the front. These three have given us hit films like Tamasha, Bajrangi Bhaijaan and Zindagi Na Milegi Dobara and have really polished their art of film-making. 
Here're the main highlights of the show:
Director's cup of tea and some discussion!
The show started on a note of Karan asking about how the year has been for them both as cine-goers and directors. 2016 has been the year of films which had different themes on the platter for the audience to see on screen. According to Kabir, box office numbers are important as they give the directors a chance to go a step ahead. Zoya mentioned films like Neerja, Kapoor and Sons and Neerja. But, in case of Imtiaz, he couldn't catch much films as he was busy shooting with Shah Rukh Khan and Anushka Sharma, but is indeed happy with the fact that experimentation in now becoming a part of the mainstream cinema!
Cater Business and Creative Adjustments...
Kabir opened up on his first film with Salman Khan and how the film did make good business, but "I wasn't happy with the content which came out." Adding to it, Zoya talked about lipsing songs and how she made the actors sing in Zindagi Na Milegi Dobara and Dil Chahta Hai was all about lip sing. Being his candid self, Imtiaz said, "I find my films difficult to swallow and digest." He also added that how songs are important for a narrative!
Actors and opinions!
Zoya talked about how actors walked out of her first film but she survived it and in her words, "I was very cocky back then, but now it doesn't matter as I have become thick-skinned. All the three agreed on the point that actors need a narration of the scripts and it has to be theatrical. But, Kabir's struggle was more to get to the producers and he went to call Aditya Chopra a mythical figure. Being an outside, Kabir was unknown to the concepts like Pre-Friday and Post-Friday films. Imtiaz opened on how he was rejected over Jab We Met many times, but he also said that he loves narrations! And Karan, in witty and humours way, "I become the hero and the heroine while narrating the scripts to the actors." 
Box office numbers!
Box office numbers have now become the integral part of judging a film's success and failure! Does it affect them? Well, in the case of Zoya, it is disappointing. Kabir, according to him, is still is a documentary filmmaker at heart and came Mumbai to make only one film and has already gone beyond it. Imtiaz practically puts it out - "It's all about recovery."
Do the directors read reviews?
Karan revealed, "I have a disease of reading reviews." And joining Karan, Zoya took a dig at the critics calling them lowbrow and having no sense of writing it and how reviewers are nasty. Kabir was neutral in a way that if he stumbles upon a reviews, he reads or else has no interest in it. Imtiaz doesn't believe in reading reviews as it doesn't really affect on what the filmmakers are doing. They even mocked the fact of live tweeting reviews. 
Cross Fire Round...
First question was the actors who come late and who are punctual on the film sets! The answers were:
Zoya: Amitabh Bachchan (Punctual) and Shah Rukh Khan (Late)
Kabir: Amitabh Bachchan (Punctual) and Salman Khan (Late)
Imtiaz Ali: Ranbir Kapoor (Punctual) and Shah Rukh Khan (Late)
The fun doesn't end here!
Zoya was asked about for Farhan is more popular for - Looks, Film-making and Singing. Her answer was hilarious - "Looks, because his filmmaking will kill me." 
What do you have to say about this? 
Kabir and Imtiaz won the hamper! Next time, Zoya!
Bollywood Quiz!!
The fun part was when Karan Johar in which films SRK played Rahul and all were blank for a second! Well, they did give the answer! The funny part was when Zoya said, "My father will disown me if I couldn't answer the meaining of Urdu words."
Zoya won the round, thanks to her sound knowledge of Bollywood!
This episode was indeed an intellectual one! Watch the episode and tell us about it in the comments below! 
About The Author
Journalist. Perennially hungry for entertainment. Carefully listens to everything that start with "so, last night...". C...urrently making web more entertaining place Read more
Top Comments
There are no comments in this article yet. Be first to post one!