WATCH: Satish Kaushik's daughter Vanshika reads out an emotional letter at an event: 'I had the world's..'
On Thursday, Anupam Kher hosted a musical night on Satish Kaushik's 67th birth anniversary. Anil Kapoor, Rani Mukerji and others were seen attending it.
Updated on Apr 14, 2023 | 12:24 PM IST | 199K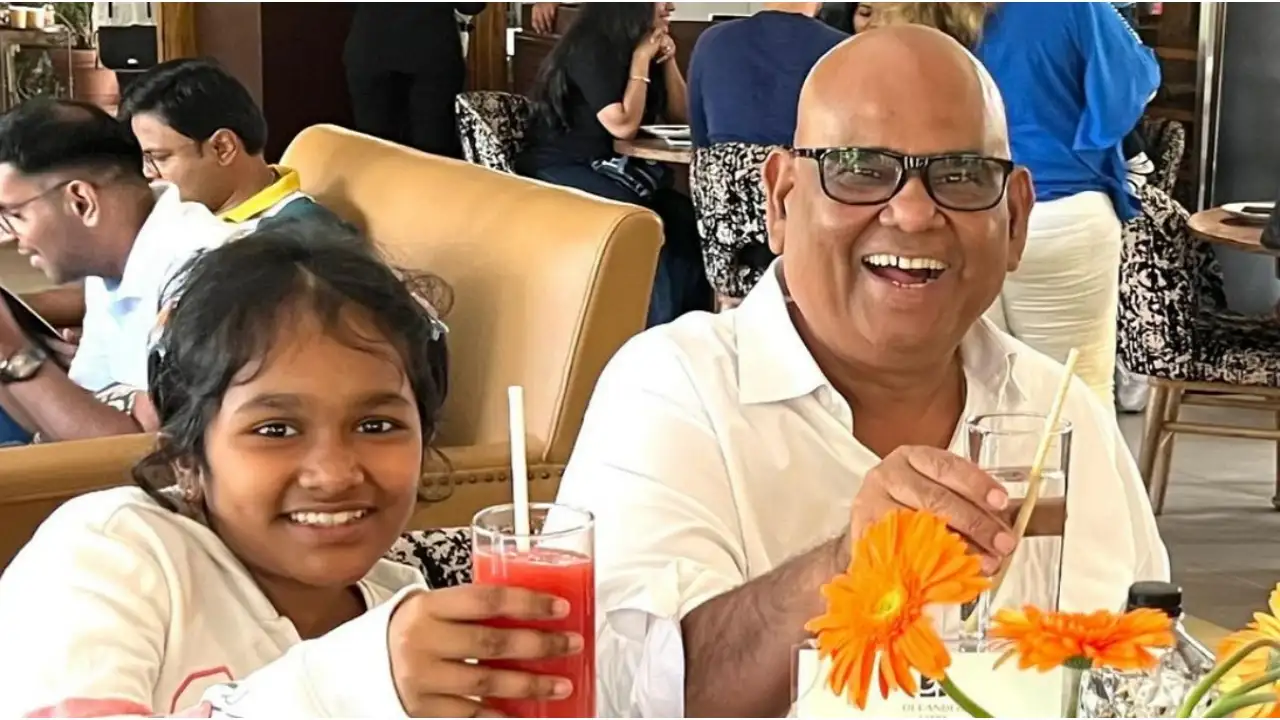 On April 13, Bollywood celebs were seen remembering their dear friend Satish Kaushik on his birth anniversary. The veteran actor passed away in March this year and his untimely demise shocked the entire nation. Satish Kaushik was in Delhi when he suffered a heart attack. On Thursday evening, Anupam Kher paid an emotional tribute to the late actor by hosting an event on his 67th birth anniversary. Celebs like Neena Gupta, Anil Kapoor, Javed Akhtar, Rani Mukerji and others were seen attending the musical event. Even Satish's wife Shashi and daughter Vanshika were seen arriving for the event.
Satish Kaushik's daughter Vanshika reads the letter that she wrote to him after his death
During the musical night, the 10-year-old Vanshika was seen reading out the letter that she wrote to her dad after his demise. Her emotional letter left everyone teary-eyed. Anupam Kher revealed that she kept her letter next to his dad's mortal remains when they were brought to Mumbai from Delhi. She didn't read the letter during the funeral saying that she would do it at the 'right time. At Satish Kaushik Night, Vanshika finally shared the details with everyone. Anupam Kher took to social media and shared the emotional video of Vanshika.
Her letter started with, "Hello Papa, I know that now you are no more but I want you to know that I will always be there for you. Your friends taught me to be strong but I can't live without you. I miss you so much. If I knew this was going to happen, I would miss school just to spend time with you. I wish I could have hugged you once. You are still in my heart. Like the movies, I wish there is a miracle and you are alive. I don't know who will save me from mumma when I will not do my homework. I do not feel like going to school anymore. I don't know what my friends will say. Will they make fun of me?"
She continued, "Please come in my dreams every single day. I have done pooja for you and I want you to be in heaven and live a happy life in a big mansion with a Rolls-Royce and a Ferrari. You will eat great food. Anyways, we will meet in 90 years again. Please don't be reborn, we will meet in 90 years. Please remember me, I will remember you forever. I had the world's best dad ever."
Vanshika also revealed that the Mr India actor would take her on lunch dates when she felt sad and he even used to do her maths homework. She said, "Whenever I felt sad, he would always tell me, 'Vanshika, do you want to go on a lunch date to JW Marriott?' Then he used to take me there. Once when I had my school exhibition, he made me laugh with his weird dance moves while I was performing my dance."
Satish Kaushik and his wife welcomed Vanshika through surrogacy in 2012. Earlier, they lost their son when he was two-year-old. 
ALSO READ: Anil Kapoor walks down memory lane as he remembers Satish Kaushik on his birth anniversary: 'I wish we had..'
About The Author
Sneha Hiro has been a Bollywood junkie and her keen interest in celebrities ended up transpiring into a professional
...
Read more
Top Comments
There are no comments in this article yet. Be first to post one!