Love Today Telugu Review: This blockbuster is not just a laugh riot but also has a plot
Love Today Movie Review in Telugu: The love track takes off in a conventional manner, with mildly emotional and brief moments built around a bracelet.
Updated on Nov 25, 2022 10:55 AM IST | 145.5K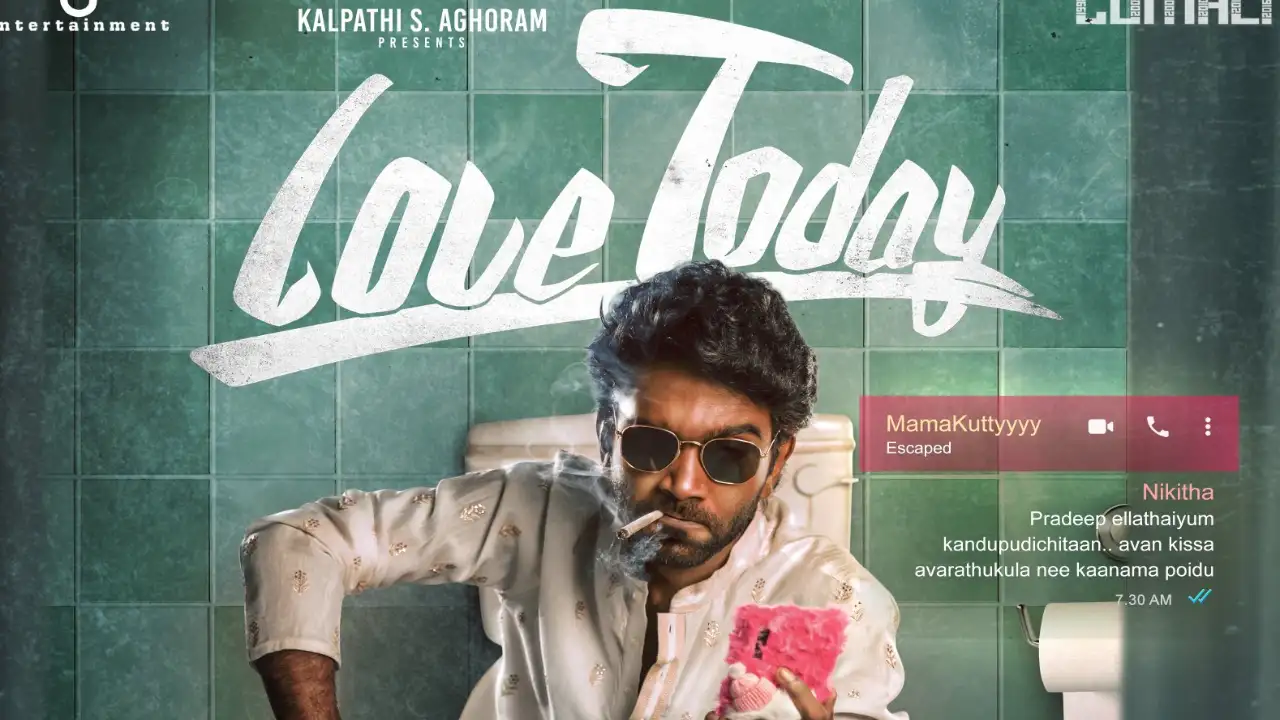 Name: Love Today
Director: Pradeep Ranganathan
Cast: Pradeep Ranganathan,Ivana
Rating: 3.5 / 5
By now, the popularity of 'Love Today' is well-known. On the commercial front, it's redeemed the sub-genre to which it belongs by putting up an enormous box-office performance in Tamil Nadu. Its Telugu release happened today, two weeks later than the original, and the anticipation around its unabashedly "youthful" elements is there for all to see. Despite social media and film reviews ensuring that the surprise factor is gone to an extent, the Telugu-dubbed version manages to entertain and engage. 
Pradeep Uthaman is a white-collar employee who is in love with Nikitha, a working woman. When the latter's orthodox father (actually, he is unorthodox in his ideas) discovers their clandestine relationship, he subjects them to a disruptive experiment: he asks them to exchange their mobile phones and discover for themselves if they really know each other pretty well. All hell breaks loose when Pradeep finds out that Nikitha is still in touch with her Ex. There are other secrets that ruin his peace. But the mess is not complete until Nikitha unearths Pradeep's secrets. 
In the hands of a director interested only in slapstick humour and gags, the crazy premise would have led to 3G double-meaning dialogues, 4G crass humour and 5G in-your-face situations. 'Love Today', though, gradually constructs unpredictable situations, especially in the second half. 
It is the second half that makes this film a story
Even when the film runs out of jokes, it is the second half that makes this film a story. The track involving Pradeep's sister Divya (Raveena Ravi) and her fiance (Yogi Babu) is a complete arc. It's this sort of writing that separates a story from a gagfest. 

The humour around ready-made ideas such as 'smartphone addition' is basic at best. But if the comedy works despite the average writing, it is because of the performers, especially the versatile Radhika Sarathkuma (as Pradeep's mother). But the film is not about such stock ideas. It's more about plot, which this romantic comedy-drama film surely possesses.
Love Today trailer in Telugu
The initial portions make a subtle announcement about the heavy nature of the last 30 minutes. The love track takes off in a conventional manner, with mildly emotional and brief moments built around a bracelet. The Pradeep-Nikitha duo generates cheerful, sweet vibes.
A rare situation exposes the charade in the lives of some unsuspecting characters. The film is also a statement against the facades the modern man is used to. When the characters have a jolt, they behave like the impatient, impulsive dude next door.
It would have been problematic had the writing in the second half continued to be about superficial situations. The film eventually becomes a love story, thereby assuming a higher form and managing to tide over the second-half syndrome. The teary segment may not work for those who look for unalloyed entertainment, but the durability of this film comes precisely from its drama.
Yuvan Shankar Raja's background score
Yuvan Shankar Raja's background score is derivative in the first half. It's in the second half that it grows. Between Pradeep and Ivana, it is the latter who shows range; in her first scene with her boyfriend and her father, it's her expressions that keep the situation from becoming wholly caricaturish. If you think of it, much of the drama works because of how well her character has been written.
Also Read| Kantara OTT Release Date: Here's when and where you can watch Rishab Shetty starrer
Top Comments
There are no comments in this article yet. Be first to post one!