Yashoda Movie Release UPDATES: Box Office opening, audience review of Samantha Ruth Prabhu film
Updated on Nov 12, 2022 12:15 AM IST | 115.2K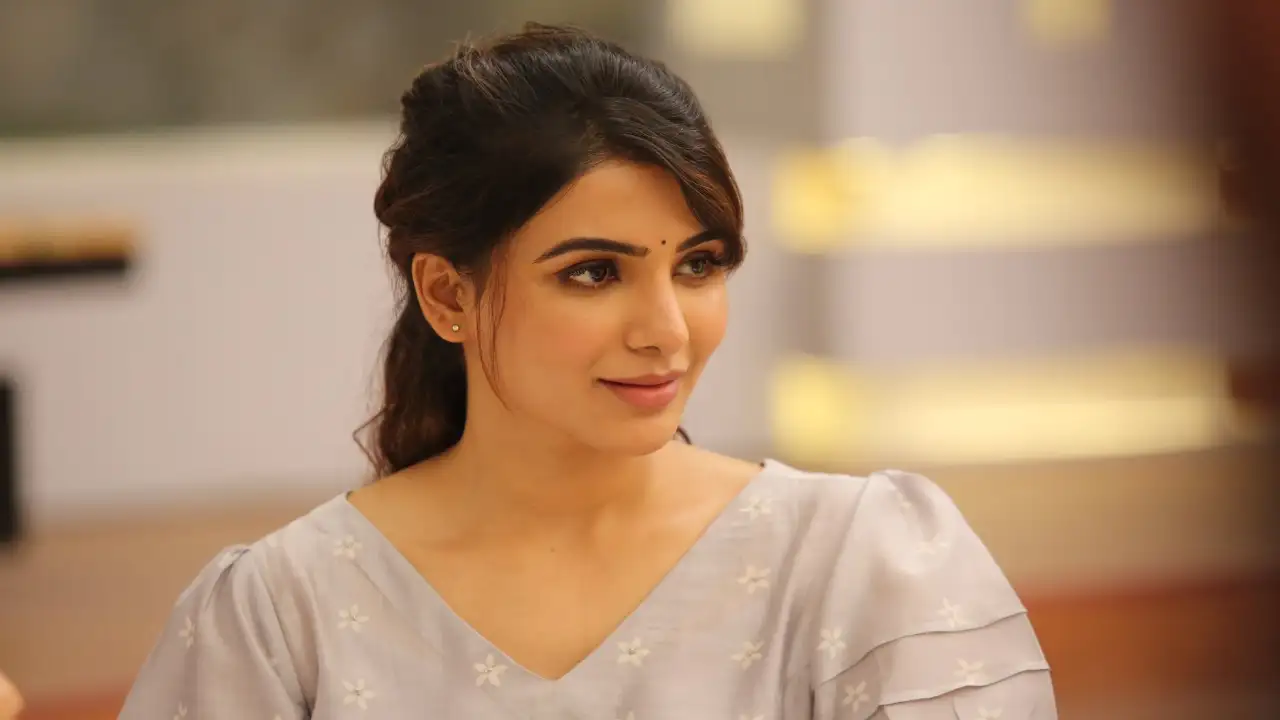 Nov 11, 2022 04:08 PM IST
Samantha Ruth Prabhu on working for Yashoda
Sharing about her journey and experience of shooting for Yashoda, which hit the cinema halls today and is receiving good reviews, Samantha said in an exclusive interview with Pinkvilla, "When I heard the story for the first time, it gave me chills. And that's why and when I knew I wanted to do this role. Once I said yes to it, and once we were on the sets, it was all about taking it one day at a time and ensuring that we are delivering the emotion while shooting the talkies and delivering the punches while shooting action. And Hari-Harish were a delight to work with because they truly believed in the story and the message that they wanted to put out there. I can't tell you what that is, you will have to watch the movie to understand what drove this director duo to tell a story like this. And I am glad I got to be a part of it too."
Nov 11, 2022 02:29 PM IST
Samantha Ruth Prabhu's Yashoda Movie Review
The film attempts to show Yashoda (Samantha Ruth Prabhu) as a vulnerable woman at the outset. Samantha's convictions spill over into the frames; she succeeds in showing emotional urgency. And her action (aided by Hollywood stuntman Yannick Ben and Venkat) lend rapidity to an extent, a part of Pinkvilla reads. Check out the full review of Samantha's Yashoda
Nov 11, 2022 11:47 AM IST
Samantha reacts as fans go gaga watching Yashoda in theaters
Fans in theaters go gaga over Samantha as they watch the thriller drama Yashoda. She reacted to a video of fans shouting and throwing papers in the theaters and wrote 'Love you forever'.
The actress has been on social media platforms since early morning, following the audience's response.
Nov 11, 2022 11:31 AM IST
Samantha's Yashoda gets a massive response in Hindi
Samantha's thriller drama is not just impressing Telugu audiences but the Hindi belt as well. The actress reacted to Hindi audiences' reviews on Twitter and said it made her day. Yashoda is the first film of Samantha releasing in Hindi and looks like it's a clear win.
Nov 11, 2022 11:21 AM IST
Samantha confesses 'i love you' to fans for their reviews
Samantha Ruth Prabhu is actively following all the responses to her film Yashoda. She reacted to fans' reviews as they heaped praises on her performance in the film. The actress shared a video of the audience's review on Yashoda and wrote, "Who is this cutie. I love you. #Yashoda."

Nov 11, 2022 10:31 AM IST
Flashback Friday feat Samantha Ruth Prabhu's debut
Today, as Samantha's highly awaited film Yashoda released in theaters, let's flashback to the time and check out her debut as an actor with the first commercial advertisement for a college. In 2007, she made her debut as an actor with a Tamil commercial advertisement for a Television. The actress played the role of a college student as she promoted an educational institute.
Nov 11, 2022 09:34 AM IST
Samantha Ruth Prabhu's heartfelt note to fans for Yashoda
As Yashoda released today and opened up with good reviews, Samantha Ruth Prabhu took to Twitter and thanked fans for all their love and affection. She wrote, "This time, more than ever, I was hoping and praying for all your support in promoting the film. The affection you have showered on me & Yashoda in the run up to the release is humbling. Forever grateful to all of you. You are my family Truly hope you enjoy the film. Thank you."
Nov 11, 2022 09:14 AM IST
Take a bow: Fans hail Samantha for working on Yashoda
Many fans took to Twitter and hailed Samantha for her dedication as she worked on Yashoda despite her health issues. The actress has revealed recently that she has been diagnosed with Myositis.
Nov 11, 2022 09:05 AM IST
Happy tears for Samantha Ruth Prabhu with Yashoda
One of Samantha's fans shared a pic of her in Happy tears and wrote 'finally victory'. The actress reacted to the tweet and said the 'exact same emotions.'
Nov 11, 2022 08:58 AM IST
Yashoda's USA release; Samantha grateful for fans
Samantha Ruth Prabhu is thankful for her fans in the USA as Yashoda has been running well in the country. The actress took to Twitter and wrote, "My dearest USA Telugu Fam.. you have always been so kind to me. I'll never know how to thank you. #Yashoda."
Nov 11, 2022 08:26 AM IST
Yashoda co-star Unni Mukandan on working with Samantha
Yashoda co-star Unni Mukandan has talked about his experience of working with Samantha and how professional and dedicated she is. He said, "I didn't know it while shooting. Samantha was very professional. She never revealed that she was fighting such a disease. I felt sad after seeing Samantha's post. She'll fight with myositis and come back in good health."
Nov 11, 2022 08:12 AM IST
All details of Samantha's Yashoda
From a true surrogacy story to Samantha Ruth Prabhu getting emotional during promotions, all details about the film you want to know. Yashoda is a big film for Samantha as it's her first pan Indian release and also will be seen in action avatar. Samantha will be seen performing power-packed action sequences in Yashoda, from judo to kickboxing to boxing, to name a few.
Nov 11, 2022 07:52 AM IST
Yashoda first reviews from audiences
Movie buffs who watched Yashoda in theaters have taken to Twitter and shared their reviews. Samantha totally managed to impress with her 'one-man show'. The audience called the film an engaging thriller.
Nov 11, 2022 07:46 AM IST
Chinmayi Sripaada dubs in Hindi for Samantha in Yashoda
Chinmayi Sripaada, who was dubbed for Samantha in many movies, has lent her voice to the Hindi version. The artist revealed that she is very grateful for such an opportunity.
Nov 11, 2022 07:28 AM IST
Vignesh Shivan excited to watch 'Khatija' in action avatar
Kaatha Vaakula Rendu Kadhal director Vignesh Shivan took to Twitter and sent good wishes to Samantha for Yashoda's release. The director also mentioned that he is excited to see Khatija (Samantha's character name in his film) in Yashoda.
Vignesh Shivan tweeted, "Wishing the best for #YashodaTheMovie releasing tomo rooting for the movie wholeheartedly & praying that this earnest effort put forward by Sam Ji & this entire team strikes Gold at the box office! Waiting To see the action avatar of our #Khatija in big screens from tomo."
Nov 11, 2022 07:18 AM IST
Vennela Kishore and Lavanya Tripathi send best wishes to Samantha for Yashoda release
Vennela Kishore, comedian and Samantha's close friend, shared the craze for the actress' movie Yashoda with his post as he sent best wishes. He shared human-size posters of Samantha installed by fans in various cities and asked everyone to enjoy the film.
Actress Lavanya Tripathi also took to Twitter and shared good wishes to Samantha for her grand release of Yashoda.
Nov 11, 2022 12:18 AM IST
Samantha Ruth Prabhu- Myositis
Samantha recently revealed that she suffering from this rare disease called Myositis. Sharing about it in a long post, she wrote, "A few months back I was diagnosed with an autoimmune condition called Myositis. I was hoping to share this after it had gone into remission. But it is taking a little longer than I hoped. I am slowly realising that we don't always need to put up a strong front. Accepting this vulnerability is something that I am still struggling with. The doctors are confident that I will make a complete recovery very soon. I have had good days and bad days…. physically and emotionally…. and even when it feels like I can't handle one more day of this, somehow that moment passes. I guess it can only mean that I am one more day closer to recovery."
Despite suffering from health issues, Sam made sure to finish the shoot on time and also performed some daredevil stunts without using a body double.
Check out the photo she posted alongside:

Nov 11, 2022 12:13 AM IST
You have come a long way says Sai Dharam Tej
Ahead of the film's release, Sai Dharam Tej penned a sweet note for Samantha and called her a 'fighter'. "You have come a long way & grew up to be a fighter. #Yashoda is going to be another milestone for you and I strongly wish for the best. All the best @Samanthaprabhu2 and the entire team," he tweeted.
Nov 11, 2022 12:10 AM IST
Yashoda worldwide release
The film is seeing a release of about 1400 screens across the world including overseas 300. Yashoda is releasing in Singapore, Malaysia, UK and also in Australia, and New Zealand.
Nov 11, 2022 12:02 AM IST
'Extremely Nervous' Samantha
Ahead of her film's big release, Samantha penned a long note revealing she is "extremely nervous" but "excited" too. "Extremely nervous and especially excited! One day to go. Mee andhariki Yashoda nachchalani gattiga korukuntunna. Good vibes to my directors, producer, cast and entire crew as they wait like me for your verdict tomorrow. All fingers and toes crossed."
Check out her Instagram post below:
Top Comments
There are no comments in this article yet. Be first to post one!