WATCH: BIGBANG's Taeyang and BTS' Jimin entrance viewers in the glamorous MV teaser for VIBE
THEBLACKLABEL released the first MV teaser for BIGBANG's Taeyang track VIBE featuring BTS' vocalist Jimin. Read ahead to know more.
Updated on Jan 11, 2023 | 02:16 PM IST | 701.7K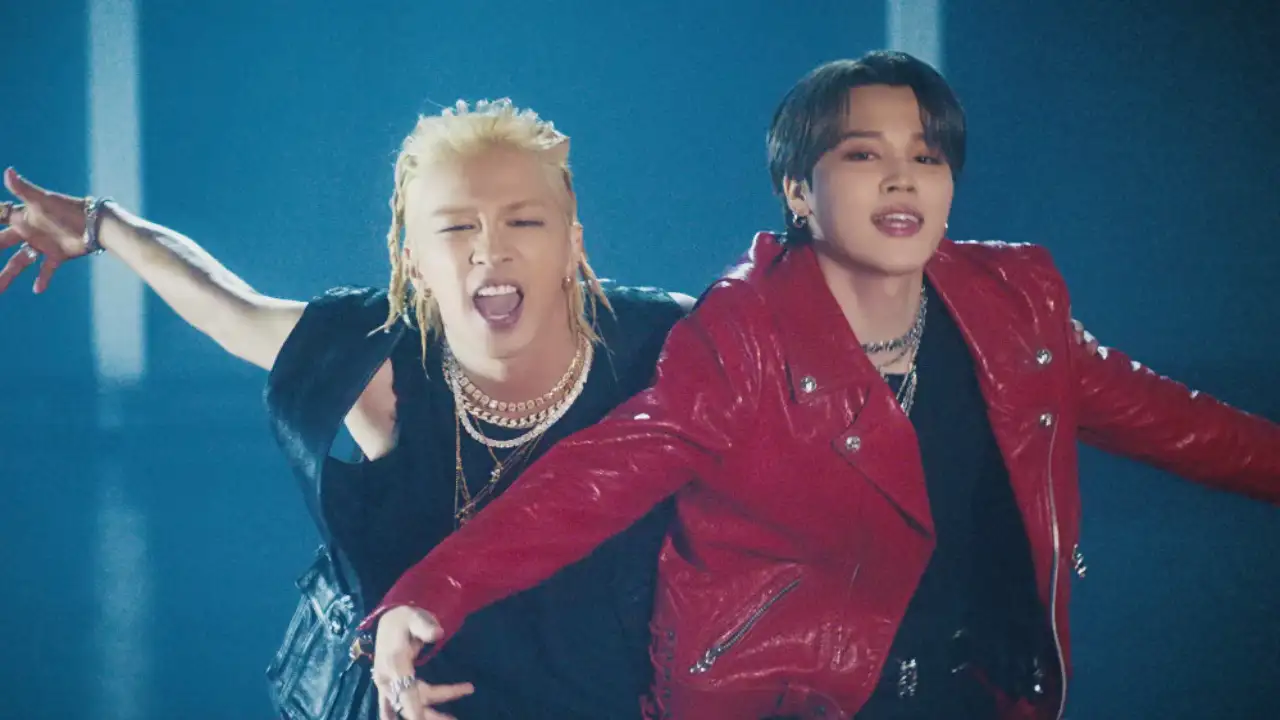 Taeyang's agency, THEBLACKLABEL, posted a music video teaser video for Taeyang's new digital single VIBE (Feat. Jimin of BTS) on various social media handles at 10:30 AM IST on January 11th. In the teaser video, Jimin appears in the music video following. Jimin, who was first known as a featured artist in the previously released teaser image and raised expectations, worked with Taeyang in the music video as well, enhancing the firepower of Taeyang's new digital single VIBE.
VIBE MV Teaser:
In the video, Taeyang unconventionally showed off his upper body, revealing his strong luxurious abs and giving intense expressions with his deadly visuals. Taeyang and Jimin wore neat black suits and gave off an aura that was difficult to approach. The movement of the camera, approaching Taeyang and Jimin in line with the gradually escalating beat, captured the attention of global fans by properly capturing rhythmic performances and gestures. VIBE is a song that expresses the subtle emotions that can be felt in a relationship with witty lyrics, and is a song that combines addictive beats with Taeyang and Jimin's charming voices. It will be released at  2PM KST (10:30 AM IST) on January 13th.
On January 10th, THEBLACKLABEL announced, "On January 13th, at 9:30 AM IST on January 13th, Taeyang will hold a live countdown to the comeback of his new digital single 'VIBE' (feat. Jimin of BTS)." On this day, Taeyang introduces a new song featuring Jimin. They plan to communicate through music video behind-the-scenes talks and messages of support from fans congratulating the album release.
An official explained, "The live broadcast will be held an hour before the release of the sound source. Taeyang will share various stories such as a commentary on a new song and working episodes." VIBE is Taeyang's first solo song in six years. Jimin participated in the feature and predicted an extraordinary synergy. The two participated in the composition and improved the musical perfection. The agency hinted, "It's a charming song with a warm sound. The subtle emotions that can be felt through the vibe in each other's relationship are solved with witty lyrics."
BTS' Jimin's 'With You' won the double crown honor as the best song of 2022. Jimin's OST 'With You' took first place with a total of 4,133,660 votes in 'TOP 100 KPOP 2022' by the global voting site, which ended on January 8. This is a remarkable achievement achieved after a fierce competition among 100 K-pop songs of all genres released in 2022, as well as drama OSTs, and added special meaning by proving the popularity of masterpieces that go beyond the OST world. In addition, 'With You' also ranked first in the '2022 Fave Idol OST of 2022' hosted by Kooky App, a global platform for K-pop fans, as a result of the deadline on the 3rd. The great success of 'With You', which topped the Billboard Hot Trending Chart for 7 weeks and topped the Billboard Digital Song Sales in the first week of its release, and defined Jimin as "IT boy who transcends K-pop's generation". 
The media commented on Jimin, "It is well known for its fluid and captivating movements, the ability to transform from sexy to innocent in an instant, and the ability to skillfully change style and charisma depending on stage costumes and the atmosphere of the song, but above all, it is famous for its voice." At the same time, "Jimin has a voice that is hard to find anywhere in the music world, and he can easily produce very high notes for male vocalists, and he has a clear voice that even the best vocalists covet." He did not forget to look forward to the collaboration song VIBE with Taeyang, which will be released on January 13th. On the other hand, Jimin's 'With You' surpassed 190 million streams on Spotify, 260 days and 10 hours after its release, renewing the record for the fastest Korean OST ever, and is still on the rise with its undiminished popularity.
On January 3rd, The Black Label released Taeyang's first profile image and official logo with the hashtag "#TAEYANG #Taeyang #THEBLACKLABEL #The Black Label" through their official Instagram and Twitter profile. In the published image, Taeyang fired intense eyes. The cold eyes further accentuated Taeyang's intense charisma, and he completed the aura by adding restrained proportions and a sensuous atmosphere. Taeyang is an 'all-rounder' artist who has been loved by many people through various charms such as debut with BIGBANG, splendid dance skills and sweet vocals. 
ALSO READ: Twenty-Five, Twenty-One fame Choi Hyun Wook to star in D.P.2: Here's why he's one of the rising Korean stars
Stay updated with the latest Hallyu news on: Instagram, YouTube, Twitter, Facebook and Snapchat
What do you think of VIBE MV teaser? Let us know in the comments below.
About The Author
A BMM graduate, Anoushka has been writing professionally for over 2 years. K-Pop and K-Dramas consume her day and she... enjoys writing articles about it. So far, she has written close to 3000 articles. She loves films, music, art, and food! She spends most of her time either discovering a new film or burying her nose in a gripping novel.
Read more
Top Comments
There are no comments in this article yet. Be first to post one!