Why are BTS' V and Park Hyung Sik's fans laughing at their interaction at Harry Styles' concert?
BTS' V has been Wooga Squad's baby since Hwarang days, and his hyungs never fail to show their love for their dongsaeng.
Published on Mar 22, 2023 | 02:49 PM IST | 545.8K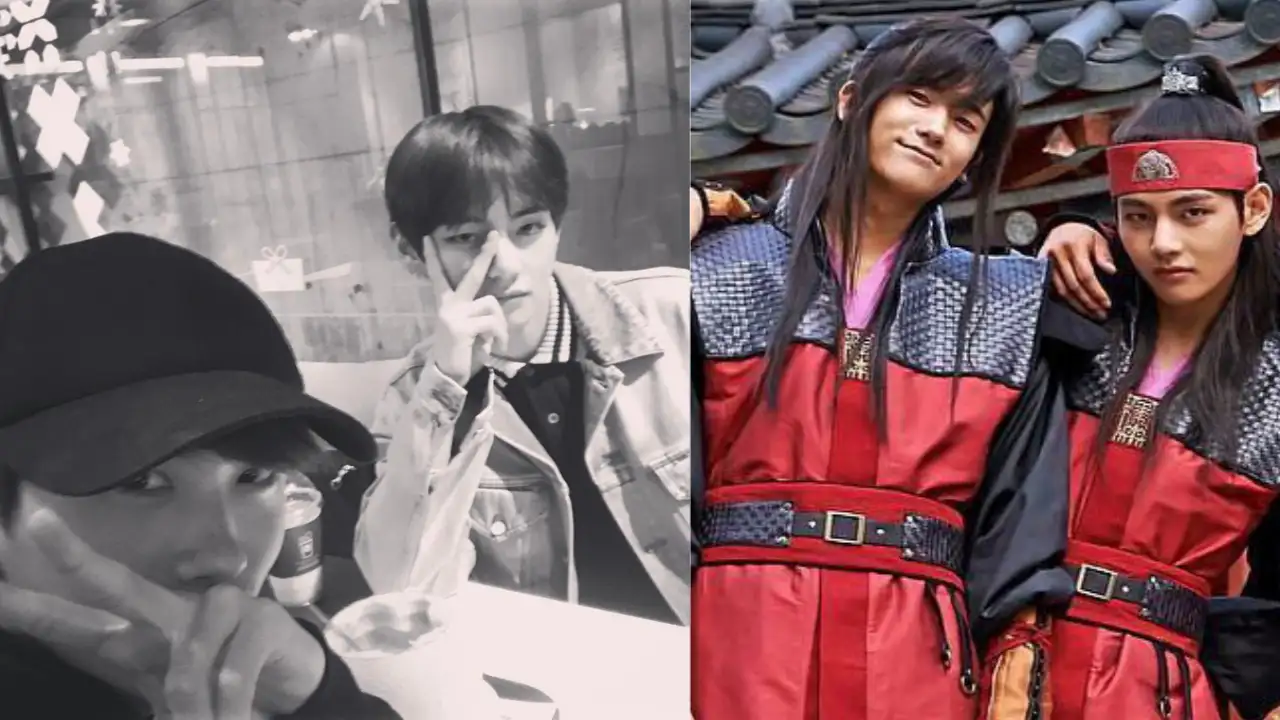 BTS' V and Park Hyung Sik, two of South Korea's most beloved celebrities, recently caught the attention of their fans after their interaction at Harry Styles' concert. The two stars were spotted together at the event, and their playful banter and chemistry left fans thrilled.
Origin of the BTS' V and Park Hyung Sik dynamic
V and Park Hyung Sik have been close friends since their early days in the entertainment industry. The two met while working together on the historical drama 'Hwarang: The Poet Warrior Youth' and have remained close ever since. Fans love their interactions, and many have even dubbed them the 'VSik' or '2Hyung' as their bromance ship name.
Harry Styles concert interaction
At the recent Harry Styles concert in Seoul, V, and Park Hyung Sik were seen enjoying the show together. The two stars were spotted singing and dancing along to Harry's songs, and V even captured some adorable videos of Park Hyung Sik enjoying himself. Their chemistry was undeniable, with V playfully teasing Park Hyung Sik and making him laugh throughout the show. Fans were quick to share their excitement about the interaction.
While the hit One Direction song 'What Makes You Beautiful' was playing, V was as enthusiastic as a child, trying to get Park Hyung Sik and Jungkook (sitting behind them) to dance with him. Even though Park Hyung Sik didn't exhibit the same energy as V during the show, he did stand up and joined V in enjoying the performance. Park Hyung Sik and V were seen getting back together after the show ended, melting netizens' hearts with an adorable moment in the car park.
After the concert, they were seen leaving the KSPO Dome together. It was seen that V was so lost and engrossed with his arm on Park Hyung Sik that he didn't realize he needed to get on the other side of the car for which he had rushed over so they could leave together, making fans laugh.
What does the future hold for V and Park Hyung Sik?
As two of Korea's most beloved celebrities, V and Park Hyung Sik's friendship is sure to continue to capture the attention of fans. While the two are both incredibly busy with their respective careers, they always make time for each other, whether it's through social media or attending events together. Fans can't wait to see what the future holds for V and Park Hyung Sik, and many are hoping for more collaborations and interactions between the two and other Wooga Squad members in the future. 
Stay updated with the latest Hallyu news on Instagram, YouTube, Twitter, Facebook, and Snapchat
About The Author
A tenacious individual and a witty writer who graduated with a degree in Journalism & Mass Communication with over t...hree of experience in writing in different fields. She enjoys reading, dancing, singing, and being dramatic on occasion. After working for a while and now having the opportunity to pursue her passion for writing pieces related to Korean entertainment, she is in the ninth cloud. Read more
Top Comments
There are no comments in this article yet. Be first to post one!