Karisma Kapoor's Antar-Agni dress is a breezy bet for a stylish spring; Can you guess its cost?
Karisma Kapoor's OOTD has textures to accessories worth holding on to. Have you seen it?
Published on Mar 02, 2023 | 07:10 PM IST | 95.7K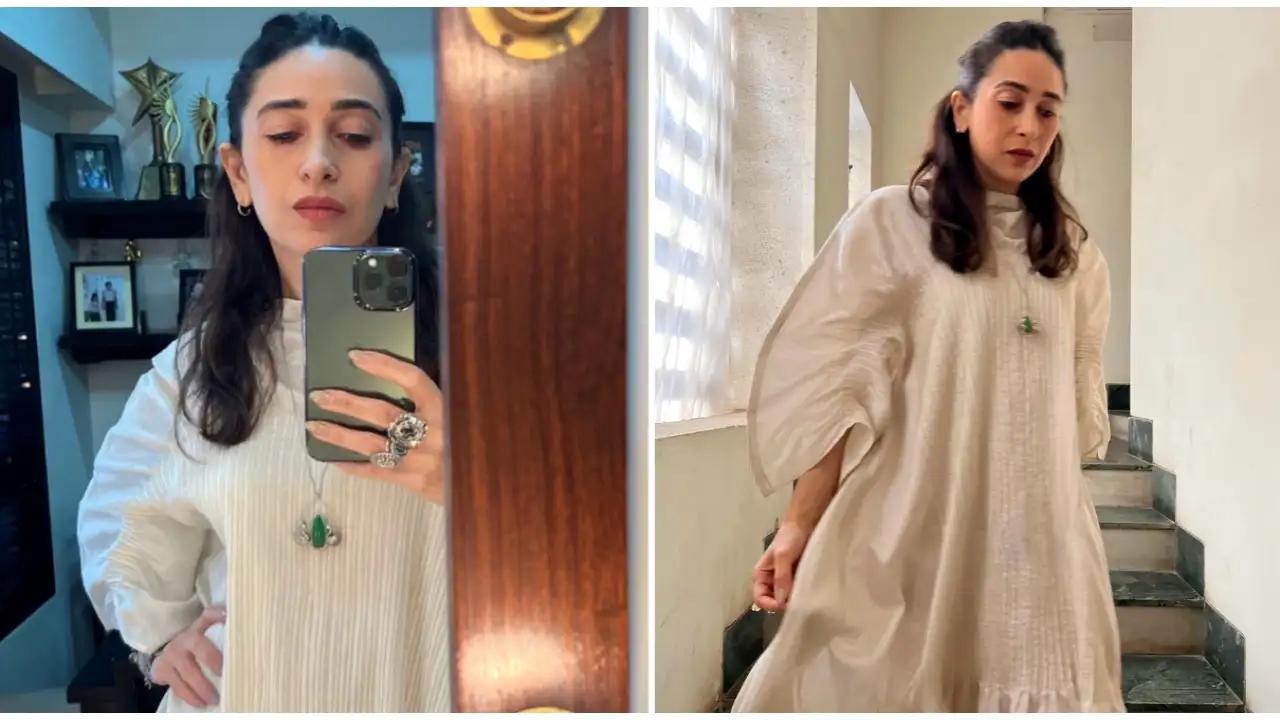 Getting closer to spring does feel heavenly. It can be sweaty but also sweet enough as it deliberately pushes us into the home of comfortable and lightweight fabrics. Jackets get traded and the problems of winter are no longer our concern to deal with. Who knew we'd quickly be talking about favouring dresses instead of beige trench coats? Us looking at dresses fondly now includes touching upon unending celebrity-approved fits and dabbling away stylishly, here's a Karisma Kapoor take. 
To ride on the spring-style success, this monotone ivory bliss can be your new bae. There are a dozen loads of options out under the fashion sun but this newbie did set a tone of contentment in us. It's come on the scene freely and that's Lolo chic. As people who cannot stop admiring this Bollywood actress, her outfits have our gazes on. And here we are, one more time, letting you know we cannot get enough. 
Karisma Kapoor is an absolute cutie in a dress
To be honest, do you really want to revert to black dresses? Phasing out can not be easily convincing. Since we were meant to meet this 'Railtrack Dress' from Ujjawal Dubey's Antar-Agni, our style will undergo an asymmetric and pretty change. What do we mean? This Made in India midi dress leapt into monotone magnificence which mainly focused on running tucks. The cushiony, balloon sleeves and close-neck features are examples that the Rs. 17,900.00 dress does not hold back on modish glamour. The Raja Hindustani actress was styled by Esha L Amin today for an event so she also included a pair of sneakers to complete her look.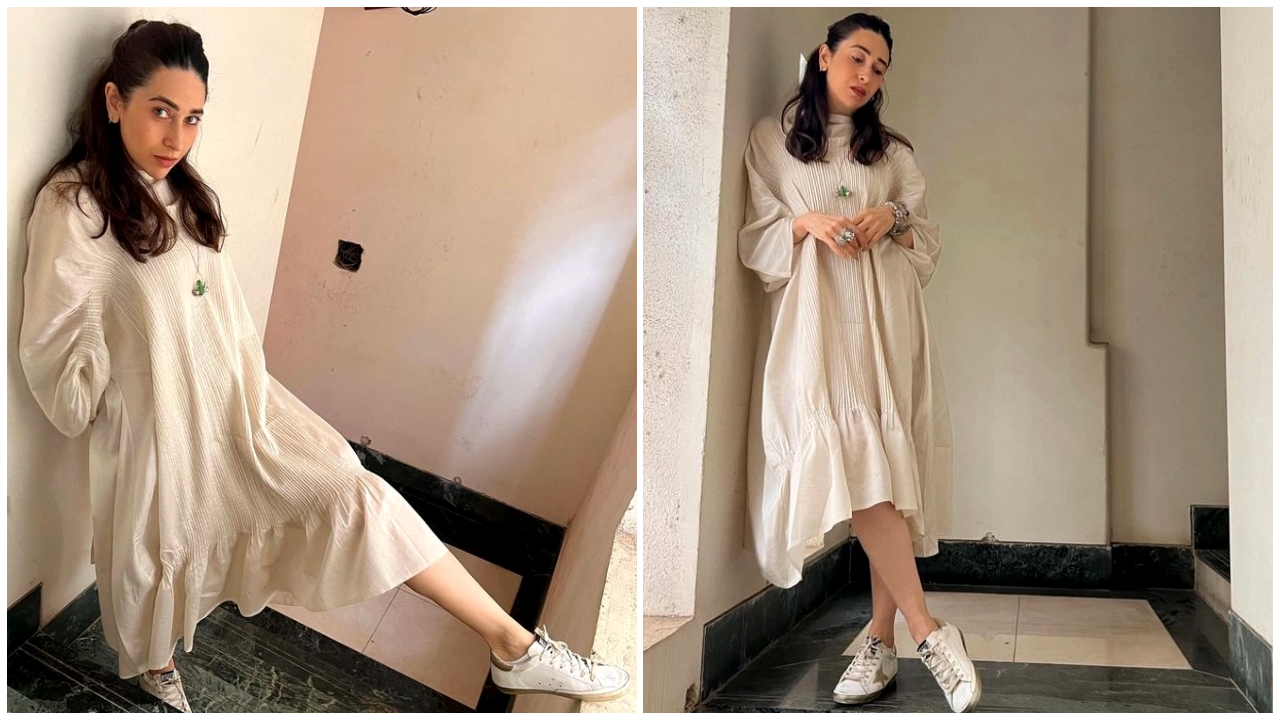 Not only do her handmade Super-Star shoes worth Rs. 45,106.65 look sporty, but it also gives you the best sheen and a vintage look. If you're always after oxidised jewellery, make a flaunt-worthy room for more with Karisma Kapoor's handcuff accessories from Tribe by Amrapali. She wore three but her Ghana Mask Masaba silver-plated piece available for Rs. 4429.00 is beautifully designed and detailed and that is how we picked our favourite. Let the 'chain' of perfection continue with rings, mini hoops and a single chain. She clipped her hair at the back, waterlines were subtly kohl-ed and her pout bore a lipstick hue to love.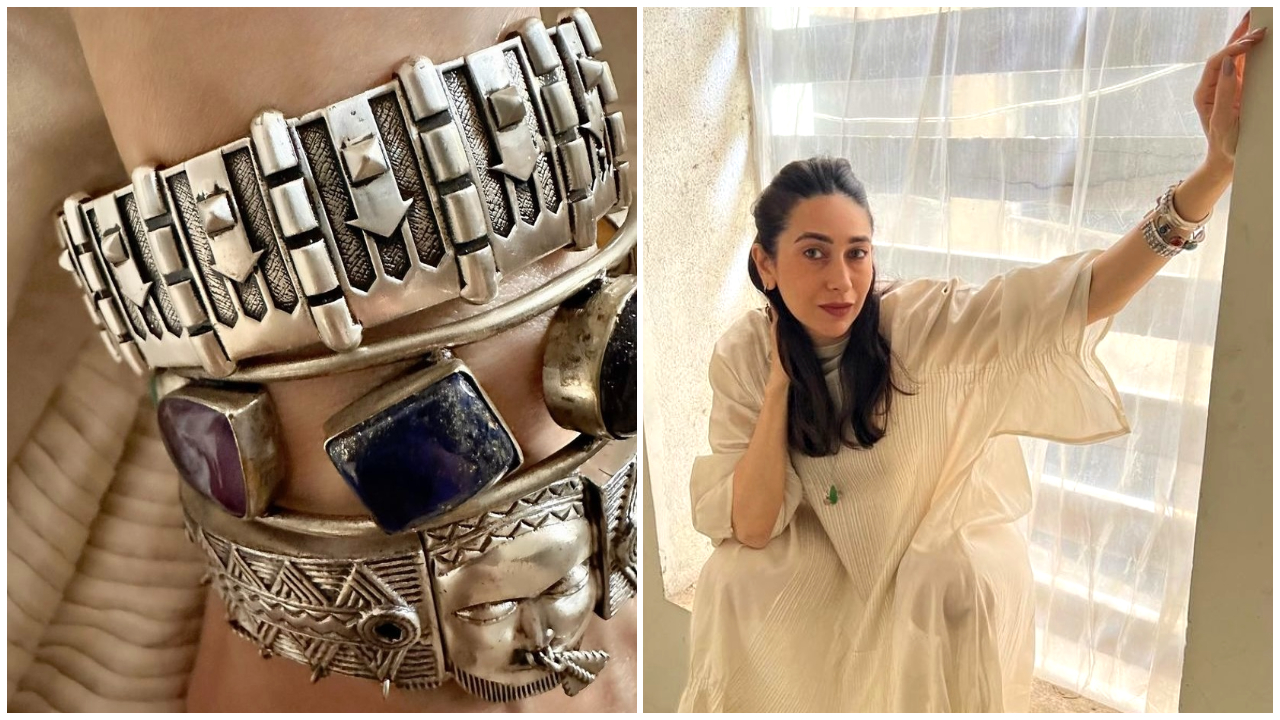 Can you rate her look on Pinkvilla's #OMB scale? (ON-FLEEK, MOOD, and BLAH)
For more Fashion & Beauty updates, follow @pinkvillafashion
ALSO READ: Ananya Panday's Cult Gaia mini handbag is a sparkling glory for partying like it's chic
About The Author
A fashion writer by day and a makeup inspiration by the night, Manjusha is also an ardent animal lover. With multiple me...dia internships, and 2 years of writing experience, she has over 1000 posts to her credit. Her everyday joys translate to doing interviews, fashion round-ups, keeping an eye out for fashion faceoffs, and talking like there is no tomorrow about the newly-brewed skincare or makeup trend. Read more
Top Comments
There are no comments in this article yet. Be first to post one!