Khushi Kapoor serves casual elegance in black tank top, biker jacket and and khaki green skirt at airport
Khushi Kapoor's fashion takeoff in effortlessly stylish black tank top and khaki green skirt combo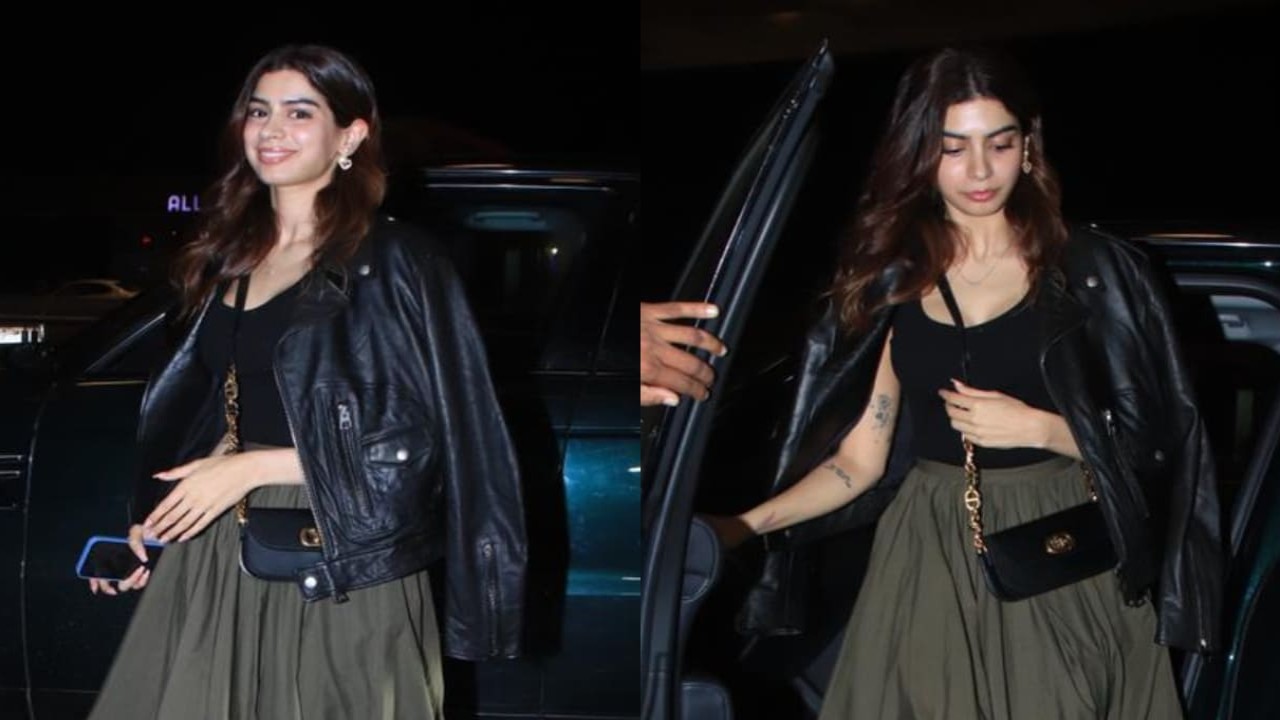 Khushi Kapoor, our darling Gen-Z diva, has once again wowed us with her new airport style. She's ready to jet set fly in style after dazzling the Ganapati celebration in a lovely purple saree. Let's dissect her enthralling ensemble's stylish elements. Khushi balances comfort and fashion with ease, choosing for a sophisticated yet casual appearance. She radiates unmistakable coolness while wearing a stylish black tank top and khaki green skirt. Khushi easily demonstrates her airport fashion. Let's decode Khushi's chic look.
Khushi Kapoor's airport style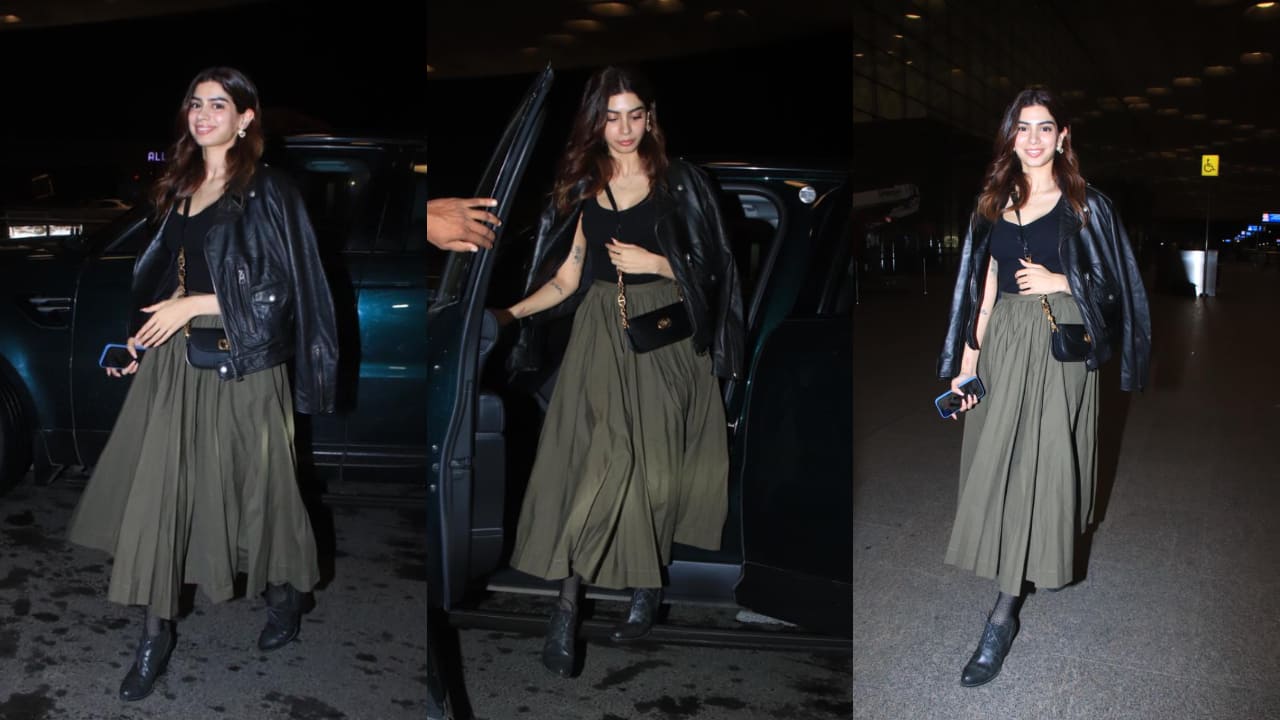 Khushi Kapoor certainly knows how to make a stylish statement! She was recently seen wearing a black tank top with a scoop neckline, easily exposing her toned shoulders. But it was her mid-length skirt that stole the show, elegantly highlighting her waist and adding that Dior touch. This skirt had a lovely khaki green color with a flared shape that was accented by careful topstitching. The attention to detail was just outstanding! Khushi nailed her outfit, expressing confidence and flair.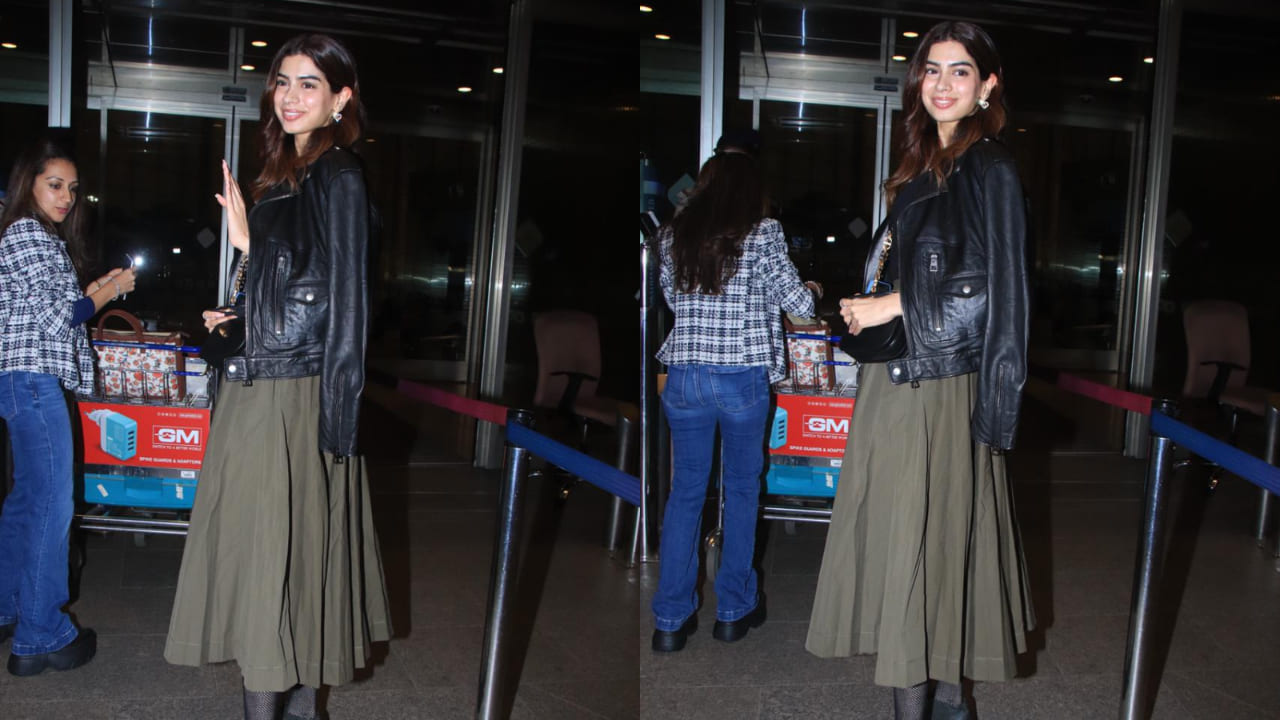 Khushi Kapoor not only brought her A-game with the tank top and skirt combo, but she also opted to increase the ante by adding a gorgeous jacket to her ensemble. And wow, did she make the correct decision? The black biker jacket she chose is a timeless item by Dior. It's made of silky goatskin and wonderfully embraces her shape, giving her a sleek and fitting appearance. This jacket exudes edgy sophistication with several zip closures and a notched collar accented with snap buttons. It was the icing on top of Khushi's already fantastic ensemble, with shoulder padding, an asymmetric front zippered closure, two zipped pockets, and a tiny snap-button pocket. She has once again mastered the airport fashion game!
Khushi Kapoor's go-to accessories for airport fashion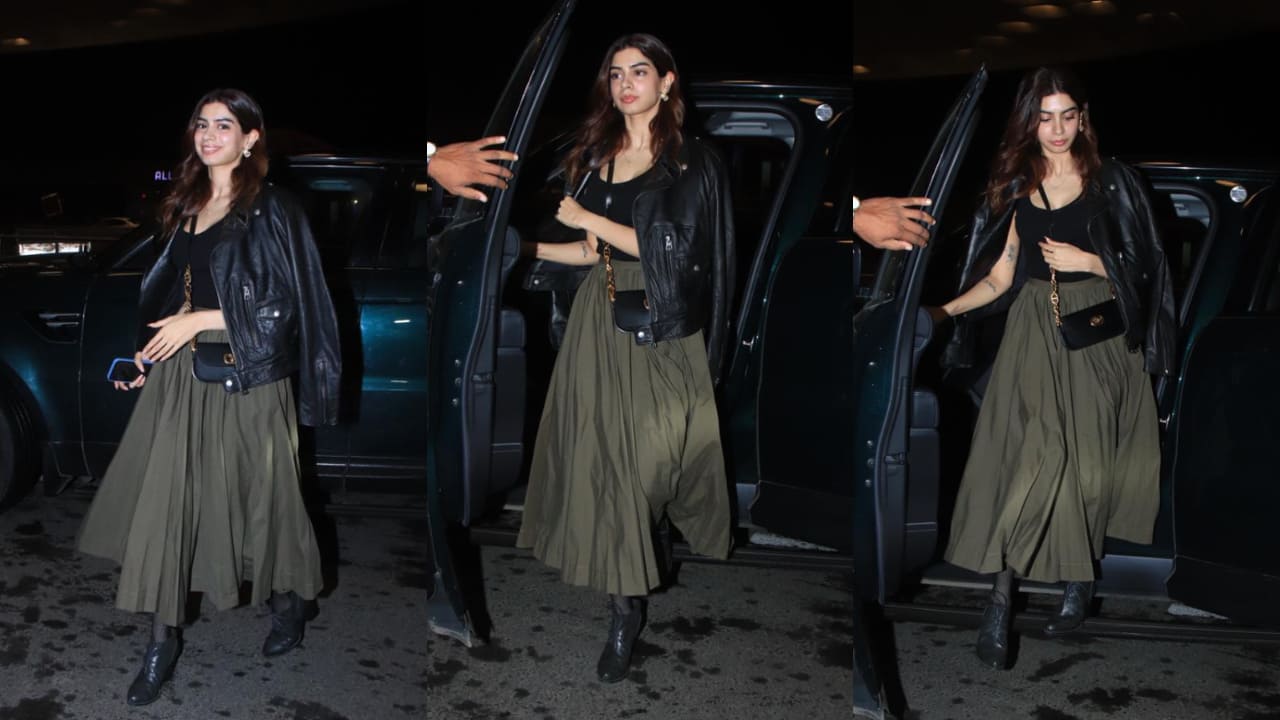 Khushi Kapoor understands how to dress up her outfits with the right accessories. She picked the Dior Pearl Crystal Heart Tribal earrings to add a touch of refinement to her already great outfit. These gorgeous earrings combine pearls with hanging heart-shaped stones to create a stunning and eye-catching design. They easily added a sense of beauty and refinement to her entire look. And don't forget about her shoes! Khushi completed her ensemble with ankle boots that added a touch of edginess.
Khushi Kapoor knows how to accessorize with the ideal purse and this time she went for Dior's 30 Montaigne Avenue bag. This bag is made of black box calfskin and emanates beauty and class. The rounded flap with delicate curves lends a feminine touch, while the antique gold-finish hardware adds a vintage touch. The distinctive 30 Montaigne signature is stamped on the back of the bag, emphasizing its rarity. The characteristic chain, which alternates with gold-finish metal, lends a glamorous touch to the overall design. This gusseted bag, worn crossbody, is not only fashionable but also functional, allowing Khushi to carry her things with ease.
Do you like Khushi Kapoor's airport fashion? Let us know in the comments section below.
ALSO READ: Ananya Panday SLAYS in white figure-hugging mini dress with a unique zip detailing

---