Nora Fatehi looks BOMB in denim blazer and short skirt set teamed with black ribbed bralette from Balmain
Nora Fatehi recently opted for a stylish all-sky blue outfit for Hip Hop India's latest episode. Read on to take a closer look at her inspired outfit.
Published on Aug 16, 2023 | 04:05 PM IST | 90.4K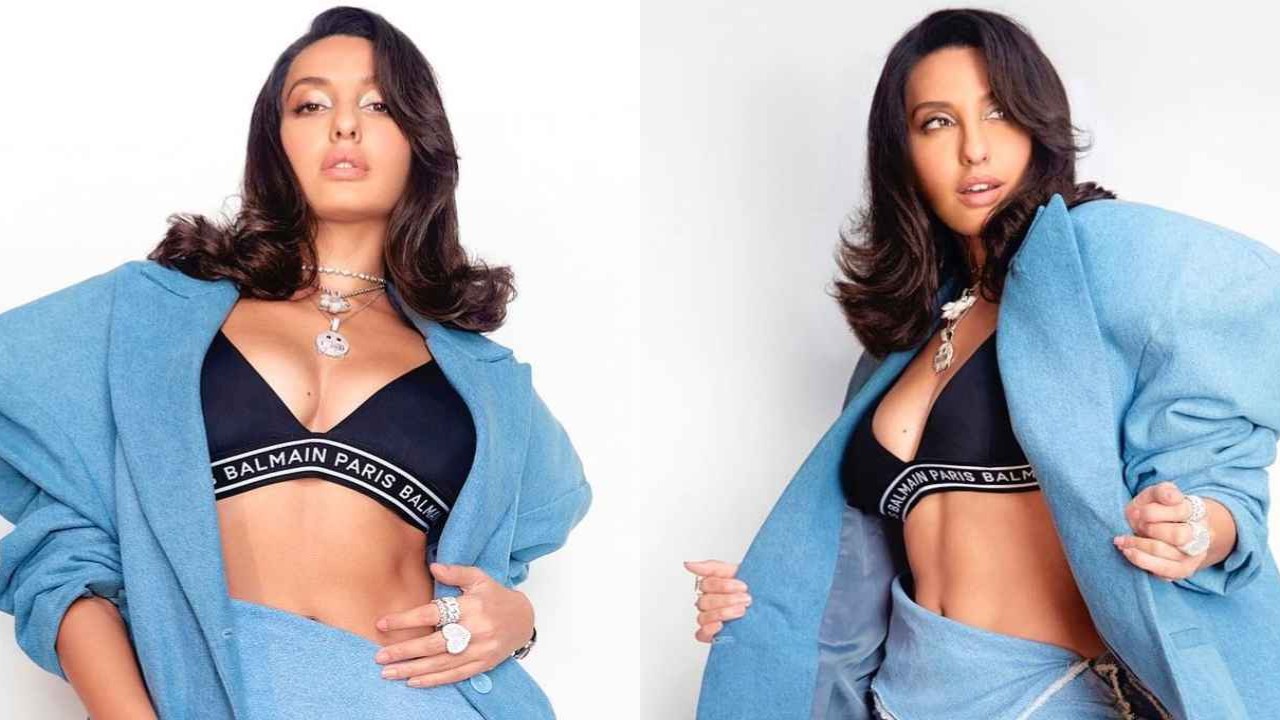 In the ever-evolving world of fashion, few individuals manage to captivate the masses with their bold sartorial choices quite like Nora Fatehi. The diva recently graced the set of Hip Hop India's latest episode in a stunning ensemble that effortlessly blended contemporary trends with a touch of nostalgia. With an oversized blue blazer adorned with shoulder pads, a chic mini-skirt from Deme, and a bralette from Balmain, Nora Fatehi showcased a unique amalgamation of style and panache. Paired with accessories from Drip Project.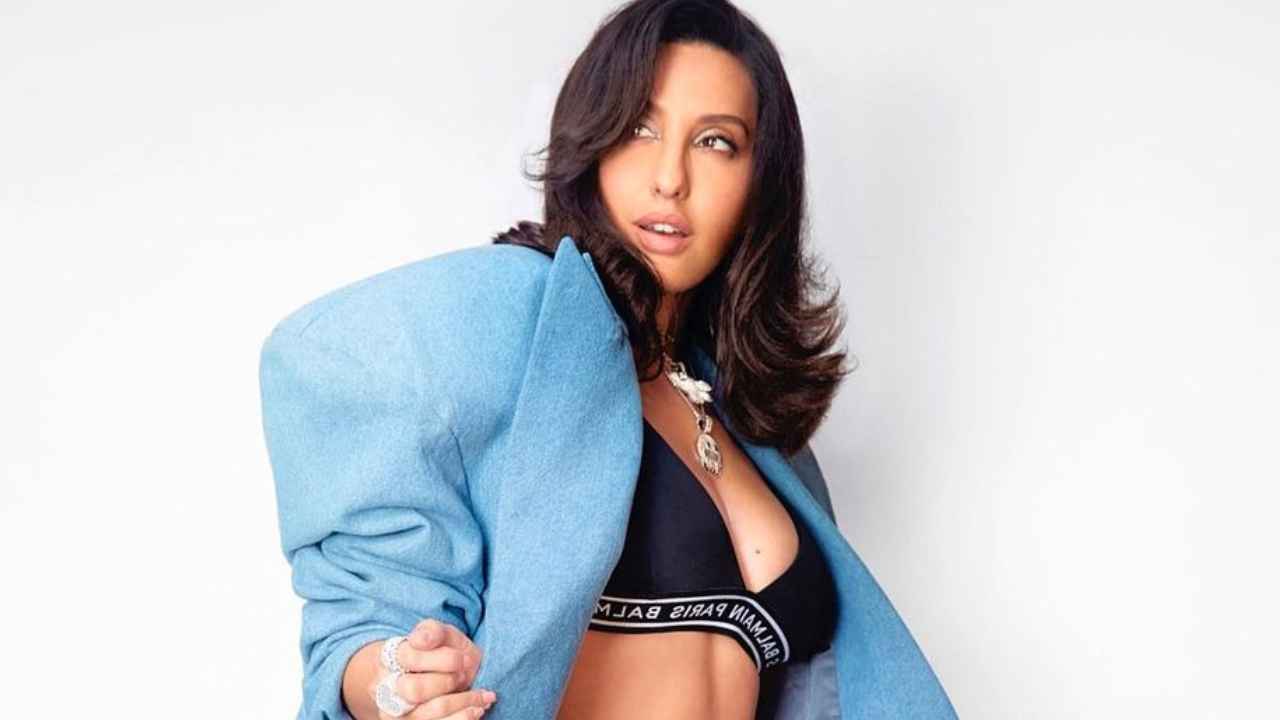 The talented actress' outfit serves as a testament to the innovative spirit that defines modern fashion. So, what are we waiting for? Let's dive into the details of this outfit and see how Fatehi left everyone mesmerized.
Nora Fatehi looks like a goddess in a stylish denim outfit
Fatehi's fashion choices have always been characterized by their distinctive fusion of elegance and edge, and her latest ensemble is no exception. The oversized blue blazer, a quintessential element of power dressing, receives a playful twist with the addition of shoulder pads. This clever juxtaposition of a formal silhouette with a daring design element is a true embodiment of Nora's signature style. The blazer, a creation of Deme, not only exudes confidence but also showcases the brand's ability to infuse classic designs with contemporary flair. Complementing the blazer is the denim mini-skirt, another piece from Deme's collection. Mini-skirts have long been associated with youthfulness and vibrancy, and Fatehi's choice of a denim variant perfectly encapsulates this spirit. The skirt's sleek lines and confident length contribute to a look that is both elegant and youthful. By seamlessly integrating the mini-skirt with the blazer, Nora presents a harmonious ensemble that embraces both femininity and empowerment.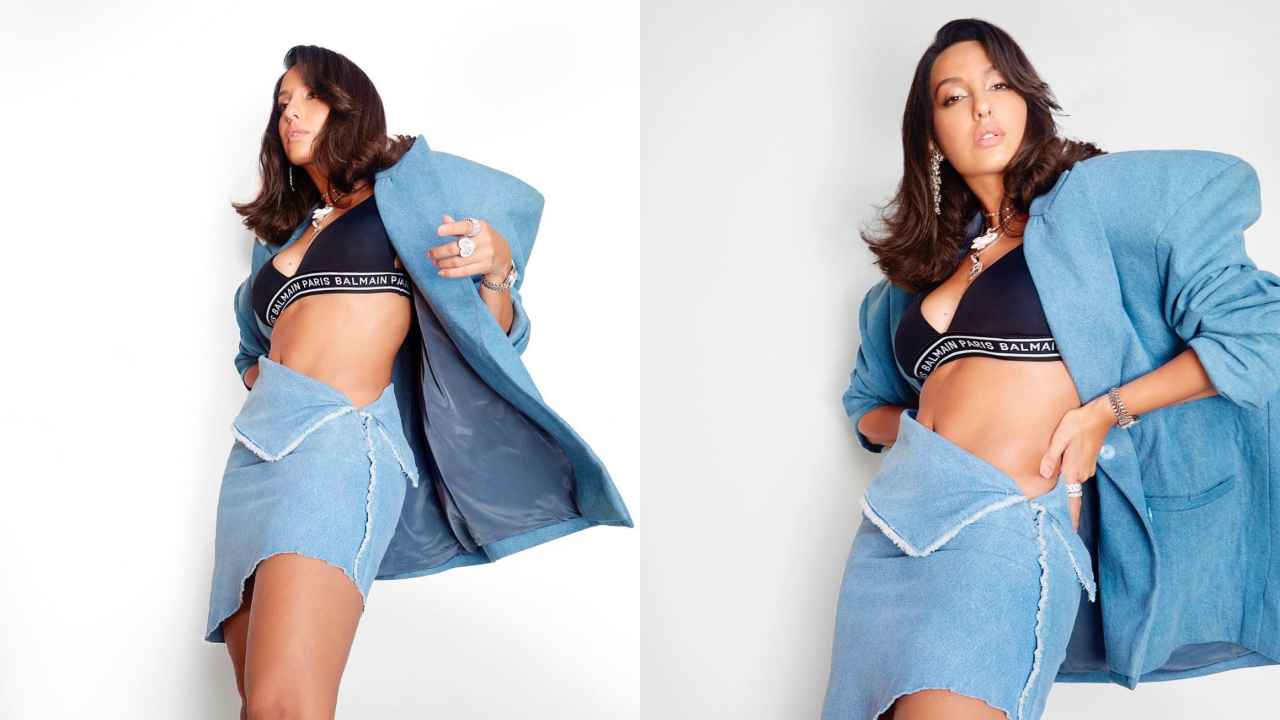 Furthermore, the entire outfit's allure is heightened by the inclusion of a bralette from Balmain, a brand renowned for its luxurious designs. The bralette serves as a bold statement piece, accentuating Nora's confidence and daring attitude. By incorporating this element, Fatehi masterfully underscores the evolving nature of fashion, where traditional boundaries are continually being pushed, and innovative combinations are welcomed with open arms. To complete the look, Fatehi opted for accessories from The Drip Project. These thoughtful additions inject a touch of contemporary chic into the ensemble, ensuring that every detail contributes to the overall aesthetic. The accessories effortlessly tie together the various elements of her outfit, serving as a testament to the importance of careful styling and attention to detail.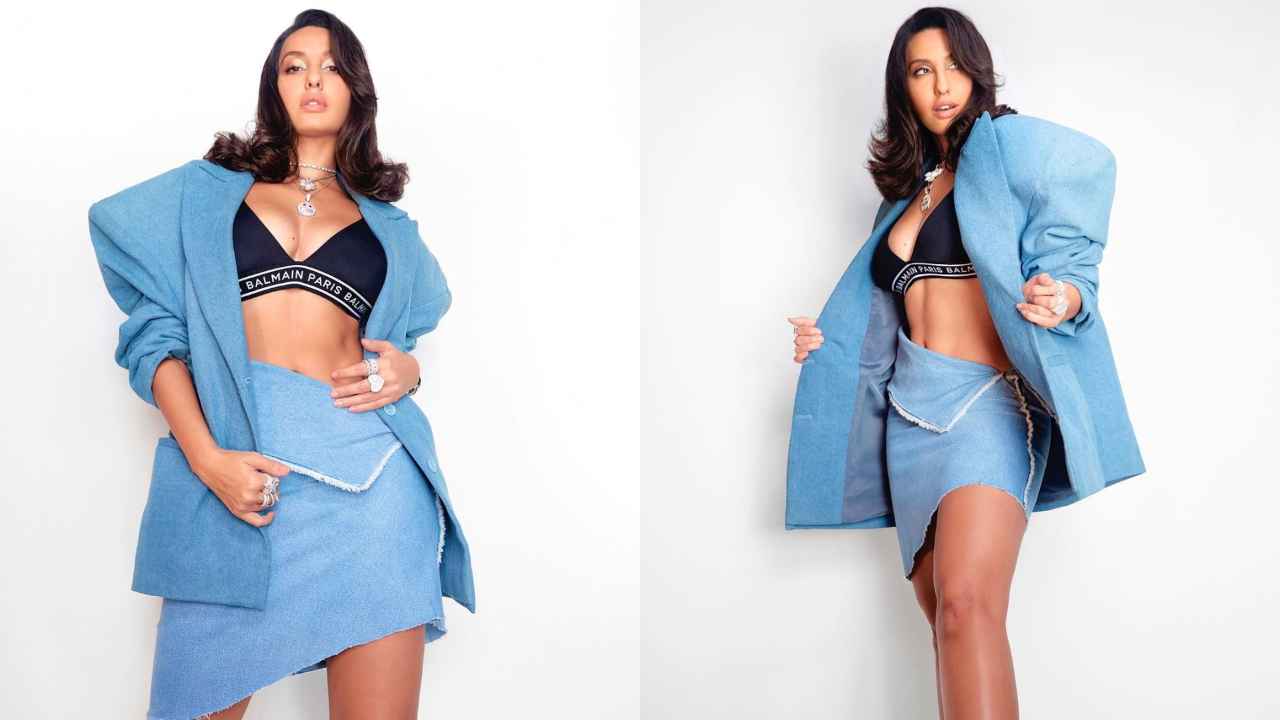 Nora Fatehi's choice of a denim ensemble with accessories from Drip Project is a remarkable celebration of modern fashion's dynamism. This playful yet elegant outfit captures the essence of Nora's unique style, combining sophistication with an audacious edge. As fashion continues to evolve, Nora Fatehi remains a true trendsetter, inspiring fashion enthusiasts to embrace boldness and creativity in their wardrobes.
So, what did you think of her outfit? Are you a fan? Comment below to share your thoughts with us.
ALSO READ: Ananya Panday, Kiara Advani to Mouni Roy: 6 Bollywood divas who revived the crochet trend with their outfits
About The Author
Mehak Walia is an award-winning author and journalist who has been writing for about 4 years now. She is obsessed
...
Read more
Top Comments
There are no comments in this article yet. Be first to post one!