Nora Fatehi resembles modern princess Jasmine in blue fur coat with cowl-neck halter top and denim jeans
Nora Fatehi recently posted a few pictures of herself on Instagram in an incredibly aesthetic all-blue ensemble. Continue reading to get a closer glimpse of her fashionable ensemble.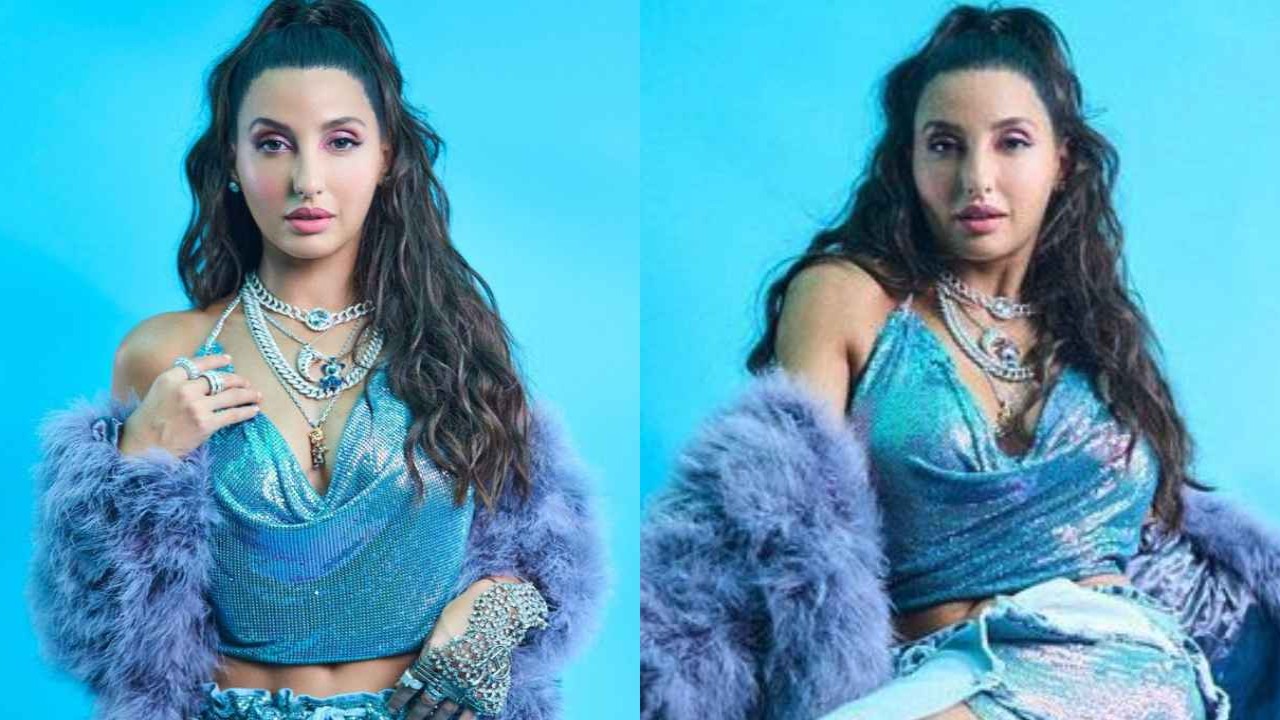 Nora Fatehi, the multifaceted Bollywood actress, singer, and dancer with a global fan following and an incomparable fashion sense, has once again captured our hearts with her enchanting fashion choices. Channeling the essence of Disney's beloved Princess Jasmine. It's safe to say that the Sexy In My Dress singer has successfully redefined modern-day royalty through her elegant yet contemporary outfit. Sporting a striking ensemble featuring a blue fur coat, a dazzling cowl-neck halter top, and chic denim jeans.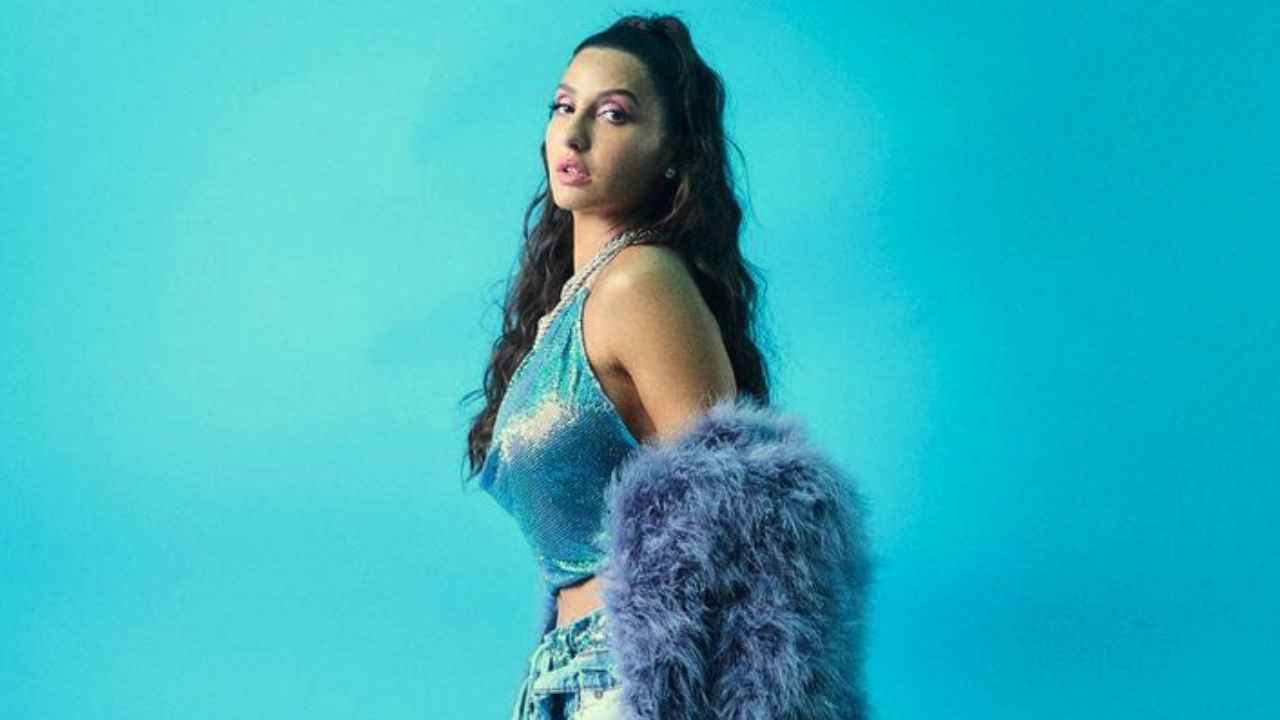 Nora Fatehi effortlessly exemplifies the spirit of Princess Jasmine while showcasing her unique sense of style. Let's explore how she flawlessly combines stylish clothes, giving us a glimpse of the contemporary princess she truly is. Are you ready? Let's dive right in.
Nora Fatehi nails the hip-hop aesthetic with a stylish all-blue look
At the heart of Nora Fatehi's alluring look is the regal blue fur coat. This luxurious garment not only serves as a statement piece but also symbolizes the opulence often associated with princesses from fairy tales. The fur coat gracefully drapes over her shoulders, radiating an air of elegance and sophistication reminiscent of the grandeur of the royal palace. Under this, she wore a shining cowl-neck halter top further elevating her ensemble, adding a touch of glamour and enchantment to her appearance. The glistening fabric catches the light as she moves, accentuating her ethereal presence. The halter neckline beautifully frames her neck and shoulders, enhancing her overall allure while the cowl neck really works for her, doesn't it?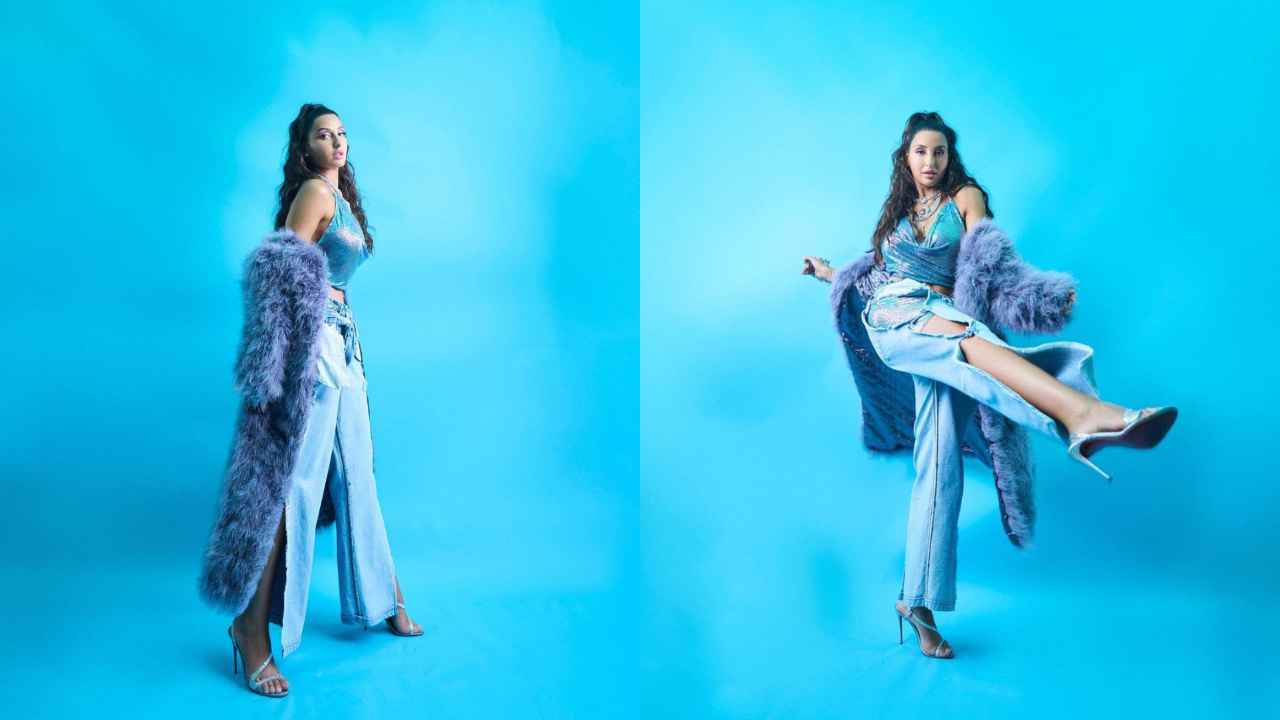 Complementing her sophisticated top, Nora pairs it with chic denim jeans that feature stylish slits on both sides. This fashion-forward addition brings an element of modernity to her outfit, effortlessly blending comfort with trendsetting style. The slits not only add a touch of sensuality but also infuse the ensemble with a contemporary edge, making it perfect for various occasions. She completed the whole outfit, by Nikita Karizma, with stylish light blue heels. She also accessorized it with layered silver Cuban link necklaces, silver rings, a matching jeweled glove, and simple blue stud earrings from VRK by Khanna Jewellers. Her feminine makeup with pink eyeshadow and matching lipstick, also further elevated the outfit. Doesn't she look ethereal?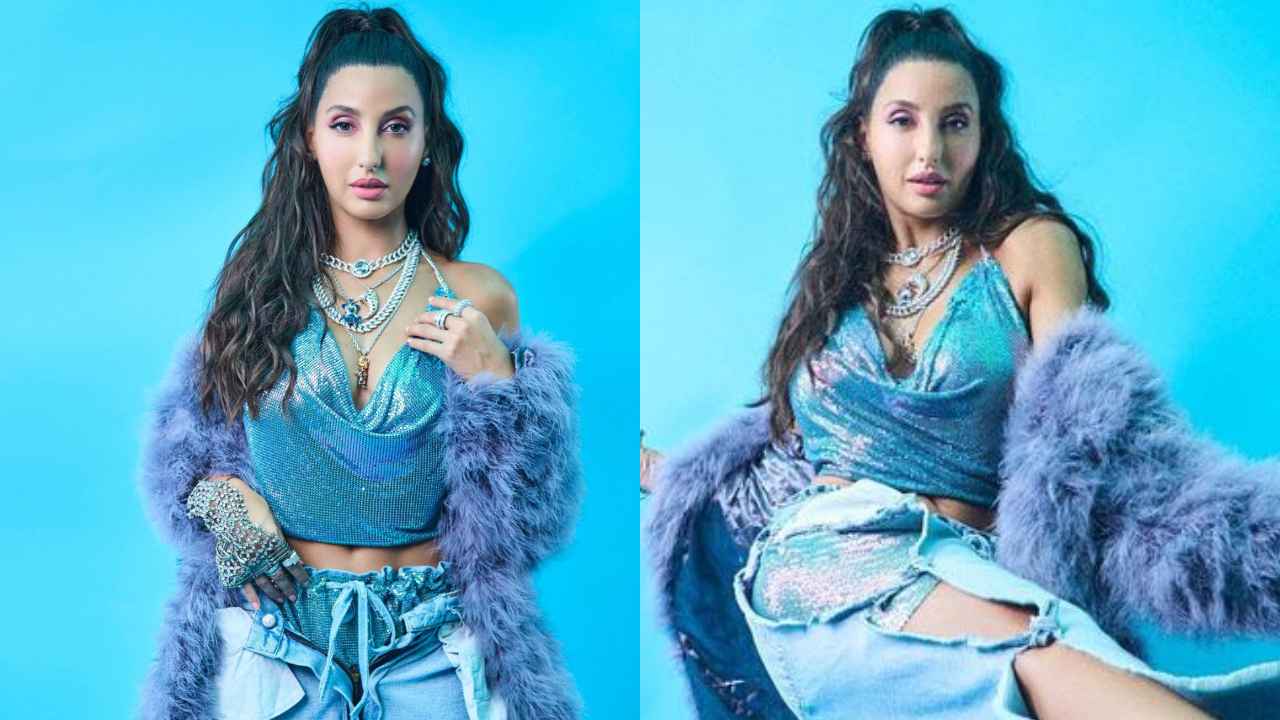 It's also essential to note that even the captivating ensemble, Nora Fatehi exudes the fearless and adventurous spirit synonymous with Princess Jasmine. Her confident strides and radiant smile mirror the strength and determination that define the beloved Disney character. Nora's embodiment of Princess Jasmine's essence truly brings the character to life in a modern context, don't you agree? 
So, what did you think of Nora's outfit? Are you a fan? Share your thoughts and views with us through the comments section below.
ALSO READ: How to style: Alaya F champions the 80s off-shoulder style with a sexy side slit skirt

---