Tara Sutaria effortlessly transitions from playfully pretty to sophisticated chic ensembles in 24 hour
Tara Sutaria appeared twice in front of the paparazzi's cameras in a 24-hour period, mesmerizing us not once but twice. Delve into as we decode the actor's looks!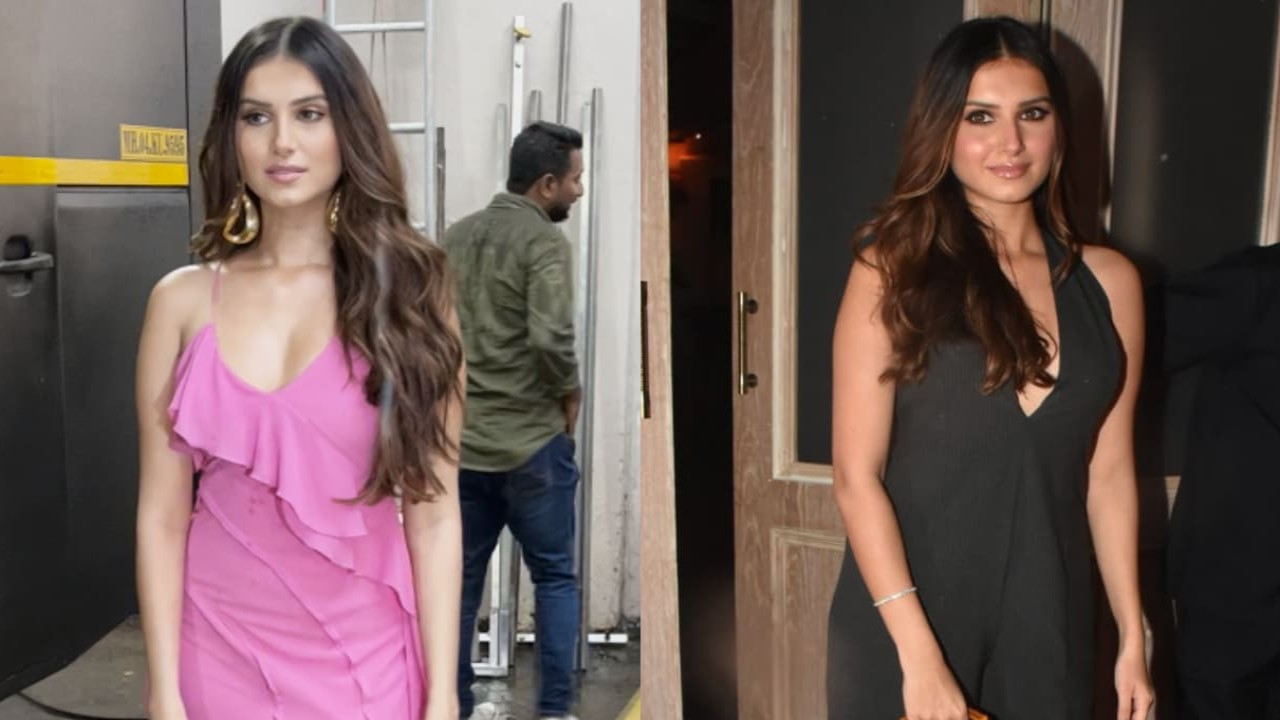 Tara Sutaria, the energetic queen of B-town, recently dazzled paparazzi frames not just once, but twice within a 24-hour period, displaying the frantic speed of her rigorous schedule. Considering her hectic schedule, her busy bee rarely fails to impress with her exquisite eye for style. Tara's style selections readily fascinate, whether she's enjoying a break or attending an event. Her inherent ability to transition from casual chic to unrivaled sophistication sets her apart from the throng. She effortlessly made two important fashion moves in the span of one day, making an indelible impression. Tara has an incredible ability to dress for every occasion, effortlessly adopting laid-back yet fashionable casual looks.
Tara Sutaria gets spotted in a glamorous pink gown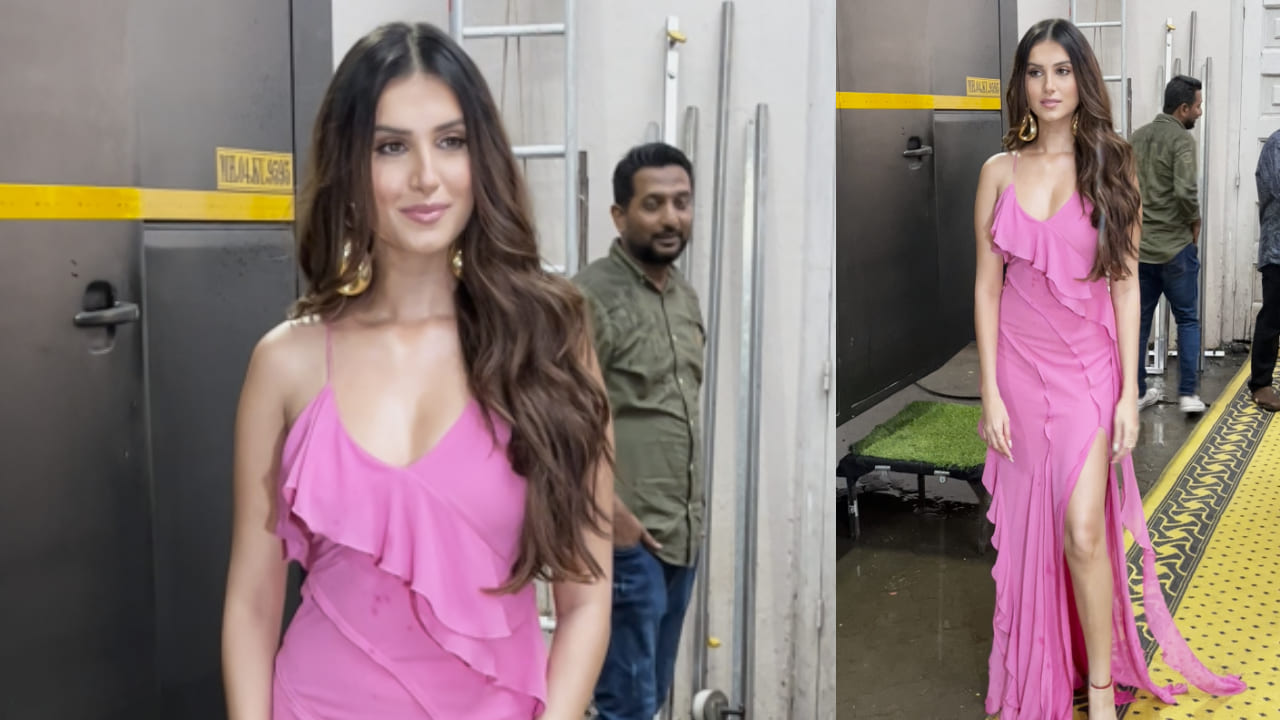 The Tadap actress looked gorgeous in Mango's pink plain maxi dress with exquisite shoulder straps that provided a touch of elegance. The dress had a side split that emphasized her form. And, the sleeveless design highlighted her elegant arms. The layers of ruffled accents added a distinct and fun mood to the dress, making it very spectacular. It emanated refinement and beauty with its enormous length and flared hem. 
Tara finished the ensemble with huge golden earrings that added a touch of elegance, and her blush pink makeup suited the dress wonderfully. Her loose locks cascaded over her shoulders, perfectly complementing the ruffles on her outfit. Tara Sutaria's dress pick was a beautiful mix of femininity and flair.
Tara Sutaria steals the show in a black jumpsuit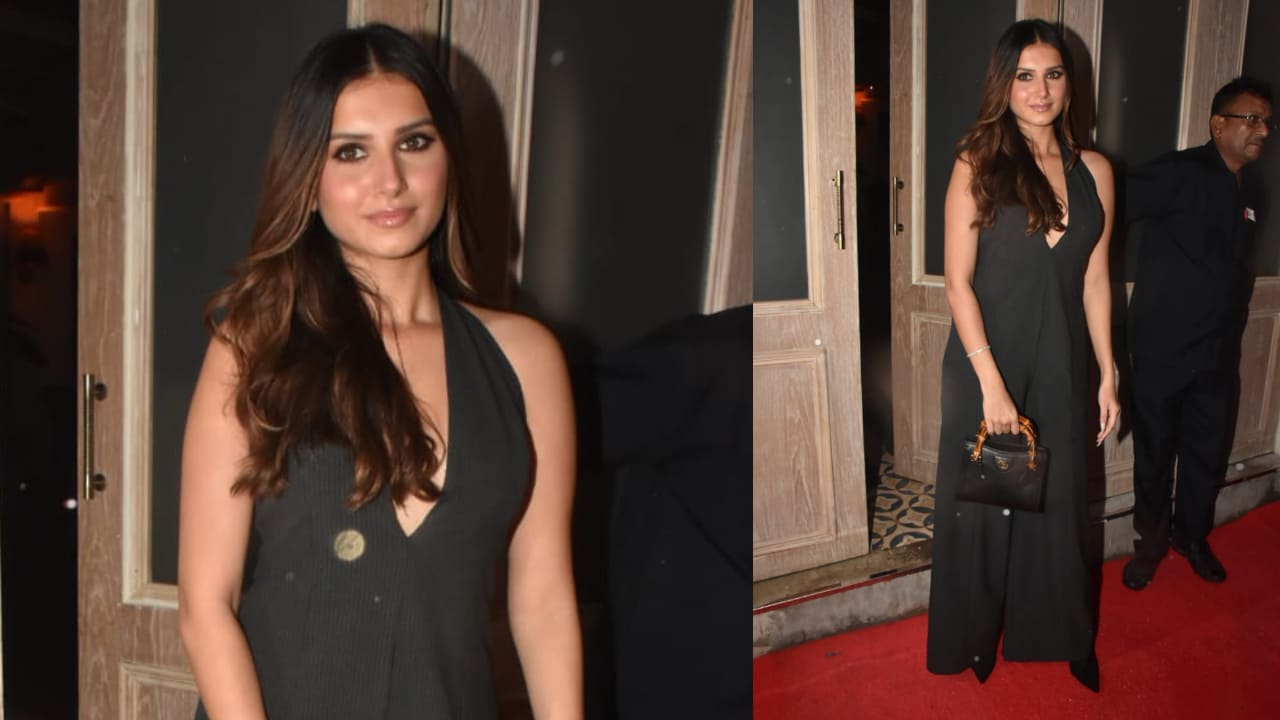 The Ek Villain Returns actress captivated everyone in the magical late evening hours with her other outstanding solid black attire. She looked stunning in a halter neck jumpsuit with a deep V front, conveying confidence and appeal. She accessorized her sleeveless dress with a stylish Gucci Diana tiny tote bag that added a touch of refinement to her appearance. Her wrist was decorated with a sparkling silver bracelet, which added a bit of glitz and dazzle. 
Her hairdo for the evening was simple, allowing her inherent beauty to come through. The actor's dramatic black eye makeup, however, stole the show, perfectly complementing her attire and emphasizing her mesmerizing gaze. Tara Sutaria's choice of clothing reflected her outstanding taste and ability to easily fascinate observers within the span of 24 hours.
The SOTY 2 actress' latest fashion choices have served as a stunning reminder of the power of one-piece dresses. She expertly shifted between two breathtaking looks in only 24 hours, leaving us speechless. Her ability to kill the fashion game in a single garment is absolutely remarkable. And, over the years, Tara has remained loyal to her particular aesthetic throughout her style journey, demonstrating that style doesn't have to be difficult. The actress effortlessly displays how basic yet distinctive clothing can make a big impression. Her grace and confidence in these outfits act as an example that dressing up is about appreciating your originality and presenting yourself via your dress choices. 
Nevertheless, Tara Sutaria's fashion selections demonstrate the versatility of one-piece dresses.
The pink ruffled dress or a solid black jumpsuit, which one did you like the most? Let us know in the comments section below.
ALSO READ: Airport Style: Deepika Padukone dons black sleeveless top with cargo pants and Louis Vuitton accessories

---