Times Janhvi Kapoor reminded us of Kim Kardashian with her oh-so-hot style statement
Janhvi Kapoor is Bollywood's own Kim Kardashian, setting the fashion world ablaze with a similar fashion sense.
Updated on Sep 26, 2023 | 07:24 PM IST | 192K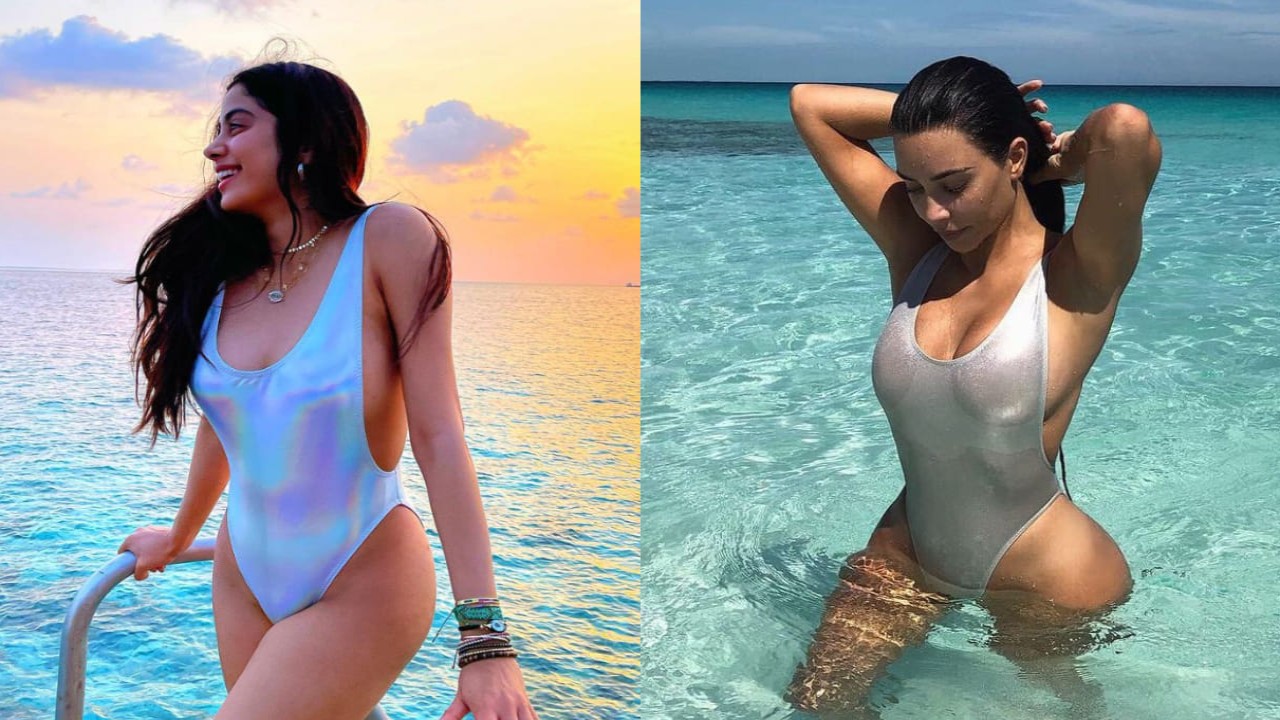 Hello, fashionistas! Drawing inspiration and infusing it with your personal touch is a game-changer in the fashion industry. And guess what? We've found Bollywood's answer to the global fashion icon, Kim Kardashian! Can you guess who it is? None other than Janhvi Kapoor. Janhvi has taken the fashion world by storm with her impeccable sense of style and confidence. She effortlessly conquers any outfit, whether it's for red-carpet events or everyday excursions. Janhvi Kapoor stands out as a fashion force, especially when it comes to dazzling in glittering gowns or rocking chic bodycon dresses. So, get ready to take fashion cues from this diva and let her inspire you to embrace your unique style with confidence.
Janhvi Kapoor & Kim Kardashian in glittery gowns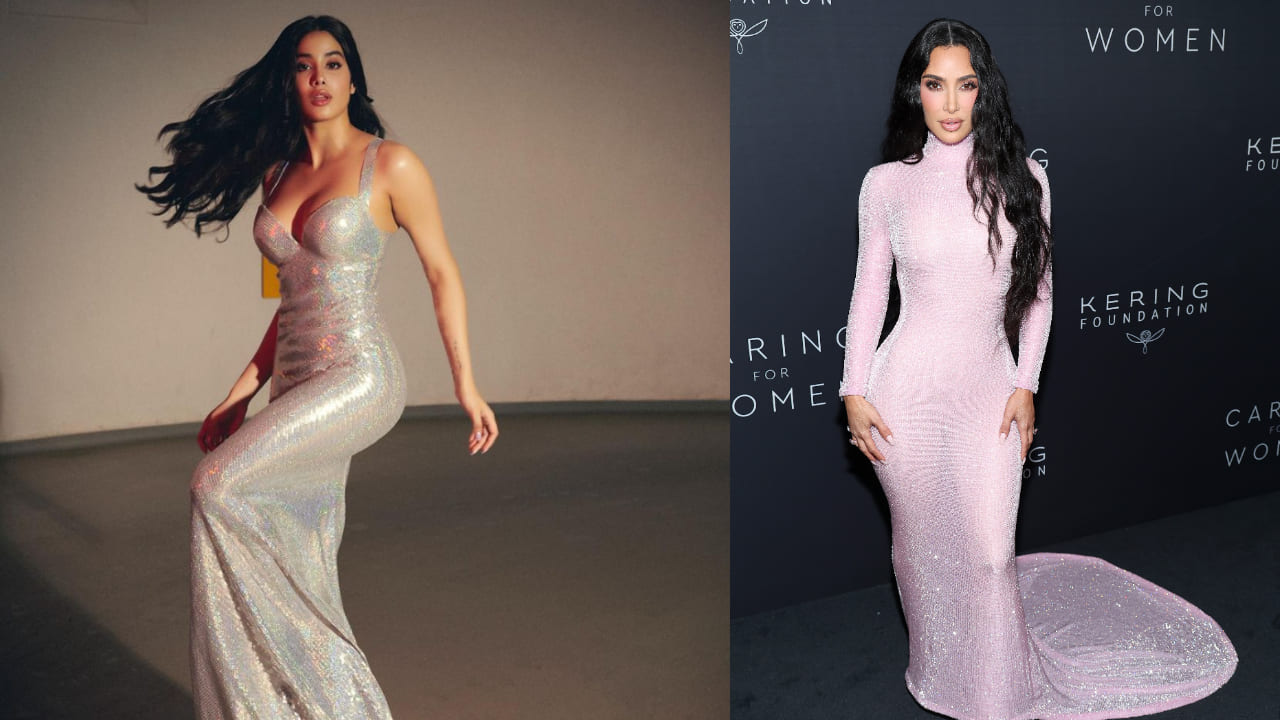 Two fashion celebrities have been spotted wearing gorgeous glistening dresses, and they couldn't look more stunning! Janhvi Kapoor, on the right, looks stunning in a figure-hugging sweetheart neckline bodycon gown that exudes elegance and charm. Meanwhile, the queen of fashion herself, Kim Kardashian, is dressed in a pink glittering gown with long sleeves and a fashionable turtleneck. This simply goes to show how popular sparkly gowns are, as these two fashionistas demonstrate that dazzle and opulence are always in trend. Take a page from these celebrities and embrace the enchantment of sparkly dresses if you want to make a statement and shine bright!
Kim Kardashian PC: Getty Images
Janhvi Kapoor exudes Kim Kardashian vibes in this outfit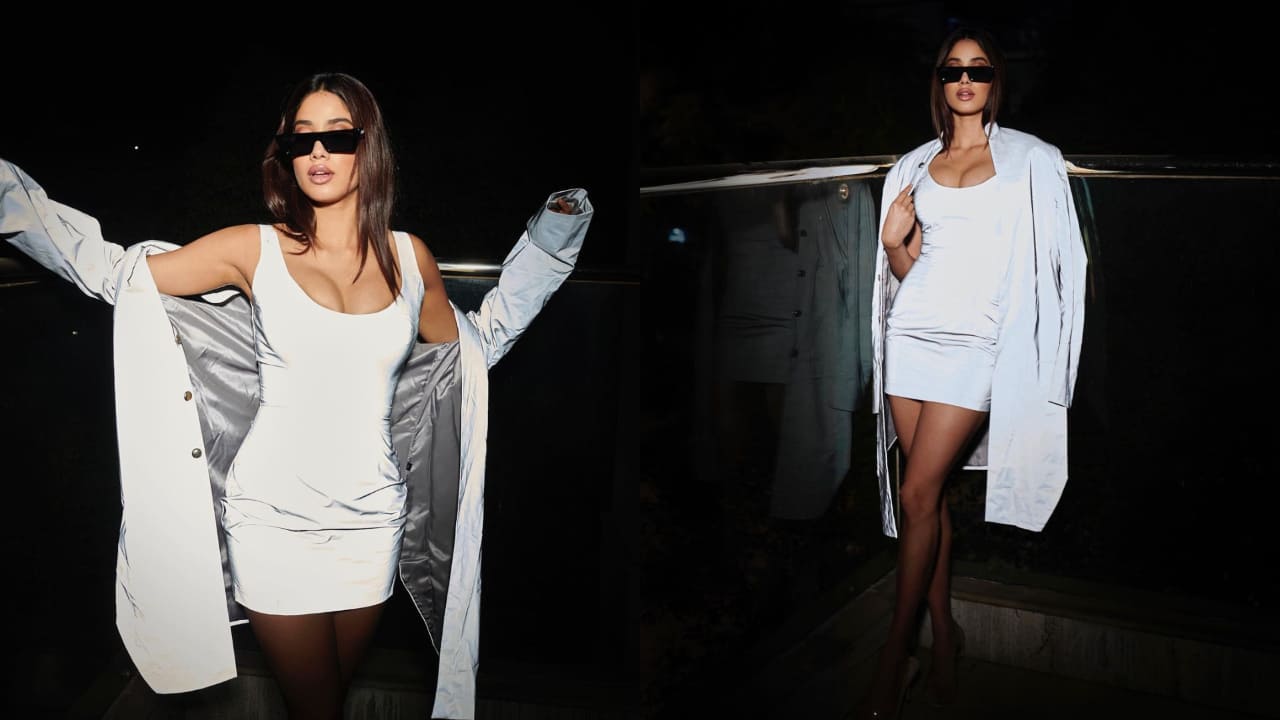 In this photo, Janhvi Kapoor dons a white bodycon dress with a deep scoop neckline. She effortlessly elevates her style by layering it with an oversized jacket and striking a captivating pose. Janhvi opts for statement eyeglasses to add an extra touch of flair, making a bold and fashionable statement. Her look is beautifully complemented by a subtle yet impactful touch of light brown lipstick. In her attire, Janhvi exudes the confidence and flair of a fashion queen, reminiscent of Kim Kardashian. This style can be confidently embraced by anyone, making them feel like a true fashionista.
Janhvi and Kim in chic bodycon outfits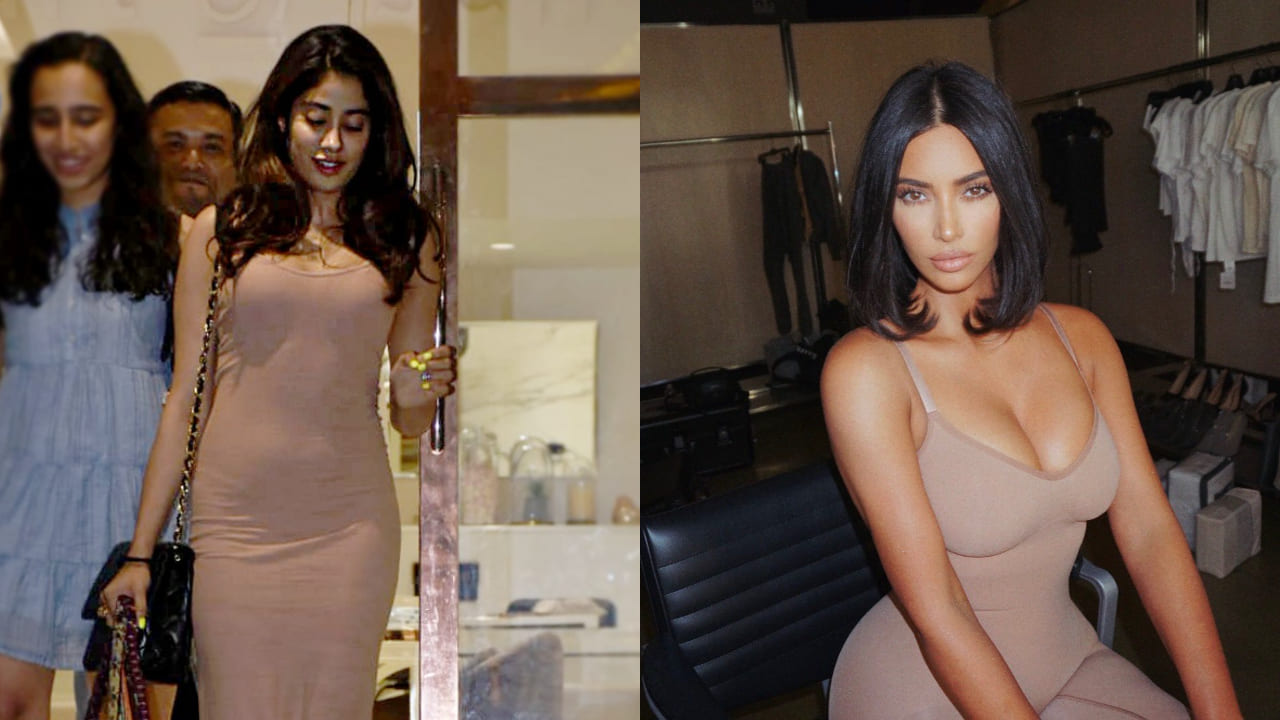 Janhvi Kapoor and Kim Kardashian seem to share a penchant for beige-colored ensembles when it comes to their fashion choices. Once again, they flawlessly embrace this look with unwavering vigor and elegance. Janhvi Kapoor, often referred to as the 'Kim Kardashian of Bollywood,' exemplifies this preference with her selection of a bodycon dress featuring a deep neckline and a figure-hugging silhouette. In these stunning beige outfits, both Janhvi and Kim showcase their undeniable fashion expertise, leaving us in awe of their impeccable style and fashion sensibility. These two fashion icons undeniably possess the knack for making a statement and capturing our attention.
Janhvi Kapoor and Kim Kardashian in silver metallic bodysuit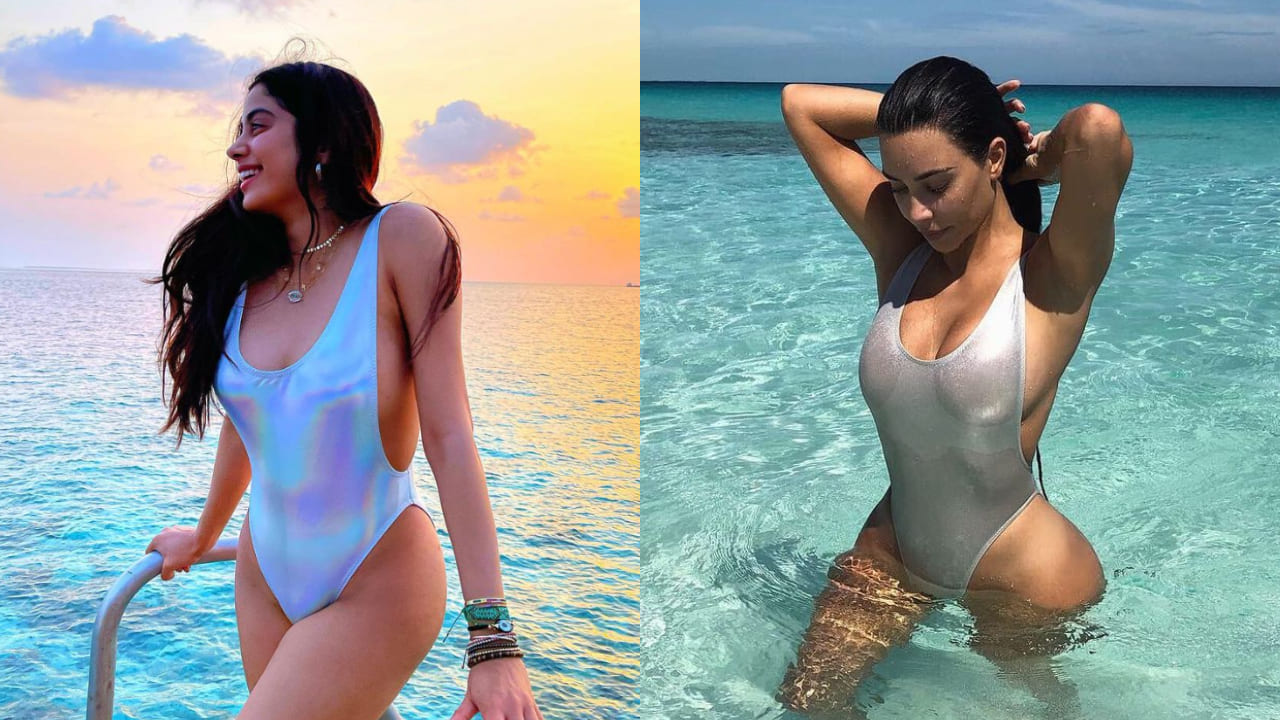 Last but not least, we have our personal favorite look! Janhvi Kapoor is seen sporting a stunning silver metallic bodysuit with a plunging neckline. What's more, guess what? Kim Kardashian has been spotted wearing a similar bodysuit with the same neckline. Janhvi, on the other hand, absolutely steals the show with her unrivaled confidence and flair. It takes a lot of skill to pull off such a daring ensemble, but Janhvi makes it appear like a piece of cake. Janhvi Kapoor, you've earned your place as a real fashion icon!
Which of these looks do you find most similar? Let us know in the comments section below.
ALSO READ: Parineeti Chopra exudes newlywed glamour in neon green kurta set with a pop of pink chooda
About The Author
I love telling quirky fashion stories and writing articles that mix fun with style, taking you on a whimsical
...
Read more
Top Comments
There are no comments in this article yet. Be first to post one!